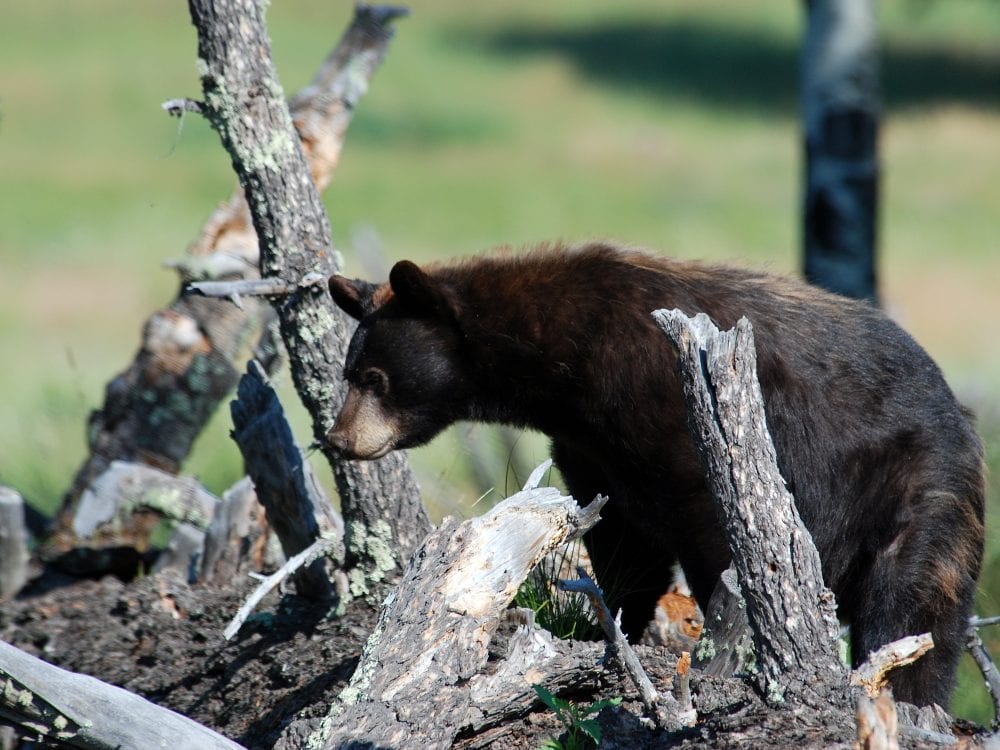 The Pajarito Environmental Education Center and Land of Enchantment Wildlife Foundation are excited to host a virtual Bear Festival this year! The black bear-themed fun will take place over the course of one week — from Wednesday, August 26 to Wednesday, September 2 — and is sponsored by Century Bank.
We'll be hosting a variety of live-streamed events and sharing blogs, videos, and more to help you learn about our black bear neighbors and what you can do to keep yourself and our local bears safe. So far we've shared What to Do if You See a Black Bear, Bear-Safe Camping & Backpacking, and a Very Beary Animal Scat Challenge.
Be sure to vote for the winner of August's black bear photo contest, too! You can also receive 15% off bear-themed items in PEEC's online gift shop from now until Wednesday, September 2. Browse our Bear Fest sale here.
You can also stop by Century Bank's Los Alamos branch at 751 Trinity Drive, Suite 301 to pick up a free bear bell now! Bear bells are great to attach to a dog's collar or your hiking pack to make some extra noise while hiking in bear country and alert wildlife of your presence. These bear bells are available on a first come, first served basis and are limited to two per family.
Bear Fest Contests:
Be sure to enter to win a BearVault (for adults) or black bear plushie (for kids) from the PEEC gift shop. For the BearVault, post a photo on Facebook or Instagram and share what you are doing to keep black bears in our community safe. Use the hashtag #BearFest2020 and tag @peecnature on Facebook or Instagram to enter or email publicity@peecnature.org with your submission.
To enter the plushie giveaway, kids should draw a picture or write about what they can do to keep themselves and our black bears safe at home or on the trail. Entries can from also be submitted on social media with the hashtag #BearFest2020 or to publicity@peecnature.org through parents or guardians. Entries must be submitted by Friday, Sept. 4 at 5 PM MST and winners will be notified by Tuesday, Sept. 8. Submissions for both contests may be re-posted on PEEC's website and social media pages and winners must be able to pick up their prize at the Los Alamos Nature Center.
Check out the upcoming live events for Bear Fest 2020:
Backyard Bears — Tuesday, September 1 at 7 PM

Join Dr. Kathleen Ramsay from the Land of Enchantment Wildlife Foundation to discuss how bears access food around our homes and what we can do as individuals and communities to deter this behavior. Learn more and register here.
Thanks to Century Bank for making this year's virtual Bear Festival possible!