Thanks to everyone that followed along for week one of Take It Outside! We hope you enjoyed learning more about our feathered friends and will have fun exploring signs of spring in week two.

We wanted to share some of our favorite stories, drawings, and photos that our community shared with us this week. We'd love to hear more from you, so please keep sharing your experiences with PEEC by filling out the Google Form at the end of our daily posts, emailing takeitoutside@peecnature.org, or by tagging us on Facebook or Instagram.
Axel N. drew this picture of a Spotted Towhee after learning to identify these birds this week!
---
"We loved building a nest and talking about how our yard could better support birds. We got our hummingbird feeder out and decided we should make a bird seed feeder since our yard lacks plants."
— A family after exploring the resources for wildlife in their backyard
---
Ellen S. shared her daughter's birding checklist with us on Facebook after our Common Birds of Los Alamos post.
---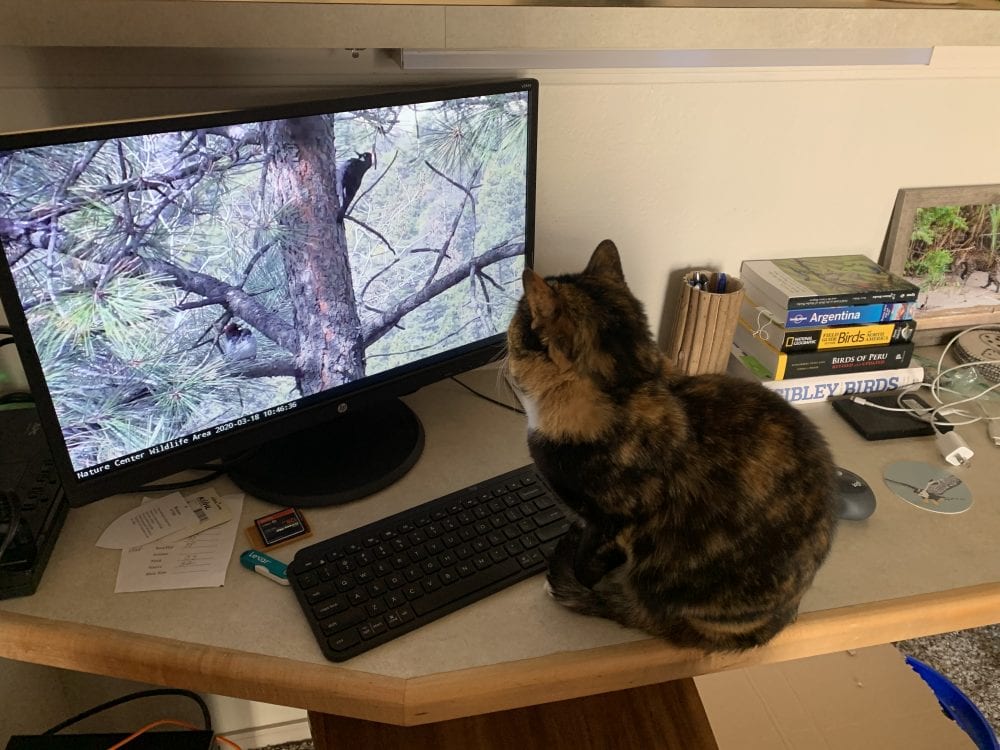 Jonathan C.'s cat, Chile, really enjoyed watching Bob Walker's livestream last Wednesday morning!
---
"We had fun looking for a Spotted Towhee these past 3 days. We found it tricky to find one. We see a lot of finches at our feeder, but not many towhees. We were out on a family walk today and spotted one in a short tree! My 3 year-old was excited and commented that it was very colorful and dotty. He's been calling them Tow Tows."
— A story from a mom after learning to identify more of our local birds
---
Denise and Jasper M. had fun building a nest in their backyard, complete with mud ball eggs!