Canyon Treefrog

Scientific name: Hyla arenicolor
Type: Amphibian
Family: Hylidae (Treefrogs)
Size: Up to 2 inches long
Weight: Up to 0.12 ounces
---
Physical Description
The canyon treefrog is a small frog with rough, warty skin, large adhesive pads on the toes of all four feet, and webbed toes on the hind feet. Unlike other similar species, Hyla arenicolor has a dark-edged light spot beneath the eye instead of a dark bar through the eye.
The skin color and pattern of canyon treefrogs is highly variable and often matches the surrounding environs so well that the frogs are nearly invisible. The frogs are gray to tan to olive on top with random blotches and spots of olive to brown. Underneath, they are more cream-colored with some bright yellow or orange along the inside of the legs. Adult males have a dark throat patch; whereas females have lighter colored throats.
Range and Habitat
Canyon treefrogs have been reported throughout the Southwest US (Arizona, Colorado, New Mexico, and Utah) and in Mexico as far south as Oaxaca.
Canyon treefrogs need standing water for at least part of the year. They are often seen in rocky canyons near water. However, these frogs also inhabit areas along streams in desert grasslands and mixed conifer woodlands at altitudes of up to 10,000 feet. Although, canyon treefrogs can sometimes be found in trees, they seem to prefer to live on the ground or clinging to a boulder.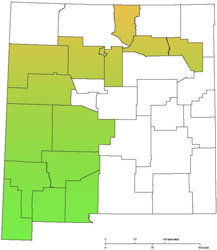 ---
Diet
Adult canyon treefrogs catch and eat a variety of invertebrates such as spiders, beetles, ants, caterpillars, and caddisflies. Tadpoles eat plant matter and various types of organic debris.
Behavior and Social Life
Canyon treefrogs have several strategies to survive in a dry climate. Canyon treefrogs typically spend their days relatively motionless in rock crevices or on rock faces. They keep their sensitive, moist underbellies up off of the rock surface, only exposing their tough, relatively water-impermeable, outer skin to the sun.
During really hot and dry times, they will aggregate in large groups near pools of water. Individual frogs will climb down off the rocks to go soak in the water for 10 to 15 minutes and then climb back up to their perch. During the evening they can be found near the water's edge searching for food or getting ready to breed. They often return to the same resting spot that they used the day before.
---
Life Cycle
Breeding occurs near standing water from early spring through the summer rainy season. Males make a loud, rattling call usually at night to attract females. After spawning, the female lays her eggs as a large mass that floats on the water. Eggs deposited late in the breeding season may overwinter.
The eggs hatch in less than two weeks. The nearly hatched tadpoles go through several stages loosing their gills and then developing hind legs followed by front legs. Finally the tail shrinks, leaving an adult frog.
Tadpole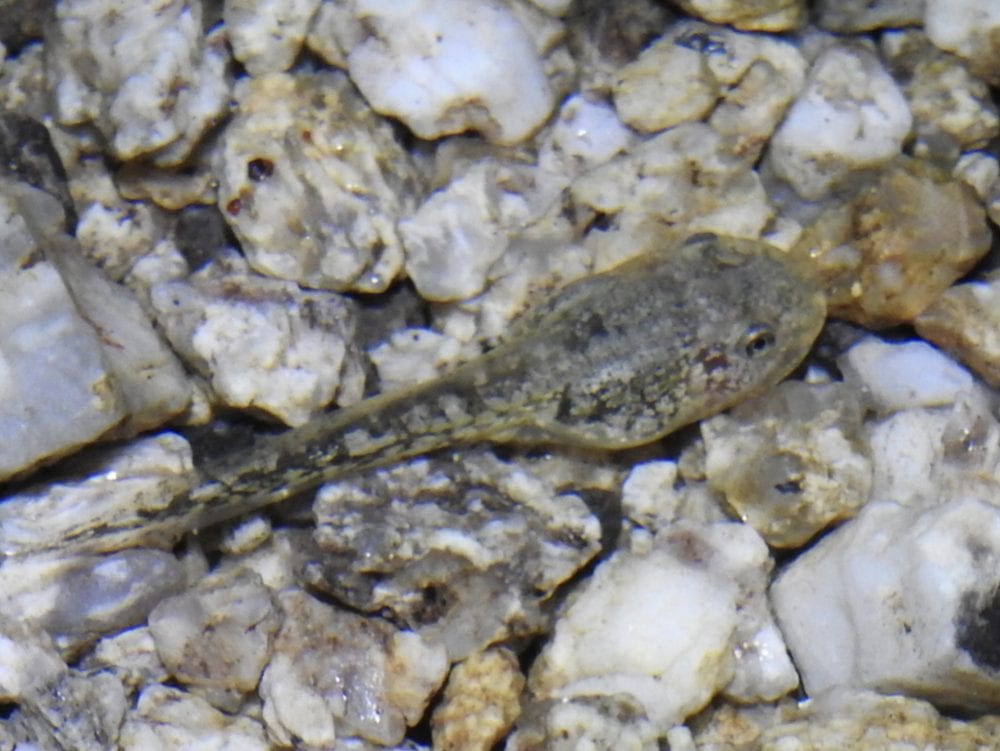 Advanced Tadpole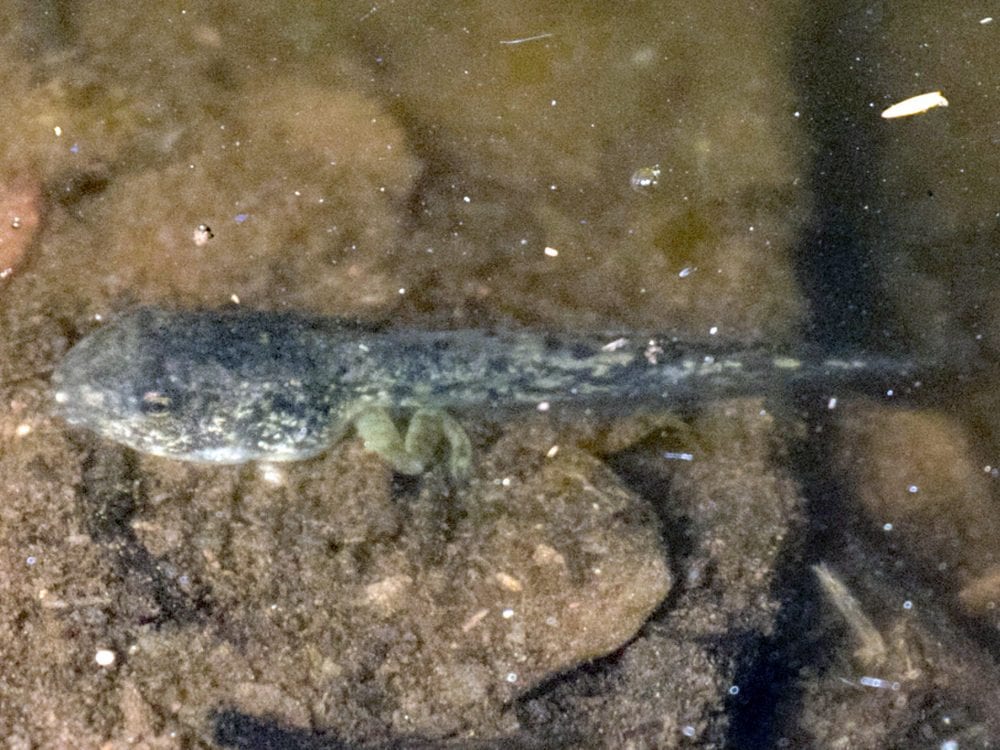 Further Along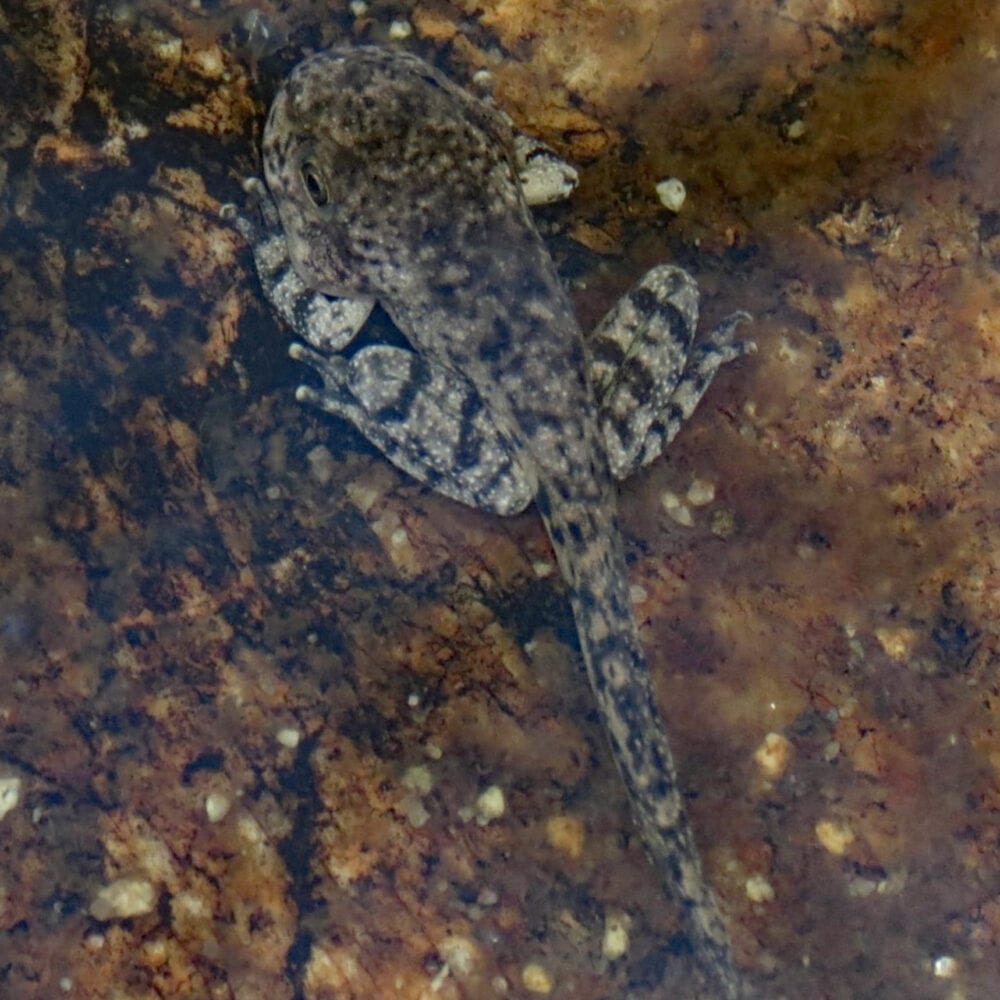 Almost Frog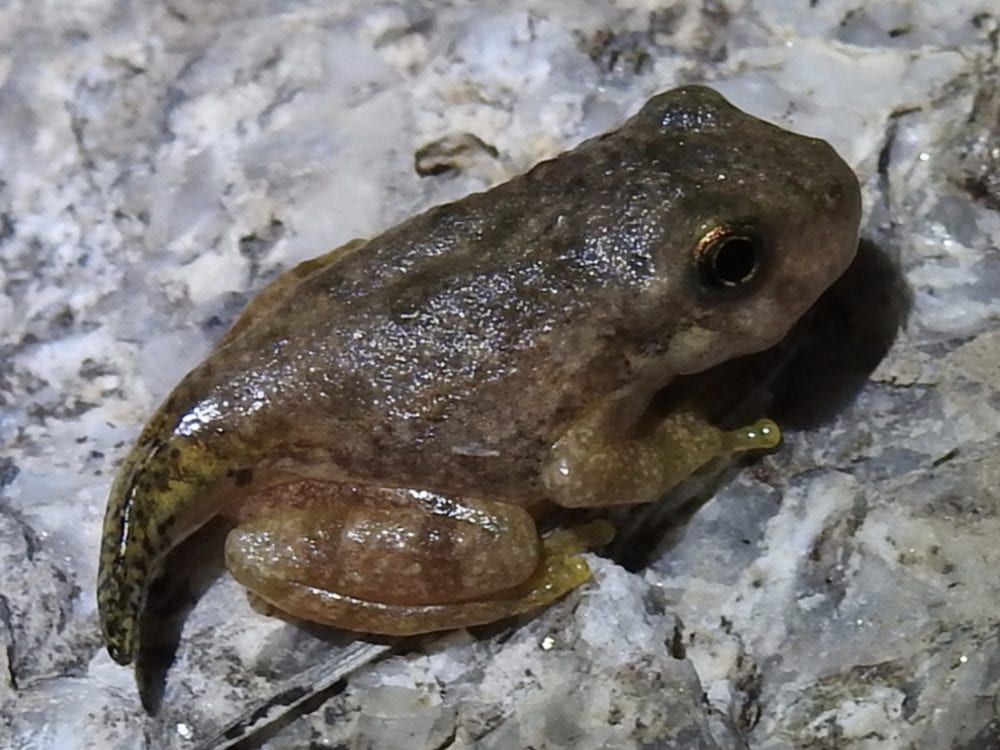 ---
Ecological Role
As insectivores, canyon treefrogs play an important ecological role in controlling insect populations. They, in turn, are prey for other animals, primarily snakes. The ability of the canyon treefrog to blend into its surroundings helps it to avoid being caught.
Interactions With Humans
Since they are not an invasive species and are not poisonous, they are not known to harm either humans or property. They have, however, been used in experiments to test how their skin regulates water uptake.
Interesting Facts
The species name of arenicolor means "sand-colored".
Although canyon treefrogs do not spend a lot of time in trees, they do have the characteristic long toes with adhesive pads of other treefrogs.
Male treefrogs are most vocal for a few hours after sunset.
Canyon treefrogs are unable to defend themselves as they lack poisonous glands, teeth, and sharp claws.
Females lay 100 or more clear, jellylike eggs at a time.
Tadpoles usually have dark spots and develop more of a bronze coloration as they mature.
Tadpoles metamorphose into froglets in about 75 days.
Treefrogs do not drink but rather absorb water through their skin.
Canyon treefrogs can tolerate cooler temperatures then many other frogs.
Canyon treefrogs have tested positive for the chytrid fungus which is responsible for amphibians die-offs, but its overall impact on this species is unknown.
Skin secretions from the canyon treefrog can cause irritation to human eyes and nose.