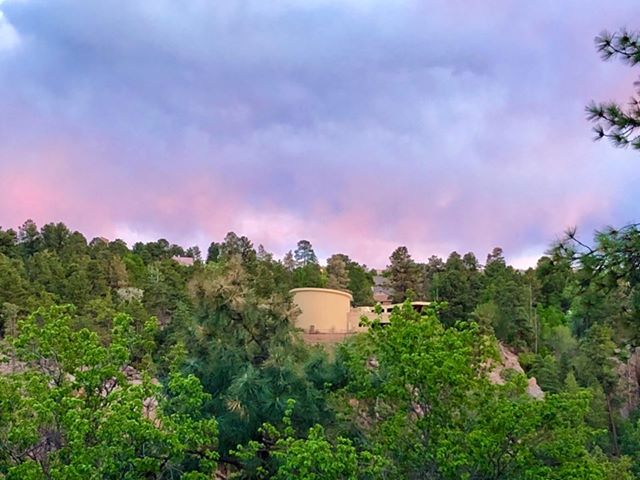 This week, we are taking a break from producing new Take It Outside content. In the meantime, we'd love to get some feedback from you on what kind of online content you'd like to see from PEEC in the future! Please fill out this survey to give your input on the future of this programming.
This week, we want you to check out some of the great online content that other New Mexico museums and organizations are producing!
Each day this week, we'll feature a different organization on our website and PEEC's social media accounts.
Day 5: New Mexico Museum of Art
The New Mexico Museum of Art has online exhibits and suggestions for at-home activities. There's an online art exhibit called New Mexico Art Tells New Mexico History that highlights New Mexico's history and cultural traditions through art that spans times from pre-Conquest through today. You can click through the artwork and read more about the historical and political context of the work.
Also check out their Activities and Resources page for more art-centered ideas!
Day 4: New Mexico Museum of Natural History and Science
The New Mexico Museum of Natural History and Science has collected at-home science activities, including videos, experiments, citizen science opportunities, and more. They also regularly share paleontology stories on their Twitter page!
The museum also hosts a variety of online exhibits that you can explore! Learn about the volcanoes of New Mexico, the dinosaurs that have been discovered in our state, and more on their website.
Day 3: Los Luceros Historic Site
Los Luceros Historic Site is offering a virtual classroom while this beautiful property is closed to the public. Get a virtual tour of the site, learn about its history, explore riparian zones, and much more!
Plus, you can join Los Luceros for our first virtual Summer Family Evening of 2020 on Wednesday, June 3 at 6 PM! Instructional Coordinator Carly Stewart will lead the audience around this historic farm and introduce the farm animals that reside there. Find out more and register here. This event is sponsored by Del Norte Credit Union.
Los Luceros Historic Site is a gorgeous 148-acre ranch located north of Alcalde along the Rio Grande. Governor Michelle Lujan Grisham signed legislation making this property a State Historic Site in March of 2019. PEEC has partnered with Los Luceros to host bird walks and a variety of family events at the property and looks forward to strengthening this partnership in the future. To check out all of the virtual classroom lesson plans developed by our state's historic sites, visit this webpage.
Day 2: IllumiNative
Created and led by Native peoples, IllumiNative is a new nonprofit initiative designed to increase the visibility of — and challenge the negative narrative about — Native Nations and peoples in American society.
IllumiNative and their partners have created a program called Native Education for All with interactive lessons about Native American art, culture, history, and contemporary life. The lesson plans are designed with families learning from home during the COVID-19 closure in mind. They are organized by age level and are easy to complete at home. There are lessons about sports, stars, arts, cooking, and more … something for everyone!
Day 1: New Mexico Wildlife Center
Our friends at the New Mexico Wildlife Center have been posting videos featuring their ambassador animals to their YouTube and Facebook pages. They also have a page for stay-at-home resources and virtual visits on their website. Check out these resources to meet the raptors, snakes, salamanders, and other creatures that are in their care.
The New Mexico Wildlife Center rehabilitates injured wildlife at their wildlife hospital and connects people and wildlife through their education programs. The center is home to more than 35 Ambassador Animals that cannot be released in the wild and are used for education. Their team treats 650 – 800 injured or orphaned animals annually. Once they are able to reopen, you can tour the center and meet some of their animals!