Birding Resources for Los Alamos County
Here you will find useful resources for those interested in birding in Los Alamos County and nearby areas. Note that currently this webpage is very much a work-in-progress; additional information will be added soon. Questions and comments regarding this material should be addressed to Mouser Williams (mouser@mouser.org).
Ongoing Projects
Christmas Bird Count
Annual event, between December 14th and January 5th each year.
The 2020 CBC will be Saturday, December 19th!
Los Alamos participates in the National Audubon Society's Christmas Bird Count program by hosting a count circle that encompasses most of Los Alamos County and Bandelier National Monument. Click on the link above for more information. Note that there are special COVID-19 restrictions this year.

Breeding Bird Atlas
Five-year data collection effort running between 2017 and 2021.
Local birders are working on a new revision of the 1992 Atlas of Breeding Birds of Los Alamos County. Find out how you can help! (More information coming soon)
---
Useful Links
Free online course on how to use eBird from the Cornell Lab of Ornithology.
Standardized 4-letter bird species codes: Taxonomic or Alphabetic (PDFs)
American Birding Association's Code of Birding Ethics
Rarity Spotlight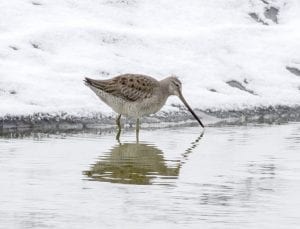 Long-billed Dowitcher (Limnodromus scolopaceus) spotted in the maintenance lagoons at Bandelier National Monument by Mouser Williams on October 15th, 2018. Photo: Mouser Williams.
More photos of rare birds in the County >>
---
County eBird Data
Explore recent checklists, best hot spots, and top eBird contributors in the county
Los Alamos County Overview >>
Bar Charts >>
---
Discussion Forum
Local bird sightings and discussion mailing list for Los Alamos County
Sign up to the mailing list >>
---
Rare Bird Alert
Mailing list for immediately alerting local birders to rarities that show up in the county