PEEC has an active group of people with a passion for native plants and gardening! We offer many opportunities to explore our native flora.
Jemez Mountain Herbarium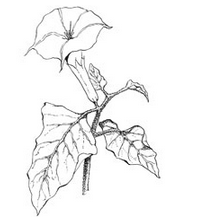 For years botanists have been collecting native plants in New Mexico and Arizona. These are pressed, dried and mounted on archival sheets with all the information about them. Such specimens are housed in herbaria. Information from these sheets is usually entered into a database, which allows many people to access these collections.
PEEC houses the Jemez Mountain Herbarium, with about 3,000 mounted plants from Los Alamos County and the Jemez Mountains. In 2013, our database was accepted by the Southwest Environmental Information Network (SEINet). Now botanists from anywhere can find out what plants have been found in our area. Anyone in the world can query our herbarium through SEINet.
Search
SEINet is the premier database for New Mexico and Arizona for native plants that are documented in herbaria. It is funded by the National Science Foundation (NSF). The SEINet web interface has many features – search engine, interactive maps, plant lists, photos – that allow plant people to keep up to date on what is known about the flora of our states.
Checklists by county
Click on a county to see all plants for the county. Tip: In the yellow box of Options, you can select "Common names" and "Display as Images". Then you can either search by common name using the search box, or "Rebuild List" to show everything in Los Alamos County, with images and common names. You don't have to be a botanist to use SEINet!
Jemez Mountain Herbarium
Here you can see the plants in PEEC's Jemez Mountain Herbarium. If you click on "Full Specimen List" they are sorted by collection number, which makes it hard to find what you are looking for. Better is to click on "Show Family Distribution" which sorts the collection by Families. If you click on the number after a Family, it will give you all the entires sorted by Genus and Species for that family.
SEINet search engine
Here you can click on "Select all Collections," and on the next page, enter a plant genus and species. You will then be able to see all entries, with their locations on a map.
Publications
Plants of the Jemez Mountains: Trees, Shrubs, Vines, Ferns, and Horsetails, Volume 1. By Teralene Foxx, Craig Martin and Dorothy Hoard. 2016
Plants of the Jemez Mountains: Showy Monocots and Common Dicots, Volume 2. By Teralene S. Foxx, Craig Martin, Dorothy Hoard. 2018
Additional Species for the Jemez Mountains, New Mexico, USA. By C.F. Keller, C.T. Martin, T.S. Foxx, and N.R. Greiner. J. Bot. Res. Inst. Texas 11(2): 513 – 522. 2017.