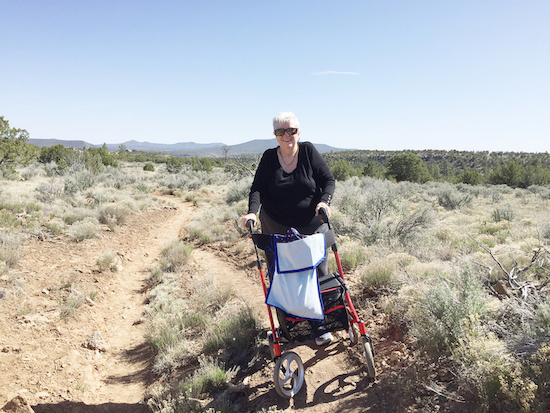 Inspired by the National Audubon Society's "Birdability" project, Discoverability is an effort by the Pajarito Environmental Education Center to understand and document the accessibility of the trails in the Los Alamos area. We decided to call our effort Discoverability because nature lends itself to discovering all sorts of things — including birds, flowers, butterflies, insects, mammals, reptiles, amphibians, and the landscape.
Our committee includes individuals using Rollator Walkers and manually propelled wheelchairs. We hope to connect this project to the other aspects of nature represented on PEEC's website and build a database of our more accessible trails. If you're interested in being involved, submit feedback, or add a trail to our list, please let us know by emailing publicity@peecnature.org.
Learn more about PEEC's Discoverability project in Terry Foxx's article in this edition of our Nature Notes newsletter.
Disclaimer:
The vision of the Los Alamos Nature Center is that being in nature is for everybody — adults, children, and people of all abilities. The Discoverability project is designed so an individual can make decisions for themselves as to the appropriateness of an individual trail. The items reviewed are at the suggestion of Birdability.org.
Every individual has differing abilities and we cannot predict what challenges they may have. Because of this diversity within the human population, not all trails will work for everyone. Therefore this information is for the individual to use in their research about a trail. Each trail has been walked with a user of Rollator walker and assessed for possible Rollator use. But as the founder of Audubon Society's Birdability, Virginia Rose, says "You won't know until you go!"
So get outside and enjoy nature. Slow down, listen, smell, and observe what is around you. If you don't think this trail is for you, find a place to perch, observe and ask yourself the following questions: What do I notice? I wonder? And it reminds me of? You will be amazed at what nature offers you! Learn more about these observation prompts from John Muir Laws.
We have used the following articles and resources to help inform the Discoverability project: