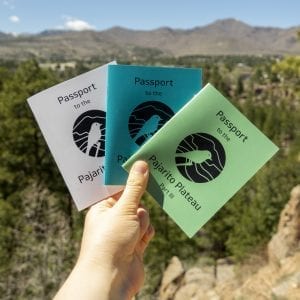 Started April 23, 2016, the Passport to the Pajarito Plateau is a fun program to get families outside, exploring our beautiful trails together. Los Alamos County, Bandelier, and the Valles Caldera have so many great trails, and now, thanks to support from the Delle Foundation, Clif Bar Family Foundation, Kate Svitek Memorial Foundation, and George and Helen Cowan Trust we're giving you an easy way to discover them.
If you don't have a passport and can't stop by to get one, you can print these versions at home: Passport 1, Passport 2, and Passport 3. You can also use a scrap piece of paper or take pictures with the rubbings.
Here's how the passport program works:
As you hike the trails inside the passport, look for a wooden post or a bench with a small metal plate on it (hint: the picture on the plate will be on the page for that trail in your passport).
When you find the post, make a rubbing with your crayon rock (provided with your passport).
Bring the passport back to the nature center after you've hiked 2, 5, 8, and 12 trails, and you'll earn a prize that you can use on your next trail adventure. On Passport III, come back after you've hiked 8 and 12 hikes. View the Passport prizes here.
If you complete all 16 hikes in any passport, we'll have something extra-special for you.
The Los Alamos Trails app is in beta testing as of August 2021. Click the link to download a version to try out and send us feedback about. Prefer paper? Pick up trail maps at the nature center or the municipal building for Los Alamos trails. Or check them out on the web at the Los Alamos County Open Space page.
Looking for friends to hike with? Check out our guided hikes and group hiking programs on our Events page.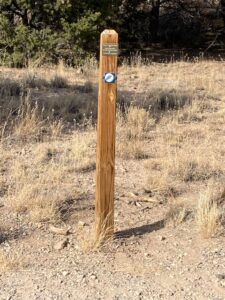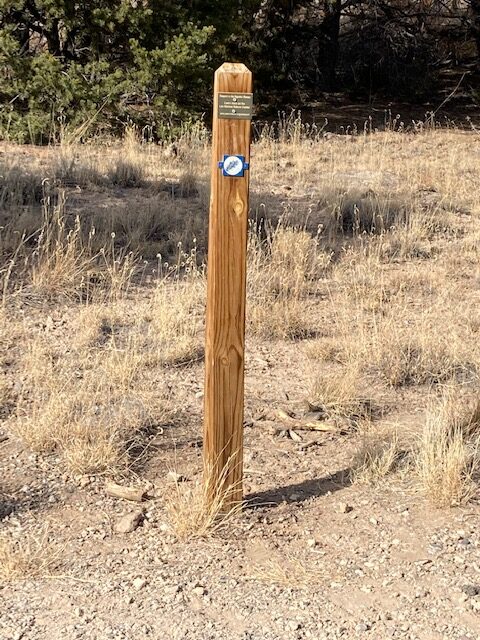 Having trouble finding the posts?
POST NEWS:
Passport I: The Bayo Bench post is currently missing. If you know anything, please call us (505-662-0460). Until we get new rubbing plates installed, stop by the nature center after hiking one of these trails to receive credit for your hike.
Passport II: The Kwage Mesa and Cañon de Valle posts are currently missing. For South Mountain, before setting out to hike, please call the Valles Caldera National Preserve Visitor Center (575-829-4100, option 3) to check the status of the trail. You can also hike Cañon de Valle trail instead of South Mountain, but that rubbing plate is currently missing. There's still a "Passport to the Pajarito Plateau" sign you can use for a rubbing or visit the nature center to make your rubbing on our backup plates.
Special thanks to our sponsors for making this program possible:
George and Helen Cowan Trust and The Delle Foundation