Acorn Woodpecker

Scientific Name: Melanerpes formicivorus
Type: Bird
Family: Picidae (Woodpeckers)
Size: 8.3 inches long; 13 to 16-inch wingspan
Weight: 3.0 ounces
Life Span: 4 to 12 years
---
Physical Description
An adult Acorn Woodpeckers has a black back and chest, white belly with black stripes, white rump, and white wing-patches. With a patterned head and prominent eyes due to white irises, the overall impression of this bird is that of a clown.
Males have a red crown, white forehead, and black face. In contrast, females have a black patch between the red crown and white forehead. Juveniles are smaller than adults and have dark eyes.
Male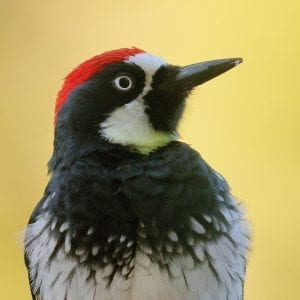 Female
Juvenile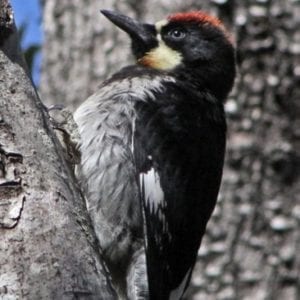 ---
Range, Migration, and Habitat
Acorn Woodpeckers do not typically migrate but will move to another area if the local acorn crop for a particular year is poor. Therefore, they are essentially permanent residents throughout their entire range — western parts of the US, most of Mexico and Central America, and as far south as Columbia in South America.
Acorn woodpeckers are dependent on a ready source of acorns and make their homes in pine-oak woodlands but will reside in hardwood forests as long as oaks are available.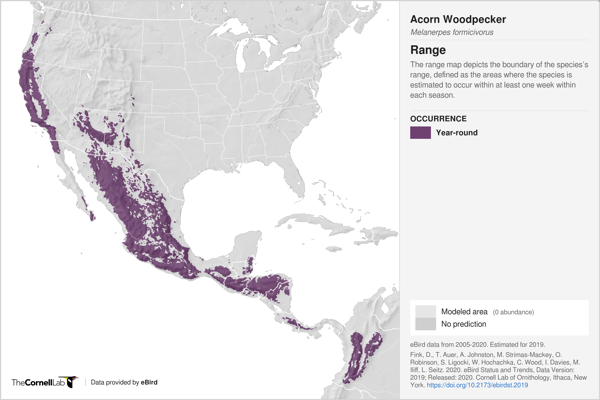 ---
Diet
Acorn Woodpeckers eat insects, fruits, seeds, some eggs, and of course nuts, in particular acorns. Insects are plucked from the surface of a tree, or caught mid-air during flight. Flying ants are a favorite. Unlike most other woodpeckers, Acorn Woodpeckers rarely dig into wood for insects.
Acorn Woodpeckers are best known for their habit of drilling small holes into trees and then storing acorns in these holes to be eaten later. Acorns make up about 50% of their diet and are the major food source during winter.
Behavior and Social Life
Acorn Woodpeckers have a complex social structure, forming small colonies of 12 or more birds. They live, nest, and raise young communally. They communicate with each other using a raucous, scratchy waka-waka call.
Although group members in temperate climates do not usually forage together, they do share in gathering and storing acorns for future use in a tree known as a "granary." All members of the group work collectively to maintain and defend this communal food resource. These granaries are so important to the acorn woodpecker that they are considered to be the main reason why Acorn Woodpeckers live together in large families.
Life Cycle
Breeding males can mate with any of and all of the breeding females. Breeding females often lay their eggs in a shared nest. Non-breeding members of the group help raise the young, including taking turns incubating the eggs. All members of the group help raise and feed the babies.
The nest consists of a cavity in a tree which is excavated by all members of the group and typically 12 to 30 feet above the ground. The nest is lined with wood chips. There are usually 3 to 7 white eggs in a clutch that hatch in 11 to 14 days.
The young leave the nest after about a month, although fledglings return to the nest to roost and feed. There are usually one or two broods each year.
---
Granary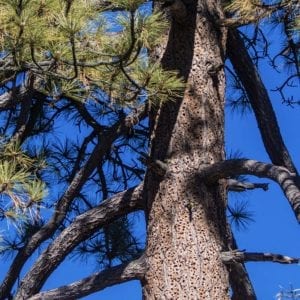 Close-up of Granary
Nest Building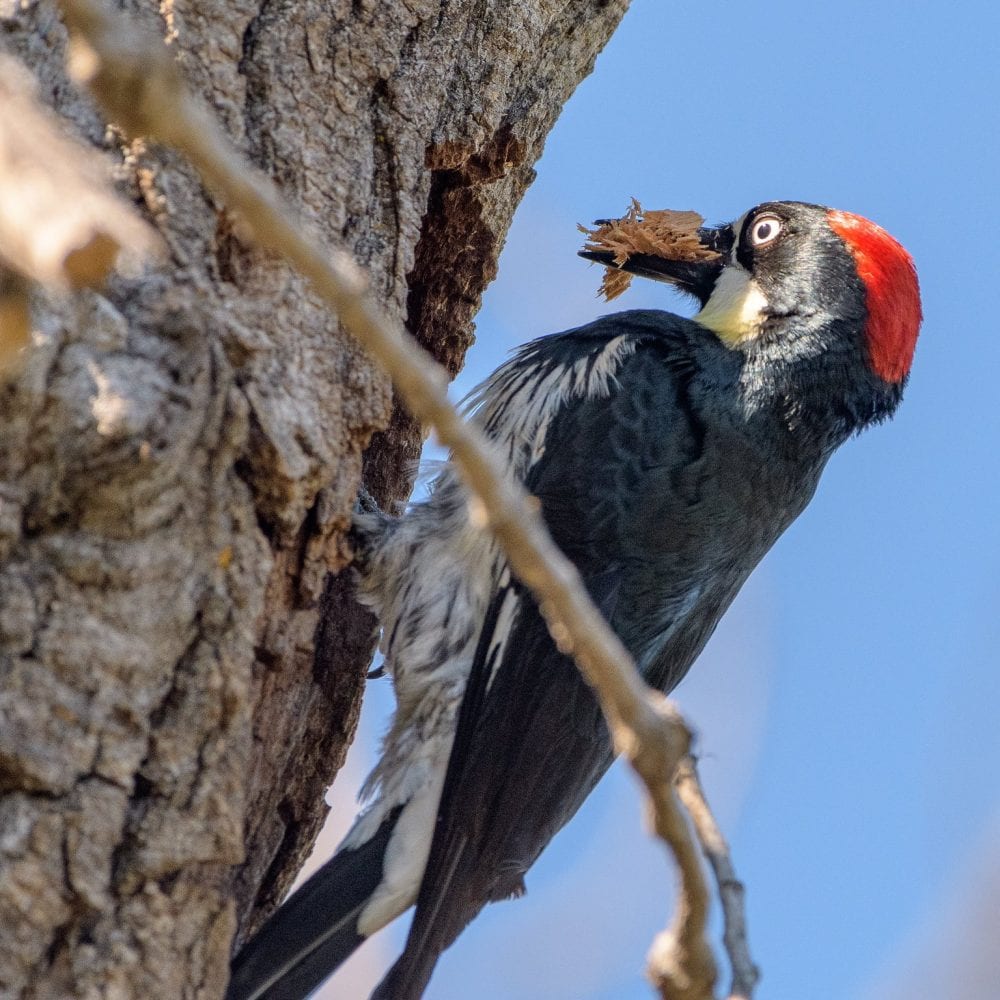 ---
Title
Ecological Role
Acorn Woodpeckers have an important ecological role in providing housing for other species. They excavate a large number of cavities that they use themselves for nesting and resting at night. However, when they move out, other birds can move in and use them.
Interactions With Humans
Historically, groups of Indigenous people used Acorn Woodpeckers as food and collected their feathers for ornamentation.
Today some nut and fruit farmers consider Acorn Woodpeckers pests for eating their crops. Also, these birds have been known to cause damage to man-made objects like fence posts, utility poles, buildings, and even automobile radiators.
Interesting Facts
The acorns in a granary are jammed in so tight that squirrels cannot pry them out.
The same granary tree may be used over several generations of Acorn Woodpeckers.
Some large granary trees have as many as 50,000 holes drilled into them.
One bird will stand watch over an acorn stockpile to guard it while others focus on gathering more nuts.
A group of woodpeckers is called a "bushel."
Acorn Woodpeckers consume a large number of flying ants.
Acorn Woodpeckers use fresh wood chips from the inside of their tree cavities to line the bottom of their nests.
Some people think the Acorn Woodpecker call sounds almost like they are laughing.
It is estimated that there are 7,500,000 breeding Acorn Woodpeckers.
In some areas, Acorn Woodpeckers do not use a granary tree, but rather store acorns in natural holes and cracks.