Broad-tailed Hummingbird

Scientific Name: Selasphorus platycercus
Type: Bird
Family: Trochilidae (Hummingbirds)
Size: 4 inches long; 5.25-inch wingspan
Weight: 0.13 ounce
Life Span: 3 to 4 years

---
Physical Description
A broad-tailed hummingbird has a slender body, big head, long straight bill, and long tail. Both sexes have shiny green backs, green or buff-colored flanks, and a white chest.
Adult males have a throat patch called a gorget that gleams an iridescent rosy-red when it raises its head toward the sun at just the right angle. In contrast, females have green or bronze spots on their throats and cheeks and buff-coloring on their breasts. In general, females are larger than males. Juvenile males look like females until they start to develop gorget feathers that fully appear during their first winter.
---
Range, Migration, and Habitat
Broad-tailed hummingbirds spend their winters in Mexico and Guatemala. Come spring, a migratory group moves northward to breed in the western US from California through New Mexico to west Texas. Non-migratory birds stay in Mexico.
Broad-tailed hummingbirds do not migrate in flocks. Instead they travel alone with the older males heading north first. The males start back south right after breeding.
High mountain meadows, pinyon-juniper woodlands, dry ponderosa pine woods, and mixed forests are preferred for nesting. Broad-tailed Hummingbirds can be found at elevations up to and over 10,000 feet.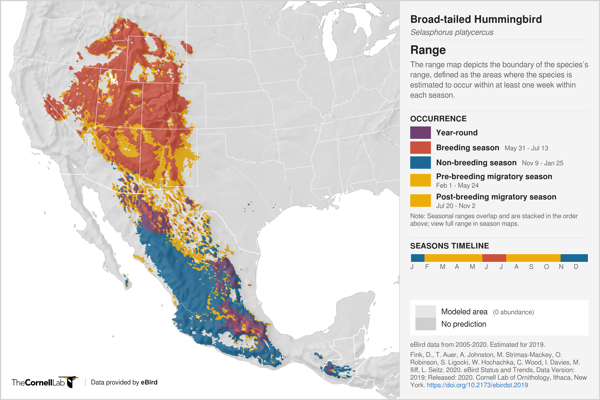 ---
Diet
Broad-tailed hummingbirds feed primarily on nectar and tiny insects. They are also attracted to sugar-water mixtures in hummingbird feeders.
Hummingbirds most often visit red tubular flowers such as scarlet gilia and columbine. They use their long tongues to reach the nectar within. In addition, their diet includes insects caught in mid-air or plucked off of foliage.
Nectar used by hummingbirds contains large amounts of water. So hummingbird kidneys have adapted to handle processing large amounts of water. The birds will vary the amount of nectar drunk based on its sugar concentration.
Behavior and Social Life
Broad-tailed hummingbirds spend their time during the day zipping and darting from flower to flower, hovering above each, drinking nectar. The blade-like wings of the hummingbird are only connected to the shoulder. This allows the wings to rotate almost 180 degrees, enabling the birds to hover. They communicate using a call that sounds like a sharp, high, metallic chip.
Males are territorial and will defend an area during mating season, challenging others vocally and chasing them away. Males, but not females, make a loud, buzzing noise with their wings when flying about, signaling their presence even when they are not visible.
On cold nights, broad-tailed hummingbirds enter a state of torpor with slowed metabolism. In torpor, these birds are able to maintain a body temperature of 54° F even when the ambient temperature falls to below 44° F.
Foraging
Calling
Buzzing During Flight
---
Life Cycle
During courtship, male broad-tailed hummingbirds perform a sort of dance for the females. They fly in a U-shaped pattern, diving down from up to 60 feet above the ground. The dive produces a loud wing buzz. Males will court a particular female for a short time, mate, and then fly off to find other females.
Females build their nest on a horizontal branch that is sheltered from above. The nest is made of spider webs and plant down from the underside of leaves and is covered with lichen, moss, and bits of bark. This allows the nest to expand as the babies grow.
Typically, two eggs are laid and incubated for a little less than 3 weeks. The young birds fledge at a little more that 3 weeks old. Males take no part in nest building, incubation, or rearing of young.
Nest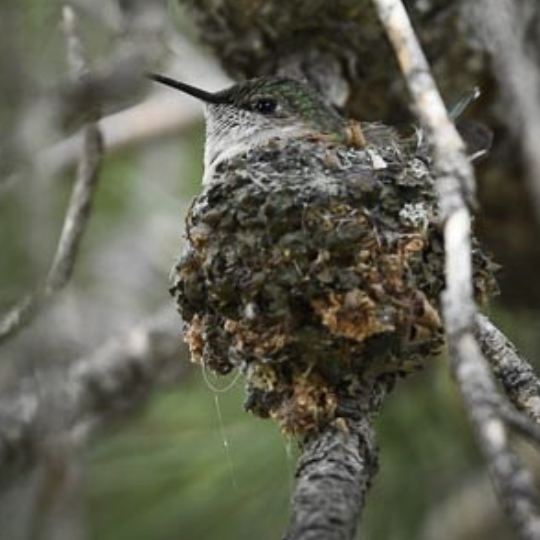 Egg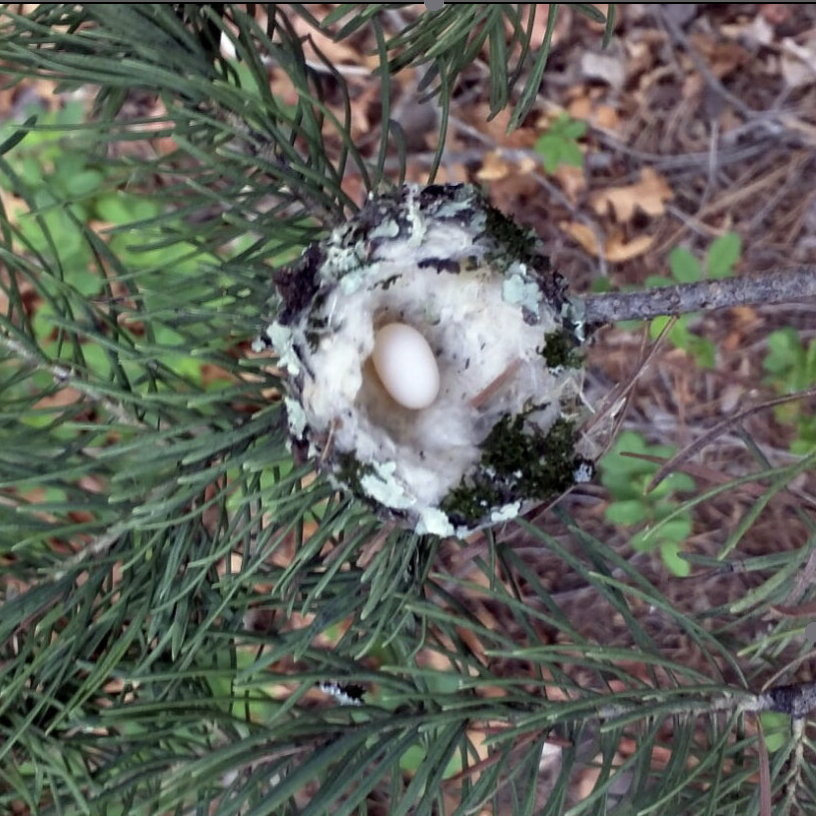 Nestlings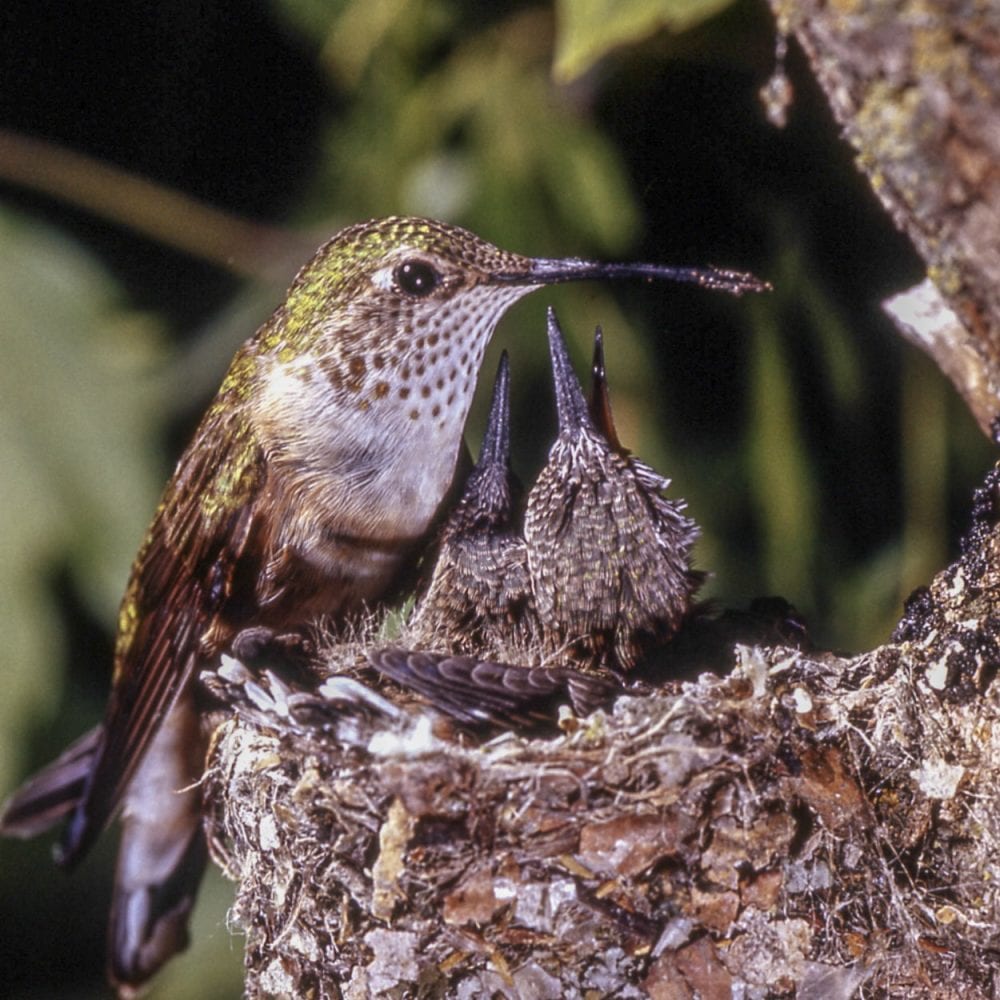 ---
Title
Ecological Role
Broad-tailed hummingbirds, due to the nature of their feeding habits are important pollinators for the plants on which they forage.
A list of these plants include: scarlet gilia, nasturtium, penstemon, lupine, columbine, paintbrush, larkspur, and butterfly bush.
Interactions With Humans
Hummingbirds, including the broad-tailed, that are attracted to feeders provide a popular way for individuals to bird watch. In addition, they are have become a prominent draw for ecotourism in areas where they are prevalent.
Interesting Facts
Broad-tailed hummingbirds can eat enough during the day to gain as much as 30% of their body mass. This extra weight is needed to get them through the night.
Broad-tailed hummingbirds need to eat every 15 minutes.
Members of this species will build its nest in the same tree year after year, sometime even building it atop an old nest.
Females may steal nesting materials from each other.
Broad-tailed hummingbirds have longer bodies compared to other North American hummingbirds.
They also have longer tails than the other species in the area.
Broad-tailed hummingbirds have very strong muscles with muscle making up 25 to 30% of their body weight.
Broad-tailed hummingbirds have good memories for where the best place to eat are located.
A Broad-tailed hummingbird's defense against predators is its speed.
In addition to catching insects mid-air, broad-tailed Hummingbirds will grab them off of spider webs.
Broad-tailed hummingbird wings beat an average speed of 40-50 times/sec while hovering.