Hernandez's Short-horned Lizard
Also known as: Greater Short-horned Lizard
Scientific name: Phrynosoma hernandesi
Type: Reptile
Family: Phrynosomatidae (North American Spiny Lizards)
Size: 2 – 5.9 inches length
Weight: 0.4 to 0.6 ounces
Life Span: up to 5 years
---
Physical Description
The Hernandez's short-horned lizard, also known as the horned frog, horny toad, horned toad, and greater short-horned lizard, is a wide, flat lizard, neither toad nor frog. It is flat-bodied and squat with scales around the top of its head. When viewed from the top, Hernandez's short-horned lizards appear to have a "heart-shaped" appearance.
These lizards have snub noses, short legs, fringes near pointed scales on the trunk, smooth bellies, and short tails. They are gray, yellowish, orange-brown, or reddish-brown with dark spots on the back. Females are larger than males.
Range and Habitat

These horned lizards can be found in semiarid plains, shortgrass prairies, pinyon-juniper forests, and montane regions between 2,000 and 10,000 feet in elevation. They are widely distributed in North America. They can be found as far north as southern Saskatchewan and Alberta and south into the Texas Panhandle and central Mexico. Their range in the US covers from central Nevada in the west to North and South Dakota to the east, covering much of Utah, Arizona, and New Mexico.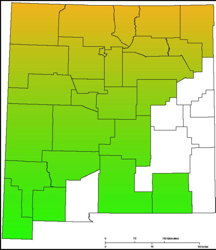 ---
Diet
Horned lizards are primarily myrmecophagous, meaning they eat ants. However, they will also eat beetles, grasshoppers, spiders, young snakes, snails, sowbugs, and a variety of other insects and invertebrates. They wait for their prey to come by and snap up it up.
Behavior and Social Life
Adult Hernandez's short-horned lizards are diurnal, being most active during the evening and burrowing at night. However, these lizards may be active during the day when the weather is good from March to October. In general, they hibernate from late fall to early spring.
They are considered to be "sit-and-wait" predators, though they can run in short bursts. They usually stand still and blend in with their environment, waiting for prey to come within range.
If provoked, short-horned lizards can increase the blood pressure in the area behind their eyes and use that to squirt blood at attacking predators. Alternatively, they can puff up to twice their size. When inflated, their protruding horns make an unappetizing meal. They may also burrow into the ground when threatened but usually they do not make any sound.
Life Cycle
Males are sexually mature at a year of age; whereas females do not mature until about two years old. Mating between short-horned lizards takes place in spring (May to June) and the young are born two to three months later (July to September).
Litters are typically 6 to 18. The young are born without horns in a clear amniotic sac from which they must break free. They are able to take care of themselves within a few hours, being able to fully crawl at about a day old.
---
Ecological Role
Horned lizards keep harvester ant populations under control. In turn, they are preyed upon by hawks, owls, roadrunners, snakes, lizards, wolves, and coyotes.
Interactions With Humans
Horned lizards are normally docile but may lunge at and bite a person if threatened. They have been captured and sold as pets, though this practice is discouraged by wildlife groups as horned lizards do not survive well in captivity.
Interesting Facts
The Hernandez's short-horned lizard was named for Francisco Hernandez Medico, a Spanish explorer who wrote a description of it in 1651.
Short-horned lizard adults weigh less than a quarter.
Horned lizards have short teeth and a small lower mandible.
Horned lizards usually capture their prey with their sticky tongues rather than grabbing it with their mouth.
They give birth to live young live which are about a gram.
When threatened or being aggressive, their color color becomes more intense.
They will roll onto their backs and play dead to escape becoming prey.
They can also accurately squirt blood up to three feet from their eyes at attacking predators.
The blood contains a chemical that is noxious to wolves and coyotes.