Lesser Goldfinch

Scientific Name: Spinus psaltria
Type: Bird
Family: Fringillidae (Finches)
Size: 3.5 to 4.3 inches long; 2.4-inch wingspan
Weight: 0.2 to 0.3 ounces
Life Span: up to 5 years
---
Physical Description
Lesser goldfinches are tiny songbirds. They have long, pointed wings and short, notched tails. Males have bright yellow underparts, a glossy black cap, and white patches in the wings and tail. Their backs range from solid black to medium green with green being more common in the western U.S. and northwestern Mexico.
The upper parts of females are grayish olive-green; their underparts are yellowish. They have only a narrow strip of white on the wings and little or no white on the tail. Immatures look like the females except that the underparts are more buff than yellow.
Male (black back)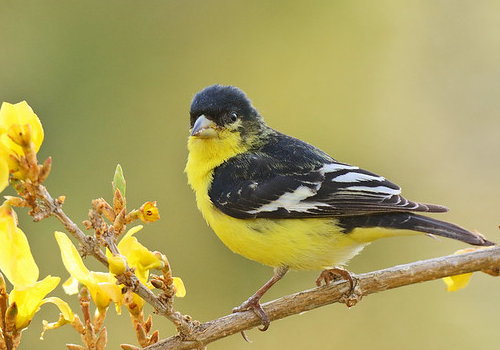 Male (green back)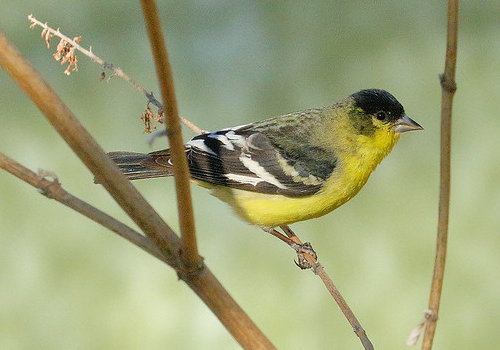 Female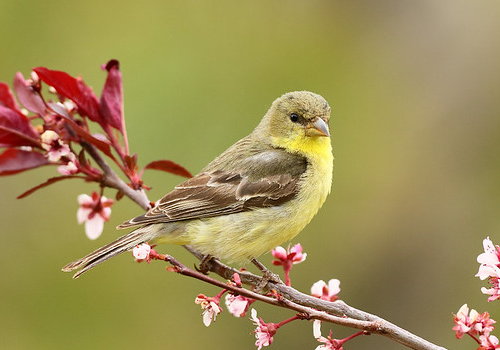 ---
Range and Habitat
Lesser goldfinches live throughout Mexico, Southwestern United States, and parts of Latin America. They are permanent residents in California, Arizona, New Mexico, and Texas. They may migrate from higher elevations to lower in the winter.
Lesser goldfinches live in a variety of habitats — temperate, tropical, and terrestrial habitats. They can be found in deserts, mountains, and forests. They are also common in suburban areas. They prefer to feed in weedy fields, budding treetops, and the brush of open areas and edges.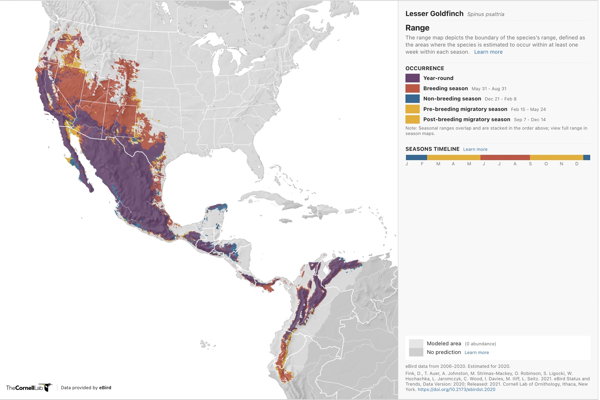 ---
Diet
Lesser goldfinches are primarily seed-eaters, though they will eat some insects such as small aphids. They mainly eat seeds from the Asteraceae, or Compositae families, preferring thistle, wild sunflower, and various weeds. They cling to the seed heads of tall plants, bending the stem down so that it can end up hanging upside down while picking at the seeds. These birds will also eat flowers and buds from trees such as cottonwood and some berries. They readily come to feeders along with other finches and siskins for thistle.
Behavior and Social Life
The lesser goldfinch is very acrobatic when foraging, constantly flitting about, hovering, and bobbing its tail while feeding. It has a bouncy, dipping flight pattern.
Lesser goldfinches are gregarious except when nesting. When not breeding, they will gather in large flocks mixed in with other songbirds at weedy fields, bird feeders, and watering spots.
The lesser goldfinch's song consists of a series of "sweet" notes and whistles: sweee-cheecheechee-tvee-tvee-tvee-tootootoo-sweee. These birds also make a harsh chig chig chig call.
Foraging
Young One Chirping
Pair Calling
Male Singing
---
Life Cycle
During the breeding season, the male establishes a territory by calling and then singing to attract a female. When a female arrives, he chases her in flight. Eventually, the two settled down on a branch together, displaying courting behavior.
The female selects the nest site, often choosing a spot in a fork of branches of a cottonwood or willow along a waterway. The nest is cup-shaped and made of leaves, bark, cocoons, and spiderwebs, usually lined with hair, feathers, and plant fibers.
Typically the female lays three to six pale blue to pale blue-green eggs which she incubates for about 12 days. Both parents feed the nestlings. The age at which the young leave the nest is not well known. There can be two or three broods per season.
---
Title
Ecological Role
the primary role of the lesser goldfinch in the environment is in dispersing nuts and seeds. Thus, allowing plants to proliferate in new areas which provide food and habitat for other organisms. In turn, lesser goldfinches are prey for other birds such as hawks and owls. In addition, squirrels, blackbirds, and shrikes will invade their nests for the eggs or young. Lastly, lesser goldfinch nests are often taken over by brown-headed cowbirds.
Interactions With Humans
Economic Importance for Humans: Positive
Lesser goldfinches are common in backyards, particularly at feeders, and have contributed to the popularity of bird watching. They present no known negative economic impact.
Interesting Facts
The Lesser Goldfinch was first described in 1823 by the American naturalist Thomas Say.
The lesser goldfinch is the smallest North American finch.
The species may also be the smallest true finch in the world.
The color of the back of male lesser goldfinches tends to relate to their geographic region with all black most seen in the easter US and southern Mexico.
In the US, lesser goldfinches are most common in California and Texas
When feeding, lesser goldfinches will typically mix with other small birds.
A group of goldfinches may be called by many names" " 007″, "charm", "rush", "treasury", and "vein" of goldfinches.
The lesser goldfinch can fly at impressive speeds over short distances.
The oldest known wild lesser goldfinch was 7 years old when recaptured during a banding operation.
The American goldfinch is larger than the lesser goldfinch; males are more brightly colored with mostly yellow bodies.