Mountain Chickadee

Scientific Name: Poecile gambeli
Type: Bird
Family: Paridae (Chickadees and Titmice)
Size: 5 – 6 inches long; 7.5-inch wingspan
Weight: 0.38 ounces
Life Span: up to 10 years
---
Physical Description
The mountain chickadee is a medium-sized bird with gray upperparts, black cap and bill, white cheeks and neck, and gray wings, tail and underparts. Mountain Chickadees of the Rocky Mountains most often have short, blunt bills and buff-colored flanks, while the birds in other regions usually have longer, thinner bills and lighter colored flanks. Males and females look alike.
The distinctive feature of the mountain chickadee is its white eyebrow, which differentiates it from the black-capped chickadee which is sometimes seen in the Los Alamos area.
Mountain Chickadee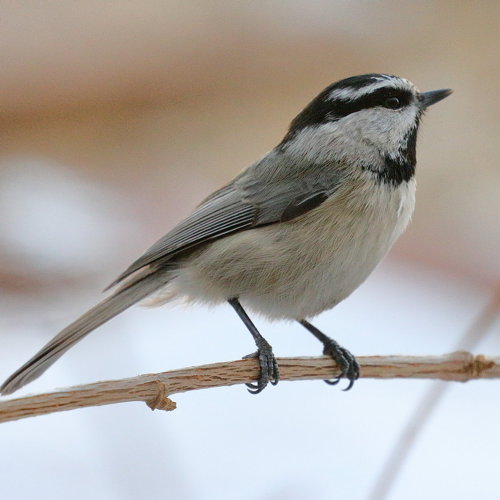 Black-capped Chickadee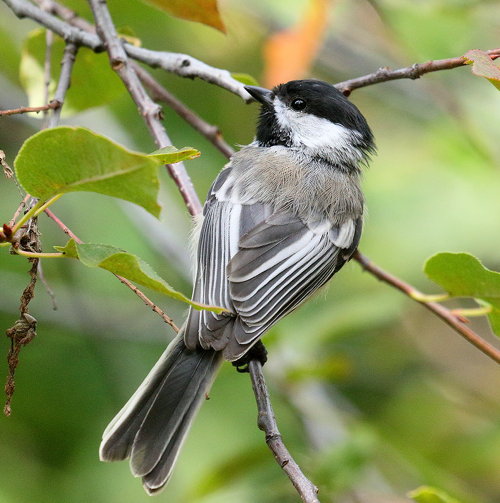 ---
Range and Habitat
The mountain chickadee range goes from British Columbia south through the Rocky Mountain and Cascade-Sierra mountain chains all the way to southern California and Texas. Their preferred habitat includes dry coniferous forest and mixed woodlands.
Mountain Chickadees are well adapted to a cold environment with soft down next to their skin for insulation and tightly packed outer feathers for waterproofing. Therefore, in general, they do not migrate during the colder months. However, they may move to lower elevations or spread out some when food is scarce.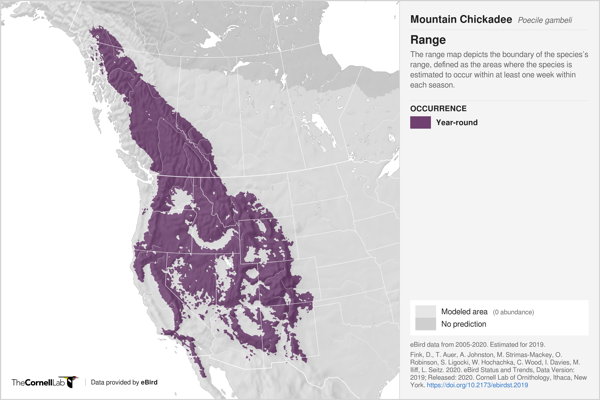 ---
Diet
Mountain chickadees primarily eat insects and spiders during the summer months and when breeding. In addition, they will eat berries, in particular bayberries and poison ivy berries. The rest of the year they mostly consume conifer seeds which they will cache. In addition, they will visit feeders for suet and large seeds like sunflower. They also like cracked corn.
Behavior and Social Life
Mountain chickadees spend almost all of the daylight hours feeding. These birds are tree-loving and very agile, being comfortable at any angle. They often cling to the undersides of branches and to tree trunks, searching for food in the bark or picking seeds from cones. This allows them to find food that other animals overlook.
They can often be seen flitting through high branches or exercising flight maneuvers where they constantly change direction in mid-air. The latter gives them an advantage in avoiding enemies. Mountain chickadees travel in pairs or small groups and will join multi-species flocks when not breeding.
Mountain chickadees most commonly communicate using a clear, high whistle of 3 to 6 syllables that can sound like "chick-adee-dee-dee".
Looking for Insects
Perching with Prey in Bill
Calling
---
Life Cycle
Mountain chickadees will pair up in the fall or early spring. The actual breeding season starts in April. The male will show the female potential nesting sites — either a cavity or a nesting box. The female will pick the final site, preferring a nesting box to a cavity. The nest is circular in shape with wood chips, lichen, moss, grass, and loose fur or plant down.
The female will lay between 6 and 12 mostly white eggs and then incubate them for about 14 days. During this time, her mate will defend the area and collect food for her. Once the eggs hatch, both parents provide food for the babies. The young leave the nest when around 20 days old but will stay with their parents for a few more weeks until they are able to fend for themselves. There may be a second brood if the first occurred early in the season.
Title
Gathering Nesting Materials
Feeding Young
Young Chickadee
Ecological Role
The mountain chickadee is an insectivore, consuming large numbers of insects in the warmer months. In addition, it has a unique role as a cavity nesting bird. Unlike many other birds that are limited to only using abandoned cavities of the right size for nesting, the mountain chickadee can excavate a new nest if the wood is soft.
Interactions With Humans
Mountain chickadees are fun to watch and are frequently attracted closer to human populations by feeders and nesting boxes.
Interesting Facts
The mountain chickadee is one of the most common birds in Western coniferous forests.
These birds can change direction in mid-air in 0.03 seconds.
The female covers her eggs with a fur plug when she leave the nest.
Studies have shown that a chickadee needs to eat about 10 calories per day to survive, approximately one-twentieth of an ounce of peanut butter.
If a chickadee takes a sunflower seed from a feeder, it will hold it between its feet, break the shell with its beak, and then fly off with it.
Chickadees will store food for later when they find a good supply like a close feeder.
At night during winter, a mountain chickadee's body temperature can drop by as much as 20 degrees F. Its breathing and heart rate will also slow.
In mixed flocks, black-capped chickadees dominate over mountain chickadees.
During outbreaks of tree-killing insects, chickadees will gorge themselves. One chickadee was found with 275 caterpillars in its stomach during one such outbreak.