Northern Flicker

Scientific Name: Colaptes auratus
Type: Bird
Family: Picidae (Woodpeckers)
Size: 11 – 14 inches long; 17 – 21-inch wingspan
Weight: 3.0 – 5.9 ounces
Life Span: up to 9 years
---
Physical Description
Norther flickers are brown overall with a pattern of black spots, bars, and crescents. The birds have a white rump patch that is best seen in flight but may be seen when perching. The color of the undersides of the wing and tail feathers is either yellow or red dependent on the subspecies.
There are two subspecies of Northern flicker that primarily differ based upon the color of their flight feathers. The yellow-shafted form (Colaptes auratus auratus) is found in the East and throughout the Great Plains and Texas. These flickers have tan faces, a gray crown, and a red crescent on the back of the neck. Males have a black mustache stripe.
The red-shafted form (Colaptes auratus cafer) ranges throughout the west and is the flicker seen locally. Red-shafted flickers have a gray face and brown crown. They do not have a crescent on the back of the neck. Males have a red mustache stripe.
---
Range, Migration, and Habitat
The Norther flicker is native to most of North America, parts of Central America and Cuba. It is one of the few woodpecker species that migrate. Flickers that breed in the most northern parts of their range will travel southward for winter. However, birds that breed in the more southern regions typically do not migrate.
Northern flickers can be found in open habitats near trees such as woodlands, edges, open fields with scattered trees, and parks. In mountainous areas, they will inhabit most forest types all the way up to treeline. In wet areas, they can be found in streamside woods and flooded areas.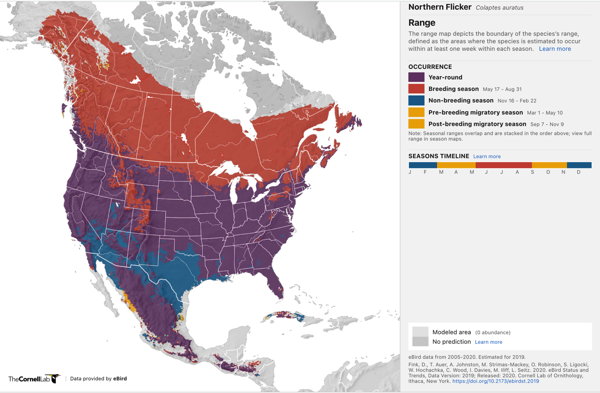 ---
Diet
Northern flickers mostly eat ants and other insects such as beetles and termites that they gather from off the ground. However, they will pursue ants underground. They hammer on the soil like other woodpeckers would to drill into wood in order to get the nutritious larvae. They have a tongue that can reach 2 inches beyond the end of their bill that is used to snare prey such as moths.
Flickers will also eat berries and seeds, especially in winter. Though they do not usually come to bird feeders for seed, they are attracted to suet as well as to birdbaths. In addition they will also come for apples, peanut butter, or raisins.
Behavior and Social Life
Unlike other woodpeckers, Northern flickers spend a lot of their time on the ground hopping around foraging, sometimes amongst other birds. When flushed, they will fly into a tree but tend to perch upright on a horizontal branch rather than leaning their tails against the trunk like other woodpecker species. However, they do fly like a typical woodpeckers, using heavy wing flaps interspersed with glides. They will occasionally fly out to catch insects in the air.
Northern flickers make several different sounds from a short single-note call like "kyeer" to a loud, rolling rattle, and a rhythmic "wick-a, wick-a" call.
---
Life Cycle
In early in spring and summer, males may display what is called a "fencing duel" while trying to attract a potential mate. Two males face off against each other on a branch and bob their heads in time while drawing a figure-eight pattern in the air.
A pair of flickers that have mated will create their own nesting cavity in a dead or diseased tree truck or large branch. Unlike many other woodpecker species, flickers will often reuse a cavity from a previous year.
The cavity can be up to 16 inches deep with a 3 inch entrance hole. It is left empty inside except for a bed of wood chips for the 5 to 8 white eggs laid by the female to rest on. Both sexes incubate the eggs that hatch in about a week-and-half to 2 weeks. Both parents tend the young until they are ready to leave the nest at 4 weeks of age. There is usually only a single brood per year, though birds breeding in more southern regions may have two.
---
Title
Ecological Role
Northern flickers help control insect populations, in particular that of ants. In addition, they create nests that can later be used by other cavity-nesting species of birds and even squirrels.
Interactions With Humans
Flickers are valued for their ability to destroy a variety of insect pests. In particular, their preference for ants is appreciated. Lowering ant populations also lowers that of the plant-injuring aphids that provide "honeydew" for ants.
Interesting Facts
There are over 100 common names for the Northern flicker including clape, gaffer woodpecker, harry-wicket, heigh-ho, wake-up, walk-up, wick-up, yarrup, and gawker bird.
Many of the flicker's common names derive from attempts to imitate some of its calls.
Flickers use the formic acid from the ants to help get rid of parasites on their feathers.
Norther flickers may have the longest tongue of all North American birds.
Hybrids between the red-shafted and yellow-shafted subspecies are common where populations overlap.
A group of flickers are collectively known as a "guttering", "menorah", and "Peterson" of flickers.
Flicker males can use a drumming technique to attract a mate.
A flicker's tongue is different from that of other woodpeckers as it is designed to lap up insects rather than extract them from wood.
It takes around a week or two for a mated pair to create a new nesting cavity.