Pine Siskin

Scientific Name: Spinus pinus
Type: Bird
Family: Fringillidae (Finches)
Size: 4.3 to 5.3 inches long; 7.1- to 8.7–inch wingspan
Weight: 0.42 to 0.63 ounces
Life Span: up to 8 years
---
Physical Description
Pine siskins are a small streaky brown birds with white lines on the wings and subtle yellow edgings on wings and tails. There are differences in the amount of yellow on individual birds with the brightest known as the "green morph", though it is unknown if this is a true morph or just normal variation.
They have slender bills along with short, notched tails and pointed wingtips. Although they are often confused with sparrows, they are actually relatives of the goldfinch. As a finch, they are unusual in that males and females look nearly identical making it hard to distinguish of a pine siskin, regardless of sex, from females of other species of finch in the area.
From left to right: Female House Finch with downward curving bill; female Cassin's Finch with thick, straight bill; male Pine Siskin with thin, straight bill

---
Range, Migration, and Habitat
The native range for the pine siskins covers almost all of North America and much of Central America — from southern Alaska to Guatemala. They breed in southern Alaska, parts of Canada, and the northeastern and western states in the US while migrating southward for winter.
These birds prefer coniferous and deciduous forests, woodlands, and brushy or weedy areas. They are attracted to feeders as well as areas with mineral deposits such as road beds that have been salted to melt snow.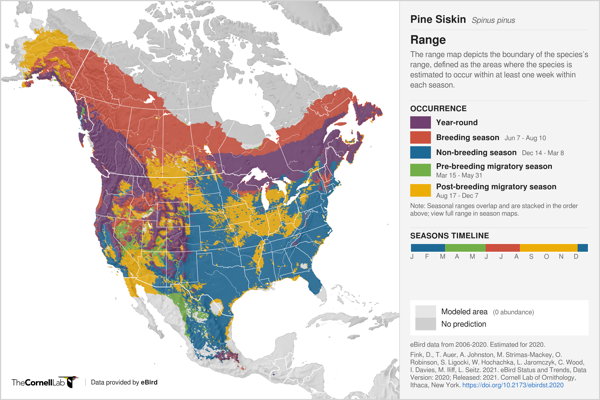 ---
Diet
Pine siskins mostly eat seeds and other vegetable matter. As their name implies, they have a particular fondness for seeds from pines and other conifers. Their diet also includes seeds from grasses and large flowers, young buds of a variety of trees, and soft stems and leaves of weeds. In addition, they will take insects, spiders, and grubs from off of leaves or occasionally from midair. Such protein rich foods are favored for feeding to the young.
They are frequent visitors to feeders, preferring thistle and other small seeds without a tough shell. They will scavenge bits of larger seeds dropped by other birds. They also frequent areas with mineral deposits such as the edges of salted roads.
---
Behavior and Social Life
Pine siskins typically forage in trees and shrubs. In addition, they can be seen eating while hanging upside down from taller weeds. They can store up to 10% of their body weight in seeds in their crop as a source of energy. These birds are better than the "normal" songbird of their size at surviving cold weather. They can modulate their metabolic rate better and store more winter fat.
Pine siskins usually forage in constantly moving flocks, even during the nesting season. During migration such flocks can grow to be as large as several thousand. In general, pine siskins are not territorial and may nest in loose colonies. Pairs may even visit the nest of other pairs. However, individuals, particularly during winter, may be aggressive, challenging competitors for food.
These birds stay in contact with a wheezy sounding call used during feeding and flight. In addition, a male will sing from a perch high up in a tree or during courtship.
Foraging
Preening
Call
Song
Life Cycle
Formation of breeding pairs may begin as early as winter. During courtship the male sings while flying in a circle above the female with his wings and tail spread out.
When ready, the female builds a nest in a wooded area, usually on the end of a horizontal branch about half-way up the tree. Nests form shallow saucers heavily lined with fur, feathers, and moss. They are loosely attached to the tree but vulnerable to high winds. Pine siskins often nest in loose colonies with neighbors a few trees away.
The female lays 3 to 5 pale greenish-blue eggs with brown spotting. The male feeds the female while she incubates the eggs. The eggs hatch in approximately 2 weeks. Both parents feed the young which leave the nest around 2 weeks later. The parents, however, will continue to feed them for about another 3 weeks.
---
Title
Ecological Role
Pine siskins provide help in controlling insect populations and play a role in dispersal of certain types of seeds. They are also a target for the brown-headed cowbird. A cowbird will lay its eggs in the nest of a pine siskin who then cares for the young cowbirds. The young cowbirds out compete the young siskins for food, ultimately leading to death of the siskins.
Interactions With Humans
Pine siskins benefit humans by consuming a variety of small insects. In addition, they provide entertainment around backyard feeders. However, they can be carriers for the tick that spreads Lyme disease.
Interesting Facts
Pine siskins may hang out around whole sunflower seed feeders waiting for the left-over from messy heavy-billed eaters.
Every couple of years, pine siskins make unpredictable movements called irruptions into southern and eastern North America.
Due to the irruptive nature of the pine siskin, the number of birds found in any particular area varies widely from year to year.
The name siskin comes from the German and describes its chirp.
These birds often hang upside down from the tips of trees when feeding.
A group of finches is know by several names: "charm", "company", and "trembling" of finches.
During a year when there are a large number of pine siskins in an area during winter, some individuals may stay and breed further south than their normal breeding range.
Nearly 675,000 Pine Siskins were caught and banded between 1960 and 2011, but few were later caught a second time.
When temperatures plunge, pine siskins can increase their metabolic rate up to five times of normal for several hours.
In general, pine siskins put on about 50% more winter fat than other similar finches.