Western Tiger Salamander

Scientific name: Ambystoma mavoritum
Type: Amphibian
Family: Ambystomatidae (Mole Salamanders)
Size: Up to 12 inches long
Weight: Up to 4.4 ounces
Life Span: Up to 15 years
---
Physical Description
Tiger salamanders are born in the water and have tail fins and gills. These larvae have alternating dark and light blotches down the back and pale stripes running along the sides. At some point dependent on the environmental conditions, the juveniles develop lungs to breathe air and the ability to walk on land while keeping their tail fins.
Adult salamanders have broad heads with thick bodies and tails. They have blunt noses and small eyes. Both sexes are similar with the exception that the females have probationally slightly shorter tails than males. These salamanders have four front toes and five back toes. Coloration varies by geographical region but includes black, brown, grey and yellow with grey, brown, or muddy yellow stripes and blotches.
There are two feeding morphologies for tiger salamanders — typical and cannibalistic. The cannibalistic morphology is characterized by slimmer bodies, wider heads, and larger teeth than the typical. These morphs are better able to hold onto larger prey.
Range and Habitat
The western tiger salamander (Ambystoma mavoritum) can be found from Texas to Canada and from the Dakotas to Oklahoma. There are five subspecies with the barred tiger salamander (Ambystoma mavoritum mavortium) found from central New Mexico eastward through Texas. The Arizona tiger salamander (Ambystoma mavoritum nebulosum) is found from central New Mexico westward into Arizona.
Tiger salamanders are found in a variety of habitats such as grasslands and semi-deserts. However, they are primarily seen in deciduous and coniferous forests and woodlands near water. The cannabalistic morph is most often seen in drier areas and in shallow waters where competition is greater.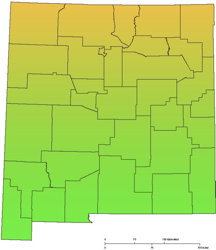 ---
Diet
Both larvae and adult tiger salamanders eat a variety of small invertebrates. Adults most often feed on beetles, earthworms, and crickets. However, they will also eat vertebrates such as tadpoles, lizards, small snakes, and even baby mice. They are opportunistic feeders, eating anything they can catch.
A favorite of the cannibalistic feeding form is the fathead minnow, though they will also cannibalize smaller members of their own species.
Behavior and Social Life
While the larval stage is entirely aquatic, adult tiger salamanders are primarily terrestrial and nocturnal. They are secretive, spending a large portion of their time underground in burrows. This helps them to escape high temperatures and evade predators. Tiger salamanders hibernate during the winter in their burrows, only emerging during the spring rains.
Tiger salamanders do not defend a territory. When threatened, an adult will raise up on its hind legs, arching its tail and waving it, and releasing sticky noxious secretions from skin glands along the top of its tail.
Like other salamanders, tiger salamanders communicate by rubbing their tails together and using their noses to nudge each other. They do not have ears, but rather are able to sense vibrations using their forelimbs. They use their sense of smell to detect harmful chemicals.
---
Life Cycle
Breeding occurs from mid-winter to late spring. As amphibians, tiger salamanders eggs are laid in water and the developing larvae are aquatic. However, fish will eat both the eggs and the young so tiger salamander prefer pools that do not support fish.
Adults typically return to the pond area in which they were born to breed. After mating, females lay approximately 200 to 2000 small eggs, either individually or in small groups. The eggs are attached to sticks, aquatic vegetation, or debris. The eggs take from 2 to 6 weeks to hatch, dependent on the water temperature. Hatchlings look like the adults except for six feathery, external gills that extend from either side of the neck.
The time from hatching to metamorphosis can be as little as 2 months but is usually much longer. Some larvae even overwinter. A few adult tiger salamanders have been known to be neotenic, meaning they retain their gills into adulthood. Cannibalistic tiger salamanders tend to develop into adults faster than the typical morphology and are most often found in areas where competition is higher.
Eggs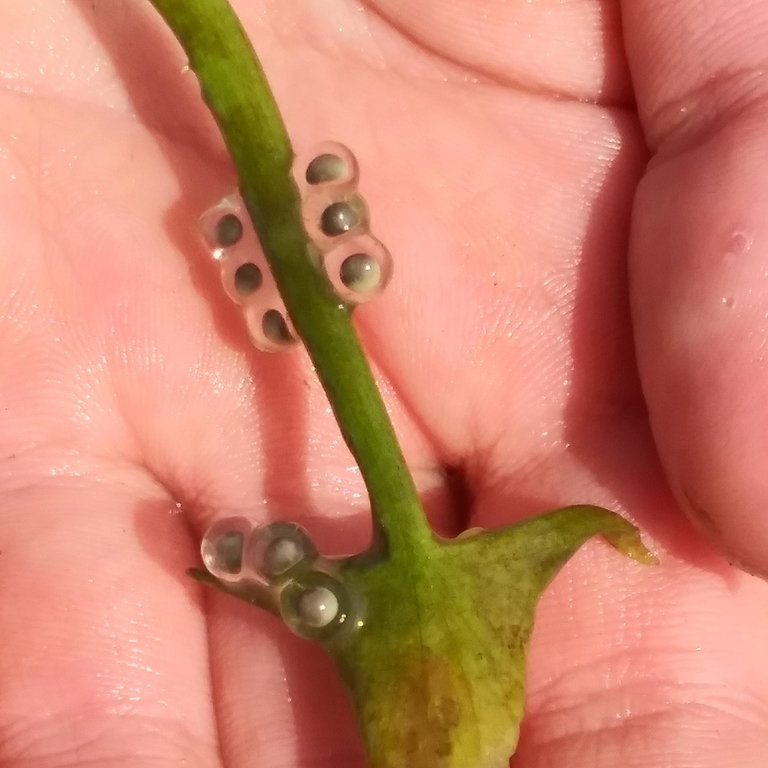 Larva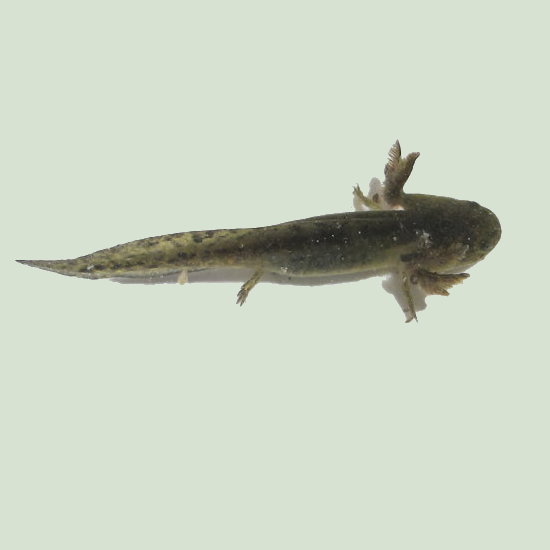 ---
Ecological Role
Tiger salamanders control pests by eating large number of insects, and in turn, by becoming food for other animals such as raccoons and large birds. Salamanders are good indicators of the overall health of an ecosystem since their moist, permeable skin makes them vulnerable to drought and toxic substances
Interactions With Humans
Due to their hardy nature, tiger salamanders are sometimes kept as pets, though it is illegal to purchase adults in most states. In contrast, the larvae, incorrectly known as mudpuppies or waterdogs, are is often sold as fishing bait. Cannibalistic tiger salamander morphs can cause problems for fisherman as they will eat this bait directly off of a fishing hook.
Interesting Facts
Tiger salamanders are the largest terrestrial salamander species.
Tiger salamanders appear to have a perpetual grin on their face.
The tiger salamander is the official state amphibian of Colorado.
Adult salamanders come out from hibernation from late April to June, dependent on the elevation.
There are occasional mass migrations of salamanders towards breeding ponds, particularly during or after rain.
After migrating, salamanders return to their homes under rocks or logs and in burrows.
Tiger salamanders are preyed upon by sandhill cranes and great blue herons.
Although tiger salamander larvae are often called mudpuppies or waterdogs, these names belong to an entirely different species of salamander.
Tiger salamanders have an opercularis muscle in their forelimbs that is able to sense vibrations.
Each salamander egg consists of an ovum (less than 0.1 inch) surrounded by 3 jelly layers making the total diameter about one-third of an inch.
Hatchlings are about half an inch long; whereas larvae are upwards of 7 inches.
Tiger salamanders, like many other amphibians, secrete a toxic substance that not only tastes bad but can be lethal for a small animal.