Western Coachwhip

Also known as: Red Racer
Scientific name: Masticophis flagellum testaceus
Type: Reptitle
Family: Colubridae (Advanced Snakes)
Size: Up to 4 to 6 feet length
Weight: 6.5 to 24 ounces
Life Span: 13 years
---
Physical Description
The western coachwhip is a non-venomous snake with a small head, long, slender body, smooth scales, and large, round pupils. Adult coachwhips can show several different color patterns depending on region and subspecies.
Western coachwhips are typically shades of patterned brown but can show signs of yellow, gray, black, or red. The red color of some snakes is the inspiration for the common nickname of "red racer". Male and female adults are indistinguishable but young coachwhips are usually a solid tan or brown.
Some of the Colors of the Western Coachwhip
---
Range and Habitat
Coachwhips range throughout the southern US from southeastern North Carolina to central California. They are also found in the northern half of Mexico. Different coachwhip subspecies reside in distinct but potentially overlapping areas. Masticophis flagellum testaceus is the sole member of the group found locally.
Western coachwhips inhabit areas that dry and open such as desert scrub, prairie, scrubland, juniper-grassland, woodland, and farmland. They are most often found in areas with sandy soil.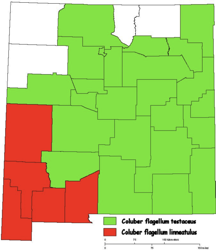 ---
Diet
Western coachwhip snakes eat a wide variety of prey including insects, amphibians, lizards, snakes, birds, and rodents. In particular, coachwhips are able to chase down and capture other snakes and lizards.
Behavior and Social Life
Western coachwhips are a solitary species that is typically active midmorning and late afternoon. These snakes capture their quarry using visual and olfactory senses, flicking their tongues to process chemicals emitted by their prey. They often hold their heads high above the ground in order to see better. They will also climb up cacti, shrubs, or trees while hunting.
Once a prey animal is located, a coachwhip will either rely on its incredible speed to easily chase it down or they follow it down a burrow to catch it. Coachwhips subdue prey by grabbing and holding them.
Coachwhips are often only seen during the hottest weather, when other snakes are inactive. They hide in burrows or under cover of things like overhanging rocks during cool weather and at night. They hibernate during winter at which time they can lower their internal temperature to about 62°F.
Sensitive to threats, coachwhips will run at the first sign of a problem and often seek the high ground in a tree or bush. If cornered, a coachwhip will coil up, vibrate its tail to mimic a rattlesnake, and potentially strike.
Life Cycle
Western coachwhip snakes breed once a year sometime between June and August. Males become territorial during the breeding season while seeking females, showing aggressive behavior such as flicking of the tongue to claim a mate. A female will breed with more than one male during the season. This prompts some males to defend a female after mating to keep her from breeding with other males.
Females will lay up to 24 oblong white, granular-looking eggs (average of 11) in loose soil, piles of leaf litter, hollows logs, and abandoned burrows of small animals. Once egg laying is completed, she will leave the site. Eggs hatch about two months later. The hatchlings are not dependent upon a parent.
---
---
Ecological Role
Coachwhip snakes have a limited ecological role other than as predator. They are prey to few other animals (coyotes and great horned owls) and are not codependent on other species.
Interactions With Humans
Coachwhip snakes provide a benefit to humans but preying upon a host of potential pests: lizards, other snakes, insects, and rodents.
Coachwhip snakes do not commonly bite humans. However, when a coachwhip bites, it can tear flesh by whipping its head from side to side. Thus inflicting a wound severe enough to require medical attention.
Interesting Facts
A coachwhip is thought to resemble a braided horsewhip, thus giving the snake its common name.
The coachwhip species name of flagellum is the diminutive of the Latin word flagrum, meaning "whip or lash".
There are seven different coachwhip subspecies currently recognized.
Some think that the coachwhip is the origin of the myth of the "hoop snake" — a snake that takes the tip of its tail in its mouth and then rolls along like a hoop in pursuit of prey.
Coachwhips have vision that is better than most other snakes.
The coachwhip is the fastest snake in North America, moving up to 4 miles per hour.
The longest coachwhip captured was 8 feet long.
Coachwhips are non-venomous and do not constrict their prey, rather they swallow it alive.
The habit of lifting the upper part of the body to search for prey used by coachwhips is called periscoping.
Coachwhips have needle-sharp teeth which produce lacerations when it bites.
Coachwhips have an attitude and are not considered to make good pets.
Like most snakes, coachwhips continue to increase in size throughout their lifetime.
The most common cause of death for a coachwhip is a motor vehicle accident.
The home range of an adult coachwhip is approximately 20 acres.