Woodrats
Scientific name:
Neotoma cinerea (Bushy-tailed)
Neotoma mexicana (Mexican)
Neotoma albigula (White-throated)
Alternative name: Packrat
Type: Mammal
Family: Cricetidae (New World Rats and Mice, Voles, Hamsters, and Relatives)
Size: 11 to 16 inches, including the tail
Weight: 10 to 16 ounces
Life Span: approximately 3 years
---
Physical Description
There are numerous types of woodrats, also known as packrats, in the US. The three that are found in Northern New Mexico are the bushy-tailed (Neotoma cinerea), Mexican (Neotoma mexicana), and white-throated (Neotoma albigula). The white-throated is the most common in the local area.
Woodrats look like what one expects of a common rat except that instead of a scaly hairless tail, a woodrat has a hairy tail. Woodrats have very large eyes and ears. They are gray-to-brown overall with their coat color potentially changing a bit with the season.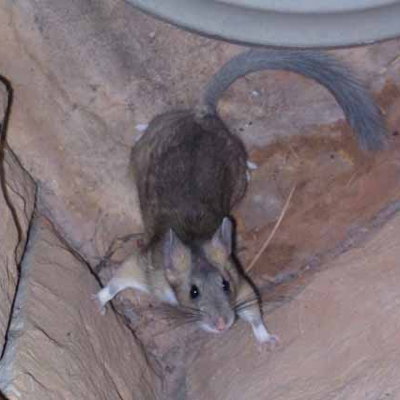 As the name of these woodrats implies, they can be identified by their long bushy tails.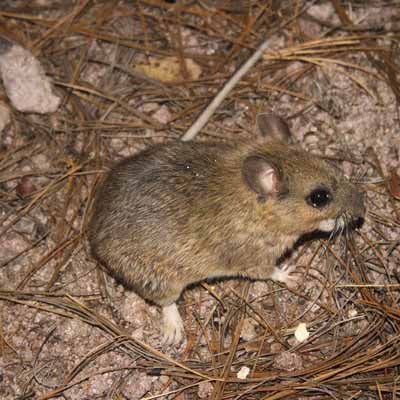 These woodrats tend to be mostly brown with buff-colored underparts and gray throat.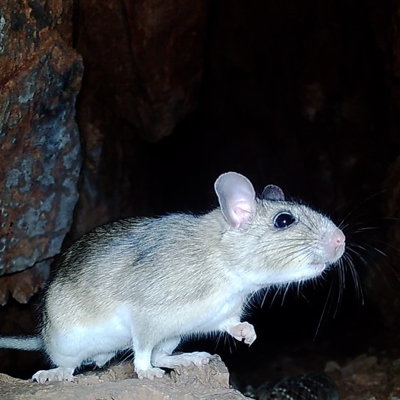 The distinctive feature of these woodrats is not only their throat is white but so is their entire underside and feet.
Range and Habitat
The ranges for the bushy-tailed, Mexican, and white-throated woodrats overlap in the Los Alamos area. The bush-tail range is from California through Arizona to New Mexico. The Mexican woodrat is found in a narrow strip of the Chihuahuan Desert of eastern Arizona and western New Mexico, south through Mexico. Lastly, the white-throated woodrat has the widest range. It can be found in both the Sonoran and Chihuahuan deserts as well as from southeastern California, across Arizona and New Mexico, to west Texas.
In general, woodrats prefer areas with low tree canopy cover, high shrubs, wooded debris, rocky crevices, and abandoned man-made structures. They will also inhabit caves.
---
Diet
Woodrats primarily feed on twigs and shoots, grasses, and flowers as well as other plant materials such as seeds, fruits, acorns, and cactus. In addition, they will occasionally eat insects and small reptiles. Woodrats do not need to drink water as they meet their water requirements from the food they consume.
Behavior and Social Life
Woodrats are primarily nocturnal. They are good climbers and have sharp claws, using their long tails for balance while climbing and jumping. They are one of the few animals that can navigate between cactus spines to feed on the juicy pads. They can also be quite noisy.
Woodrats gather plant materials such as twigs, sticks, and other available debris such as bones, animal dung, small rocks, and shiny objects to build a structure known as a midden. Middens are usually constructed in a tree, in a crevice, on a rocky ledge, on the ground near the base of a tree or cacti, or in a cave. Substance in woodrat urine crystallizes as it dries out creating a hard material known as amberat which cements the midden together. In most cases, the woodrat nest where they raise their young is in the middle of the midden where it is well protected.
Life Cycle
The mating season for woodrats is highly variable depending on the local conditions. However, it can range from late winter through summer. Woodrats are polygynous but some may mate with the same partner for the duration of a breeding season. Female woodrats can have up to five litters per season with up to five young per litter.
Gestation is usually around 5 weeks with the young born in spring or summer. The young are born naked and are cared for in a nest, usually in the middle of a midden. They do not open their eyes until a little more than a week after birth and are weaned when several weeks old. The young are sexually mature at two months old.
---
---
Ecological Role
Woodrats are an important prey animal for owls, foxes, coyotes, bobcats, weasels, and rattlesnakes. They also help to disperse seeds. Lastly, abandoned woodrat shelters can be inhabited by a number of species such as small reptiles and other rodents.
Interactions With Humans
Woodrats can cause damage to wooden items and homes in areas where they nest in the absence of humans. They can particularly cause a lot of damage to electrical wiring in car engines. In addition, they will raid exposed food stores that are poorly sealed.
Interesting Facts
On average, male woodrats are about 50% larger than females.
Woodrats are commonly called packrats because they collect a variety of objects and materials that they add to their midden.
They are particularly fond of collecting shiny items.
Contrary to current belief, woodrats to not trade objects. Rather they more likely just drop the one they are carrying when picking up a more attractive new one.
A woodrat midden can be as large as 4 feet high and 8 feet wide because they continually add more more materials.
A single woodrat or mother and young will inhabit a midden.
Scientists use the bones and preserved plant materials in abandoned middens for information about the impact of climate change.
Rattlesnakes will bury themselves inside of a midden for warm during the colder months. They do not bother the woodrats during this time and leave when the weather gets warm.