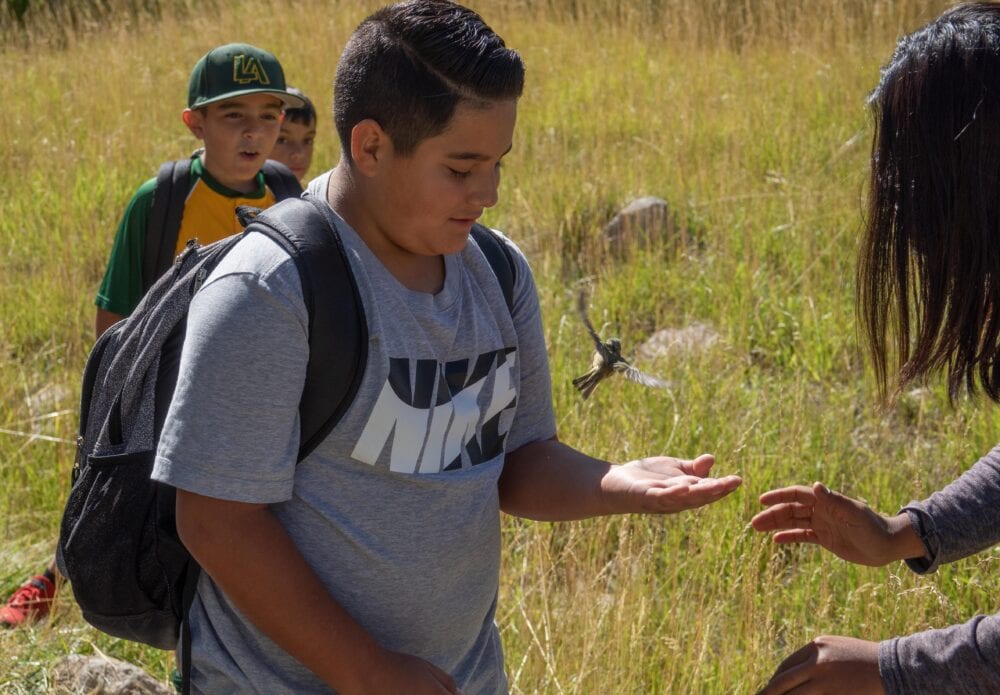 Do you envision people out on our trails, finding the perfect rock, identifying their favorite bird, or photographing that rare wildflower?
Do you want schoolchildren still to be learning outside, doing what "real scientists" do as they collect and analyze data (and build a fort or two)?
Do you hope for a future where people care about nature, and value and protect it?
You've been working alongside PEEC for years to make this vision come true today. But what will happen in the future? You can make sure that we continue to raise champions for nature by leaving a planned gift to PEEC in your estate. Your legacy gift will get kids outside for generations to come. 
How can I protect nature for future generations?
Planned giving sounds complicated, but is actually a simple way to make sure the work you've supported during your lifetime will continue. Your accountant or financial planner can help you work out the details. And please let us know when you've made a gift so we can add you to our PEEC Legacy Society.
What do you want to be remembered for?
If nature is in your heart, please consider putting nature in your will with an enduring gift to PEEC.
Frequently Asked Questions
I'm not hugely wealthy. Isn't planned giving only for people like Bill Gates?
Anyone can make a planned gift, either through a will or a simple procedure like designating PEEC as the beneficiary of a life insurance policy or retirement account, like an IRA. You don't have to be fabulously wealthy to make a difference. Many people with estates of all sizes leave a legacy gift to charitable organizations like PEEC.
Is there a tax benefit to planned giving?
There may well be! We aren't qualified to give tax advice, but your financial planner, accountant, or lawyer can explain to you how planned giving might be able to shield your estate from taxes.
I'd love to support PEEC, but I plan on giving everything to my kids.
We respect your commitment to your family. Of course, family always comes first! But did you know that you can support PEEC with a very small portion of your estate? Even as little as 1-5% of your estate can make a big difference in helping to get people outside to enjoy and protect nature, while still leaving plenty for your children. We invite you to talk with your children about charitable giving in general, about PEEC, and about why your support of PEEC is important to you
Planned giving sounds very complicated. What's all this about trusts, vehicles, annuities, etc.? Will I have to pay a lawyer to arrange it?
A. Planned giving can be very simple:
You may have to pay a lawyer to add to your will, if you already have one written. Often the fee is small because you are making a slight change to an existing plan. If you have LANL legal insurance, getting a will made is completely free!
Changing the beneficiary of a retirement account or life insurance policy can often be done right on the organization's website.
We recommend that you work with your accountant, financial planner, or attorneys. We have some sample bequest language if it is needed. Making certain that your plan reflects your wishes is important, even if there is some cost associated with doing so.
Can I designate my planned gift to the program I want?
A. Of course! We're happy to work with you to make sure that your gift is doing exactly what you want it to. Contact Jillian to discuss your wishes.
Do you have sample bequest language I can give to my financial planner?
What is PEEC's tax ID number?
Our tax ID number is 85-0478101.
I don't really need to think about this now, do I?
Of course not! But why wait? If you've decided you'd like to leave a legacy and be remembered as a critical part of PEEC's work, you can take action now and then not have to worry about it again.
Already made a gift?
Need more information?
Please email Jillian, or fill out the form below.