PEEC announces a fund to ensure the future of the nature center.
Donate now
PEEC is pleased to announce the establishment of a fund dedicated to the future of the Los Alamos Nature Center. Generous private donors made the nature center exhibits possible. Now, we want to ensure that these exhibits continue to delight and educate our visitors for years to come.
"A Vertical Mile of Diversity" is one of our most popular exhibits. It shows plants and animals that have adapted to each of the life zones on the Pajarito Plateau. Just as they adapt to a changing environment, so must a sustainable organization.
The Vertical Mile Society will ensure that PEEC and the Los Alamos Nature Center are ready for whatever changes come our way.
Join the Vertical Mile Society today!
Interested in making a stock or security donation, or in receiving information on planned giving?  Please contact us.
Frequently Asked Questions about the Vertical Mile Society:
Is this an endowment fund? No, it's a restricted fund. Endowment funds preserve the principal and spend the interest. Because interest rates are so low, this kind of fund does not make sense at this time. However, the funds are restricted. That means they can only be spent on exhibits.
What restrictions are there on how the money can be used? The donor-restricted Vertical Mile Society funds may only be used to maintain, update, replace, and repair indoor and outdoor exhibits, as well as to design and build new exhibits.
Do I need to renew my membership in the Vertical Mile Society each year?  No.
Are contributions to the Vertical Mile Society cumulative?  Yes. You may climb from the canyons towards the skies with each successive gift to this fund.
I gave $1,000. Am I automatically a member of the Vertical Mile Society? No. Because this is a designated fund, you must tell us that you would like your gift to go towards the Vertical Mile Society.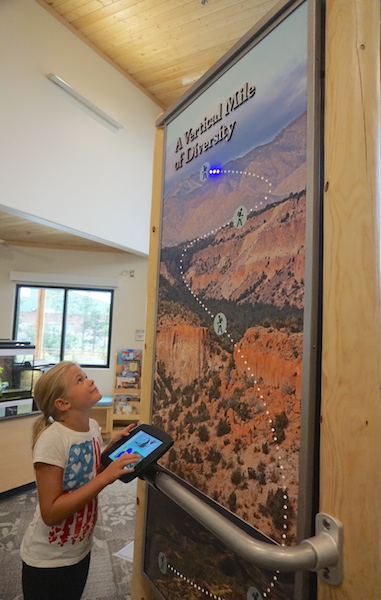 Current Members
Skies
($10,000 and above)
Larry Deaven
Linda Doolen
Friends of Dorothy Hoard
Chick & Yvonne Keller
Ruth Lier
Robin & Richard McLean
Jane Sherwood
---
Mountains
($5,000 – $9,999)
Laurie Walker
Robert Walker
Wally & Sue Watts
---
Mesas
($3,000 – $4,999)
Karen & Patrick Conner
Richard Wallace & Carolyn Mills
---
Canyons
($1,000 – $2,999)
Nancy & Paul Arendt
Gary & Marilyn Doolen
Tim & Carol Neal
Ann Shafer
Rebecca & Tom Shankland
---