Congratulations! You're signing up to be a visionary for the future of nature, of people, and of our connections to each other. Because of you, the next generation of champions for nature will be strong and passionate about protecting the environment that we all love.
Click here to give monthly and be a visionary!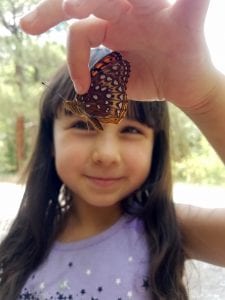 What does a monthly gift do?
Gets schoolchildren — and not just those whose parents already love nature — outside for close, hands-on study of what makes the Pajarito Plateau unique and special.
Introduces children in Los Alamos and Española Valley schools to each other and to the nature that they share, through our partnership program.
Gives young people a way to give back to the environment they love, strengthening bonds between people and nature through trail work, tree planting, and other service projects.
Opens up the wonders of the night sky to high school freshman, children and families, and adults who have always been curious about astronomy and wanted to learn more.
Gives everyone, from toddlers to seniors, chances to have fun being in nature — fort building, pretend playing, exploring, and discovering.
Your visionary gift to PEEC makes the difference in so many lives. Thank you for your support.