By Steve Cary, January 28, 2021
Time moves on, and the 2021 butterfly season has come to an end.
As I pull together New Mexico data for the LepSoc's Season Summary, it seems worthwhile to highlight and expand on some of the wild and wacky aspects of the recent year in New Mexico butterflies, and to ask:
How do we mark our individual or collective progress toward greater understanding of our various butterflies?
At the end of each year, I assemble all the important butterfly information I can get my hands on for New Mexico, tabulate it in a spreadsheet and then submit it to Chuck Harp at Colorado State University. He pulls together similar reports from other states in the Rocky Mountain region and then forwards his compilation to The Lepidopterists' Society for their annual Season Summary. Also note that the winter 2021 edition of the News of the Lepidopterists' Society [vol. 63, no. 4] has three excellent and relevant articles for New Mexico Lepidoptera fans: (1) Remarkable endemism of moths in White Sands National Park; (2) Life history of Satyrium polingi; and (3) 2020-2021 megadrought effects on AZ butterflies. You can find them here: https://images.peabody.yale.edu/lepsoc/nls/2020s/2021/2021_v63_n4.pdf. An awesome group, The Lepidopterists' Society would love to have you as a member! Many people track various milestones of geography and phenology. Geography, the "wheres" of each species, can be recognized in the form of new state records, new county records, and new range extensions. Phenology – the "whens" – is recognized in the form of new early and late flight dates. With regard to those milestones, 2021 was remarkable indeed. The first six months of 2021 had very poor butterfly conditions because of the drought that descended over much of the state, and certainly at least at my house! Our rain gauge (a simple one, I admit) recorded monthly precipitation that was below our 12-year average for ten consecutive months from July 2020 through April 2021. For eight of those ten months we received less then 50% of the average. It was dry. Then summer rains arrived and for many of us that completely flipped the script. The tally of new records still changes almost weekly as new information comes in, but let's start at the top and hit the highlights
We scored two New Mexico state records in 2021! A recent post to iNaturalist (#103696663) by Heidi Zimmerman documented California Patch (Chlosyne californica) in Grant County this past September (see her photo below). I was incredulous because I had seen that species in the Phoenix area a few years ago and thought that was near the eastern edge of its overall distribution. I suspected Ms. Zimmerman's iNaturalist post was a misidentified Bordered Patch (Chlosyne lacinia), but her photos clearly showed a marginal row of orange that is absent from the Bordered Patch. The iNaturalist identification dialog was terse and on-target. As it turns out, iNaturalist also showed multiple photo-verified sightings of California Patch to our west in Arizona, also from September 2021, leading right up to southwest New Mexico. It seems CA Patch had quite a late-summer break-out. Heidi was excited about her find: "I encountered the CA Patch on a beautiful day trip to Meadow Creek in the Gila National Forest. It was among a flurry of several species of butterflies near the creek. This one was a little apart from the others and looked quite different. When IDing it (using Kenn Kaufman's excellent book) it was clear that this lovely creature was way east of the specified region. It was only recently that I learned of iNature, and thought to join and share this potentially unusual observation. So glad to have done this!" well, me too! Will we see California Patch in New Mexico again in 2022 or was this merely a 2021 anomaly? Time will tell. Meanwhile, check the new species account in Butterflies of New Mexico.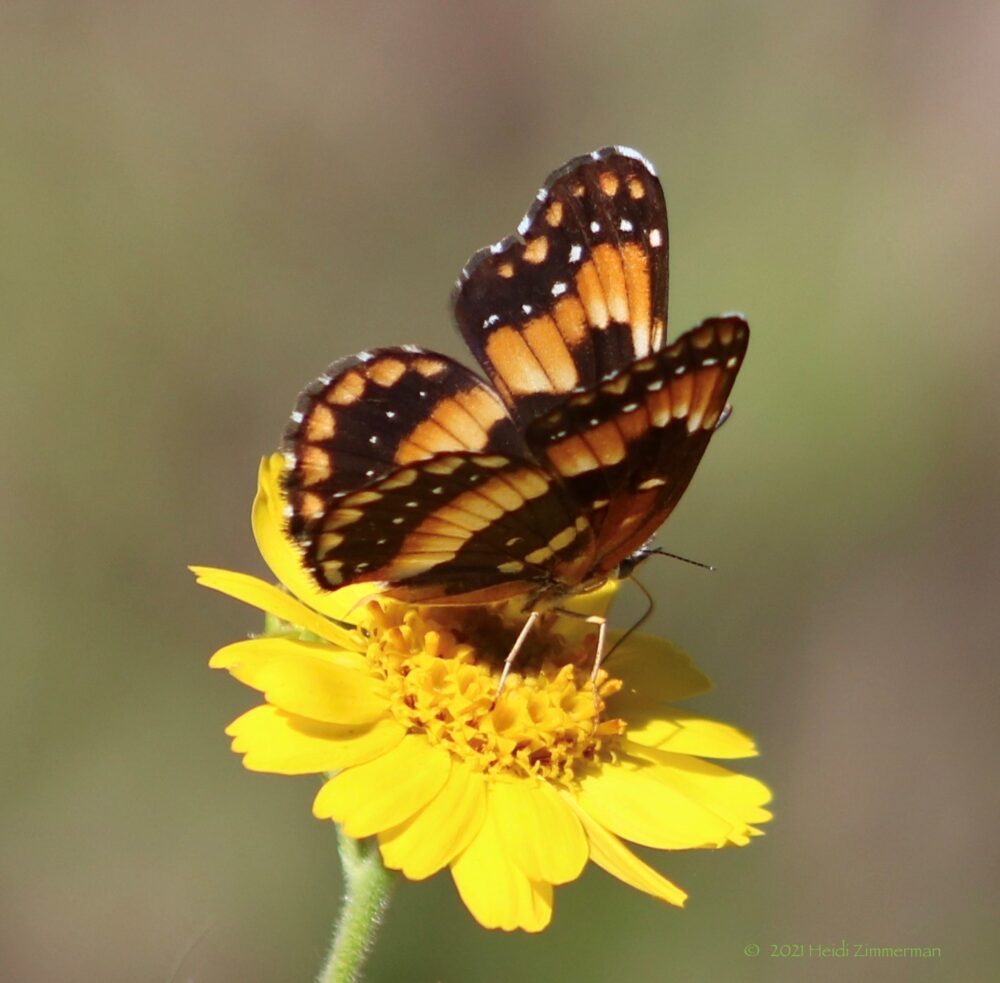 Our second state record was posted to iNaturalist just a couple weeks ago: Spicebush Swallowtail (Pterourus troilus) near Hachita in far southern Grant County. I don't have much additional information on this one, but the identification is correct as confirmed by my friend and colleague Mike Toliver, who is familiar with this bug. I've only seen it once and my photo is below. Spicebush Swallowtail has a strange relationship with New Mexico, which you can learn about at Butterflies of New Mexico here: https://peecnature.org/butterflies-of-new-mexico/swallowtails-papilionidae/.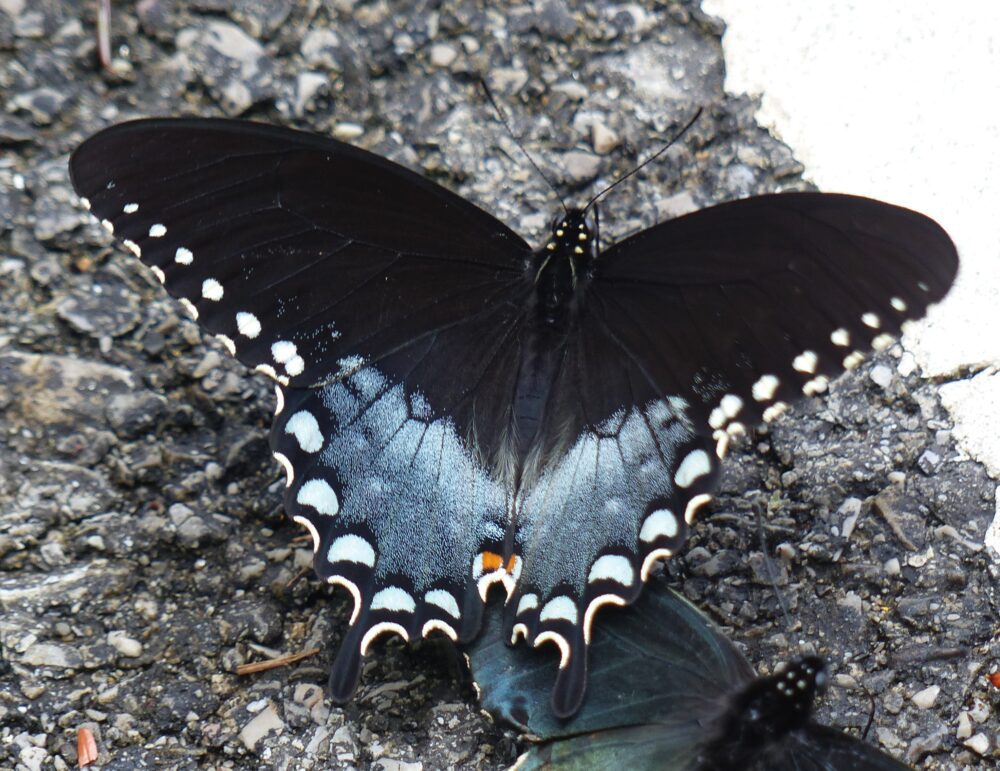 AND, and almost as exciting, Andy Warren found a specimen in the massive butterfly collection at the McGuire Center, Gainesville, FL, that proved to be Faded Faceted-Skipper (Synapte shiva Evans 1955). It was taken by Kilian Roever in Hidalgo County back in 2006, so it predates the 2021 field season by 15 years, but it is worth mentioning here and now. It was among dozens of drawers of skippers from Roever's donated specimens, which the Center acquired earlier this year. Dr. Warren expects that the iconic Roever's collection will produce a trove of interesting southwestern New Mexico butterflies over the coming years as the specimens are gradually curated into the Center's cabinets. I can hardly wait to learn what else is in there! Meanwhile, Butterflies of New Mexico needs a good photo or two of Synapte shiva, so please reach out to me if you are willing to share one.
The 2021 field season also produced four confirmatory New Mexico state records, that is, only the second time they were documented (and the first time they were photographed) in New Mexico. Let's focus first on Bobby McCabe's photo (below) of the Mojave Sootywing. This smallish gray skipper was last reported from New Mexico a few decades ago, but I suspect this species has been here the whole time. It is not particularly dispersive, so it is probably a breeding resident in our far northwest corner. But why only two observations for a breeding resident? Well, butterfly observers are scarce in that part of New Mexico. We still have a lot to learn about that skipper, and no doubt other Four Corners species, too. All we need to do is go there and spend some significant field time. Maybe in 2022? Until then, thank you Bobby McCabe!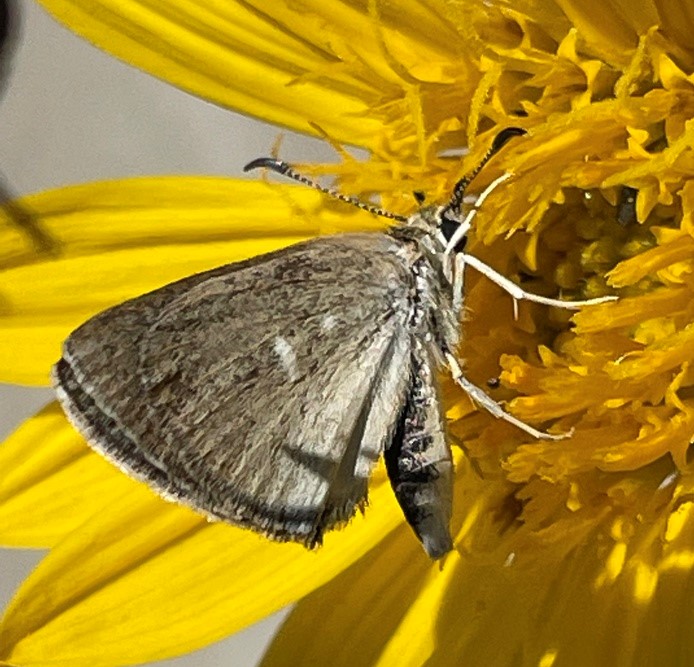 The remaining three confirmatory state records were discussed in earlier posts: Rob Wu photographed Florida White (Glutophrissa drusilla), while CJ Goin photographed Brown-banded Skipper (Timochares ruptifasciatus) and Great Southern White (Ascia monuste). These three are very rare subtropical strays and to see any one of them, let alone all three in the Las Cruces area within a few weeks still amazes me. Then Meg Freyermuth snapped photos of another Great Southern White in Las Cruces a month later! It was a good summer for those species, and a good year for all you keen-eyed observers/photographers!
---
Stepping one level down in the geographic hierarchy, 2021 produced 40 new county records (CRs) for New Mexico. It has been many years since that many New Mexico CRs were recorded in a single year. In the early 1980s, we were pretty far back on the learning curve. I recall one year when we tallied 200 new county records, but that was when a person could drive through five poorly-studied Eastern Plains counties in a day while documenting 30 new county records, and then do it again the following month. With steady field work over subsequent decades (lots of fun and miles) we got that number of annual New Mexico CRs down into the single digits. To give you an idea, there was one CR in 2004 (a very dry year), six in 2005, thirteen in 2006, nine in 2007, and seven in 2008. We wondered if we were asymptotically approaching zero CRs, at which point we would know pretty much everything (!).
** Want a butterfly species list for your county? Go to butterfliesandmoths.org, then to "species profiles," then to "regional checklists" and type in your county.
This past year, 2021, things ramped up by an order of magnitude, removing any doubt about the state of our knowledge. Our 40 CRs include at least one each for 22 of New Mexico's 33 counties. That's amazing in and of itself. Leading the pack in new county records was Dona Ana (5), then Taos (4), then Luna and Sandoval counties (3 each). I raved about Dona Ana County in previous posts, so I won't repeat myself here except to say they had a perfect storm that included regular monsoon rains for perhaps three months combined with an active and growing group of keen observers/photographers who were eager to share their observations. I suspect very few days went by when one or another of them was not out in the field checking a favorite spot. Taos County benefitted from the presence of Bob Friedrichs, who seems to have been out every day, sometimes twice, with a strong desire to explore new habitats and see/photograph new butterflies. The Sandoval County additions seem to have resulted from a growing cadre of Albuquerqueans who are actively observing and photographing just as some bosque butterfly species are extending their geographic range northward up the Rio Grande from Bernalillo County, where they have long been known, into Sandoval County. Even Luna County got some much-needed attention. How did your county do? See the chart below.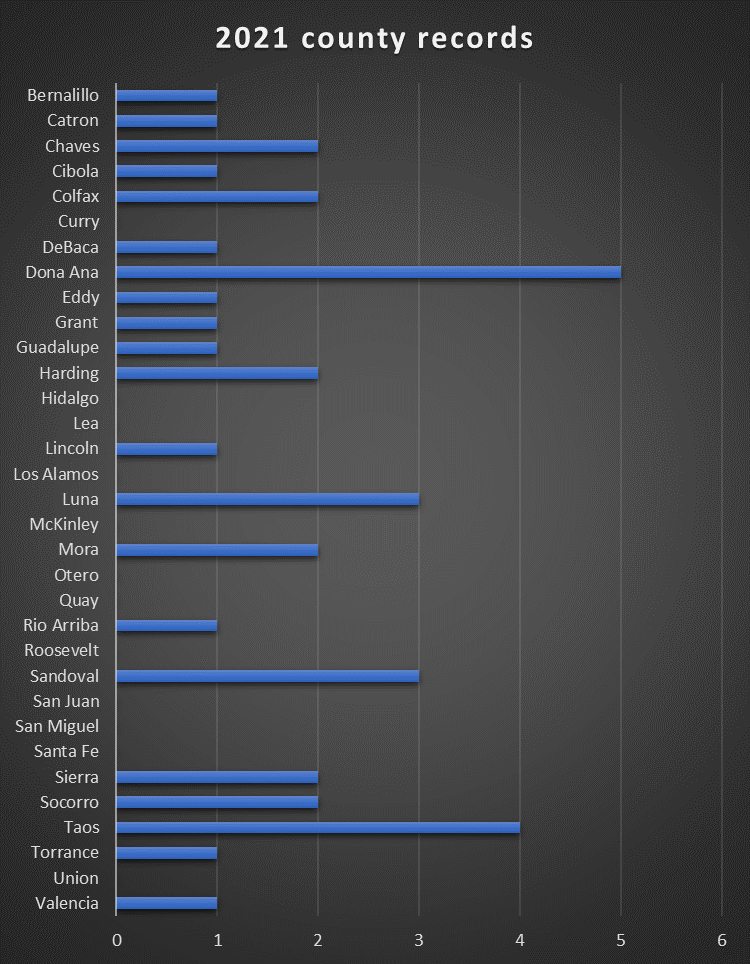 The most new counties for one species? American Snout (Libytheana carinenta) conquered 5 new counties. Phaon Crescent (Phyciodes phaon) and Tailed Orange (Pyrisitia proterpia) each planted their flags in 3 new counties. Snouts were routine, bordering on abundant in southern New Mexico for much of the summer and, inherently prone to wandering, they dispersed virtually statewide and even into Colorado. Jim Von Loh recently reported a another small flight of Snouts nosing into Las Cruces in late December! Tailed Oranges also expanded their documented range a fair bit north this summer, producing at least one summer generation in New Mexico. It is almost a certainty they will be frozen back this winter, as they always have before. Phaon Crescents are hosted by frogfruit (Phyla spp.), which likes warm, damp habitats as occur around springs, watercourses and irrigation ditches, mostly in southeastern New Mexico and as far north as Fort Sumner. They are not known to wander seriously, but they will disperse methodically along watercourses and perhaps that is what happened in 2021, up the Pecos River, then up Gallinas Creek and up the Canadian River, perhaps over a couple of years, and we are only now noticing. 2021 observations of Phaon in Guadalupe, San Miguel and Colfax counties effectively documented its occurrence well north of I-40 and upward in elevation into the eastern foothills of the Sangre de Cristos, where it had never been seen before. Time will tell if this is a permanent expansion or just a 2021 summer safari.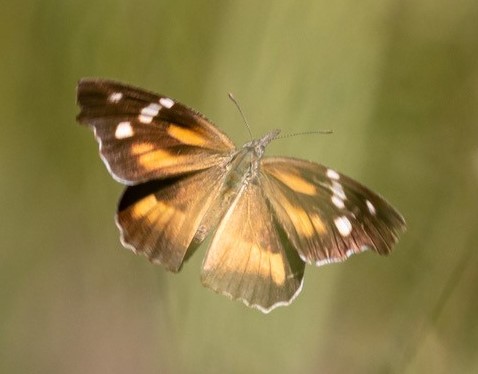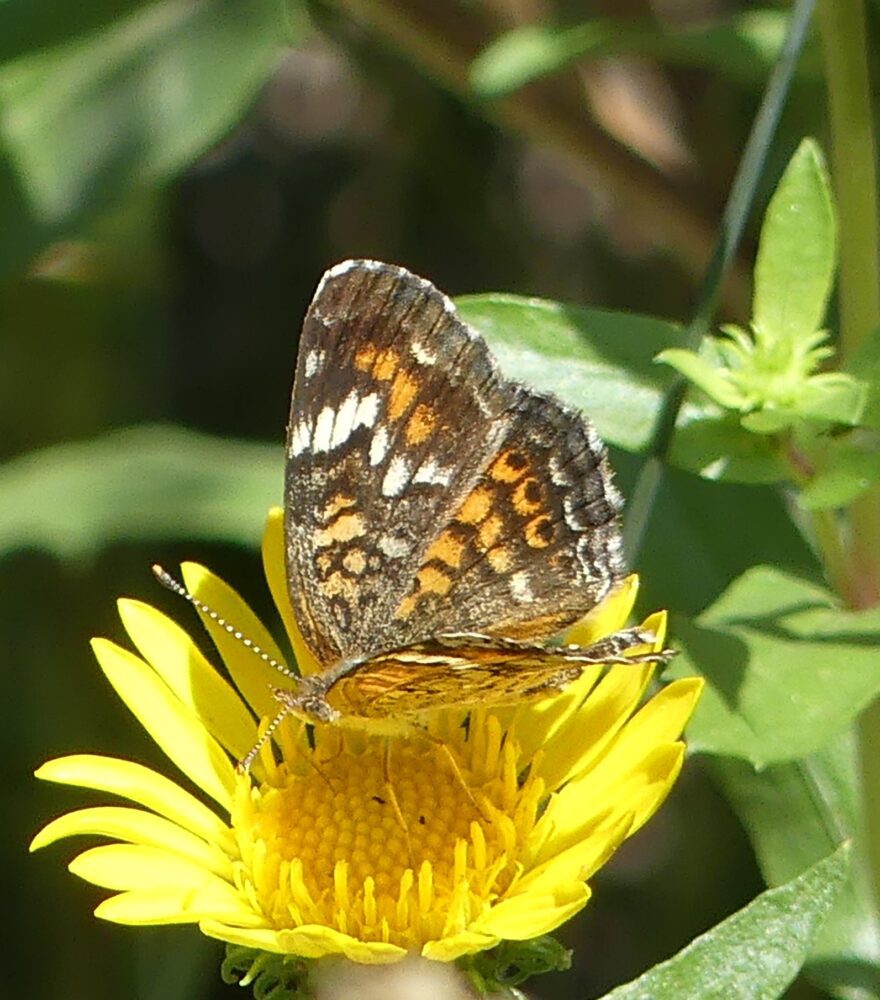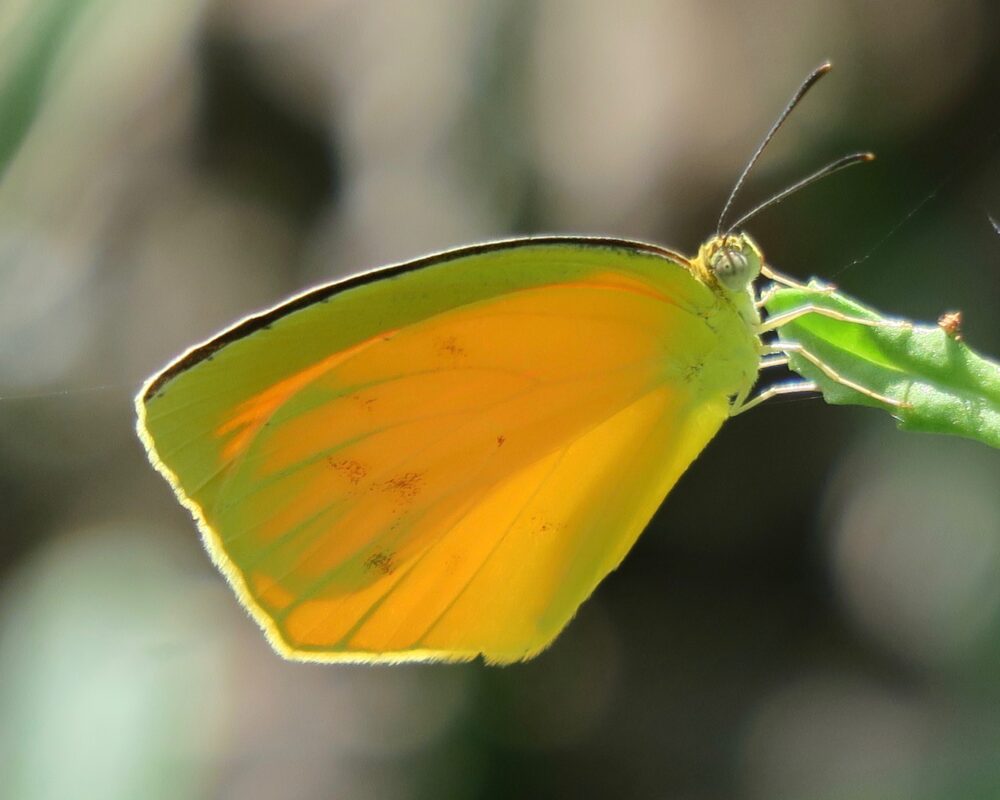 County records did not come at a uniform rate through the season (see chart below). You may recall how bad the drought was in the early half of the year and, no surprise, only two CRs were recorded during those parched first six months. Rains arrived in late June and July for some of us, then came back for an encore or two before summer was over. The chart below shows the impact on butterflies through the narrow lens of county records. July showers brought monsoon plant growth, which liberated butterflies from diapause. Hurray! **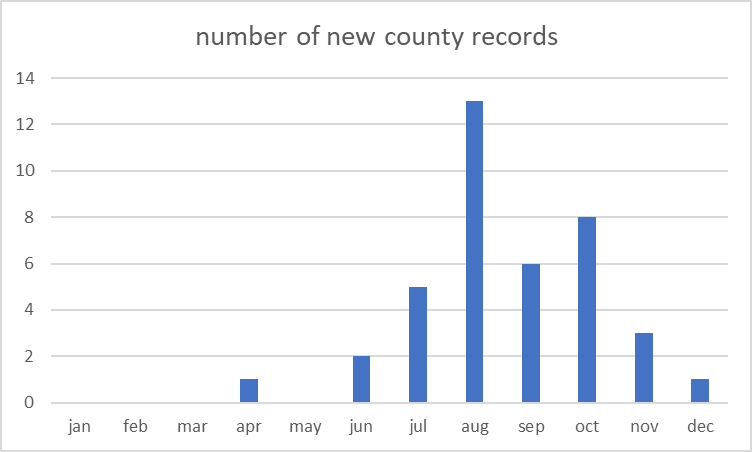 ** ODDBALL ALERT! One 2021 sighting that raised eyebrows was a Julia Heliconian in Albuquerque's Northeast Heights. It's not impossible because Julias can wander long distances and there is one legitimate prior New Mexico sighting out on the Eastern Plains (thanks, Christopher). However, given proximity of the 2021 sighting to the BioPark's Butterfly Pavilion, it seems possible/plausible/probable that one escaped containment. As if to underscore that likelihood, the BioPark's website features a photo of a Julia Heliconian: https://www.pnm.com/butterfly-pavilion1
Still on the subject of notable geographical finds for the past year, we/you collectively documented northward range extensions for 15 or 16 species, depending on how one counts, far more than in previous years. Many represent dispersive species based in the subtropics to the south, so it is only normal that, being north of there, New Mexico observers would see them at their northern limits and witness shifts in that northward, warm season flux. That subtropical influx included one of our two state records and three of our four confirmatory state records. What does this mean? Well, a strong subtropical influx here generally reflects a productive and expansive year in adjacent subtropics to the south. Subsequent reappearance of fresh individuals at intervals of several weeks is evidence that some of these species successfully completed seasonal breeding in New Mexico. That is a cool part of our state's summer ecology. Remember 2020's breakout of buckeyes? They were pretty scarce this summer. Isn't it funny how things work? We can only wait and watch to see what 2022 will bring.
Not all of 2021's northward range extension came from dispersive species. Some came from habitat huggers and hostplant specialists – species which have specific habitats and stick to them because to wander too far would be non-adaptive. Texas Powdered-skipper, Question Mark, Empress Leilia, Desert Checkered-skipper, and Gold-headed Scallopwing all stick pretty close to their non-dispersive host plants, yet all had northward range extensions. Northward extensions also were documented for two riparian species. Their mate-location strategies tend toward patrolling along drainages, and occasionally a few individuals do move long distances along drainages. Viceroy and Red-spotted Admiral both fit that description; they are large, capable flyers and this year were seen north of their normal breeding habitat. These species are tending to expand their breeding ranges northward.
Notwithstanding the above excitement, we must not lose sight of the fact that many of our breeding resident species did not show well in 2021, even in areas with abundant summer rains. Many skippers, for example, fit in this category. We will have to keep sharp eyes in coming years to see whether and how different species recover from our lingering severe drought.
---
Phenology. in addition to state records, county records, and range extensions, it is easy to track early and late dates for butterfly species. For people seeking a particular butterfly, it is helpful to know when to look. Early and late dates provide a general bracket of time for that purpose and I include that information in each species account in Butterflies of New Mexico (https://peecnature.org/butterflies-of-new-mexico/). In past years it was pretty typical for there to be a handful of new early or late dates for one species or another. In 2021, there were only two new EARLY dates, probably because New Mexico was severely drought-stricken for the early part of the the year.
In stark contrast, new LATE dates were documented for 28 butterfly species, an amazingly large number that could rise still further as year-end data comes in. Who are these late-flying species? Some are butterflies we know to be continuously-brooded and capable of reproducing and flying actively as long as weather remains tolerable. They are that way in part because they are not hostplant-limited and can cycle through generation after generation as long as weather allows. Daytime temperatures in the 60s would suffice, but severe cold can end it. Dainty Sulphur, Variegated Fritillary, Orange Sulphur, Western Pygmy Blue are examples of butterflies whose late dates are limited only by daily weather conditions and observers' willingness to be out in the middle of winter. Most of us up here in el Norte have to forget about butterflies in the field by middle or late October in most years. Along New Mexico's southern border, however, a not-unusual 65-degree day in December or January could easily provoke a Sleepy Orange or a Red Admiral into hopeful activity. To these inherent tendencies we have to add the warming climate, which seems to express itself in terms of warmer nighttime low temperatures. Abundant late records from 2021 suggest we are approaching a time when, in our southern tier of counties, more than two dozen species could potentially be active any time of year, weather permitting. This past year, most of the new late dates came from Dona Ana County. Among the many butterfly observers in the Las Cruces area, several worked well into late December to get new LATE dates for whatever species they could find. Kudos particularly to Marta Reece, CJ Goin and Jim VonLoh. I don't track early/late dates at the county level, but I'm sure that in 2021, your own observations during our long, mild autumn produced "locally" late dates for several species in northern New Mexico, too.
---
What made 2021 so special? Certainly the weather. Major rainfall that terminated a major drought prompted many dormant critters to exit diapause and proceed into daylight all at once. This did not happen statewide, but it did happen in several places. The fact that Las Cruces was repeatedly drenched at monthly intervals was major. New Mexico's second largest city has a great University, a new National Monument, and many astute and enthusiastic observers. The long warm season (at least compared to northern NM), meant that butterflies continued to be seen into December in some cases. That combination produced a butterfly goldmine this year.
Another piece of this year's perfect storm? More observers are posting their photos to BAMONA or to iNaturalist. Having those functional destinations to upload high quality, geolocated and dated butterfly images is massively changing butterfly study in New Mexico (and elsewhere) in a very good way. Online citizen science apps are luring many new and young people into the world of seeing, photographing and uploading butterfly photos with lat/long coordinates. That has been a game-changer. Back in the 1980s, I expected New Mexico butterfly observation reports from perhaps 10 people each year: a handful of resident collectors and observers plus a handful of transient collectors. I fretted about the future of careful butterfly observation, but I need not have worried. BAMONA (butterfliesandmoths.org, for which I am the New Mexico butterfly reviewer) for example, experienced an approximate doubling of the number of people who submitted sightings from New Mexico. I think the number of submittals increased in proportion. During the peak of the 2021 season I estimate I was getting about 10 new submittals/day to review. Fabulous!
Probably half of the numerous 2021 records came to my attention through iNaturalist, which solicits photos of almost any biological entity. Participants in iNat know (or are learning) how to take and upload images and they are curious to learn about all the plants, wildflowers, lizards and insects they see while outdoors, not only butterflies or moths. Posted images are then available for anyone to identify or to comment on. iNaturalist essentially becomes an iterative identification aid or tool, while it stores, organizes and maps the burgeoning data. There is little doubt that more participants and more valuable data will be generated in coming years. It seems very popular and I hope it continues to grow the universe of careful observers.
If there is a third factor, I suggest it is our warming climate. A couple decades ago we considered habitats and butterfly populations to be generally stable, with an occasional influx of a few subtropical strays. Nowadays, much seems in flux. Most significant, I suspect, is the moderation of winter cold, which takes the form of higher overnight low temperatures. In the past, cold winters typically froze out more southerly species that might have tried to expand northward in summer. I think many species are now successfully passing winter farther north than before, giving them a more northerly launch point the following summer. Our growing season seems considerably longer than in the past; did you know that we (you) are now in warmer gardening zones? Some species will no longer be frozen out at all and will instead become breeding residents, adding to our state's butterfly diversity. Eventually there must be some losses, too, and we will simply have to wait and watch to see how that process plays out.
Thank you for all your hard work to improve knowledge of New Mexico butterflies. It is paying off in a big way. Have a safe and enjoyable winter. More fun and excitement are on tap for the coming year! New EARLY records are already on the books!