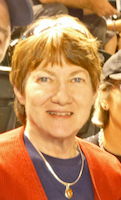 Hedy Dunn is a volunteer in the true sense of the word. Since retiring from her position as Director of the Historical Museum in 2011, she has taken on many volunteer responsibilities, not only at Pajarito Environmental Education Center (PEEC), but also at the Santa Fe Opera, Bandelier National Monument, the Fuller Lodge Historic District Advisory Board, and the Los Alamos Historical Society. PEEC sat down with Hedy to learn more about her and all that she does to give back to her community.
PEEC: Hedy, you volunteer with a number of different organizations. How do you also find time to volunteer at PEEC?
H.D.: I volunteer because I believe in the organization and enjoy what goes on at PEEC. I got more involved with PEEC after I stepped down as the Director of the Historical Museum, so I had the time. There were commonalities between the two organizations, so I thought I could bring a certain degree of expertise to the table that could be valuable to PEEC. My first job on the PEEC Board was as treasurer. Now I'm involved with the Certified Wildlife Habitat initiative, because that's something that particularly interests me. I also have been helping with the effort to find funding for the new exhibits in the Nature Center being built by the County for which PEEC will provide not only displays, but also staffing and programming. That's the most exciting project in PEEC's short history.
PEEC: Tell us more about your career as Director of the Historical Museum.
H.D.: Well let's see, I retired in 2011 after having worked there for 33 years. In my time at the museum, I had been involved in exhibit design and development, creating by-laws and policies, grant writing, working with volunteers and a growing staff, planning programs such as a lecture series and an outreach program for the schools, writing newsletters, etc. These are common concerns for many non-profits, and this experience helped me when I joined the PEEC Board.
PEEC: Have you been with PEEC since its inception in 2000?
H.D.: I did get involved with PEEC early on. Becky [Shankland] says I was the first to sign up, but I don't remember that being the case. I recall that I saw notices in the paper that there was a group wanting to start a nature center. I knew a lot of the people who were involved, and they were real go-getters and wonderful people, so I was sure I would enjoy working with them to get the nature center off the ground.
PEEC: From your perspective, what was PEEC like in those early days? Were there similarities with the Historical Museum?
H.D.: In those days, I don't think we had any inkling of what PEEC would become today. We wanted a place to get together to foster environmental education for people of all ages. I'm amazed at how it's changed and evolved, much like the Historical Society. Both have bigger staffs now. At the Historical Museum, we started with a small part-time staff of two and a small bookshop that was run by a volunteer. Just as PEEC has grown, the Historical Museum grew by getting more memberships and grants, and by making a case to the County for more support based on the growing sophistication and quality of the vital community services being provided. The same could be said for PEEC.
PEEC: You had been living on the East Coast, so how did you end up in Los Alamos?
H.D.: I came to Los Alamos with my husband Skip in 1974. Skip had been a music teacher in New England for five years, when he decided to go into educational administration. We went to Stanford where he pursued his PhD. After that, we had wanted to move back to New England, but we landed here instead! We were looking for a good climate with 4 seasons, a good school system, great scenery and an educated population. You can image how many "boxes on our wish list" Los Alamos filled. We moved here with our two children when Skip became vice-principal at Los Alamos High School. I eventually began my career at the Historical Museum.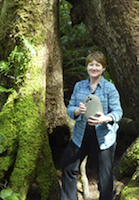 PEEC: We understand you also volunteer at the Santa Fe Opera. What is that like?
H.D.: In college, I was an art major. Friends of mine had mentioned that they were working in the costume shop for the Opera, and I had always had a fascination with the history of costumes. It sounded like fun, so I volunteered to help as well. Eventually, I took it upon myself to talk with the head of the props department, and I've been volunteering to work there ever since. For one opera last summer, soldiers were shooting into the air and, as a gag, a "duck" was supposed to drop from the sky. So we volunteers in the props department had to strip off the feathers from gull wings so the prop department staff could make a Canada Goose from them. You never know what you're going to be asked to do!
PEEC: And you also volunteer at Bandelier? Where else do you volunteer?
H.D.: At Bandelier, I have been working at the visitor center and out on the trails. This winter I've been scanning historic photos that are part of Bandelier's archeological survey. Some of the photos are just fascinating. There are photos of entire pots that have been found, which are very rare. I also serve on the Fuller Lodge Historic District Advisory Board, a County organization that meets once a month. I'm also serving on various committees for the Historical Society, and I helped unpack and organize many of the artifacts that moved to the Society's new archives and records center.
PEEC: What do you get out of volunteering at PEEC and other organizations?
H.D.: I like knowing that I am giving back to the community. It wouldn't function the way it does without involvement from community members. My husband agrees with me, as he is the chair of the Transportation Board. Los Alamos has citizen committees such as these that rely on volunteers. It's also about the friendships that I have developed with like-minded people, and the pleasure of seeing things get done. Unless you are there, involved in an organization, you don't see the subtle changes from week to week, or even the great ones that come year by year.