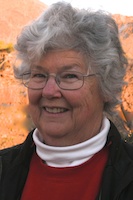 Sue Watts has spent a good part of her adult life working as a volunteer for organizations ranging from Girl Scouts of the USA to an urban community center in Birmingham, Alabama, to Stephen Ministries. In her work with the Girl Scouts, she helped girls and adults to develop their appreciation of nature, to look deeper and to see natural things that they might not otherwise see. In addition, she taught many leaders how to take troops camping and trekking on long trips. When family brought her to Los Alamos, Sue was able to transfer her passion and experience into volunteering at PEEC – to help residents and visitors enjoy the natural beauty of the Pajarito Plateau. Sue can often be found around the nature center, or leading her bi-weekly Quiet, Gentle Walks. We sat down with Sue to learn more about her and her dedication to sharing her love of the outdoors with others.
PEEC: You're not from here originally. How did you end up in Los Alamos?
S.W.: My husband and I figured that this is where we would spend the later years of our lives. Since our only grandchild lived here, it was an easy choice. Now we have two so it's even better. It's interesting that a lot of the people who join the Quiet, Gentle Walks I lead are also grandparents who have moved here for the same reason.
PEEC: What did you do professionally before moving to Los Alamos?
S.W.: I've had a very diverse career. First of all, I spent a good chunk of time being a mother. When the demands of that job eased, I realized I believed in the importance of volunteering. Growing up, I had enjoyed sitting in a tree, reading a book. When I became an adult, I wanted to find a way to incorporate that connection to nature into my career. I became a Girl Scout leader, which got me back outside. That led to becoming an outdoor troop camping trainer and I realized I had found my niche. After working with the local council and staffing a national Wider Opportunity, it was an easy step to becoming a National Volunteer Trainer.
PEEC: Tell us about your experience working with the Girl Scouts.
S.W.: I started out staffing an event we held out in Wyoming, at National Center West. It was out in the middle of nowhere, but I thought it was heaven. Then over time I became a national volunteer trainer. I was paid in t-shirts and plane tickets, but I was able to travel all over the country, leading workshops, and inspiring the troop leaders as much as the girls.
PEEC: How did you get into environmental education?
S.W.: I ran a lot of summer events for Girl Scouts that brought together girls and teens from various places around the country. There, we introduced them the basics of environmental education and to outdoor living. Many of the participants had never backpacked or seen the Milky Way before. The Girl Scout programs change lives, and I have just loved that whole experience.
PEEC: How have you applied those experiences to your volunteer work with PEEC?
S.W.: My experiences with the Girl Scouts taught me that nature awareness does not come naturally to everyone. I really enjoy leading the Quiet, Gentle walks for PEEC, which encourages us as a group to appreciate nature quietly. There are a number of people in our group who can't do more than two miles, and that's just fine. The idea is to get everyone outside to be able to appreciate nature in their own way.
PEEC: What is your philosophy for encouraging people to get out and enjoy nature?
S.W.: Basically, I have a "Just Do It" approach…just step outside and see where the moon is, watch the Sangres turn coral in the evening light, catch the clouds sailing over the Jemez and disappearing in thin air. It's encouraging people to follow up on something that interests them or piques their curiosity. It could be that their interest is in birds or wildflowers or photography or journaling. Personally, I like to just walk and help people notice things. That's one of my goals: to enrich people's lives through paying attention to the world around them. I recall a time when I was leading a group in the Southeast, and there was a little girl sitting at the end of the trail looking tired. I asked her what she had seen on her hike, and she said, "All I saw was green." Many of us don't take the time to look around us and to listen, to find the things we wouldn't normally see. I want to provide people with ways of looking deeper.
PEEC: What is your vision for sharing the wonders of the natural world in the new nature center?
S.W.: The whole goal, mission, and vision of PEEC is to get people outside and to make nature a part of their lives. We want to give residents and visitor the tools to be able to go outside and observe nature, if they want. One of the things I'm excited about is the interactive trail guide apps that we'll use at the new nature center. By using the app, visitors can create their own customized trail guide, one organized by difficulty level, interest (flowers etc), experience level, with or without kids, dogs, a preferred trail. Visitors to the new nature center will be able to either download the app to their smart phones, or we can print out the information at the center for them to take with them.
PEEC: Can you tell us something we might not know about you?
S.W.: I ran a bookstore for the National Park Service at Lake Mead. That was fun and they let me give programs as well. In the past year, I took on a new career as an interpretive planner for the nature center. I have since retired from that occupation.
PEEC: Would you like to leave us with some last words?
S.W.: Before we even moved to Los Alamos, I visited PEEC. I went to an open house where I met people like Becky Shankland, Selvi Viswanathan, and Natali Steinberg. Of all the nature centers I've visited around the country for my job, this one had a feeling of warmth and dedication. That's what drove me to the organization and guided my decision to move from the Girl Scouts to PEEC. I could tell this place was created by a group of people who loved introducing people to the outdoors. I was hooked.