November 10, 2020
By Steven J. Cary
Marcy and I laid out our October travel plans in four parts: (1) Bryce Canyon, UT; (2) Grand Canyon's North Rim, AZ; (3) Palm Desert and San Diego, CA; and (4) Huachuca Mountains, AZ. I did not expect butterfly opportunities at every location and I was not surprised when lateness of the season, high altitude, and ongoing regional drought nixed meaningful butterflying at Bryce Canyon and Grand Canyon. We had to settled for scenery — poor us! San Diego was essentially a fun family visit in a huge urban area, though we did see one Monarch. Palm Desert worked out very nicely for butterflies as I posted last month in "Palm Desert."
Upon leaving San Diego, we returned eastward along I-8 and I-10, then made camp in the Huachuca Mountains of southeastern Arizona, about halfway home. Place names such as Coronado National Forest and Cochise County tell you a lot about the area's deep history. That region is highly regarded for its sky island landscapes in which geologically upthrust mountain ranges punctuate broad, down-dropped, desert basins, creating physiographic relief exceeding more than 5,000 feet. Resulting local ecosystems encompass desert scrublands and semi-arid grasslands up through oak/pine/juniper woodlands and even mixed conifer forests where summits approach 10,000 feet above sea level. In this biologically rich area, the Mexican Sierra Madre exerts a strong influence over flora and fauna, making it unique within the boundaries of the US. New Mexico's Bootheel exhibits similar zoogeographical affinities, but not to the same degree or with the same public access.
Birders flock to southeast Arizona for trogons and hummingbirds, in season. Watchers of mammalian wildlife enjoy coatimundi, ring-tailed cats, Coue's whitetail deer, and the remote chance of seeing a jaguar. Butterfliers also are energized by the local palette of species, which is well-studied and wonderfully depicted in two books: the foundational Butterflies of Southeastern Arizona1 and the visually delicious Butterflies of Arizona, A Photographic Guide.2 The North American Butterfly Association boasts a southeast Arizona chapter (SEABA), evidence of the large and active contingent of local butterfliers (and mothers) who call that area home. We included the Huachucas in our travels specifically for the butterflies.
Anticipating our visit, I had reached out to knowledgeable friends and colleagues in southeast Arizona, including Rich, Jim, and Doug. I inquired as to what I might reasonably expect or look for in the way of interesting butterflies. It was pretty late in the year and drought was front and center for them, too, so they tempered their enthusiasm, but suggested I might be able to see two local endemics: Evans' Giant-Skipper and the Chiricahua White (Neophasia terlooii), whose females are uniquely orange. I had photographed that white in 1984, but I saw only a female and came away with only so-so images, she being shy. I wanted to photograph a male, which looks much like New Mexico's Pine White. There also were a handful of other species that I would be very pleased to see and experience again, with a better camera and a better understanding of what I was seeing.
---
All that had been back during our September planning phase. By the time we arrived there on October 22, Marcy and I had been on the road for three weeks. I was a little bleary-eyed from hours of driving and we had friends and guests in camp with us. The Huachucas were totally new for me. I had been in the Chiricahuas (the next big range to the east) several times before, but had never made it over to the Huachucas. In a new spot, no matter how much advance planning we do, I always need a couple days on-the-ground to get oriented to roads, distances, terrain, and habitats. As a result, it became clear that we would not get to most of the butterfly destinations flagged by my friends. But that did not really matter because I love learning about a new place, especially one as beautiful, interesting, and diverse as the Huachucas. If we had to come back and continue our investigations another time, so be it!
The Huachuca Mountains top out at about 9,500 feet. Our friends, Greg and Amy (and their dog) are strong hikers and inquisitive, observant naturalists. Collectively we ranged in age from mid-50s to mid-60s, pretty fit for our years. We all eyed the higher country, perhaps for the scenic views and the hiking challenges as much as the ecology. I was particularly keen to see the Chiricahua White again. It is a small part of the New Mexico butterfly fauna, even if only on rare occasion in the Peloncillo Mountains. That objective meshed nicely with our group's high-country hike hankerings. We would never get to the highest areas, but we did get high enough to see Chiricahua Whites and we enjoyed the journeys, too.
On our first hiking day we set our sights on the approach to Huachuca Peak, with no designs on the summit itself. We had our Coronado National Forest/Sierra Vista Ranger District map as well as a trail map and description downloaded from the US Forest Service website. Amy, Greg, and Marcy all had the Gaia app on their smart phones. Our plan was to hike the triangular loop created by forest trails 119, 120, and 121. The start proved to be a 40-minute drive from our 5,500' camp at Parker Lake; still social distancing, our high clearance, 4WD vehicles came in handy. The trailhead was essentially unmarked and that should have put us on alert, in retrospect, but it was a beautiful day and we optimists were on trail by 9:30 AM. The route was fascinating and our curiosity was piqued by the local trees and shrubs, some familiar, others puzzling. Butterflies were scarce, as expected, and for the first hour or two we settled for Arizona Sisters. That first leg of our journey had a trail that was easy-to-moderate in terms of walkability, but the trail disappeared on occasion, perhaps due to frequent fallen trees and what seemed to be scant use by other hikers.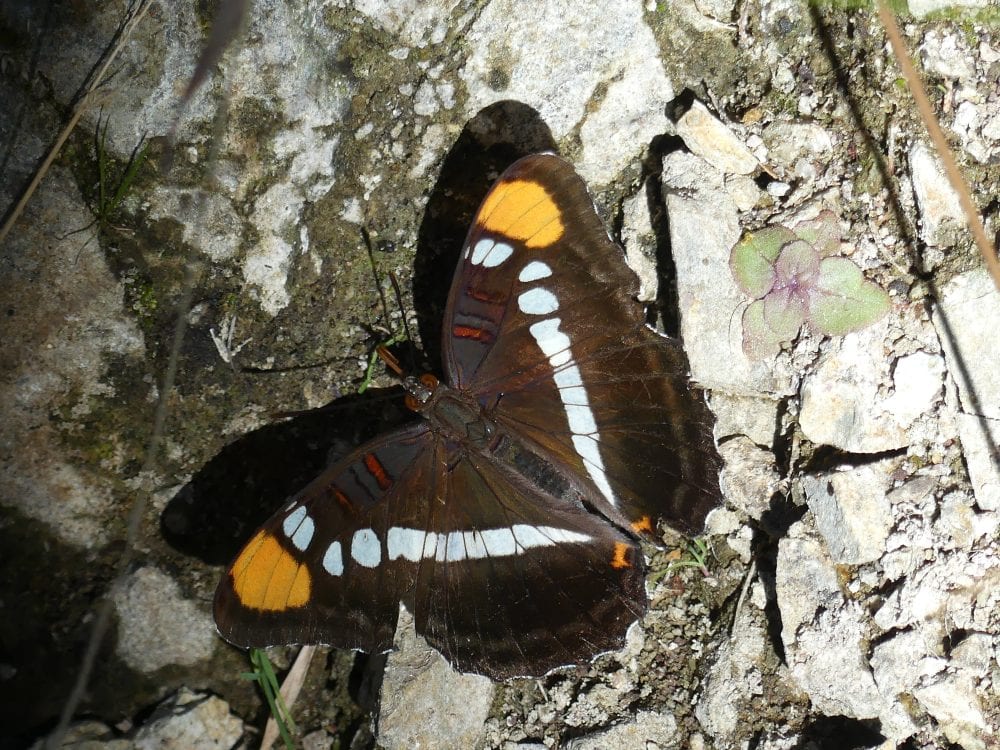 We spent most of mid-day walking on the bottom of Lyle Canyon, which was quite lovely with multiple species of large oaks, monster alligator junipers, and white-barked sycamores whose leaves were starting to turn their autumn yellow. Soon we found ourselves sidestepping around frequent deposits of bear scat that were full, fresh, and fluffy with digested acorn mast. I confess, I felt some envy. In our inexpert opinion, that canyon was home to healthy, happy bears, apparently due to a large 2020 acorn crop.
The trail often faded away, but Gaia, expertly deployed by Amy, consistently showed it along the drainage bottom so we knew to continue upstream, trail or no trail. It was at about lunch time, perhaps finally warm enough in the shaded canyon, when we began to see an occasional butterfly: a Mexican Yellow here, a Snout there, an Arizona Sister. Then came a woodland satyr of some kind and it actually posed for photos. I suspected Canyonland Satyr, but would later be proved wrong. We began to see male Chiricahua Whites as they wandered singly, unhurriedly, down-canyon at about eye level. We saw an occasional female, too, like miniature Monarchs, as Amy observed. We got a few quick, low-quality snaps of a female, but males would not stop for photos.
Butterflies aside, wayfinding soon became the dominant theme for the day. All the difficulties we encountered were of our own making. We began our hike expecting a 5-mile circuit, but as the day progressed and map consultations intensified, we realized it would be closer to 8 or 9 miles. We knew there would be about 1,500 feet of elevation gain, but after walking the first mile or two mostly down-canyon, it dawned on us that most of that effort would come in the latter part of the day, first steeply up and then steeply down to close the loop. As Marcy concluded, we should have done a lot more research on those trails before starting out. Thank goodness we were all savvy, capable hikers and we had access to the Gaia app so we could follow our progress. [Being a purist, a contrarian and perhaps a Luddite, I had no need to hike that way, but I seem to have no objection to hiking with others who do. Go figure.]
As we neared the upper reaches of Lyle Canyon, we encountered some moderate headwalls. They were not impassable, but we had to make our own trails around them. Progress became slow. We eventually would have to walk up and out of the canyon and our various maps implied there was a trail on which to make that ascent. Absent trail signage, however, we constantly scanned canyon sideslopes for that trail. Confusing arrays of game trails proliferated around wet spots in the canyon bottom. Was one of those game tracks our trail? Amy cheered whenever she came across an old empty plastic water bottle, insisting that such litter was proof we were on the trail. Discarded items included rusty old Jumex fruit juice cans — Durazno, Manzana, Pera — indications of a trail, for sure, but perhaps not the trail we sought. Greg and the dog came across a small black-tailed rattlesnake — beautiful and unperturbed.
Our timepieces reassured us that it was premature to plan for a night in the hills, so we simply pushed ahead. Soon we became grateful for the braided game trails, seeking out those that led up the steep slope at a feasible angle, even if we occasionally had to get on all fours to get under fallen trees. We came upon an old, crashed military drone, no doubt from nearby Fort Huachuca and now part of local history (see below). At last we came to the ridgetop trail we sought — clear and obvious. The subsequent 3-mile march down that trail and then down a 4WD road was a psychic relief, if knee-aggravating. Hearty thanks to Amy who navigated us out in good shape and good spirits, and to Greg, who reached his vehicle at 5 PM and drove it back to collect we weary souls who were still trudging. That night the beer was particularly refreshing, the food unusually tasty.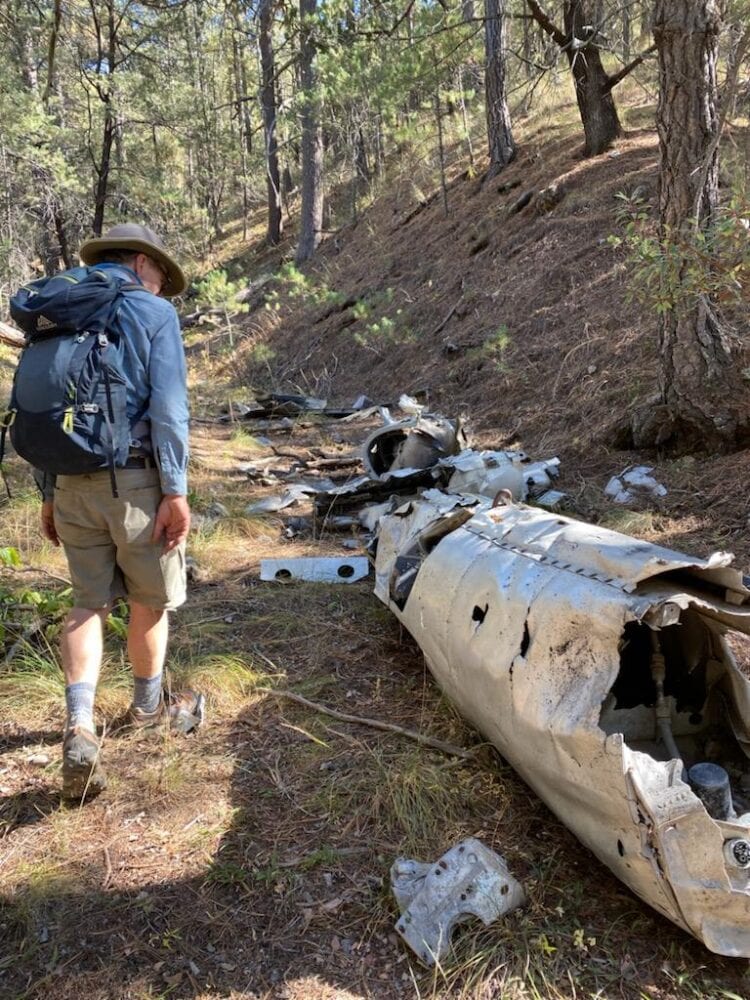 ---
Two days later we made a more modest effort, undertook a less onerous hike, and got better butterfly results, too. Sunnyside Canyon is near Lyle Canyon, but with a much gentler slope. It had experienced minor copper mining activity during the settlement period and an old wagon road was now the forest trail. Compared to more rugged Lyle Canyon, the absence of big trees hinted at past occupation by American pioneers. Our hike began at 5,900 feet and climbed only a few hundred feet over two miles, very mellow, on a partly-cloudy, breezy morning. The habitats and plant communities were just as interesting, but less altitudinous compared to in Lyle Canyon. Floodplain grasses were still green and tall, and the creek bottom had some wet spots — very promising. We tallied the beautiful, if uninspiring, Arizona Sister, West Coast Lady, and Painted Lady.
Then we saw that same satyr from two days before, but this one was in better condition and I got better photos (see below). This area has Canyonland Satyrs (Cyllopsis pertepida) and Nabokov's Satyrs (Cyllopsis pyracmon), which are very similar. Canyonland Satyr is routine through montane Arizona and New Mexico. Nabokov's is well-known from southeast Arizona, but has rarely (never?) been convincingly documented from adjacent New Mexico. I look for Nabokov's every time I get to our Bootheel, which is not very often. Whenever I go and see a satyr, I hope for Nabokov's, but subsequent scrutiny of my own photos has always persuaded me otherwise. I have come to feel jinxed about it. Right there in Sunnyside Canyon I already had psyched myself out against Nabokov's and I figured this was the local race of Canyonland Satyr. I submitted a photo to BAMONA and it came back approved as Nabokov's. My jinx is broken! Now I can identify some differences in wing markings. Maybe I should go back and review some of those old Bootheel images again . . .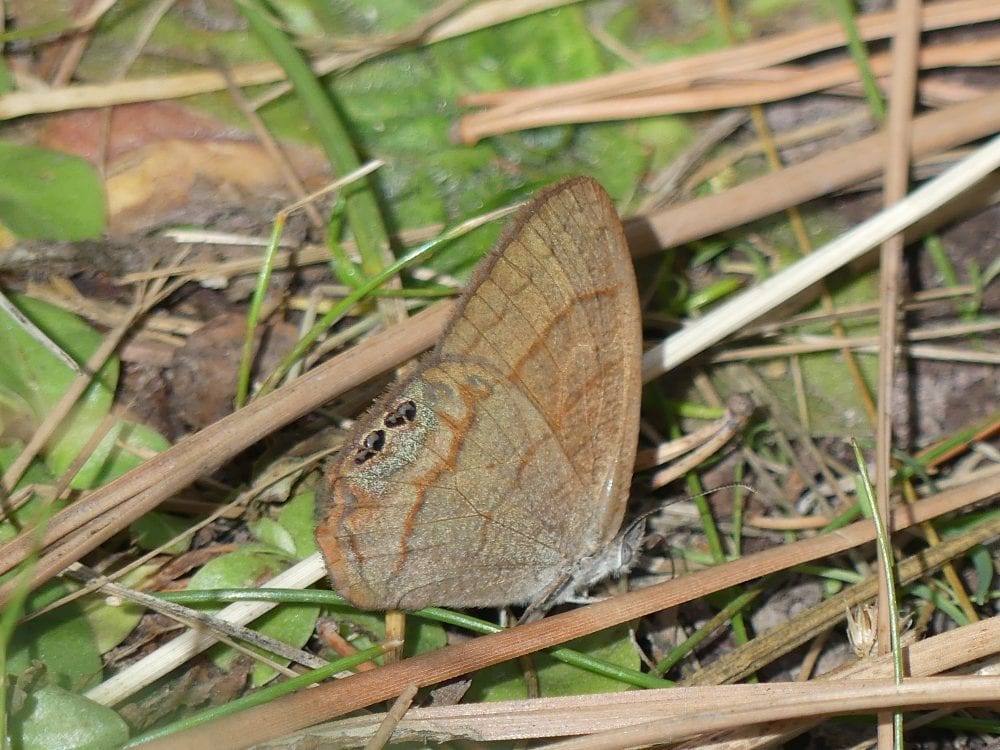 The trail rose slowly and I began to wonder if we would reach high enough country to reasonably expect the Chiricahua White. I pinned my hopes on the fact that much of the entire north-facing slope of the canyon was cloaked in pines. Perhaps a half-mile later as I was rounding a wooded bend in the trail and fiddling with my camera, Greg drew my attention to an orange butterfly on a low pine branch at eye level. He called it — a female Chiricahua White! It was not the male I had hoped for, but one cannot be too choosy. So I clicked away as it basked dorsally for a while, then crawled under the branch giving me some ventral shots, then back to the topside where it closed its wings and seemed to rest, all within easy reach of eyes and camera. A couple hours later, scanning through my shots, it dawned on me (DOH!) that she had been going through the process of placing an egg on the underside of a pine needle. We witnessed her preparation, the oviposition and her subsequent rest period. That was way better than any plain old male — they're a dime a dozen, though we never did see one.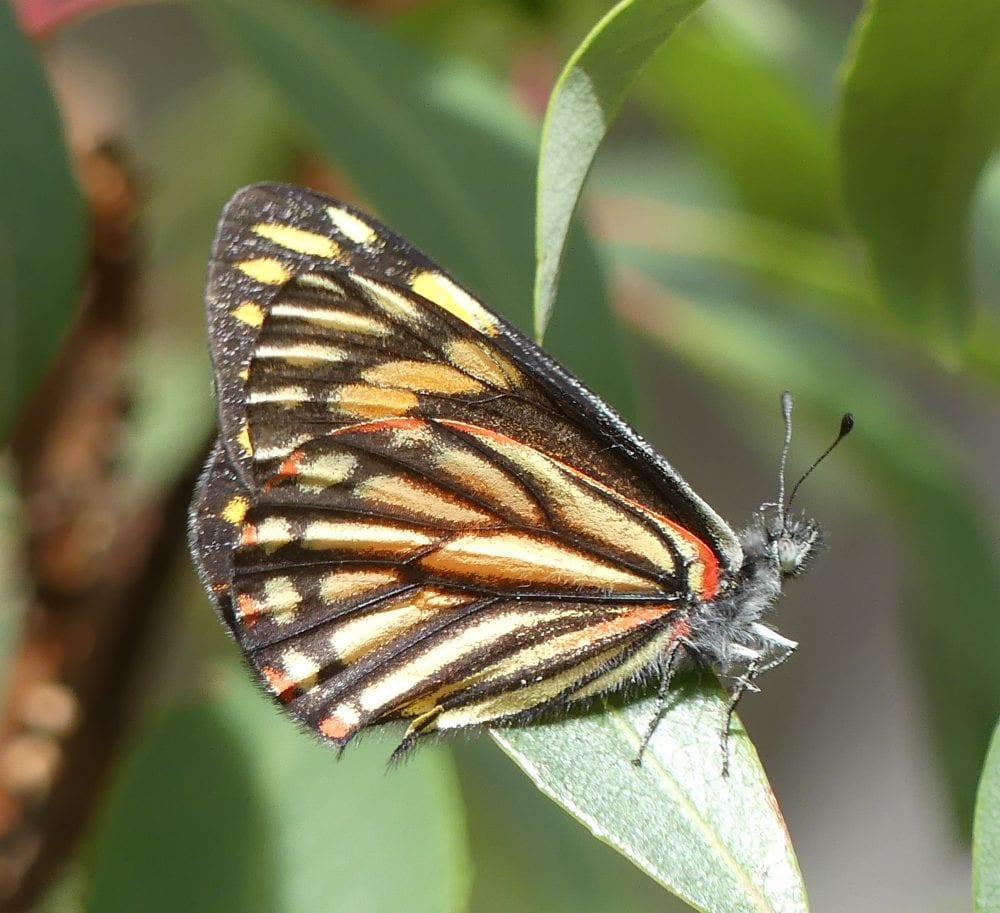 We had learned that morning about an onrushing winter storm speeding toward the Southwest, including the Huachucas, Santa Fe, and the roads in between, so we cut our trip short and skedaddled out of there that very afternoon. The Satyr and the White would be all I would get, but I was excited to get them. Marcy and I felt terrific about the Huachuca Mountains experience. We had not actually seen much of the mountains, but what we saw convinced me that we would return. I can close my eyes and picture the spring butterfly fauna after a wet winter . . . Desert Orangetip, Brown Elfin, Yucca Giant-Skipper . . . I hope we get a wet winter one of these coming years.
Best wishes for a memorable Thanksgiving!
---
1 Richard A. Bailowitz and James P. Brock. 1991. Butterflies of Southeastern Arizona. Sonoran Arthropod Studies, Inc. Tucson. 342 pp.
2 Bob Stewart, Priscilla Brodkin and Hank Brodkin. 2001. Butterflies of Arizona: A Photographic Field Guide. West Coast Lady Press. Arcata, California. 415 pp.