Gunnison's Prairie Dog

Scientific Name: Cynomys gunnisoni
Type: Mammal
Family: Sciuridae (Squirrels, Chipmunks, and Prairie Dogs)
Size: 12 to 14 inches in length
Weight: 1.5 to 2.5 pounds
Life Span: 3 to 5 years
---
Physical Description
Gunnison's prairie dog is one of five prairie dog species which are all part of the squirrel family. Their coats are yellowish-brown with some black mixed in. The upper head, cheeks, and eyebrows are much darker than the rest of the body. Their tails are mostly white with grayish tip. They have a wide peripheral range of sight due to the fact that their eyes are located on the sides of their heads.
The Gunnison's prairie dogs molt twice a year during the spring and fall. They start to shed from the head going down to their tail. Males are typically larger than females.
Range and Habitat
Gunnison's prairie dogs are located in northeastern Arizona, southwestern Colorado, northwestern New Mexico, and southeastern Utah with three-quarters of the population in Arizona and New Mexico.
They are found in a wide range of habitats from desert and grasslands to meadows and scrublands. They typically live at an altitude of 6,000 to 10,000.
---
Diet
A Gunnison's prairie dog's diet primarily consists of plant material, though some will eat insects. During the spring, they eat young grasses and leaves; in summer, they shift to eating seeds; and finally during cold weather they consume stems, roots, and food that was stored away during the warmer months.
Behavior and Social Life
Prairie dogs are best known for their burrows which provide protection from predators and from others dangers such as hailstorms and fires. Burrows are complex with separate "rooms" for toilet chambers, sleeping quarters, and storage areas. Gunnison's prairie dogs can commonly be seen sitting on their hindquarters as sentries just outside their burrows.
Prairie dogs are very sociable. They live in family units called coteries or clans with one to two males, several breeding females, and the newest babies. Several coteries make up a ward and several wards make up a colony or town.
Family members will "kiss" and groom each other and warn each other of dangers such as approaching predators. Even though prairie dog squeaks may sound simple and repetitive, they possess a very complex language. Their calls include very descriptive details about the type of approaching danger.
From about November through February, Gunnison's prairie dogs enter a deep state of torpor during which they have lowered body temperature and remain motionless in their burrows. They will occasionally wake up during this time, but will not come above ground until the start of the mating season.
---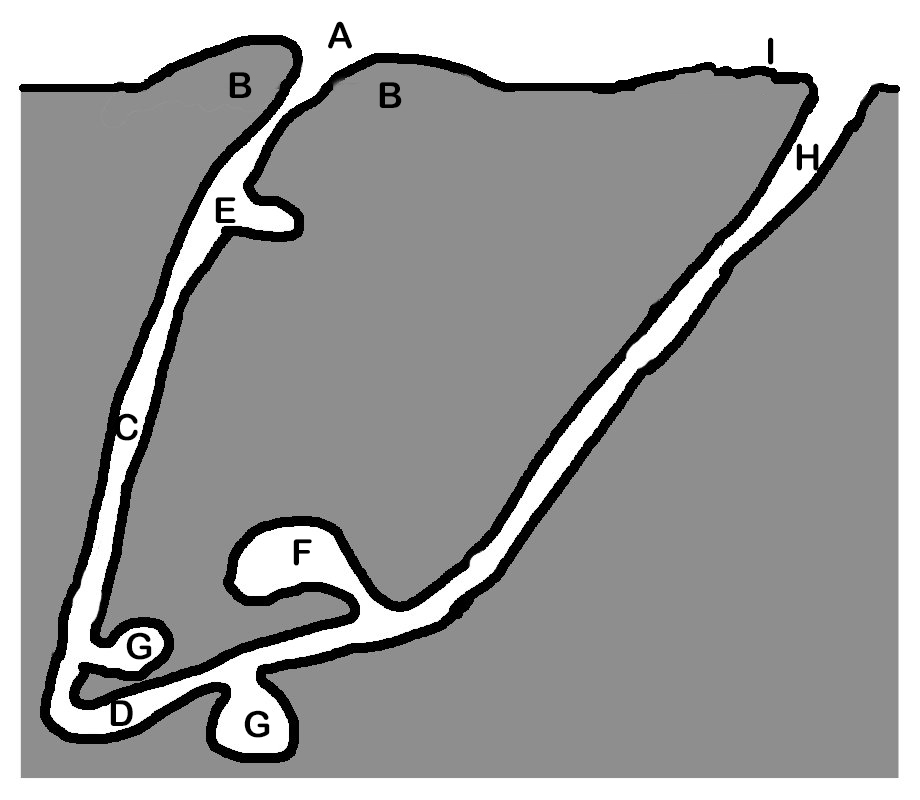 Digging Tunnel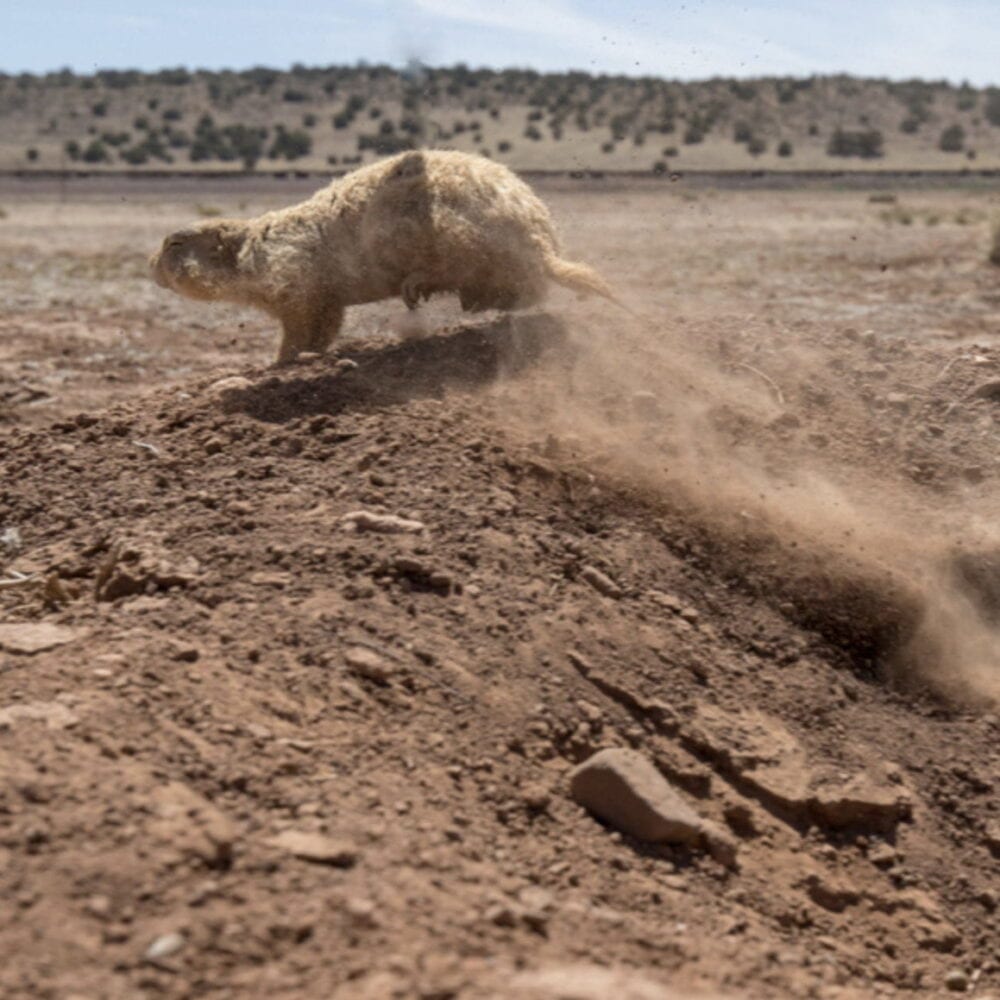 Looking Out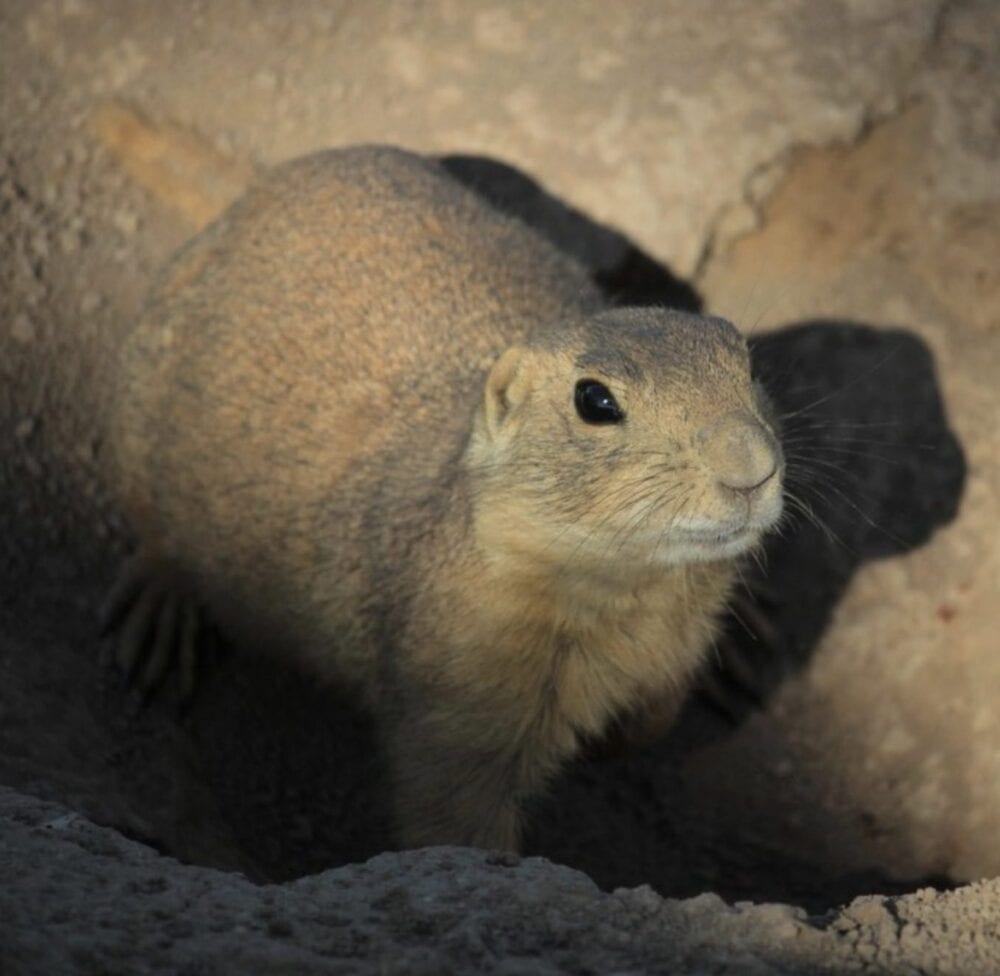 Tunnel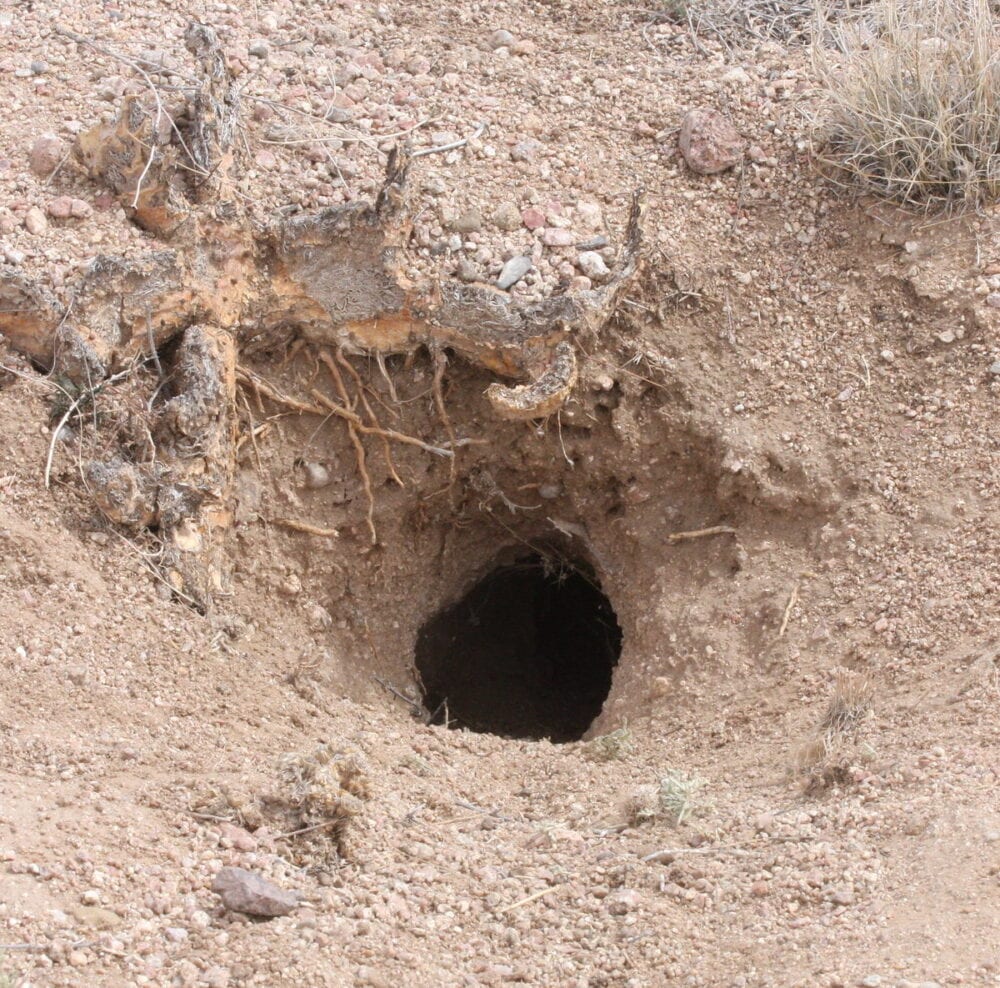 Life Cycle
Gunnison's prairie dogs mate in early spring. Females give birth to litters of three to eight pups in late spring. The pups will remain underground for about a month and then emerge to start to foraging for food on their own. Typically only half of the young will survive their first year.
---
Title
Ecological Role
Gunnison's prairie dogs are considered a keystone species because of the important role they play in their grasslands. They are the prey animal for a number of predators including badgers, coyote, bobcats, golden eagles, foxes, hawks, snakes and ferrets.
Gunnison's prairie dogs also play an important ecological role related to their digging. Burrowing aerates the soil, adds organic mater, and increases water penetration into the ground. This burrowing also creates home for other animals such as snakes, rabbits, and burrowing owls.
Interactions With Humans
Although Gunnison's prairie prairie dogs do eat some insects and thus help to reduce insect-related crop damage, they are generally considered to be an agricultural pest due to their tendency to burrow in farm and range lands.
Since the early 1900s, the prairie dog population has decreased by almost 98%. Early mass extermination efforts, oil and gas drilling, shooting, poisoning, and urban sprawl this ongoing decline.
Interesting Facts
Prairie dogs are only active during the day, particularly in the early morning and late afternoon.
Gunnison's prairie dogs are skilled fighters using sharp claws and powerful teeth to defend themselves.
Prairie dog underground tunnel systems can be as much as 33 feet long.
Burrows can have as many as six entrances that are raised slightly to provide a vantage point for spotting predators.
Burrows help to keep the prairie dogs warm when it is cold and cool when it is hot.
Prairie dog calls are so specific that they can indicate such things as a tall human wearing blue is approaching.
Prairie dogs are not a fast-multiplying rodent. They mate just once a year.
Their vocabulary of yips and squeaks is more advanced than any other animal language that's been decoded.
The current range of the prairie dog is less than 5% of its original extent.
Prairie dogs are susceptible to the same plague that caused the Black Death in Europe. An outbreak can wipe out an entire colony.
Some predator species like the endangered black-footed ferret are dependent on prairies for more than 90% of their food supply.
---