Rock Squirrel

Scientific Name: Otospermophilus variegatus
Type: Mammal
Family: Sciuridae (Squirrels, Chipmunks, and Prairie Dogs)
Size:up to 21 inches in length
Weight: 1.5 pounds
Life Span: 4 to 5 years
---
Physical Description
Rock squirrels are large, heavy-bodied ground squirrels with relatively long, bushy tails and large, pointed ears that stick up above the tops of their heads. Their fur is typically shades of brown and gray and is mottled with white spots. Lastly, they have light colored rings around their eyes.
Range and Habitat
Rock squirrels are found from Mexico northward up through Utah and Colorado including almost all of Arizona and New Mexico. These rodents live in arid canyons, rocky cliff areas, and boulder piles, but have also been known to burrow in urban or suburban areas. They avoid forested regions and high mountainous areas as well as open flats.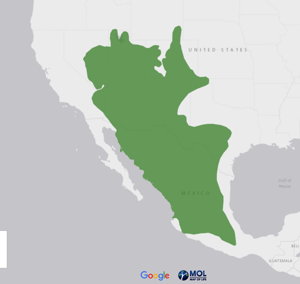 ---
Diet
Rock squirrels eat seeds, nuts and berries. They will feed on everything from acorns and pine nuts to juniper berries, mesquite buds, and cactus fruit. During the spring and early summer, they will also consume green vegetation, such as grass, plant leaves, and flowers.
Rock squirrels will sometimes carry food back to a den to store and eat later. In addition, they will also store large quantities of food for winter.
Behavior and Social Life
Rock squirrels live in social groups with several females and one male that protects them. They inhabit burrows with numerous entrances that they dig for themselves. Burrows provide shelter, safety from predators, and a place for food storage. Burrows are usually located in rocky areas with entrances between rocks. They may also be found under man-made structures, banks of irrigation ditches, and at the edges of fields. Burrow systems are usually occupied for several years, becoming more complex with additions each year.
Rock squirrels are most active in the early morning and the late afternoon. They forage on a daily basis either by climbing up into trees and bushes or by searching on the ground. They can transport the food they find in their cheek pouches for caching and later consumption.
Rock squirrels communicate in several ways. Tactile communication is used during courtship behavior and as a means of greeting between individuals. In addition, they use specific postures and vocalizations. Rock squirrels have different calls, though they are all mostly used as warnings and tend to be a series of chucks and whistles.
Tracks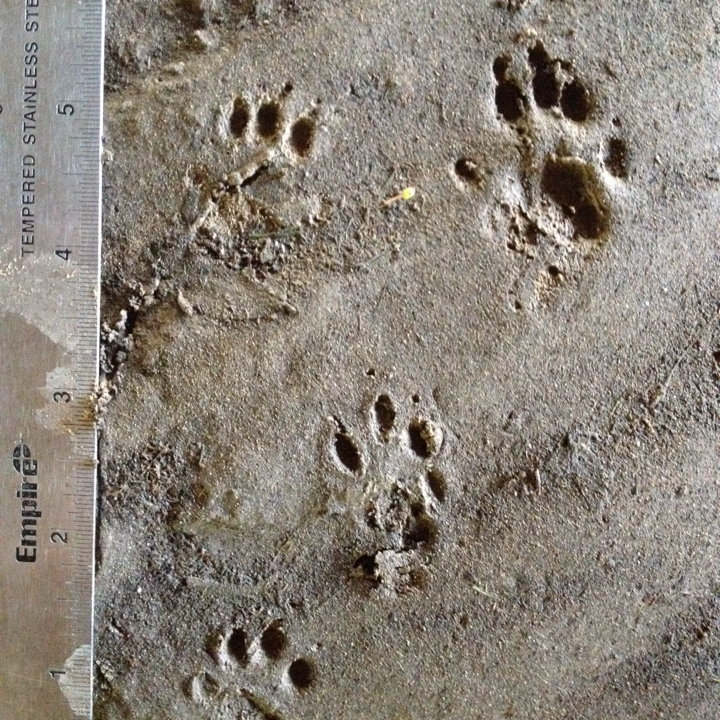 ---
Life Cycle
The mating season for rock squirrels is between March and July. About 30 days after mating, females give birth to 5 to 7 pups in a nest built out of grass located inside their burrow.
Newborn pups are hairless and have their eyes and ears closed. The mothers nurse the young for almost 2 months. Young squirrels will come above ground at about 6 to 7 weeks of age.
Nesting Material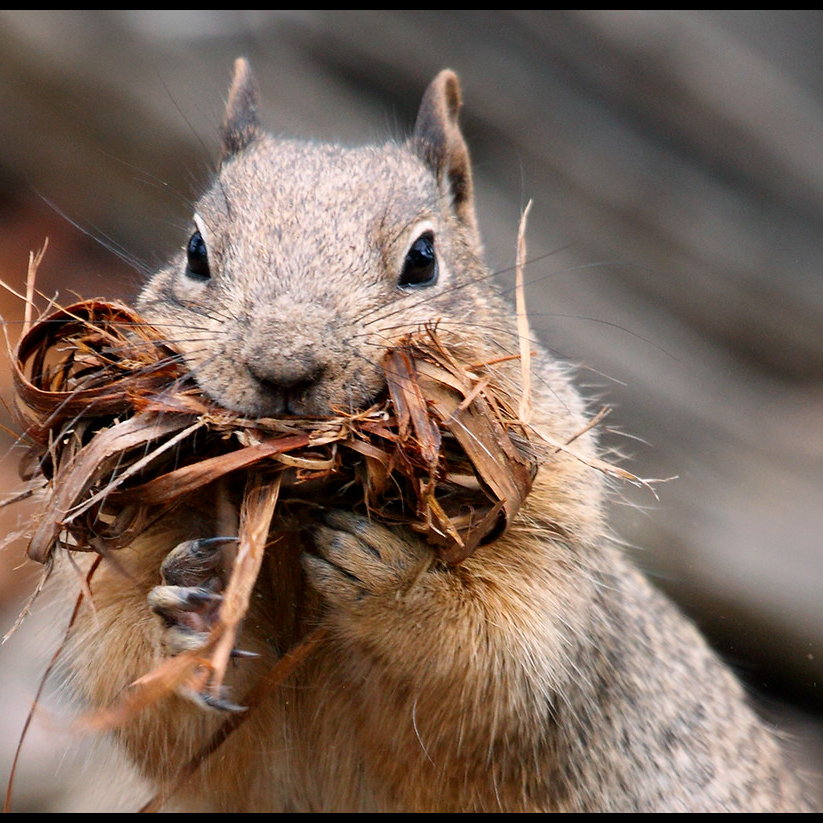 Looking Out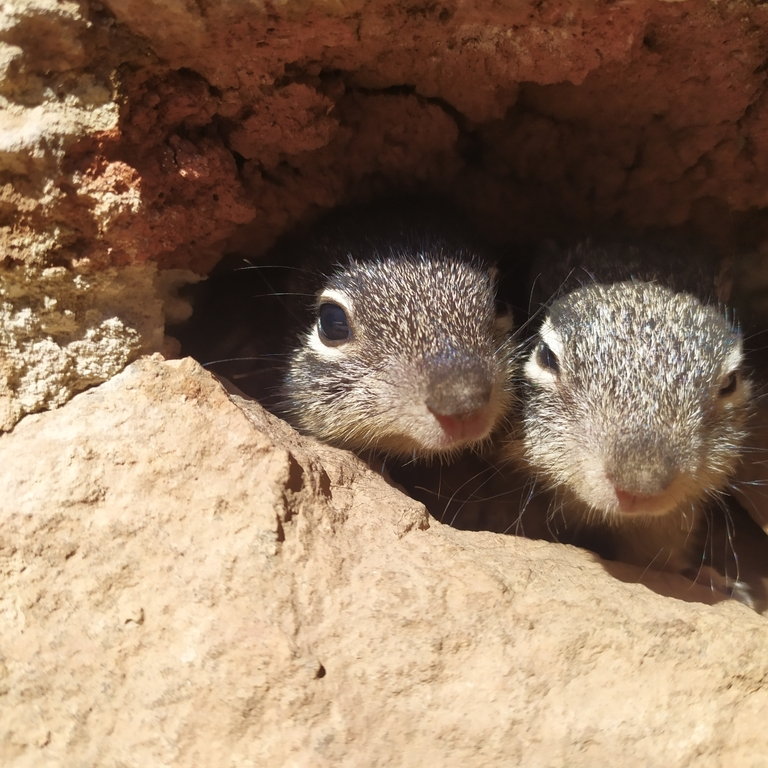 Young One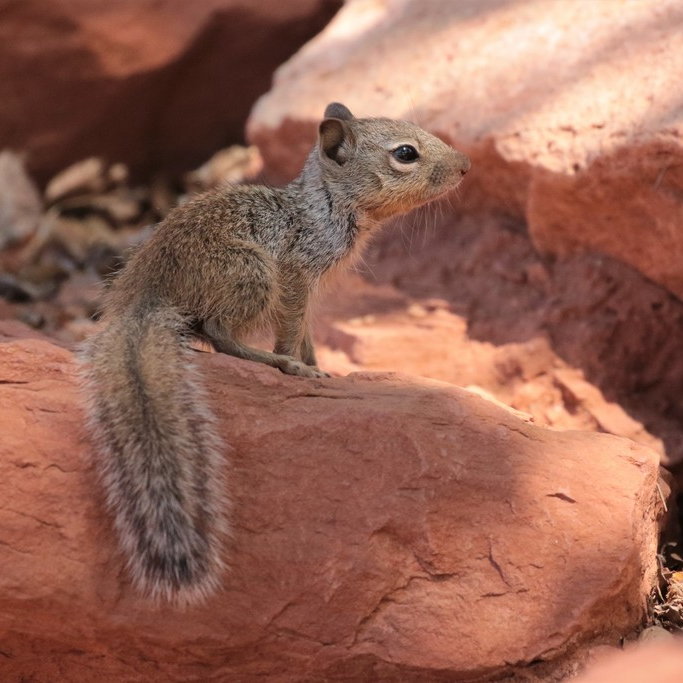 ---
Title
Ecological Role
Rock squirrels are important in plant dispersal by gathering seeds and nuts which they bury near their dens. In addition, they are an important food source for a variety of snakes, birds of prey, and other mammals like bobcats, foxes, and coyotes.
Interactions With Humans
Rock squirrels are often considered to be pests. They can damage farmlands by eating recently planted seed and newly sprouts crops. They can also cause problems around houses by feeding on flowers and garden plants. In addition, their burrowing activities can be disruptive, causing damage to landscape and plants.
Interesting Facts
The dark brown or black fur of the rock squirrel allows it to blend very well with its rocky surroundings
Rock squirrels have sharp claws that not only help them to dig their burrows and climb trees, but also can be used to protect themselves.
Rock squirrels have both a strong sense of smell and good eyesight that helps them to locate their food as well as sense danger.
Rock squirrels are one of the largest members of the squirrel family with tails almost as long as their bodies.
When a rock squirrel is close to a snake it will make menacing movements and throw debris at the snake.
Rock squirrels can release a musky scent from their anal glands when disturbed by predators.
Female rock squirrels usually only have one litter per year but can occasionally have a second.
Ground dwelling rock squirrels can climb up trees and shrubs nearly as well as actual tree squirrels.
Check pouches on a rack squirrel are quite large. One squirrel was found with 64 acorns in one pouch.
Foraging trips for a rock squirrel is generally short, only lasting 12 minutes on average.
Rock squirrels can obtain what water they need from dew, succulent vegetation, bulbs, and bark.
---