May 21, 2021
By Steven J. Cary
This post features another gripping New Mexico butterfly photography adventure courtesy of professional nature photographer Bryan Reynolds! In addition to Bryan's up-close and personal storytelling, this tale also provides an interesting perspective on the weather — very timely given our ongoing drought. Before we settle down to read Bryan's lushly illustrated narrative, here are three updates and announcements.
---
First, Save the Date. Sugarite Canyon State Park has scheduled its annual Butterfly Festival for the weekend of July 24-25, 2021. The event was canceled last year due to COVID. Fingers are crossed that COVID will remain on the decline this summer so the event can be held. This might be their 30th annual, or something close to that. Sugarite has great camping and hiking, in addition to tremendous butterflies. Put it on your calendar!
Second, the recent spate of rainstorms in northeast New Mexico, and elsewhere, locally, bodes well for butterflying there, in June. High country in north-central New Mexico has also benefitted. Perhaps our forests will survive another fire season.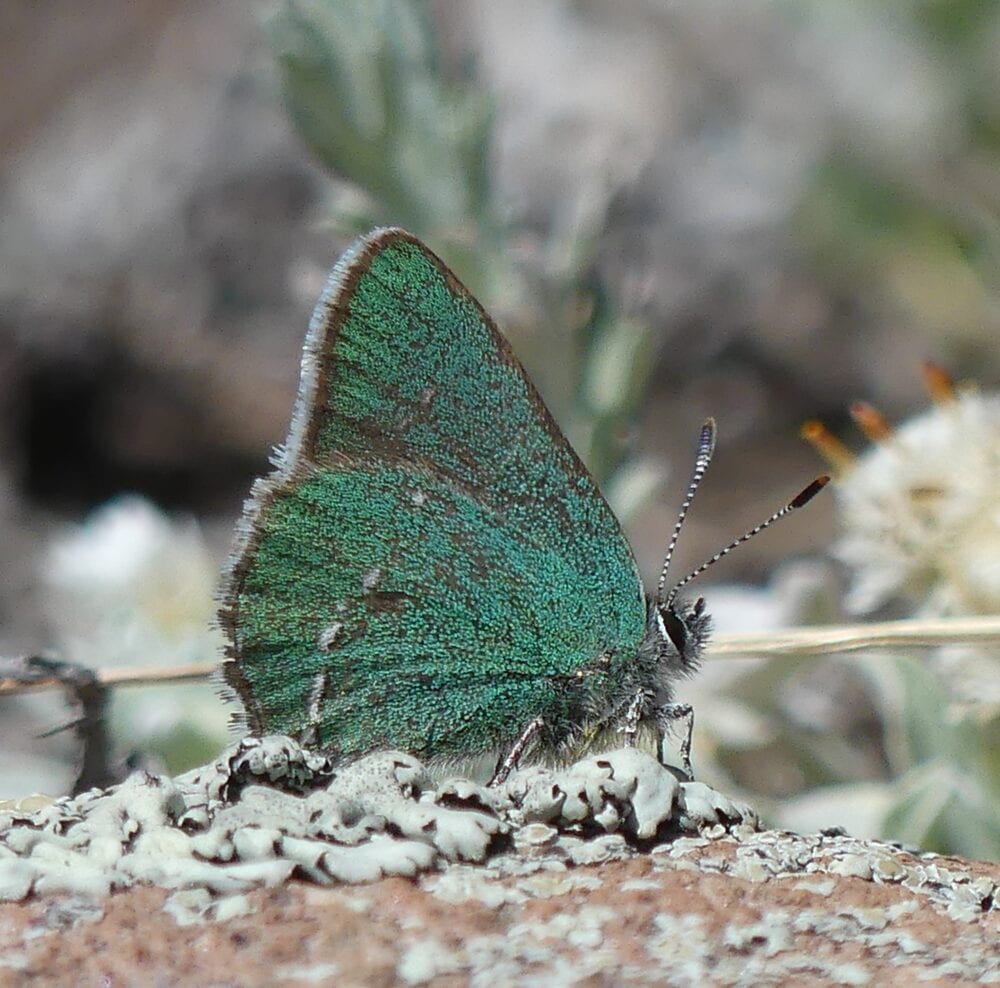 Third, May is mostly behind us and I am thankful that it has been a long, slow, cool transition toward summer. As far as I can ascertain, very few butterfly species are thriving, some have a few adults in flight, while the vast majority seem out of action entirely. Those of you who are out there looking are seeing more butterflies at higher (= cooler, less dry) sites. If, like Rob Wu, you are looking in lower, drier sites like Las Cruces, then the butterfly situation might be "pretty cruddy." Your personal experiences may differ, but my May 6 outing to the Edward Sargent State Wildlife Area near Chama from 10:30 am to 12:00 pm — 90 sunny minutes — netted four butterflies, one each from four species. That was underwhelming, to say the least, but one of the four was Sheridan's Hairstreak (Callophrys sheridanii), on the 20th anniversary of the first time I saw it there: May 6, 2001. Sheridan's looks much like Bramble Hairstreak (Callophrys affinis), but its dominantly green underside is accented with gray, not Bramble's rusty orange.
---
Now our featured story, in his own words: Bryan Reynolds' May – June 2017 Butterfly Photography Expedition to New Mexico
Travel Day, May 30, 2017:
After excellent experiences during my first photography trip to the mountains near Albuquerque in April 2017, I could hardly wait to undertake my second effort in that area. My plan was to stay for one full week. I checked the long-range weather forecast and everything looked okay.
I left my home in central Oklahoma on Tuesday, May 30, 2017, for the nine-hour drive. To break up the long drive, I decided to swing by Foss State Park which is just north of I-40, between Clinton and Elk City, Oklahoma. I participated at a Bioblitz there a few years ago and I remembered there was a huge grove of Western Soapberry, Sapindus drummondii, trees, and I wanted more coverage of the Soapberry Hairstreak, Phaeostrymon alcestis. Well, the grove is still there, but I didn't see a single hairstreak. I poked around for a short while and only saw a couple of Southern Broken-dashes, Wallengrenia otho, on thistles, so I left and continued west.
Another spot I wanted to check along the way was Lake Meredith National Recreation Area, just north of Amarillo, Texas. I was told this was a great spot, especially for skippers, and I was excited to spend an hour or so there. The Texas Panhandle was greener than I've ever seen it, with a lot of various flowers blooming along the road I drove to get to the park. This was my first time visiting this area and I really had no idea where to look, so I decided to stay near the road and investigate the many roadside flowers. I did see a few Arogos Skippers, Atrytone arogos, and a few Green Skippers, Hesperia viridis, but no Ottoe Skippers, Hesperia ottoe, which is what I was hoping to find. I got a few shots of Mourning Cloak, Nymphalis antiopa, and one Hackberry Emperor, Asterocampa celtis, both probing unopened thistle blossoms. I was seeing only routine butterflies and time was wasting, so I got back on the road again to Albuquerque. Next time, I want to spend a couple of days at Lake Meredith because it looked like a great spot to explore more thoroughly.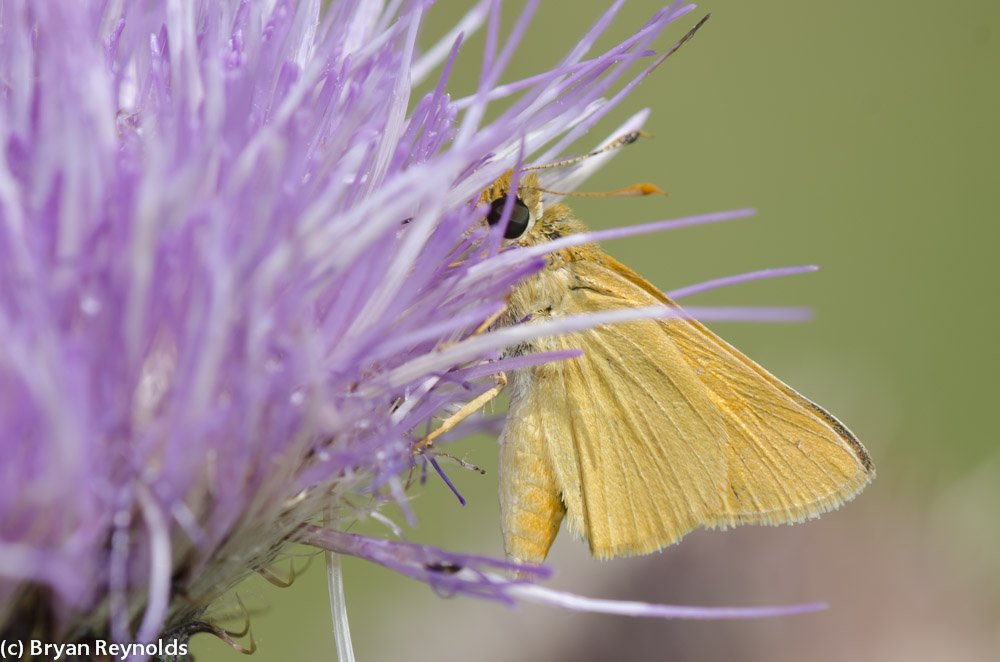 I made it to Albuquerque in time for a wonderful meal of meatloaf, mashed potatoes, salad, and iced tea made by my hosts, Kris and her husband Mike, who have been great friends of mine for around 25 years. I was excited for another great week of chasing butterflies around the mountains with my camera.
Day 1, May 31, 2017:
Wednesday, May 31, began as a beautiful, sunny day with temperatures in the low 60s and no rain in the forecast. I wanted to start the day in one of my go-to spots, Travertine Falls in Hondo Canyon at the beginning of the South Crest Trail in the Sandia Mountains. There is a parking area and a very short, 0.5 mile or so, hike to the falls. I say 'falls' loosely since it was more like a drip, but there was enough water to create some nice mud at the bottom. And at the top, the seep was flowing enough to produce plenty of mud along the edges. My normal way of working is to start slow and look for subjects along the way. Butterflies are one of my main subjects, but I also shoot all other small creatures, wildflowers, plants, leaves, patterns, etc., for stock and sale in the editorial markets. I look hard at everything for potential subjects, but that worked against me this day. Immediately after getting out of my car, I noticed about 30 butterflies flitting around one edge of the parking area. My heart jumped with excitement as I quickly grabbed my camera and stealthily stalked up to what I hoped would be some rare checkerspots. My heart soon sank as I realized they were all Painted Ladies, Vanessa cardui. This, it turned out, would be the norm for the trip, a bazillion Painted Ladies in every environment and flushing most of the things I wanted photos of. At the end of each day, my eyes and head were very tired because I had automatically scrutinized every Painted Lady hoping for something different.
As I ambled along, I noticed a big, dark cloud forming above the mountain's south peak with a streamer of rain coming out of it. It didn't worry me much because, after living in the area for 12 years (1987-1999), I knew rain squalls weren't uncommon and were normally short-lived. So I kept walking, arrived at the base of the falls, and started to check out the butterflies. Within minutes, a couple of nice ladies stopped by to chat and ask what I was photographing. It turned out one lady's mother volunteered for many years at Frontera Audubon in Weslaco, Texas, a place I've done presentations, butterfly walks, and tons of photography. We also knew the same people there. It's a small world. As we were chatting, a loud thunderclap boomed and echoed through the canyon and it began to get dark. I was concerned that I hadn't put a grocery bag in my pocket (to cover my camera during rain), but thankfully, one of the ladies had a plastic bag, which she gave me. I decided to get back to my vehicle and find a place with no rain.
I didn't need the bag to protect my camera at that moment, but a veil of rain was coming down right where I had been ten minutes ago. Looking at the squall, I thought I'd have better luck to the south. I knew a few places along highway 337 (or South 14 as it's usually called), including Pine Flat Picnic Area, so off I went. As soon as I pulled into the parking area, it started raining. I looked at the horizon and thought I might as well just sit tight and wait it out. So I opened my cooler for a protein bar and a Gatorade and opened my Kaufman Field Guide to Butterflies (or in other words, my butterfly photography wish list) and read up on more possibilities for the trip. After about 30 minutes the rain stopped and the sun was shining. When I stepped out to take a look, the first thing I saw was a cloudywing. I thought the Mexican Cloudywing, Thorybes mexicana, should be out, and that would be a new bug for me, so I worked this one hard. It flew to a patch of pea (pretty sure it's Bush Vetchling, Lathyrus eucosmus, and probably a larval food for this butterfly). It began nectaring and I got some decent ventral shots. In the heat of the moment, I'm mostly concerned with getting good photographs and less worried about identifying my subject. Shoot first and ask questions later, so to speak. Later, after getting the images on a computer screen, it was very obvious, with a costal fold, this was a male Northern Cloudywing, Thorybes pylades, a species very common in my Oklahoma yard. Oh well, hopefully, I'd get a Mexican Cloudywing later.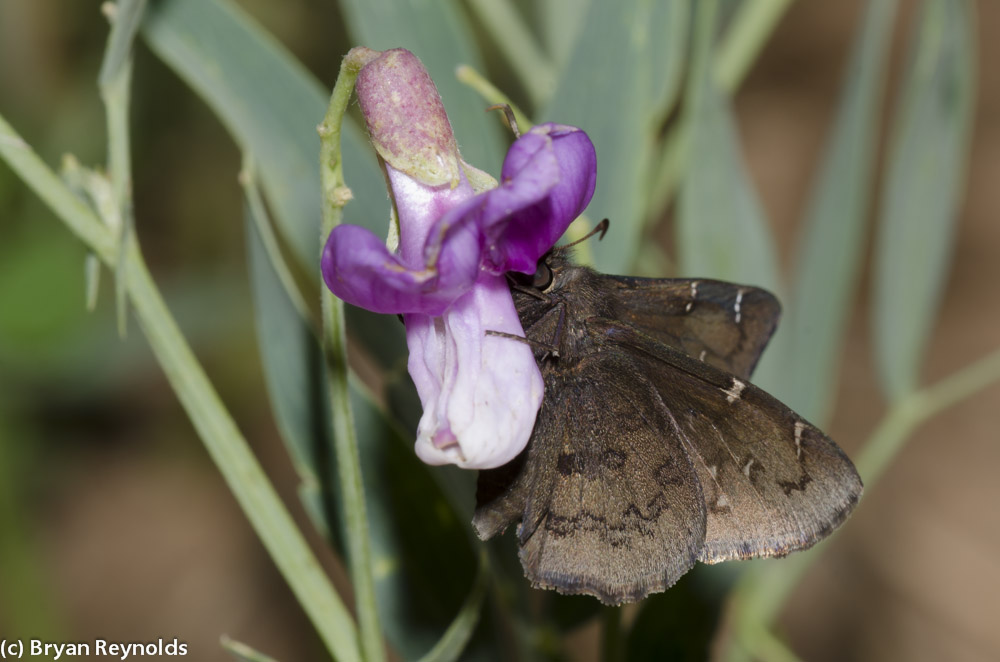 I continued to work Pine Flat, looking for butterflies and other critters. As things started to dry out and warm up after the rain, more butterflies emerged. Besides the ever-present Painted Ladies, another common butterfly for the trip was Checkered White, Pontia protodice. I have a lot of photographic coverage of this species, so unless there is something like mating, ovipositing, courting, getting eaten, etc., I usually pass them up. But, there are other species that are fairly new to me and don't fly in my neck of the woods, even though a local person may pass them up for other subjects. In Oklahoma, Eastern Tailed-blues, Cupido comyntas, (we call them Eeteebees) can be out in almost plague numbers and you can flush a bunch of them with every step. I suspect in the West, the same could be said about Western Tailed-blues, Cupido amyntula, (W-teebees?). But, I haven't photographed many of those, so I'll take the time to get down in the mud to get photos. Same with Field Crescents, Phyciodes pulchella, and it was this species that popped out after the rain. Two fresh ones were darting around the picnic area that had the afore-mentioned pea as well as some Trailing Fleabane, Erigeron flagellaris. So, I worked them, but could get only dorsal shots.
After a bit, I was ready to move on. It was now well past noon and I was hoping the west side of the Sandias was sunny. I knew there should be dusted skippers (Atrytonopsis spp.) and roadside skippers (Amblyscirtes spp.) and I wanted photos of all of them. So, I drove back to Albuquerque and to the seep at Embudito Canyon. I parked and made my way on the trail, again looking for anything to photograph. There were Painted Ladies all over the place and a few Checkered Whites, but not much else. Of even greater concern, that the same rain squall that I waited out a couple of hours before, had moved north to right where I was walking. I was right on the edge with the sun shining and then rain spitting on me from the east. Within minutes it started to rain harder and I pulled out the plastic bag the nice lady gave me earlier in the day and stuffed my camera in it. I walked back to my car and was pretty soaked and chilled by the time I got under its cover. My day of photography was over.
Many will say, like the fishermen, that a bad day in the field is better than a good day at work. I was having a good time and I was looking forward to a plateful of chile rellenos with a side of papitas covered in green chili, and an ice-cold beer.
Day 2, June 1, 2017:
Thursday, June 1, was forecast to be warm and sunny. After the rain-dodging I did the day before, I was anxious to get searching for subjects. Again, I headed to Travertine Falls in Hondo Canyon at the start of the South Crest Trail in the Sandia Mountains. Ignoring dozens of Painted Ladies clustered at the parking area, I briskly made my way to the falls. The lower part had a few Silver-spotted Skippers, Epargyreus clarus, playing tag with Painted Ladies, so I went to the upper part of the 'falls' and there I hit pay dirt. A short flow of water dampened the earth and several butterflies were working the mud. There were cloudywings, azures, duskywings, blues, and a few sisters. I didn't have good photographic coverage of Mexican Cloudywing, so I photographed every cloudywing there, hoping one was a Mexican. Even though I've photographed hundreds of male Northern Cloudywings, I'm still not good at identifying them on the fly, especially when I'm crawling around in the mud with head-sized rocks all over the place. So I shot first and saved the questions. Much later, after looking at the images on the computer, I saw that I had photographed a ton of male Northerns. However, I was thrilled to see one Mexican in the mix, a lifer for the trip.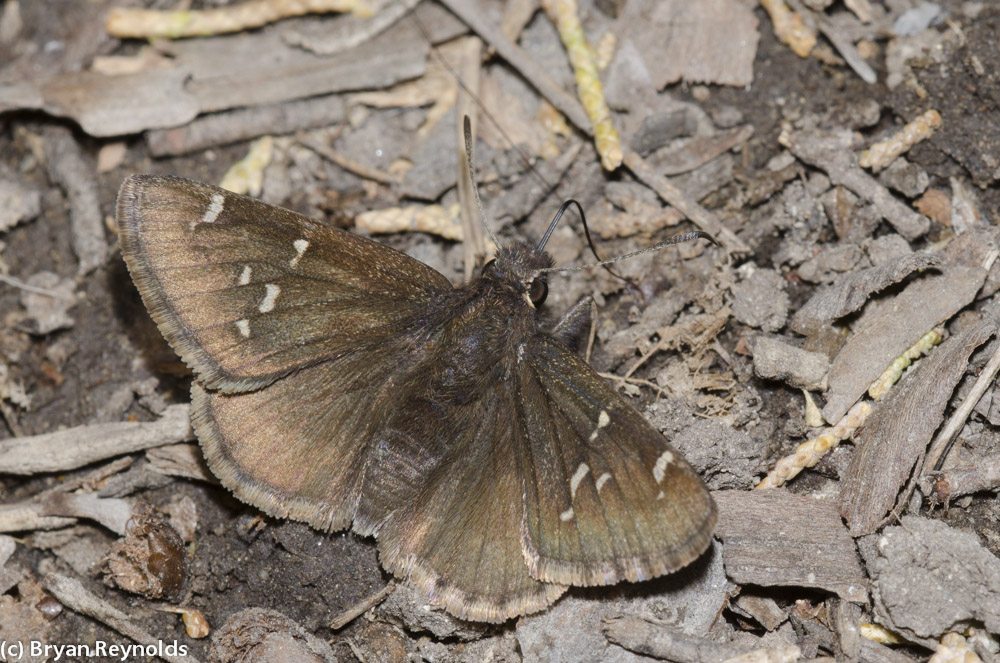 I continued photographing up along the 'creek' to where it began as a trickle of water coming out of the ground. There, I was able to photograph a couple of Arizona Sisters, Adelpha eulalia, always a beautiful bug, a Rocky Mountain Duskywing, Erynnis telemachus, Western Tailed-blue and a Marine Blue, Leptotes marina. After working the area for a few hours, I wanted to try a dryer spot to look for dusted skippers and roadside skippers. On my way back to the car, I heard a strange smacking sound coming from under some plants. It was a lizard smacking a grub to the ground. It kept violently flicking the grub until a green glob came out of it. Then the lizard ate the grub and took off. I got a few shots of the mauling. Maybe it was trying to get rid of the stomach of the grub, or something that was inedible/unpalatable.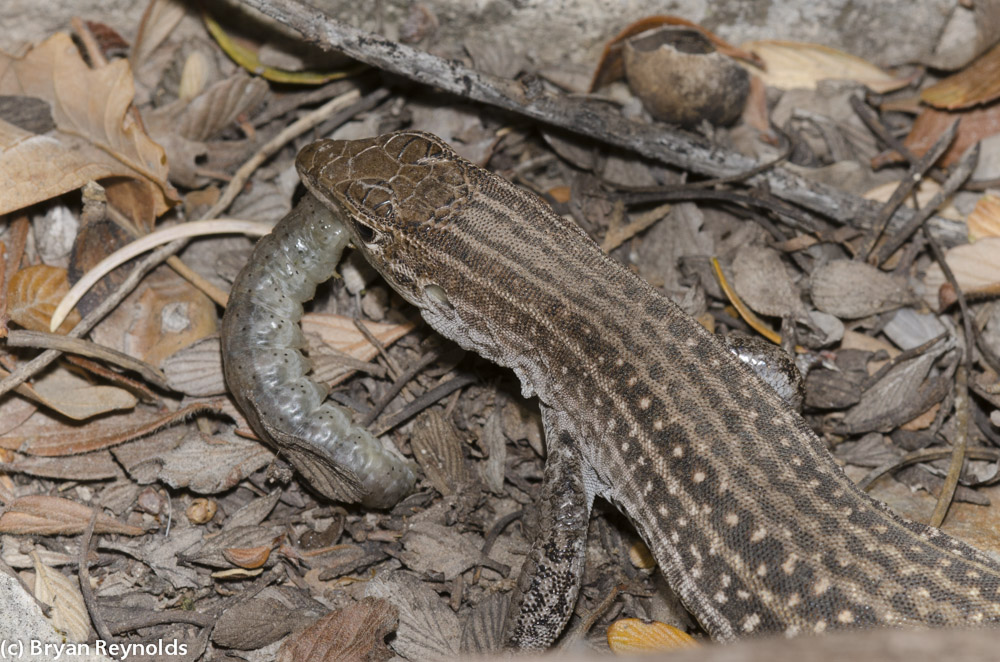 My next stop was the seep at Embudito Canyon. Walking along the trail, there was a slight breeze in my face as I searched for anything to photograph. Each time I stopped, however, a bunch of blasted little flies would immediately fly up my nose or into my ears. It wasn't bad if I was walking fast, but they were all over me when I slowed down. I did bring bug spray, but it was back in the car and I didn't want to walk back to put it on. By the time I got to the wet spot, I regretted that decision. There was a darned fly landing and walking into my ear at least every second. I had to constantly stick a finger in one ear or the other to kill them and it was driving me crazy. Even with this annoying pain in the butt, I began to see butterflies. The first one that grabbed my attention was a Weidemeyer's Admiral, Limenitis weidemeyerii, which flew out and mobbed anything that flew past. Then it would land at eye level and I would fire off frames. The wind was gusting through the canyon, so I got a lot of out-of-focus shots and quite a few with cut-off wings, but I did manage a few keepers. One time I saw it chase a brown grass skipper. As best as I could, I followed the skipper with my eyes and saw it land on a large granite boulder. I slowly rock-climbed up to it and started to fire off shots. It was Viereck's Skipper, Atrytonopsis vierecki, another 'lifer' for me. Once my eyes grew accustomed to what they looked like and the kind of perches they liked, I saw more. I was able to get more ventral shots and then a couple of dorsals as they 'airplaned' their wings. They liked to perch on top of granite boulders, so I scanned along from boulder to boulder, and then suddenly there would be one sitting there. If I could climb better, I would have seen many more.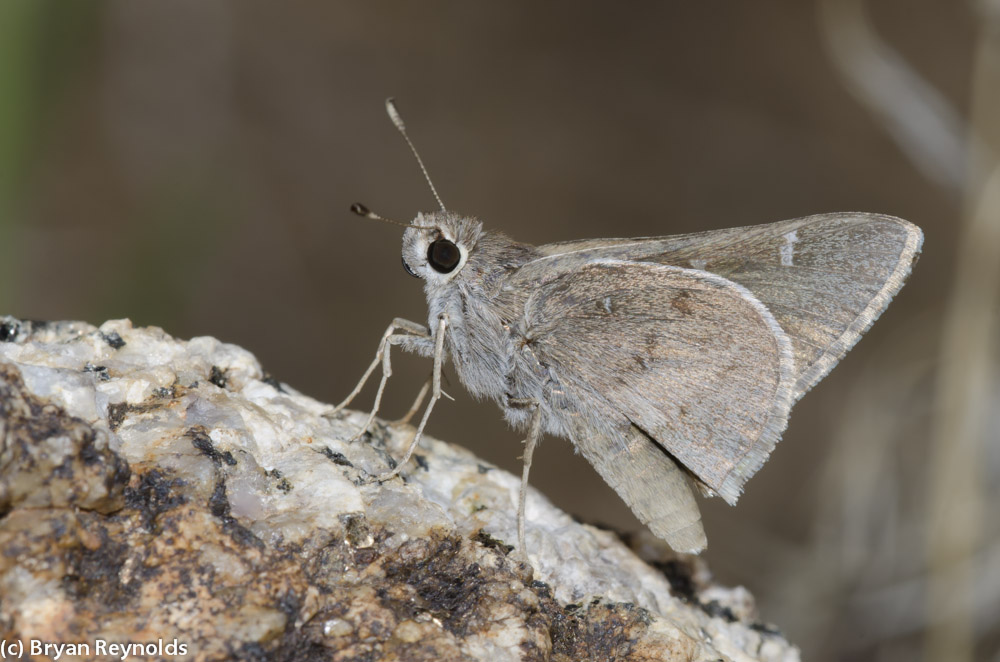 I worked the area along the seep, and photographed other critters including an Orange Skipperling, Copaeodes aurantiaca. It would alternate from basking on the trail to nectaring from western wallflowers, Erysimum capitatum. The images with the wallflower were much prettier than the gravel shots. As I was photographing a worn Arizona Sister, Adelpha eulalia, a different grass skipper landed for a drink. It proved to be a Margarita Skipper, Atrytonopsis margarita, a little worn, but my third lifer for the day.
After a couple of hours working these dusted skippers the Viereck's and Margarita skippers disappeared and in their place I began seeing tiny roadside-skippers. I thought the dusted skippers had been jumpy, but these little Amblyscirtes blasted off every time my flash fired. At least they didn't go far and, after a bit, they seemed to get used to me and settled down. I looked at my field guide and identified them as Oslar's Roadside Skippers, Amblyscirtes oslari. This species was not technically a new one for me, but the older photos that I had were on slide film, so I was happy to get fresh digital coverage.
I had another great day of photography with three lifers. My hosts had another wonderful meal prepared for dinner and I was really looking forward to the next day of photography.
Day 3, June 2, 2017:
I was eager to head out on Friday, June 2, because of my success the day before. I didn't know for sure where I wanted to go, but I was looking for someplace different. Something told me to head south into the Manzano Mountains. I was told about the Mexican Sootywing, Pholisora mejicanus, being found there. A huge fire burned through parts of the range last year, so I checked at the ranger station to get more details. They assured me that the fire was north of the Fourth of July Campground and the road to the campground was open. So, I left for Fourth of July. A couple of days before, when I photographed at the Pine Flats Picnic Area, I had noticed some new parking pullouts along 'South-14' (at least new for me from visiting years before). I was curious, so I stopped at the first one, called Tunnel Canyon. It looked like a nice trail that mountain bikers used. I got out to poke around and besides the copious Painted Ladies flushing from behind every cactus, and the occasional Checkered White, flitting around, I didn't see many butterflies. I did see a large black cloud forming to the south of me with a trail of rain coming out of it. I was hoping it was just a small thing that I could drive through to find sun and butterflies on the other side.
I continued south and passed the squall to the west of me as I drove. After a bit, there was also a ton of burned out land to the west and it looked terrible. I kept driving and before long I was in the small community of Tajique, my indication to turn west toward the mountains. The dirt road was muddy, probably from the squall I just passed, and it had a bunch of potholes, some of them deep. I eased my Toyota Camry along and was soon into extensively burned areas, torched right down to the rock. It wasn't looking good, but the ranger said the burn was north of the campground, so I continued. There were huge, water-filled gaps in the road, like ponds, but I went slowly and made it through, finally reaching the campground. The ranger was correct, the burn was technically north of the campground, but I could probably throw a rock from the campground and hit the burned area. And it was still wet from the squall that just passed through. I saw several Painted Ladies posted along the parking areas, but not much else. I had passed a nice looking meadow on the way up, so I thought I'd hightail it there and try to salvage this little jaunt. As I started back, I heard a loud crack and flash at the same time as a lightning bolt hit near my car. Then big raindrops began to fall. I was worried because on the way up, I had to slowly pick my way through deep potholes. Now it was starting to rain again and going down could get bad, especially since mudslides are common in areas that recently burned. I picked up the pace and navigated the ponds and potholes as best I could. After a few miles, it was pouring like crazy and the road was totally watered over. I couldn't see where any of the potholes were and it was really getting muddy. I finally made it down to the pavement without getting stuck or ripping the bottom of my car out. In Tajique, it wasn't raining, but it was dripping wet. Now what to do?
I looked to the south and there was another squall, but it looked like a clear sky on the horizon just behind it. I reasoned that since the burn area was now north of me if I drove south to the community of Manzano and then headed west into the mountains, I'd be in an unburned area. It would hopefully be sunny and I'd have some butterflies to photograph, something I had yet to do on this day. So, I went south… Oh, what a mistake this turned out to be. I got to Manzano and turned west. Now I was in the direct path of the squall that I thought I'd be able to drive through. It began to rain very heavily. Then it hailed like I've never seen. I pulled off to the side of the dirt road because I couldn't see a thing. This was small hail, but it was like I was in a cloud. The area got totally dumped on with white. Within a few minutes, about 4 inches of hail covered the entire landscape! I couldn't tell where the road edges were and it was very slippery. A couple of hours ago, back in Tunnel Canyon, it had been almost 90 degrees. Now, the outside temp was 41 degrees! I couldn't believe my luck. There certainly wouldn't be any butterflies here on this day, not even Painted Ladies. To make matters worse, when the hail finally stopped, I saw this area had been burned, too! At this point, I wasn't sure if the ranger I spoke with earlier was referring to the Manzano Mountains or not! I had now wasted much of the day. The only thing I could do was head back to Albuquerque and see if any of my regular spots were dry.
As I drove north, it became dryer and dryer. By the time I reached the Pine Flat Picnic Area, it was totally dry, so I stopped to try and salvage the day, and I'm glad I did. The temperature was back up to around 90 and the first butterflies I saw (besides Painted Ladies) were some roadside skippers. Like the day before, there were a couple of Oslar's Roadside-skippers and mixed in were a few Bronze Roadside-Skippers, Amblyscirtes aenus.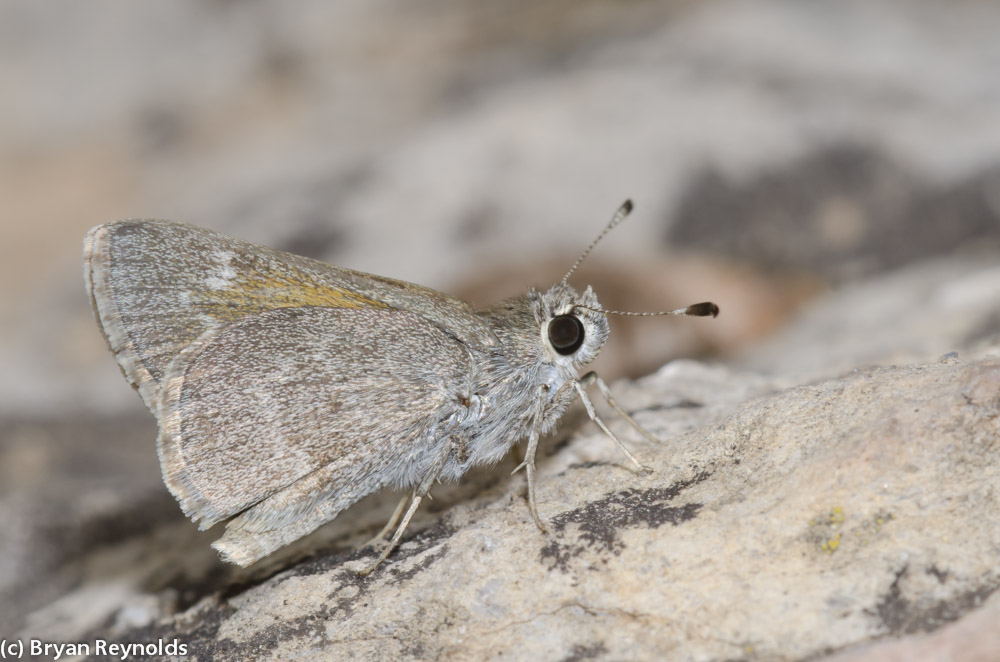 I worked the area for a bit, photographing the little roadside-skippers. They seemed to perch at intervals along a little gully or wash. After I bit, I started back toward my car. A Checkered White landed right in front of my camera, so I got a couple of shots of it. I ignored the Painted Ladies. At the car, I decided one more stop was in order, so I went to the other parking pull-out along 'South-14' called Otero Canyon. This trail was actually the old Hwy 14 that wound its way along the canyon. It was strange seeing nature reclaiming it. There were large junipers growing right out of the middle of the double yellow lines in the crumbling blacktop. I poked around, photographing lizards and other bugs, when I saw the flash of a blue butterfly. I stalked up to it and by golly, it was a female Marine Blue, Leptotes marina, and she was ovipositing! Yippee! Finally some good stuff to photograph. Not only was she laying eggs, she was also dorsal basking, sometimes both at the same time! We do get this species in Oklahoma, but for some reason I have never seen many dorsal basking. On my earlier trip to New Mexico in April this year, I was able to get photos of a male dorsal, and now I got a female nicely displaying.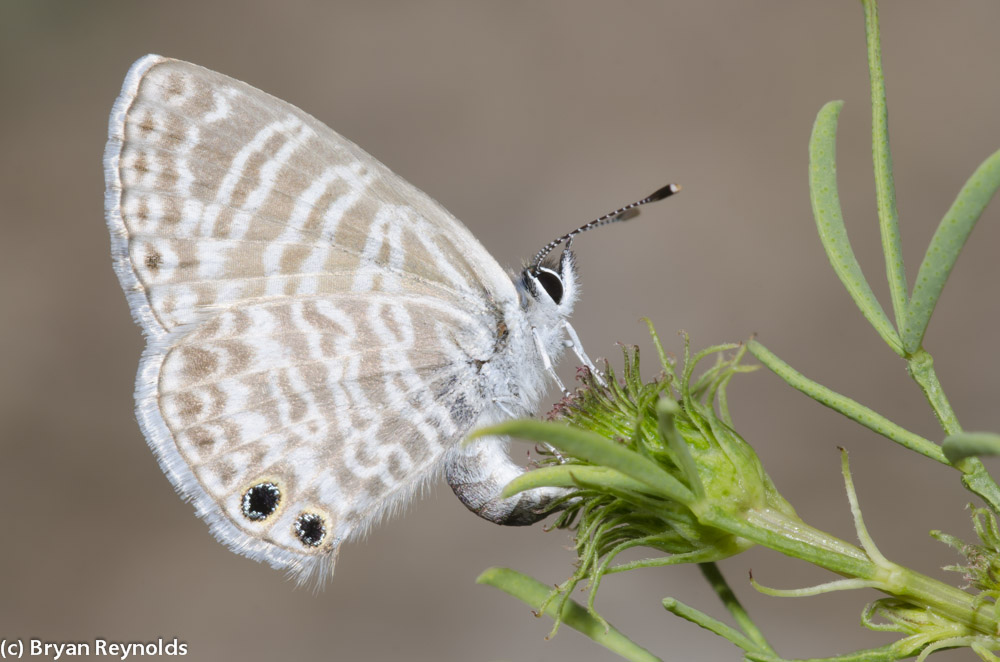 Well, I had had quite a day and I was ready for some more green chili and a cold beer. So, I packed up and headed back to my host's for another night of great food and visiting.
Day 4, June 3, 2017:
On day 4 of my trip, I stuck to my regular spots in the Sandia Mountains. First I returned to Travertine Falls in Hondo Canyon, hoping the mud would bring in some different butterflies. This time, I hunted slowly on the trail, scrutinizing any leaf or rock that could have a photographic subject. I noticed that the roadside and dusted skippers really didn't mud-puddle, they just perched at their territories and would blast off to check out anything else that flew near. Many times they would fly right back to the same exact perch, which was sometimes just a boulder in the middle of a wash. After some practice, I could spot them before they flew, just sitting there. Many of them became very used to my presence after a minute or so. Once I learned their habits, they were easy photographic subjects.
I worked my way toward the falls, photographing spiders, lizards, flies, and cicadas while ignoring the countless Painted Ladies. At the falls, there were the same butterflies and I didn't work them as hard as on previous days. It's nice to see and photograph different butterflies, but sometimes mud-puddling doesn't offer the most photogenic shots. After a couple of hours of general photography, I walked back to the car and drove to the seep at Embudito Canyon.
At Embudito, I proceeded slowly along the trail, again looking for subjects I could photograph. Besides more Painted Ladies, there weren't many butterflies along the trail, but at the seep, there were more roadside skippers, both Bronze and Oslar's. Again, they weren't mud-puddling, but were perched at their territories that just happened to be near the seep. A little surprise, however, landed literally at my feet to mud-puddle, a rare second brood Sandia Hairstreak, Callophrys mcfarlandi. I slowly returned to the parking area and along the way photographed some cholla and prickly pear blossoms. All in all, it was a good day of general photography and I was looking forward to the next day, which would bring a trip to the Jemez Mountains.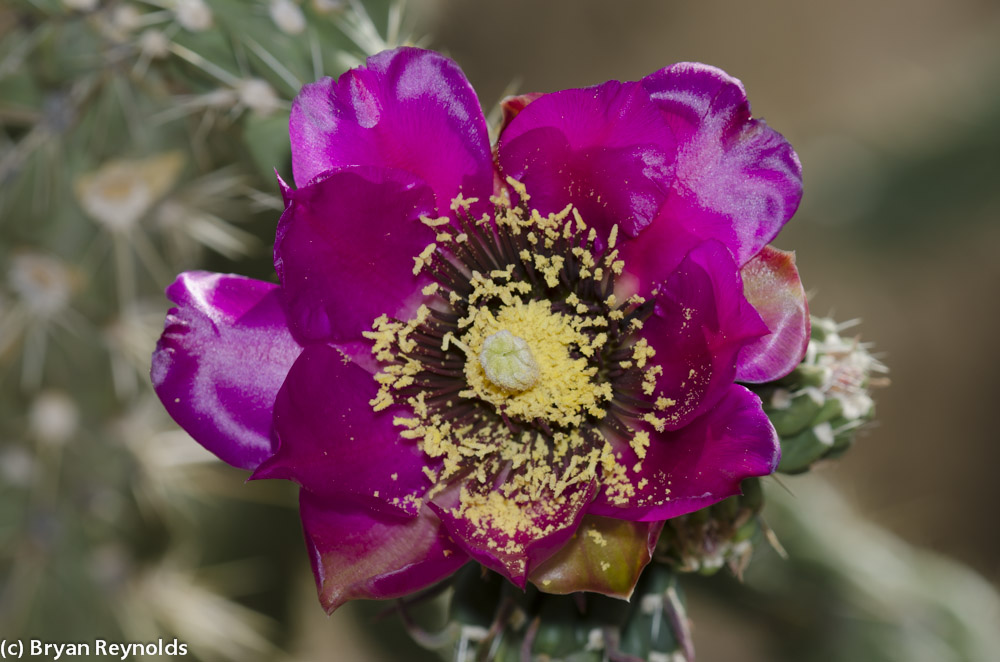 Day 5, June 4, 2017:
I was excited to be driving into the Jemez Mountains with my good friend, Mike Sanchez. I've known Mike and his family for almost 25 years. He's the curator of the Naturalist's Center at the New Mexico Museum of Natural History and Science. When I was stationed at Kirtland Air Force Base (from 1987-1999), I became a docent at the museum and volunteered for Mike at the Naturalist's Center. My favorite critters at that time were spiders and we worked together to make displays of live spiders from around the area. We would also do impromptu walks with visitors around the museum, looking for critters and talking about what we found. It was a fun time back then and when we get together now, we're like two kids exploring the countryside. He wanted to take me to one of his favorite spots where he takes his family camping; a place east of Cuba, just off State Hwy 126 and along a nice creek. We started for Cuba early enough to arrive just as butterflies would be waking up and basking.
We reached Cuba and turned east on Hwy 126, road hunting along the way. I noticed that the Rocky Mountain Iris, Iris missouriensis, was in full bloom and the meadows were loaded with these gorgeous flowers. I eagerly kept a lookout for any swallowtails on the irises and soon I saw one fairly close to the edge of the road. It was a fresh-looking Western Tiger Swallowtail, Papilio rutulus, and it was nectaring from one of the irises. I hollered at Mike to stop and then I flew out the door. As I approached, I got low, brought up my camera, and fired away. It wasn't on the flower long, and out of six frames, only one was good enough to keep. The iris was growing in front of other vegetation, so the background is a bit busy, but the butterfly and the flower are fresh. You might be surprised to know that Western Tiger was a lifer for me. In fact, I'm pretty sure it's the first time I've seen this species, so I was happy to get it on 'film.'
We continued along and finally approached Mike's campsite, which seemed excellent: a flowing creek, tons of wildflowers, the scent of pines in the air, and critters flitting all around. First to come into view, about head-high, was a fresh, Western Pine Elfin, Callophrys eryphon. It flushed down into the grass and sat still for photos. In a large patch of dandelions, Taraxacum officinale, another Western Pine Elfin fell out of the sky and landed on one. Then another one dropped down. I saw a few of these and they all seemed to just float down from high above. They were all very fresh and allowed close approaches for photos. I had decent coverage of this species from South Dakota, but that was on slide film and now I was able to get digital shots. Then I saw a smallish duskywing land on an old dandelion seed head. I slowly crept up to it and photographed both sides. It was a male Dreamy Duskywing, Erynnis icelus.
I worked the area hard, photographing anything that moved, including several different-looking bumble bees. These guys are in decline and I'm always getting requests for images, so it will be nice to have some of the western varieties. Then I noticed a fire pit and, as many butterfly people know, some species like to probe the charcoal and ash for minerals and moisture. Sure enough, there was a cloudywing sitting on one of the rocks forming the ring. I photographed both dorsal and ventral, and did not see a costal fold. After a close look on my computer monitor, it was clear it was a Mexican Cloudywing.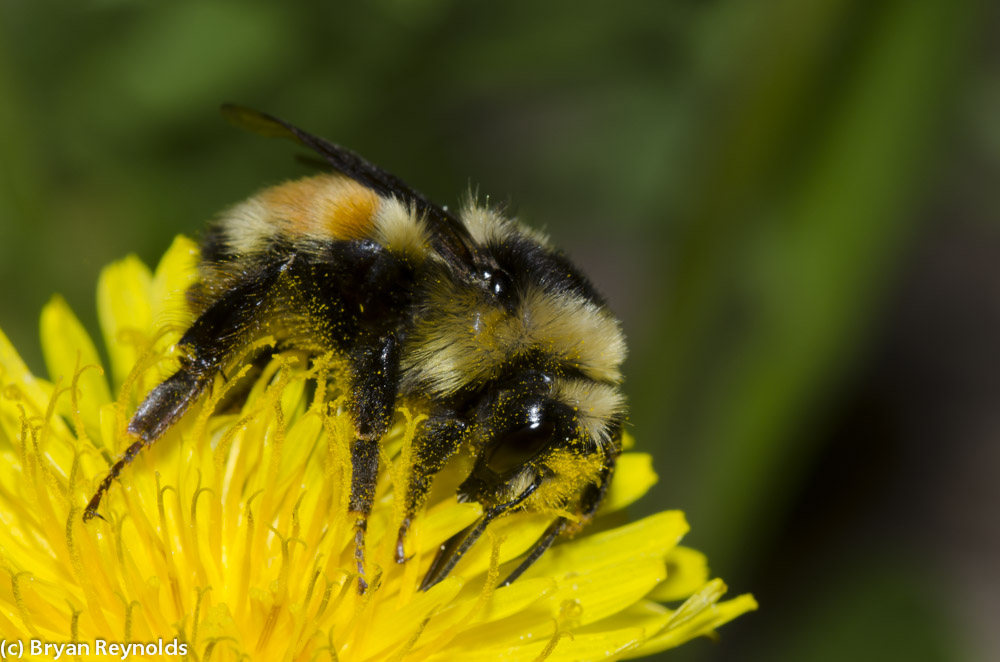 Another fresh Western Pine Elfin posed for photos and then I photographed a Whitespotted Sawyer, Monochamus scutellatus, (long-horned beetle) that Mike had just finished sketching and water-coloring. Apparently, as he glanced toward the creek, this large beetle was flying right toward his head. He tried to grab it out of the air, but instead unintentionally smacked it where it then landed on his shirt. So, he decided to do its portrait and afterward, I photographed it.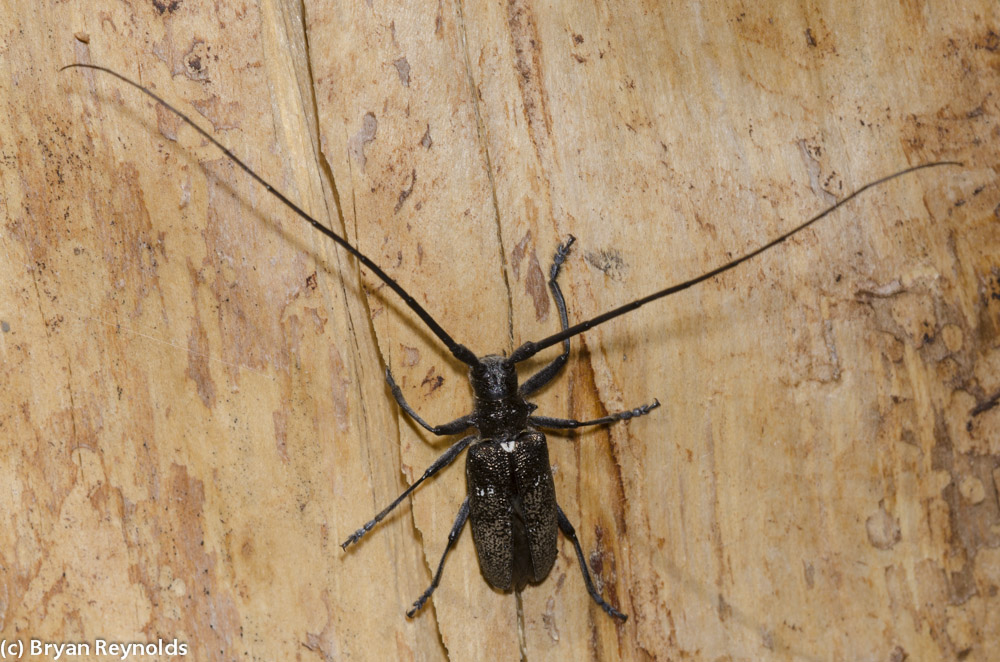 After several hours' work, we moved on and road-hunted our way along forest roads. We steered southeast and then through Fenton Lake and Jemez Springs, basically making one big loop. As we drove along the gravel roads, we spotted several patches of lupine blooming. We stopped to investigate, especially for blues, but didn't see any. I did see another swallowtail nectaring off the purple variety, but it was too far off and flew in the opposite direction. At one point, we came upon a meadow filled with the yellow lupine, Thermopsis rhombifolia. It was gorgeous but didn't have any butterflies. There were a ton of bees on it, however, so I photographed as many as I could. As we continued south, Mike told me about the fascinating geology of the area. We hit a stretch of dirt road that was the old ash of a volcanic eruption. It was like driving through talcum powder. We got through Jemez Springs and Mike wanted to show me a spot that had some nice fossils, another interest of his. It was pretty cool and I photographed some of his finds.
The day seemed to fly by. I got one lifer for sure and a lot of nice shots of other subjects. During the whole day, I saw tons of photographic opportunities. It's in my future plans to spend at least a week exploring and photographing the whole area.
Day 6, June 5, 2017:
I left early and headed back to the Jemez Mountains where I had such a productive outing the day before. Since this was the last day of my trip. I wanted to get to a different spot, partly because I was driving my Camry and not the 4×4 my friend Mike was driving the day before. We had gotten into some rough roads that would be impassable with my car. So, I looked at the map and decided to drive some of the forest roads around Fenton Lake and Jemez Falls. Along the way there, I stopped at a spot called Perea Nature Trail which is just before the Jemez Pueblo on highway 550. We had passed by this spot on the way back the day before and it looked interesting to me. I was hoping for some different species that could be found in more xeric, lower elevation habitats, and this looked like it fit the bill.
I was the only car in the parking area and as soon as I stepped out, I noticed a checkerspot of some sort just over the fence. It landed, so I quickly grabbed my camera and rushed to the entrance of the park, which was in the opposite direction, all the while keeping my eye on the spot where the butterfly landed. I then looped around the fence and quickly headed toward the spot where I spotted the butterfly. As I got closer, it flushed and it was indeed a checkerspot of some sort, but it would not land. It briefly flew around a bit and then made a bee-line away from the area. Darn, it would have been a good butterfly to photograph. A very shocking thing to me was that it wasn't a Painted Lady because they had plagued me for the whole trip. I poked around a little, looking for anything I could photograph and besides a few Western Pygmy-Blues, Brephidium exilis, the only other butterfly I saw was a sootywing of some sort. I saw it patrolling around, but it never landed. After a short while, I continued on to the mountains.
I decided to turn off Highway 126, just before Fenton Lake, onto Forest Road 376 and then onto Road 604. I would stop along this road at several spots, checking out anything that looked promising. I saw and photographed several insects until I saw my first butterfly, a smallish duskywing, which turned out to be a male Persius Duskywing, Erynnis persius, another lifer for me. Right after that, I spotted a nice, fresh Western Pine Elfin, Callophrys eryphon, nectaring on trailing fleabane, Erigeron flagellaris. I ended up seeing a few of these, just like the day before. Again, I marveled at how some would drop down from high above to get nectar.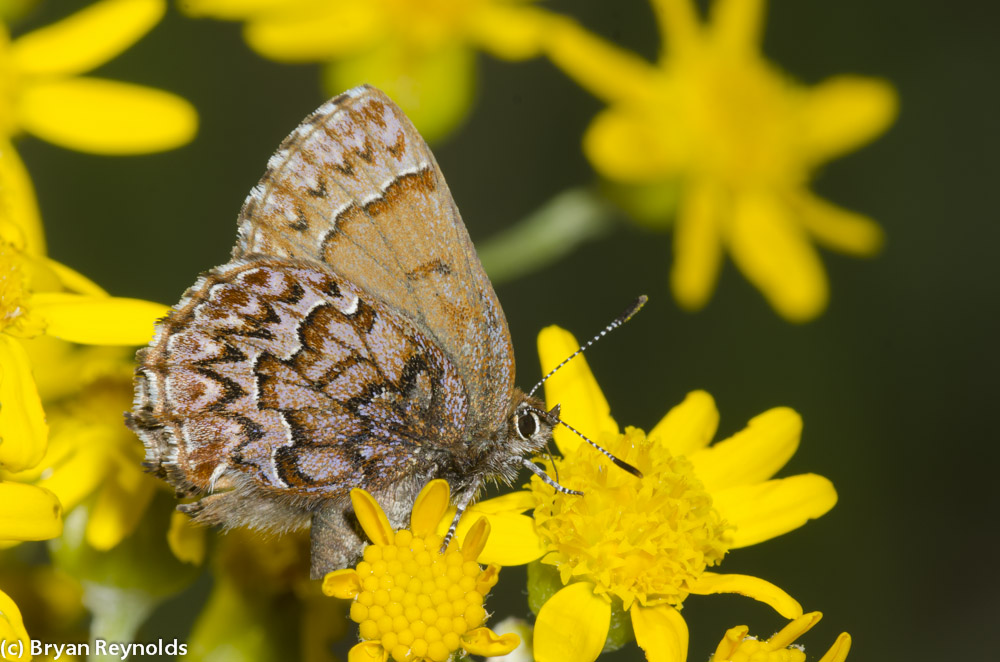 Then a Checkered White flew by. This was a common butterfly for the trip and I pass them up unless something is unusual about them, or they're doing something like ovipositing, mating, etc. I followed this one with my eyes and all of a sudden, he dropped down into the pine needles. I walked over and two of them flushed. The second one was a female that he was courting and boy, was he aggressive. He would mob her in flight and then force her down. Then he would jump on her and pin her head down with his front legs. She just sat there and he finally gave up and left. After another minute, she left, too. I've seen courtship of other species, but I didn't know it got so rough.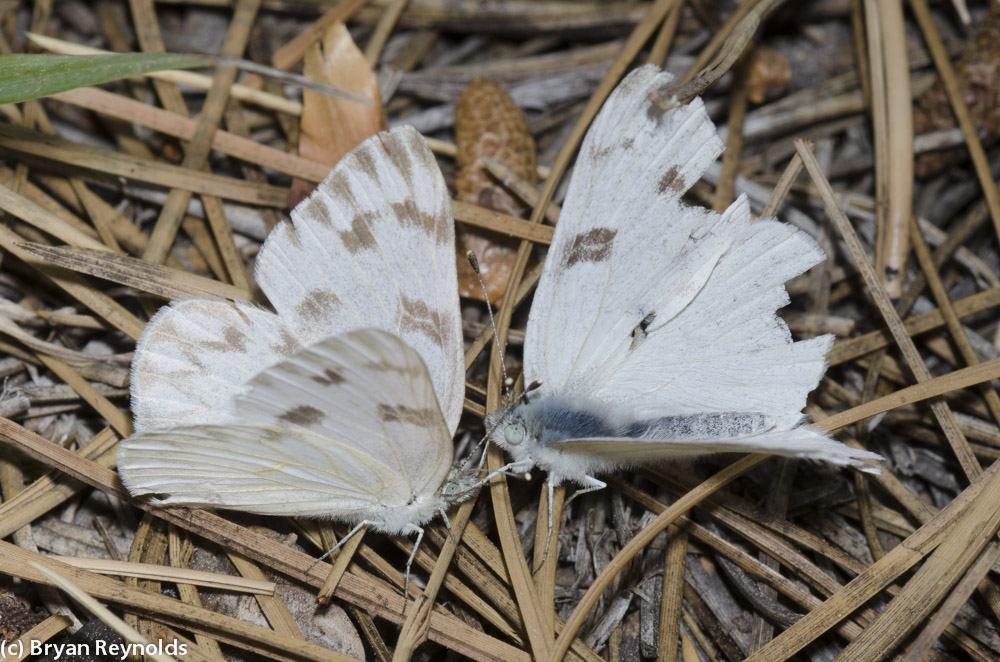 I photographed two more duskywings, another male and also a female Persius. Then as I was checking out some prairie thermopsis, I saw a male grass skipper nectaring. I snuck up and started to fire off frames as he probed the flower. Then I tried to slowly rotate myself to get parallel to his wings for a better angle, but he blasted away, not to be seen again. I've looked at the guides and showed it to several experts, and it looks like a male Nevada Skipper, Hesperia nevada, another lifer.
That evening, Mike took me to the New Mexico Museum of Natural History. It was late and the museum was closed, but I wanted to get photos of black widows and woodlouse spiders. Both were common along the outside of the museum and I got a lot of photos for stock.
Travel Day, June 6, 2017:
June 6 arrived fast and my week of photography in the mountains of New Mexico was now over. On my way out, I made a brief return to Travertine Falls in Hondo Canyon, just to see if anything new was around. I quickly made my way toward the mud, photographing a nice Juniper Hairstreak, Callophrys gryneus, nectaring on Apache Plume, Fallugia paradoxa, along the way. When I got to the mud, there were two swallowtails puddling: a Two-tailed Swallowtail, Papilio multicaudata, with a left hindwing chunk missing, and a very fresh Anise Swallowtail, Papilio zelicaon. I worked them both for a while as they probed the mud. I got some full shots of the two-tailed, then closed in and got some wing close-ups. With the Anise, I was able to get some decent shots of the dorsal side and partial ventrals, too. After a short time, I returned to the car and began the long drive home.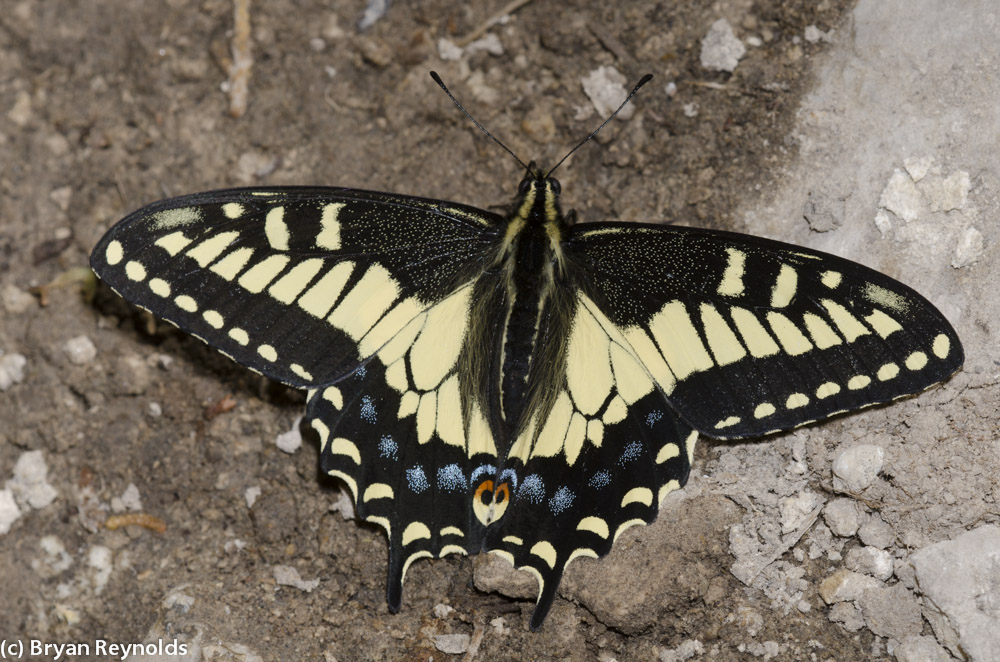 All in all, my trip to New Mexico was wonderful. I had a few issues with weather, but not too many. I had a wonderful time staying with Mike and Kris — lots of great food and visiting. My outings were very productive with a total take of 24 butterfly species including five lifers. I also got more coverage of a few that I had only a couple shots on slide film before. And I photographed many other critters and wildflowers for my own stock. I took a total of 2,187 frames and edited them down to 728 for a keep rate of 33%, not bad for some of the jumpy butterflies like skippers. I'm already planning another visit, so keep an eye out for more reports.
---
Thanks very much, Bryan, for generously sharing that intimate perspective on how you go about doing what you do. We all learn something from how you approach your photography and from your experiences with the subject matter, the weather, and the people you encounter along the way. Happy trails, in your new vehicle!
---
Finally, I feel compelled to sneak in this addendum. Marcy and I walked for two hours this morning (May 19) in the Galisteo Basin Preserve south of Santa Fe. It was a little cool, a little breezy, but sunny and eventually it reached the mid-60s. Away from the main arroyo, we saw no flowers and fewer than 10 plant species showing any green. One-seed juniper and pinon pine are green all year, so that means nothing. Several of the "green" plant species were cacti, yuccas, Mormon tea — a more xeric bunch I cannot imagine. And in some ephemeral drainages, rabbitbrush showed green stems and mountain mahogany was beginning to show green leaves. Perhaps 1% of grasses showed a hint of green. That was it; everything else was gray or tan. Dozens of native grass species, scores of native wildflowers, forbs, and small shrubs species were all existing, persisting, persevering in drought-driven dormancy. As for their insect herbivores, butterflies or otherwise, I did see one butterfly, a Yucca Giant-skipper, but nothing else. One can only conclude that they are dormant, too. Any non-adapted plants and their herbivores would have been extirpated from the area millennia in the past. All that live here now have the necessary adaptations. How starkly beautiful it was to see that P-J grassland ecosystem surviving, in its gray/tan glory. We (and they?) wait patiently for liberating rains. What choice do we have?