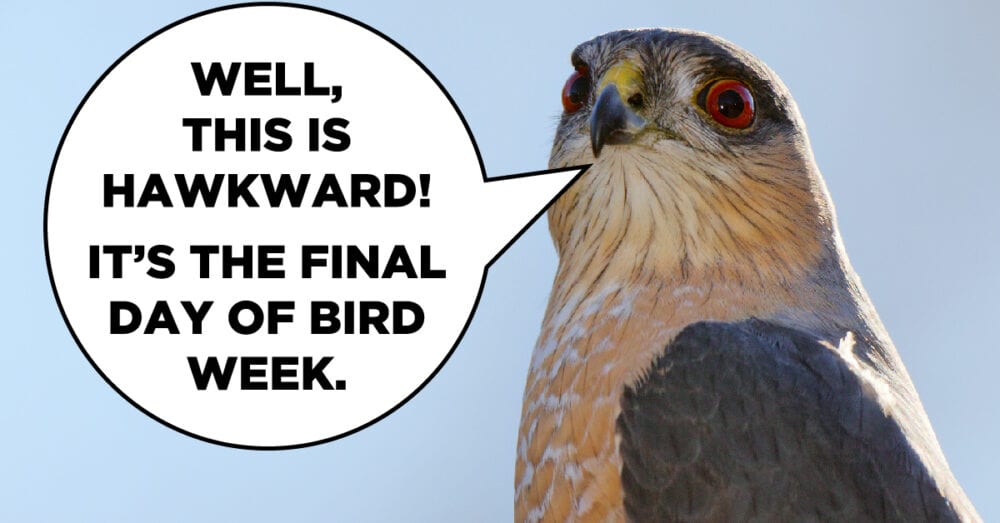 On the final day of bird week, we are learning about how birds fit into our local food chain. Join us next week to explore signs of spring with Take It Outside!
Help us improve this program! We want to hear what you have enjoyed about the first week of Take It Outside and learn what we can do better in the coming weeks. Please, do us a favor and fill out this evaluation form.
Upcoming Event:
We'll be hosting a virtual astronomy talk tonight (Friday, March 20) instead of our regular planetarium show at the nature center. Join Rick Wallace via livestream at 7 PM to hear about some of the brighter objects that you can currently find in the night sky. Then, explore the spring equinox and the presence of water on various planets and moons in our solar system. Learn more and register here. This talk is free, but registration is required to receive the link to the livestream.
Blog Post:
The song of the American Robin is often considered a sign of spring, so we thought learning more about this bird would be a perfect segue between this week's bird theme and next week's look at signs of spring. Learn more about the robin, and how it fits into our food chain, in today's blog post.
Activity:
The diversity of life just outside your doorstep can surprise you! Start this activity with a nature observation outside. List the animals and plants you can see in your yard. Are there any signs of birds or other animals? Trees and grasses? Then change your perspective! Pick up rocks to see critters underneath, move around fallen branches or logs, lie on the ground and look up. From your list, think about what might eat what. Maybe the robin eats the worm he found, or the junco has been eating the old seeds from the sunflower, and a hawk is trying to catch the junco. Try to put together a food chain including at least four different species.
Using paper cups, draw an animal or plant on each cup and label it with its name. Now you can stack them in the order of who eats whom. To extend this activity, make cups for more of the species you found in your yard or neighborhood. Try stacking them in new or different ways! Look for pictures of the different plants and animals in old magazines and glue them to your cups.

Find further instructions here.
Outdoor Challenge (Beginner):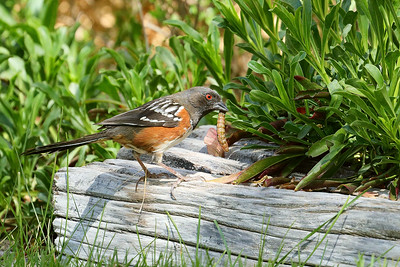 All animals need to eat! Go outside and look for evidence of birds eating the following things.
Seeds
Fruit or berries
Insects
Worms
Other birds
What seemed to be the most common foods? Would you like to eat like a bird? Share your thoughts with us!
Outdoor Challenge (Advanced):
See if you can spot some of our local birds of prey. Common ones of our area include:
Look for the Cooper's Hawk and Sharp-shinned Hawk hunting from trees near bird feeders or other congregations of small birds. The Red-tailed Hawk can often be seen soaring in the air, sometimes being badgered by other birds. Look for the Great Horned Owl at dusk or dawn, hunting from high perches. Typical locations include the Mitchell Trail in Los Alamos or White Rock Canyon. Find a Northern Goshawk and make our birders jealous!
Other Resources:
Do you want to continue your birding journey? Here are some of our favorite birding apps to help you identify birds. Merlin Bird ID (free), the Audubon Bird Guide app (free), iBird Ultimate (paid), and the Sibley eGuide to Birds (paid). The Merlin Bird ID app is great because it asks you three simple questions about the bird you saw and then brings up a list of likely birds! We also recommend checking out eBird, so you can track what birds you see! Check out this Introduction to eBird video on YouTube.
Join our PEEC Birders interest group to discuss birds over email with a group of other enthusiasts. When the Los Alamos Nature Center is open and hosting programs again, keep an eye on our events page for our free monthly bird walks hosted by a local expert.
We enjoyed this article from the Cornell Lab about how birds can make life better, especially during these uncertain times. The article also provides some great resources if you want to learn more about birds.
Share Your Experience:
Submit at least three outdoor challenge reports this week for a chance to win a set of PEEC's custom bird stickers! This is our last post of bird week, but you can catch up on our challenges through the weekend. We'd love to see your Take It Outside photos, too. Please send them to takeitoutside@peecnature.org or share them on Facebook or Instagram with the hashtag #peectakeitoutside.
That wraps up bird week! Next week's Take It Outside theme will be Signs of Spring. Join us on Monday, March 23 for the kick off of week two!