The first pollinators of spring arrive on the heels of the first flowers! Explore the importance of our local pollinators in today's Take It Outside post.
Blog Post:
Read about the emergence of our earliest pollinators in today's blog post by Jenna Stanek, a Los Alamos National Laboratory biologist and PEEC volunteer, and Steve Cary, New Mexico Butterfly Guy extraordinaire. Check out their blog post here.
Craft:
Build a bee hotel! Some solitary bees nest in small cavities, like the dead stalks of plants. You can create habitat for these native bees in your yard by building a simple structure with holes where bees can take up residence. Make it a hotel and spa with the addition of a simple bee bath.
See bee hotel instructions here.
See bee bath instructions here.
Outdoor Challenge (Beginner):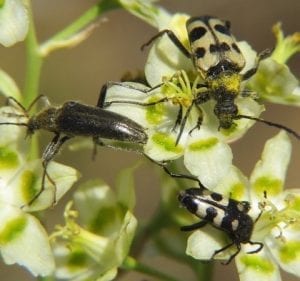 Bees and butterflies are our best-known pollinators, but did you know that beetles, ants, and even spiders also help to pollinate flowers? Find a dandelion or other flower, look closely (use a magnifying glass if you have one), and see if you can find any tiny creatures crawling around. If the bugs have picked up any powdery yellow pollen, they could be helping to pollinate the flowers! Let us know what you find.
Outdoor Challenge (Advanced):
Where there are flowers in bloom, we have a good chance of seeing pollinators. Find some flowers in your neighborhood or a favorite outdoor place. Can you spot any of the early pollinators mentioned in today's blog post? You can note any pollinators in your nature journal, on iNaturalist, or here on our webpage!
Other Resources:
Check out this awesome guide from the U.S. Forest Service to help you identify bumblebees across the western United States!
PEEC's butterfly guide can help you identify butterflies flitting now in Northern New Mexico. For a more comprehensive guide, check out Butterflies and Moths of North America.
Keep an eye out for monarch butterflies and report your sightings on Journey North to help scientists piece together the travel paths of these majestic butterflies.
Share Your Experience:
Tell us what signs of spring you notice this week! We'd love to see your photos, too. Please send them to takeitoutside@peecnature.org or share them on Facebook or Instagram with the hashtag #peectakeitoutside.
Join us tomorrow to explore spring skies!