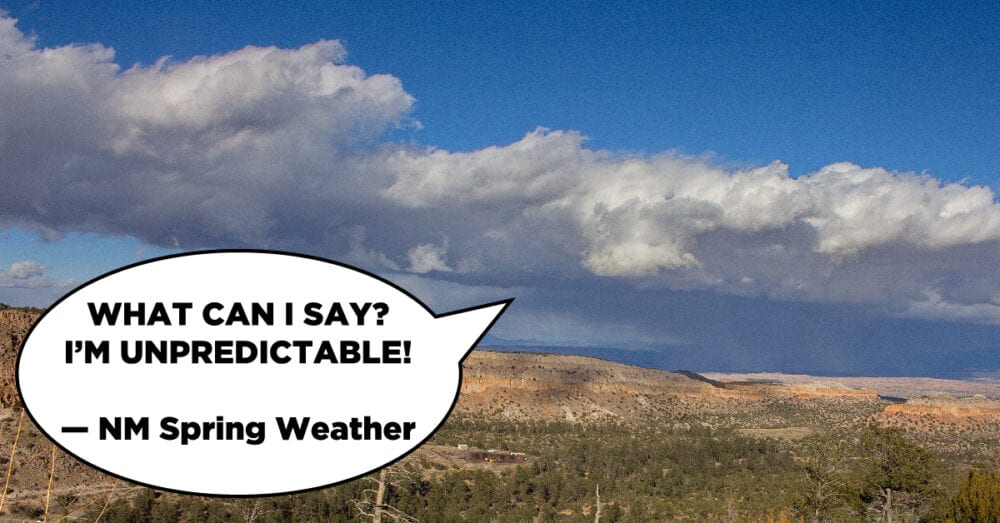 Explore New Mexico's spring weather and clouds in today's Take It Outside post. We will have a Saturday bonus post up tomorrow morning exploring spring astronomy and celebrating Earth Hour!
Then, join us on Monday, March 30 to learn more about our four-legged friends in Northern New Mexico! We'll look at scat, tracks, native reptiles and amphibians, black bears, mountain lions, and more.
Upcoming Event:
Join Galen Gisler this evening for a virtual astronomy talk! Galen will discuss the age of the Earth and how we know it. This talk is free to watch, but registration is required. Learn more and sign up here.
Blog Post:
On the blog today, atmospheric scientist and McCurdy Charter School sixth grade teacher Christy Wall shares some facts about why spring weather in New Mexico is so unpredictable. Check out her post here.
Craft:
Make a cloud in a jar! Follow these simple instructions from NASA to make a cloud in a bottle using some basic kitchen tools, warm water, ice, and a match. Adults should help children with this project.
What does your cloud look like? Tell us about it or share your photos!
Outdoor Challenge (Beginner):
Head outside and observe the clouds in the sky! Take your nature journal with you and use cotton balls or colored pencils to make pictures of the clouds you notice. Can you identify what kinds of clouds you're seeing? Use this chart to help you!
Wait a few hours and head outside again. What do the clouds look like now? Have they changed? Tell us what changes you notice!
Outdoor Challenge (Advanced):
Observe the clouds today and classify them by:
Cloud type: Identify the type of clouds you see using this dichotomous key.
Cloud cover: How much of the sky is covered by clouds? Use the graphics on this page to help you estimate.
Share your classification with us! It will be interesting to see how everybody's observations compare throughout the day.
Other Resources:
Share Your Experience:
Tell us what signs of spring you notice this week! We'd love to see your photos, too. Please send them to takeitoutside@peecnature.org or share them on Facebook or Instagram with the hashtag #peectakeitoutside.
Join us tomorrow morning for a special weekend bonus post! We'll explore spring astronomy so you can stargaze over the weekend and celebrate Earth Hour.