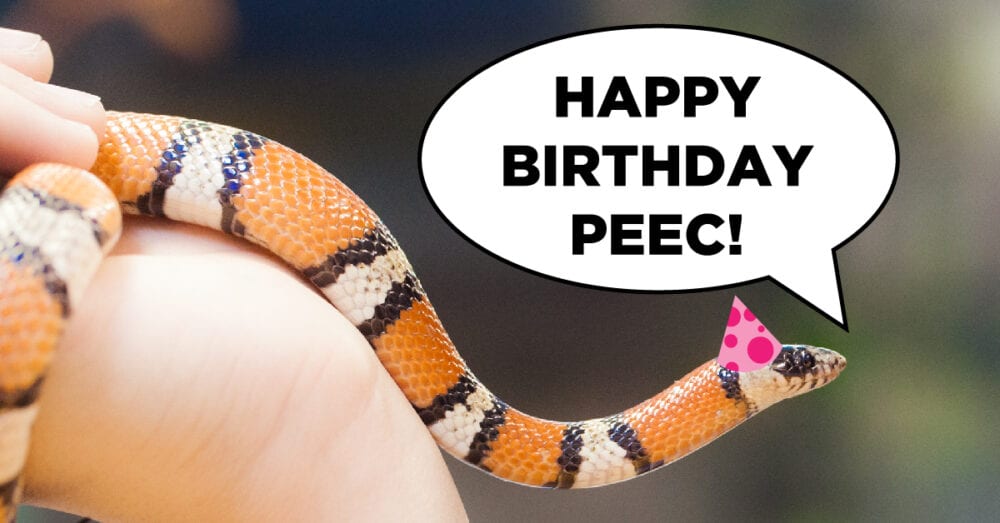 Welcome to Take It Outside! We're continuing our Earth Day and birthday week with a celebration of our wild friends and neighbors — the animals you might see outside your home.
Please see the schedule of our birthday festivities, and join us to celebrate! Be sure to tune in to tomorrow's family-friendly birthday happy hour at 5 PM!
Blog Post:
PEEC's Field Science Specialist Mariana Rivera Freeman gives some tips for observing backyard wildlife. See her post here.
Birthday Challenge:
Even our critters are celebrating PEEC's 20th birthday! The nature center's resident animals are getting into the festive spirit by rocking some (virtual) birthday hats today.
Our ant colony will also be munching on a birthday cake throughout the day! You can check in on their progress via livestream throughout the day starting at 8 AM. Tune in here.
Your critters at home can join in too! Take a photo of your critter celebrating and post it on Instagram or Facebook with hashtag #PEECTurns20. If you're not on social media, email your photos to takeitoutside@peecnature.org.
Craft:
Invite birds and squirrels to your yard with a pinecone feeder. Have fun collecting pinecones, then coat them with peanut butter and sprinkle with bird seeds. Animals will love this tasty treat!
Don't have pinecones where you live? Try using an old sunflower head from last year, or weave together some dried grass or plant stalks.
Outdoor Challenge (Beginner):
Can you find signs of wildlife near your house? Walk around your backyard or neighborhood and go on a wildlife scavenger hunt! Look for:
Tracks
Scat
Homes: burrows and nests
Places where an animal has been digging
Sounds of birds and other animals
Smells: especially skunks!
Outdoor Challenge (Advanced):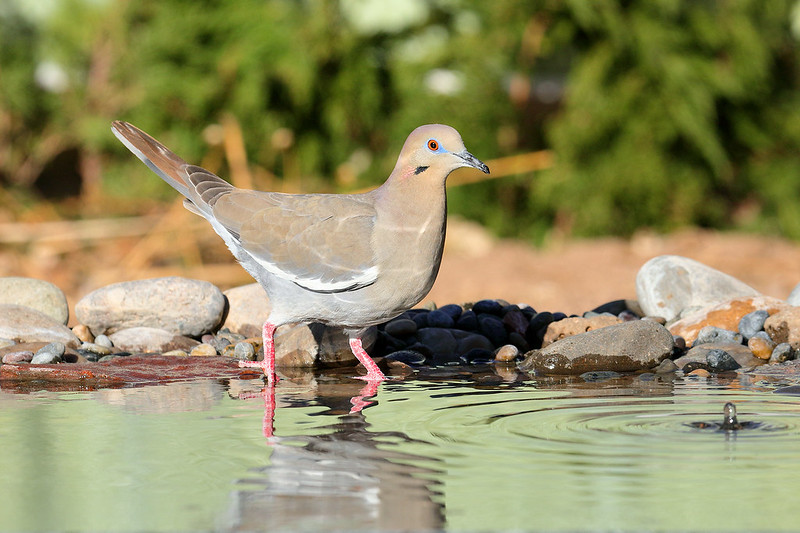 Go outside and look for wildlife! How many of the following can you find?
Birds
Reptiles
Mammals
Insects and other small creatures
Try looking at different times throughout the day. Were different animals out in the morning versus later in the day? Share a photo of a creature you saw, or a picture from your wildlife camera if you have one!
Other Resources:
Share Your Experience:
Tell us how you like to celebrate the Earth! We'd love to see your photos, too. Please send them to takeitoutside@peecnature.org or share them on Facebook or Instagram with the hashtag #peectakeitoutside.
Tomorrow we'll discuss reducing your footprint on the Earth!