July 18, 2021
By Steve Cary
Before the Loops, here are some announcements and general info:
Sugarite Canyon State Park has its annual Bodacious Butterfly Festival this weekend, July 24-25. Guided butterfly walks will be offered both days. Steve "Butterfly Guy" Cary guides in New Mexico on Saturday, while Mark "Radeaux" Yaeger guides across the Colorado state line in Dorothey Lake Wildlife Management Area on Sunday. Come and see all the cool butterflies Sugarite has to offer!
Butterflies of New Mexico, the on-line encyclopedia of New Mexico butterflies graciously hosted by the Pajarito Environmental Education Center (PEEC), welcomes a new photographer to its esteemed ranks. Bob Friedrichs, who may have had a birding life before discovering butterflies, has two of his excellent images posted under Uhler's Arctic.
Remember to post all of your western Monarch sightings to Journey North (photo not essential – they trust you), BAMONA, or Southwest Monarch Study. Western Monarch scientists really need your data!
---
New Mexico is all over the map, if you will, when it comes to butterflies, at least for the time being. Some places remain crunchy and dry. Christopher Rustay reported on July 5 that along a 3/4 mile outing in normally lush Hondo Canyon, Sandia Mountains, he saw only five individual butterflies representing three species — that's pretty terrible. At the other extreme, Hira Walker reported that on July 11 in the Jemez Mountains she had "an amazing day along Rio Cebolla … so many flowers in bloom, butterflies everywhere. So many species of butterflies, moths, and grasshoppers, hard to count them all." Personally, I can vouch that the high country around Ruidoso and Cloudcroft have lots of butterflies, as they normally do. Still other places, mostly in southern and eastern New Mexico, have had destructive amounts of rain, hail and flood. Judy Yellon in Las Cruces indicated that recent intense storms caused a lot of damage to flowers and, evidently, butterflies in much of Doña Ana County.
Thus the drought seems to be abating locally, and generally faster in the east and south. Even the Gila country was getting decent rains last time I looked at the weather radar. Intense thunderstorms can cause major problems in the moment, but the aftermath eventually includes a greening of the landscape, which is a prerequisite for butterflies to resume their life cycles and begin to regain their "normal" numbers and diversity. Northern New Mexico is mostly greener, though precipitation amounts have been "whelming" at best and the green seems a little thin in may locales. We are working our way out of this drought, so get out there and see butterflies!
---
Closing Loops. Here I am during the first week of July, perspiring profusely in a vaguely familiar, leafy suburb of Milwaukee, Wisconsin. How did I get here? This will be the last stop on what has been a travel-filled period for me. Between May 30 and July 12, I will have been away from my Santa Fe home more than four of the last six weeks. It has been a little much and I am travel-weary, but each individual trip has been wonderful and I would not trade any of them away. It's great to be in Milwaukee for an 8-day visit during which I am housesitting and pet-sitting for my brother, Tim, while spending time with our aging, but still very much alive father. We all mostly grew up in Milwaukee, so the place has a comforting yet claustrophobic feel to me. The combination of flat, hot, humid, sticky, and populated makes me a little uncomfortable. Yet there are upsides. Lawns are green, streets are shady, gaudy male Northern Cardinals vigorously defend nests, flower gardens bloom in profusion, and Monarch butterflies promenade about as if they own the place.
This year, according to JourneyNorth, Monarchs began to arrive in Wisconsin in May. In New Mexico, we see the overwintering generation northbound on its return flight from Mexico much earlier, usually March and April. The first Wisconsin Monarchs probably are offspring of that winter generation. Tim has a wonderfully landscaped yard with plenty of flowers, mostly natives, and plenty of milkweeds. He's planted Common Milkweed (Asclepias syriaca) which grows here like the (native) weed it is; some plants are 5 feet tall and the leaves are as big as my hand. He also has Butterfly Weed (Asclepias tuberosa), which is almost knee-high with bright orange, butterfly-attracting flowers that make it a popular offering by commercial plant nurseries and a popular purchase by ecology-minded, pollinator-friendly or monarch-loving homeowners. Tim's place is not unique. Many other homes in the neighborhood have milkweeds, too, some have quite a lot. Tim checks his milkweeds daily for caterpillars, has reared two to chrysalids, and each divulged its Monarch adult while I was there. Quite a special treat for me!
One day, upon returning to Tim's house at 12:55 PM, with the temperature at 93 degrees and the sky clouding up, I startled a female Monarch out of the kitchen-side milkweeds (A. syriaca). She circled back and quickly executed two investigatory laps around me. Wise to their ways, I remained in the shade, stationary, non-threatening, so she flew over to the garage-side milkweeds (A. syriaca). I craned my neck over that way then watched as she settled toward the ground and in the span of about a minute placed four eggs on the undersides of four separate milkweed leaves, always low to the ground. I left those eggs in place, but absorbed the lesson about how female Monarchs go about that oviposition business.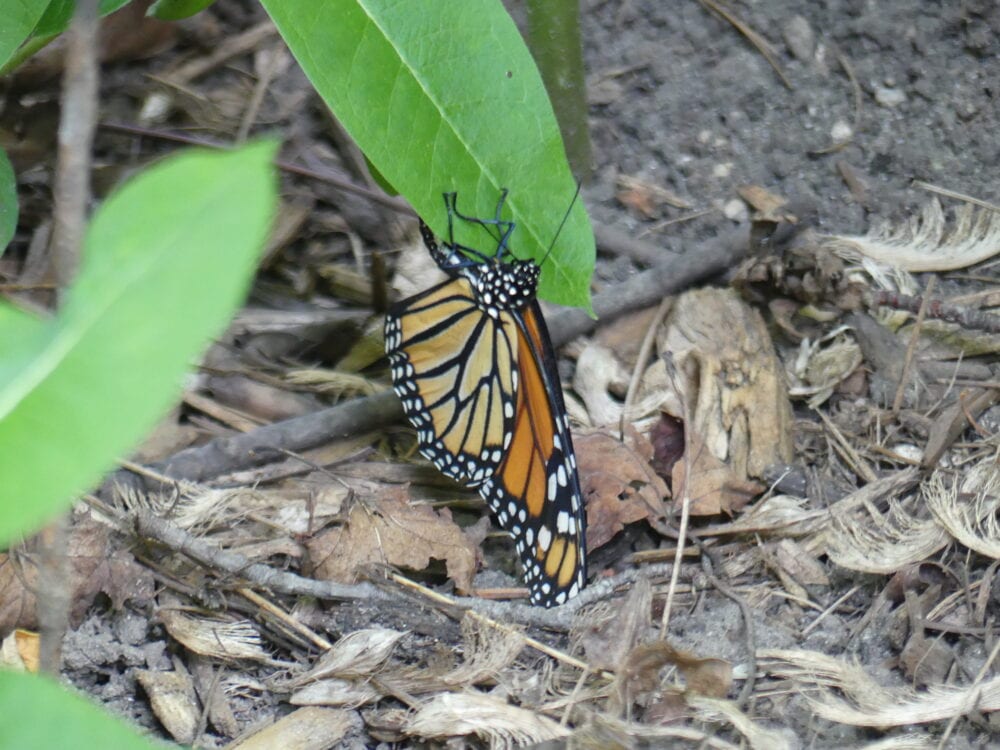 I have been here for a few days now and I see that his milkweeds get a lot of Monarch butterfly traffic: males strutting about prominently intending to impress females, and females staying out of their way, looking to place eggs. Monarchs stop to nectar at his rattlesnake master and beebalm flowers. It's not a Monarch madhouse, just a regular, steady presence of Monarchs. It is breeding season, after all, so there must be quite a few eggs out there, but I've seen no larvae. I do see ants, earwigs, spiders, on milkweed leaves, so perhaps monarch eggs are frequently munched. They are part of the food web, after all, and young caterpillars may not taste bad until they've digested one or two instar's worth of nasty milkweed leaf tissue. Over the next few days, I found three other Monarch eggs on undersides of milkweeds leaves. I tore the leaves gently from their stems and placed them in an old peanut butter jar, ventilated, which Tim had prepared for this purpose. Alas, none of these would hatch.
Dad and I take a walk every day, often on paths in Lake Park. Milwaukee is justly famous for its parks and Lake Park is one of the city's crown jewels. Designed by Frederick Law Olmstead, as my father likes to brag, there are bluff-top picnic areas, lovely gardens, and historic structures like the North Point Lighthouse. Wooded paths and stairways lead down ravines to picnic areas, ball fields, the marina, and the shore, where Lake Michigan laps at its western edge. Monarchs parade about there, too. Being there brings back memories for me. Adventures with high school friends, throwing baseballs and frisbees, family picnics, playing a round on the par 3 golf course, or getting baked on a rare sunny summer day to develop my "tan."
There is an even earlier memory … I must have been 6 or 7 years old when on a late September day Mom and Dad drove us three kids to Lake Park. Monarch butterflies were roosting in the trees along one of those bluff-to-beach ravine trails. It must have made the newspaper because people were flocking to see Monarchs as they blanketed the trees with orange and black leaves. In retrospect, I wonder if they were resting up after flying across Lake Michigan, though it seems more likely they were following the lake's western shore from north to south, en route to Mexico. That would have been about 1960, before their transcontinental, round-trip, multi-generation migration was well understood. It seemed like there were millions of them on the trees, so close we could reach out, touch them and watch them come to life. I'll never forget that day, that's for sure!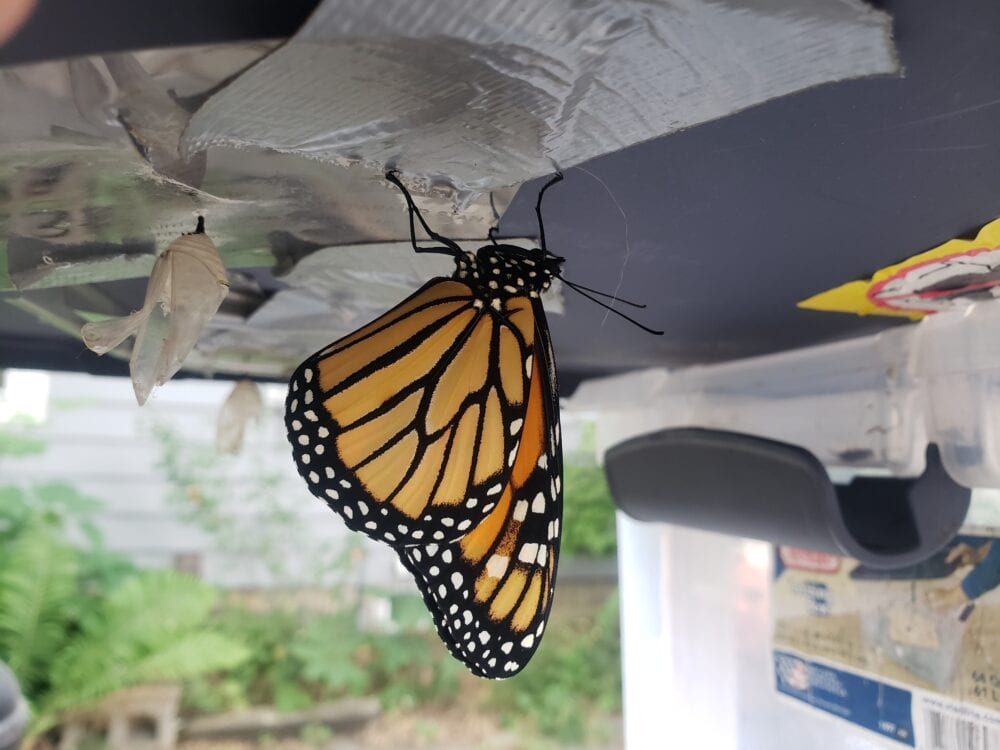 ---
Through spring of 2021, much of New Mexico was suffering a debilitating drought and many spring butterflies were scarce or absent. Personally, I found it discouraging to be out looking for butterflies only to return home with two or three species for my notebook. Key measurements of success, like butterflies/mile and butterflies/hour, both were deep into the red. When, rather suddenly, Marcy wanted to undertake a last-minute June trip to Idaho, Wyoming, northern Utah, and northern Colorado to meet up with some of Marcy's buddies from graduate school (New Mexico Tech in Socorro). The butterflies couldn't be any worse farther north, so I jumped at the opportunity. Neither of us had spent much time in that region and we both were eager to see and experience what amounted to headwater areas for the Colorado and Snake rivers — mighty waters of national significance. So it was off to the Tetons to meet up with Barb, from the Boston area, and Alva and Earl, who live on the Idaho side of the Tetons.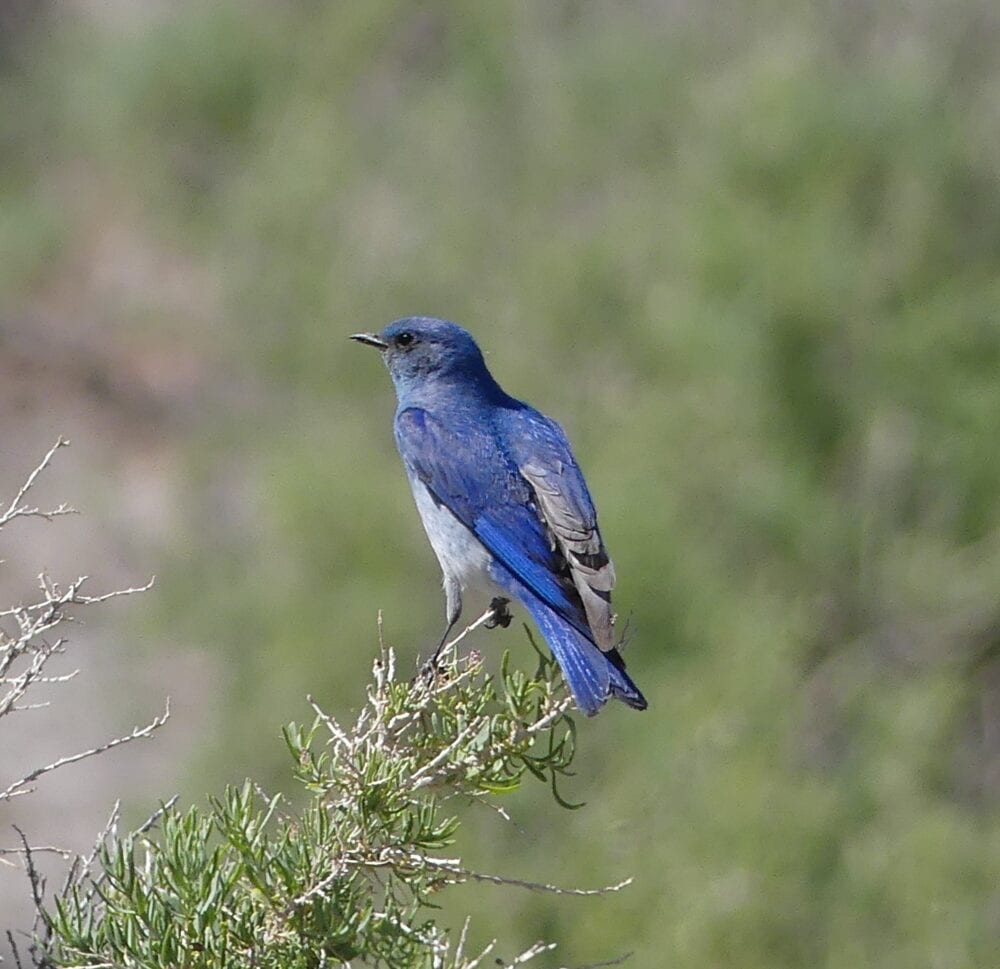 On the way north, we spent a couple days in Dinosaur National Monument, both the Colorado and Utah parts, and found it quite spell-binding. High plateau country blanketed with big sage was dissected by the Green River, the northernmost tributary to the Colorado River, where it was joined by the Yampa River, at the bottom of 2,500-foot deep, goose-necked canyons. John Wesley Powell's 1870s explorations of the Grand Canyon began just north of here at the Gates of Lodore. Then there were the spectacular dinosaur fossil beds and the stories paleontologists have wrested from rocks dating back 140 million years ago and deposited along freshwater rivers of that day. Visiting the dinosaur quarry where we saw and touched the old floodplain sediments, tilted by geologic forces nearly to vertical, is hard to put into words. With all that mind-boggling geology, paleontology and history, who could think of butterflies?
From the butterfly perspective, our weather was a little iffy-cloudy at first, and then iffy-hot. That was overlaid on the long-term regional drought. We did not see many individual butterflies or many species at Dinosaur, but I was able to snag photos of two checkerspots (below), both of which also live in New Mexico. I also saw an orangetip, but it would not stop for photos. It dawned on me that, although spring was disappearing in New Mexico's rearview mirror, Marcy and I had driven north and back into spring. Butterflies on the wing here in northern Colorado and Utah were (late) spring species. What's more, they were largely the same species we see in New Mexico, which speaks to the ecologically unifying power of the continent-spanning Rocky Mountains.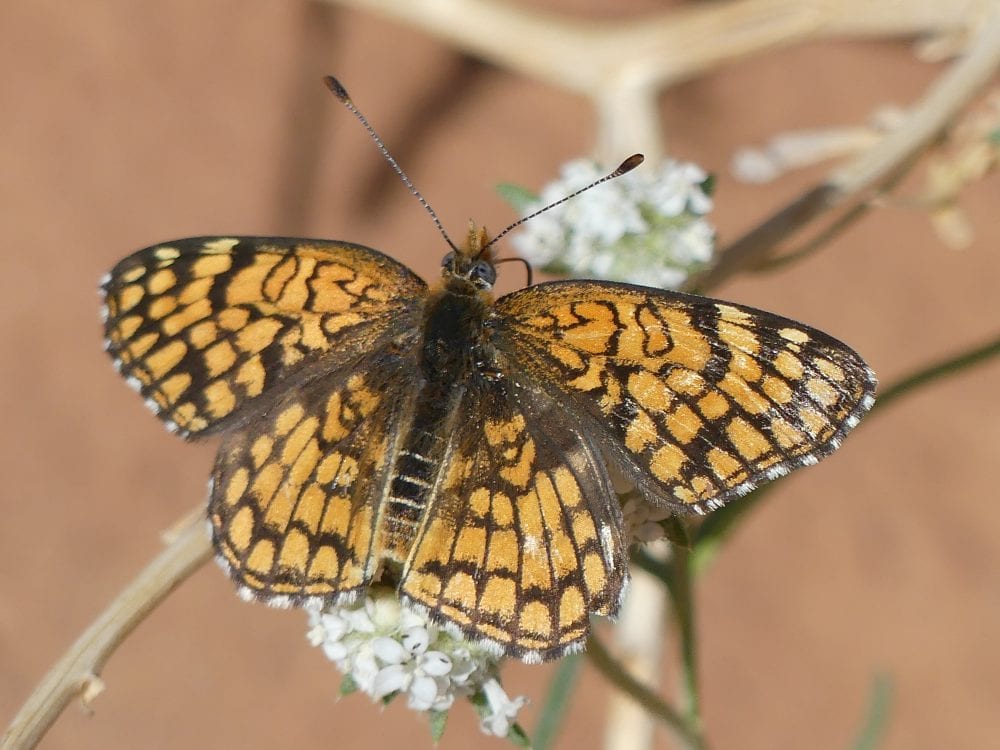 ---
Then it was on to the Tetons. On one long day we drove north through Flaming Gorge, across high, sage-covered plateaus of southwestern Wyoming, then along the southwestern flank of the soaring Wind River Range toward tourist-filled Jackson, which was backed by the ragged, rugged, and still rather snowy Teton Mountains. The term "spectacular" doesn't really cover it. And keep an eye peeled for distracted pedestrians!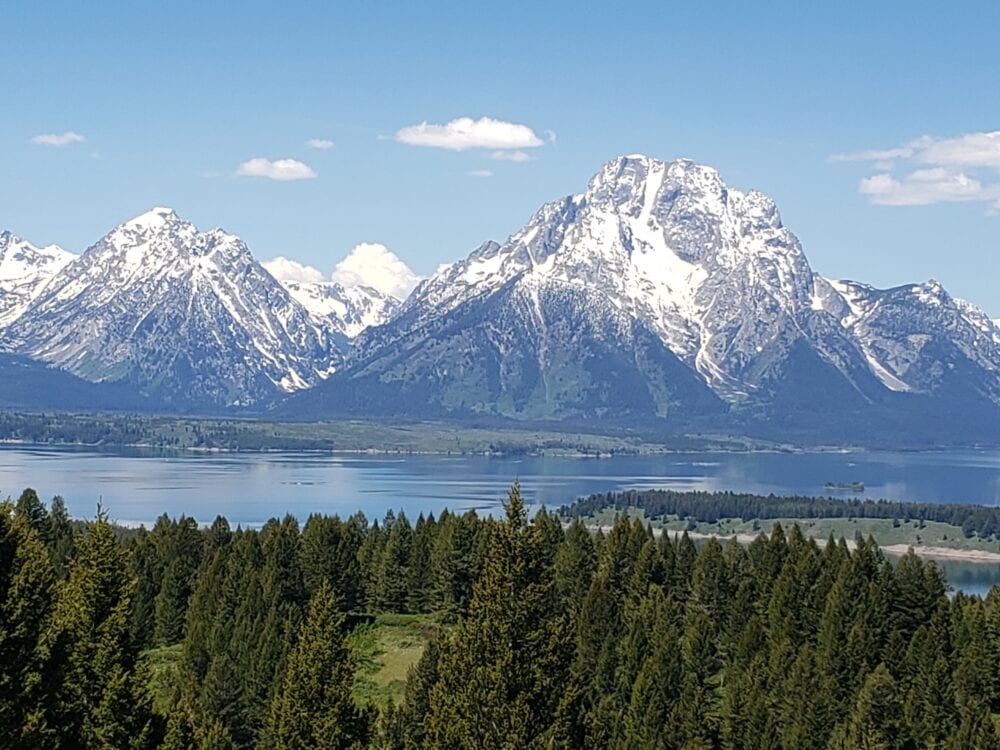 With the Tetons on our left flank, we proceeded northward and upstream along the southbound Snake River, which was flowing bank-to-bank with frothy, turbid snowmelt, just like a river is supposed to do in spring. With so many of our nation's rivers dammed and over-managed, it was refreshing, inspiring and even comforting to see it, from a safe distance of course. Entering Grand Teton National Park, we drove to our campsite in Gros Ventre Campground, which proved to be within easy earshot of the roiling Gros Ventre River, tributary to the Snake. The landscape was lush, green, birdy, alive — quite a contrast with gray-brown, drought-stricken northern New Mexico and western Colorado.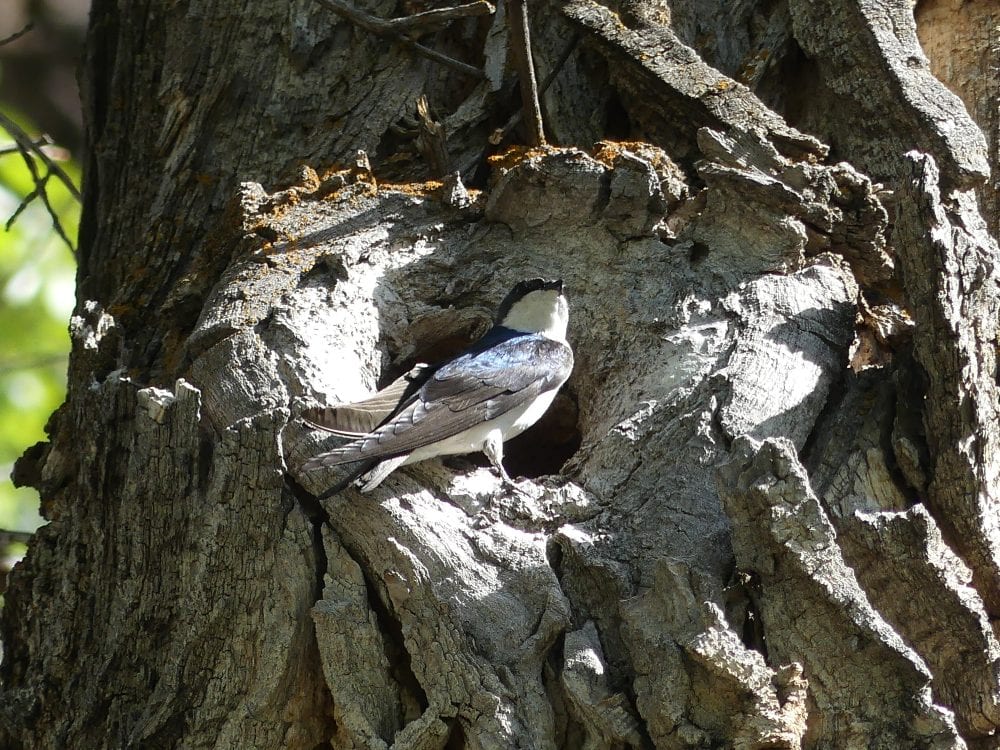 Barb and her husband, Garen, arrived that evening, kicking off a few days of networking, chatting, re-connecting, and socializing with old school friends and their mates. Earl also showed up that evening with his canoe and we did a quick preprandial outing to Slide Lake. Earl returned the following day, bringing the canoe and a drift boat to Jenny Lake. Marcy and I paddled the canoe on a memorably warm and beautiful day: placid waters reflected stunning views of the towering Tetons, their softening snow banks liquifying almost before our eyes. Meanwhile, Earl, Barb, and Garen rowed the drift boat unhurriedly along the lake's southwestern shore. The near-shore waters hid a loose tangle of fallen trees which created good fish habitat, but also grabbed hooks. Garen was new to this water but happily gave it all he had from the bow. Earl, who knew these waters well, fished unobtrusively from the stern and, over the course of two hours, seduced onto his hook three lovely lake trout, which Barb helped him land. The fishing boat found plenty of snags, too, but Earl was remarkably adept at freeing snagged hooks. Hauling out at day's end, Garen, who caught no fish but also lost no lures, exulted that he had been in the presence of greatness: "Earl is not a fisherman, he's a magician!"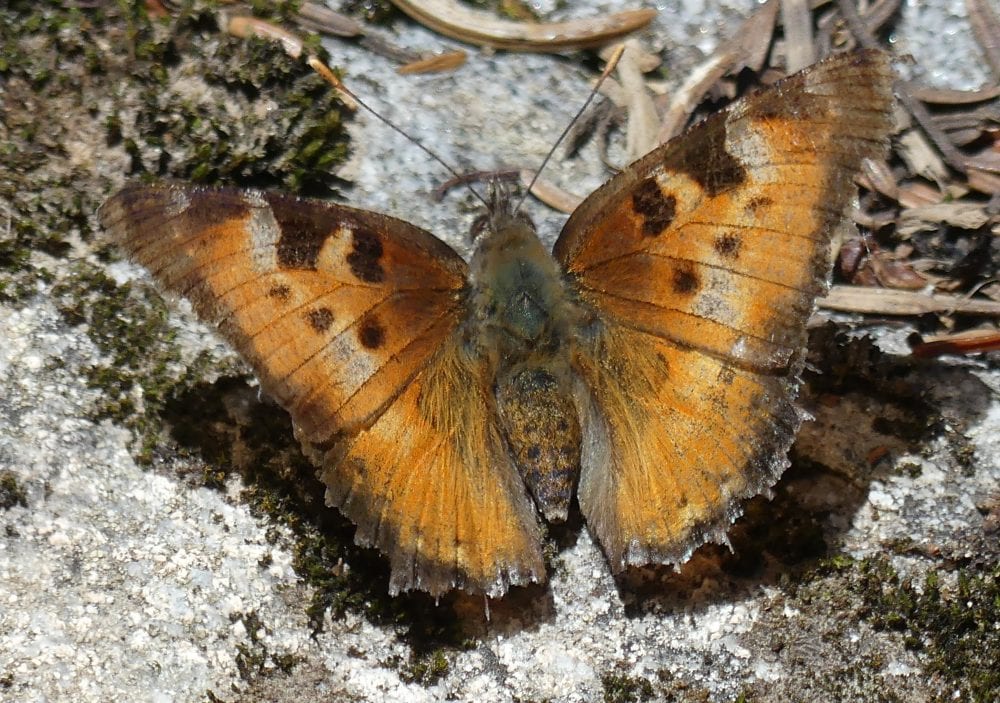 During three days in the Tetons I managed to find some butterflies along the way, too. To this New Mexican, the spring unfolding of the Tetons' butterfly fauna had a familiar feel. There were several species that hibernated as adults: Mourning Cloak, California Tortoiseshells, Hoary and Green Commas. They all seemed rather worse for the wear, suggesting they had been out and about for a few weeks.
Then there were a few species that spent winter as chrysalids and had emerged into sunny spring conditions. Exemplars including Anise Swallowtail, Western Pine Elfin, and 'Stella' Sara Orangetip were fresh and beautiful: decorative details on the monumental geological cake of the Tetons.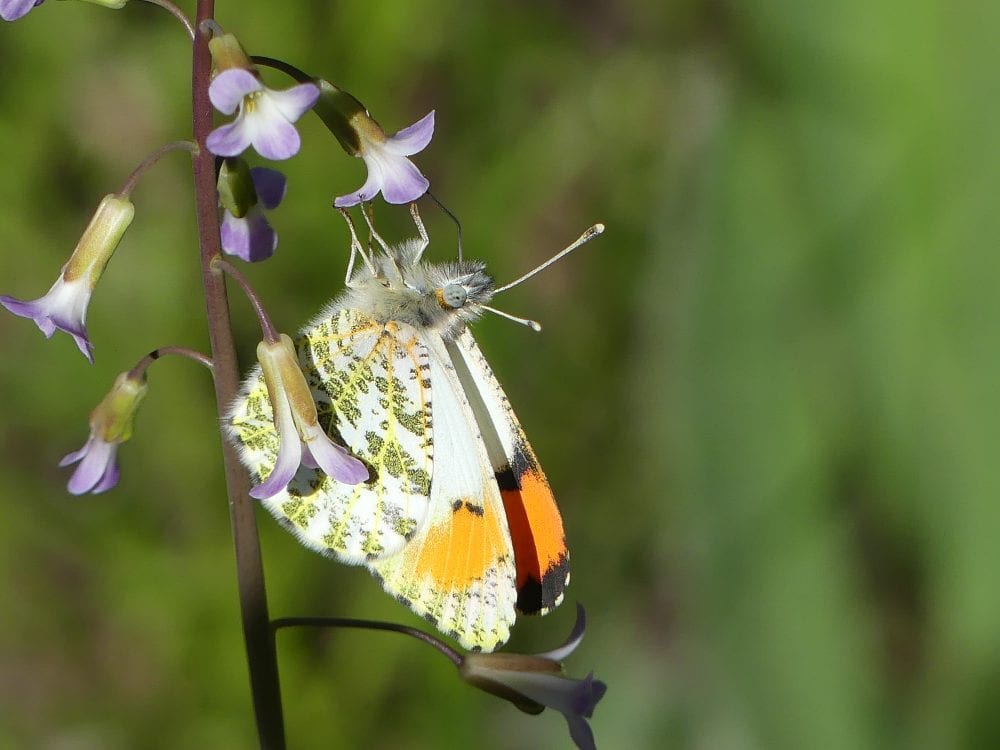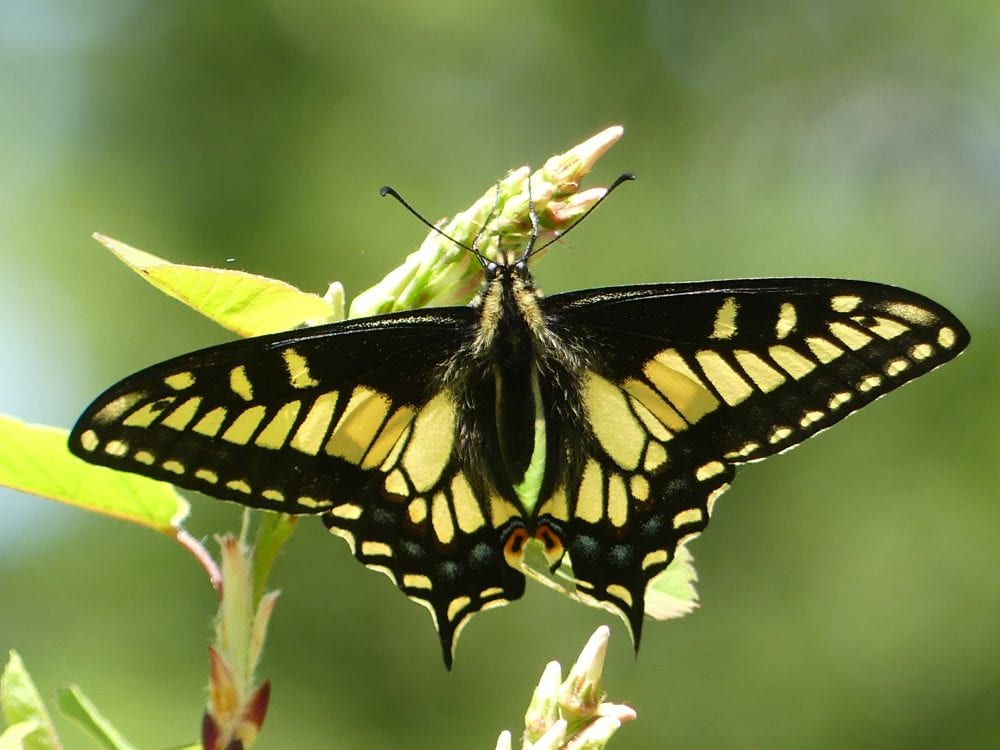 Turning the page on Grand Teton National Park, we drove back south to Jackson, then steered west. Teton Pass was at only 8,400 feet elevation, but the climb was steep for us trailer-towers. We downshifted to second gear; Barb and Garen to first, but over we went and then down and northwestward into Idaho's Teton Valley yet somehow vibrant burg of Victor, home of Alva and Earl. For three days and nights we camped in their driveway, ate, drank, hiked, and socialized … on the east deck of their home in view of the highest Teton summits, on trails in the modest Big Hole Range to the west, and at Grand Teton Brewing Company. Conversations rambled around former professors, kids, retirement, native plants, other fellow students, and the ski patrol at the local Grand Targhee ski resort.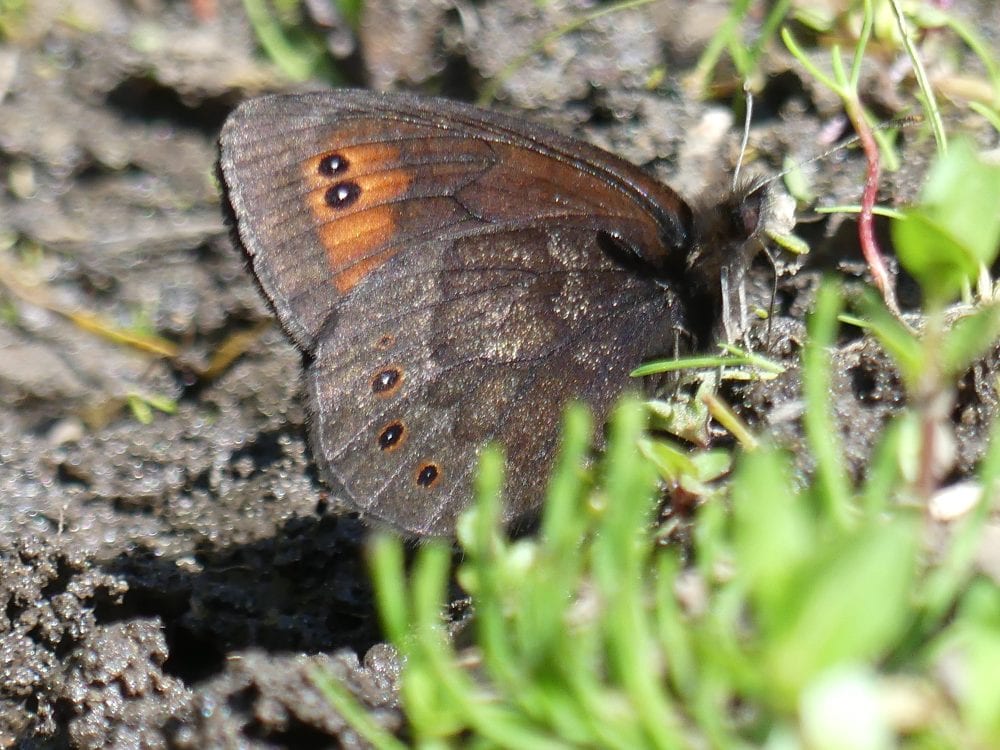 A fun hike along Henderson Canyon one day produced perhaps a dozen butterfly species — what I would call a "normal" butterfly day — the first I had experienced all year so far. I think it was dry here, too, but not (yet) to the point of significantly depressing butterfly numbers or species richness this early in the season. It was fun to frolic among the local butterflies which, again, were mostly familiar characters: Western Tiger swallowtail, Stella Orangetips, Margined Whites, Western Pine Elfins, Echo Azures, Field Crescents, Hoary and Satyr Commas, Mourning Cloak, Milbert's Tortoiseshells. Sound familiar? The most surprising sightings were a Parnassian and a Common Alpine at rather low elevations compared to how they occur in northern New Mexico. I got pix of the Alpine, but I missed the Parnassian …
---
With promises to gather again soon, we bid adieu to Alva, Earl, and Idaho. Caravanning with Barb and Garen, we worked our way south so as to pivot east and upstream through the Grand Canyon of the Snake. This was after it passed through Jackson and veered west, through the Snake River Range, to begin its epic westward journey through central Idaho's lava plains en route to its confluence with the mighty Columbia River. We were quite impressed with the Snake River, quite impressed.
After a few hours navigating south to Rock Springs and then east along Interstate 80, we turned south toward the settlement of Baggs, Wyoming. From there, a paved, two-lane state highway steered us east and upstream along a lovely, undulating valley through which a meandering creek cut an elegant meadow-bounded channel. Occasional livestock, farms, and ranches dotted the valley; then came a very snazzy resort ranch. Our bucolic route wandered into Colorado, back into Wyoming, then back into the Routt National Forest and Colorado again. What was this lively, lovely creek? Poetically enough, it was the Little Snake River on its southwestward course to join the Yampa River over in Dinosaur National Monument. Our road deteriorated to all-weather gravel and we puttered along hoping the road would remain passable. When a big 18-wheeler passed us, we breathed a little easier, at least about the road. Up and over a modest pass we went, through the old mining burg of Columbine, then south and downhill to our next destination.
---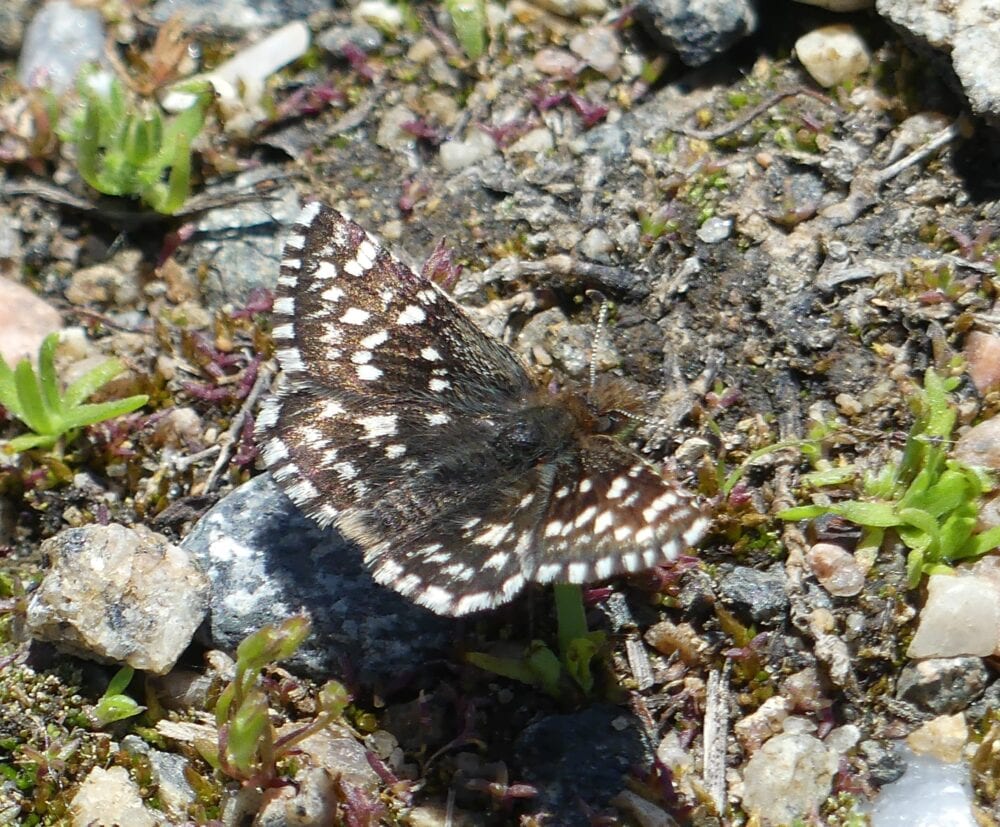 During our first night at Steamboat Lake State Park we heard an eerie sound of birds. It was urgent and familiar, but out of place — sounds we could trace in our memories to New Mexico in winter, particularly at Bosque del Apache National Wildlife Refuge along the Rio Grande south of Socorro: Sandhill Cranes! We had unknowingly wandered (perhaps using similar routes?) into the summer breeding range of the huge, leggy bird that overwinters in central New Mexico. Having them flute us awake each morning during our stay there left us with a distinct audio memory.
We camped at Steamboat Lake for several nights. It was a lovely landscape, part mellow and welcoming, part steep and challenging. Garen liked to fish. Marcy and I liked to hike. Barb split her time between the two. Our trail adventures were modest, pleasant, and helped us better understand the local landscape and its plants and wildlife. We saw another dozen butterfly species. More notable finds included Two-banded Checkered-skipper and Large Marble, the former a new species for me (YAY!) and the latter a familiar species from northern New Mexico high meadows.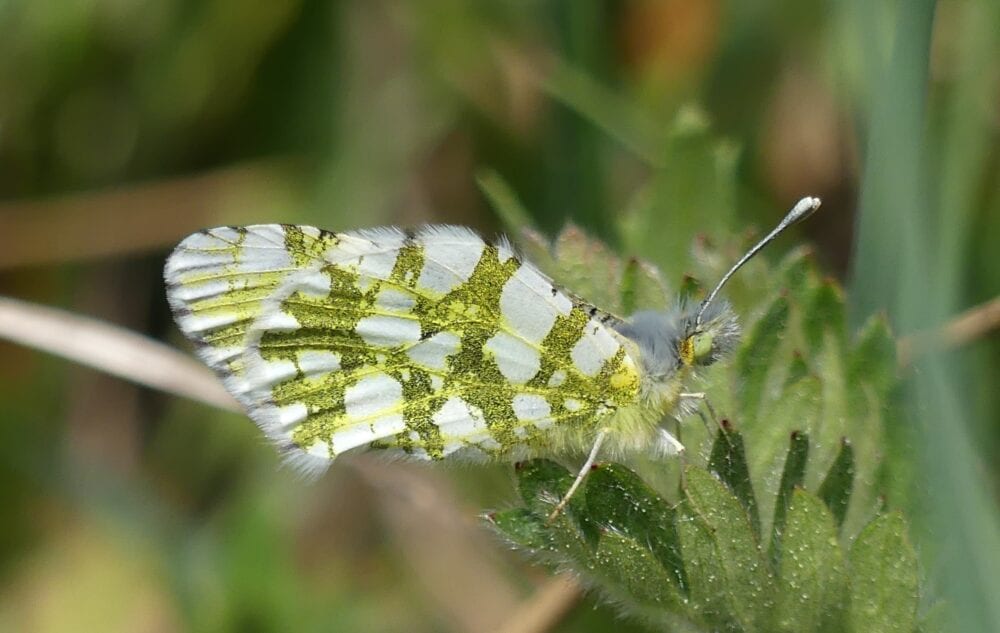 Marcy and I took one afternoon to check out the town of Steamboat Springs. It seemed quite a lively place, of course it was packed with summer tourists and most businesses were open — all amped up in recovery from COVID. After some needed grocery shopping, we decided to beat the heat at a craft brewery on a patio near the main river through town. The Yampa River was hustling westward to gather up the Little Snake River and deliver all that flow to the Green River in Dinosaur National Monument. Anyone familiar with the area would have known that, of course, but we were tourists, self-impressed that we were gaining some hydrologic familiarity with this captivating Snake River/Yampa River/Green River territory. Hey, at least we noticed!
On our last day we ascended nearby Hahn's Peak in the Routt National Forest. A bald, 10,500-foot summit, the ascent was moderately challenging. To take advantage of cool morning air, we began right after breakfast. Two other couples had the same idea. Up we went along a good trail that still showed a few snowbanks. The last half-mile is a steep climb uphill over talus through which there was a weakly marked trail.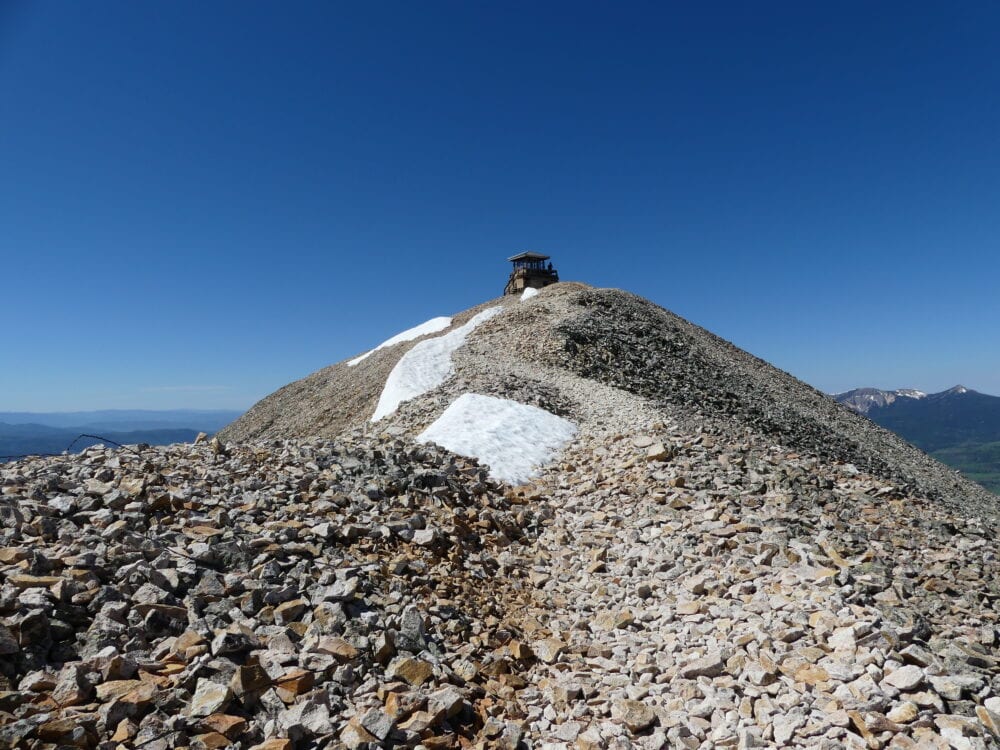 We had just started up through the talus when we heard behind us the distinctive sound of dirt bikes as they made their way quickly and noisily up to the base of the talus. We watched as a young hiker behind us confronted them verbally, asking them to go back where they came from. They declined and continued on their bikes up the trail. Apparently, hilltopping is not just something that butterflies and ladybird beetles do, but it proved to be as much of a struggle for them on wheels as it was for us on foot. I understand that not everyone enjoys nature the exact same way I do. And we do need everyone to enjoy it in some way or it will all be lost in the end. Still … the noise seemed gratuitous and unnecessary. We chatted with one of the young men and he was nice enough. This was their annual ritual, to ride up Hahn's Peak when the trail opened in spring. Trail signage indicated that motorized bikes were, in fact, allowed on the trail. Marcy's immediate call to the local Forest Service office revealed, however, that they were not allowed until the trail officially opened on June 21. These riders were a couple weeks ahead of schedule. With snow and fallen trees still covering parts of the trail, the bikes drove around the obstacles and that, plainly, was not good for the trail. Humanity. wadryagonnadu? On the summit we found Anise Swallowtails and Western Whites, mostly hunkered down into the rocks because of the wind. I snapped some photos and it was a spectacular view, but, sadly, not the dominant memory.
During the morning's ascent we repeatedly encountered hillsides of bright yellow glacier lilies, which I don't recall ever seeing before. They were only a few inches tall, but their inverted bells and upcurved petals were quite stunning. Dangling beneath each flower were the reproductive parts: five pollen-laden anthers and a sticky stigma. On the way up the mountain I determined to watch and see who was pollinating those distinctive flowers, but none revealed itself; perhaps it was too early, the air too cool. Finally on the way down we saw it — a bumble bee meandered clumsily among the lilies just above ground level (they nest in the ground) and then clambered upside-down into one yellow bell after another, jostling and rubbing against anthers and stigmas. It seemed an ideal match.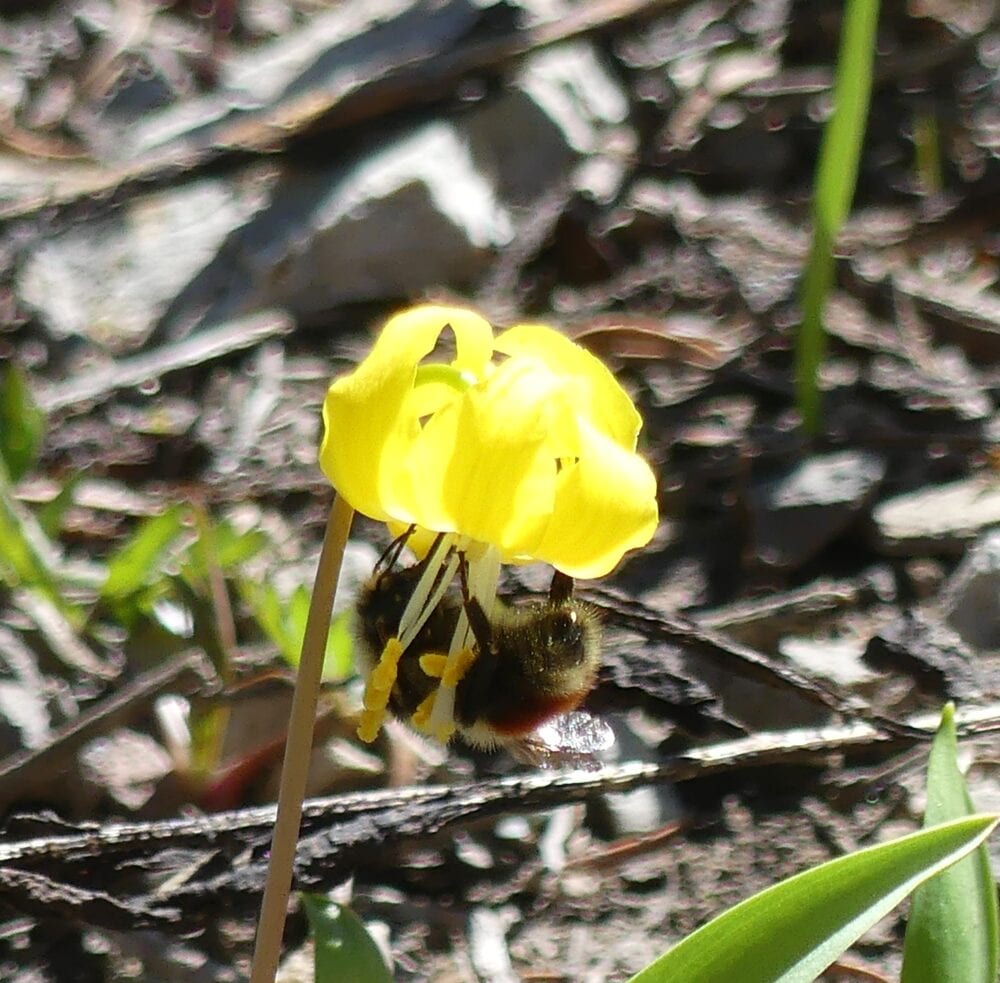 A little farther down the trail, butterflies also showed themselves. Most were commas, notably Hoary Commas, but then I saw a Orangetip. It was a female, suggesting that species' spring flight period would soon be over. Awkwardly, I followed her down a rocky slope until she settled on a flower. I snapped some average photos, good enough to get a clear image. This was not Anthocharis thoosa of New Mexico and the Southwest; it was not Anthocharis stella of Wyoming, Idaho, and Montana. This was Anthocharis julia of Colorado. I have not studied the differences between these apparently distinct creatures. Nor do I have a strong opinion as to whether they are distinct at the species level per BAMONA or distinct only at the subspecies level per the Pelham Catalog. They are beautiful, either way, and I was pleased to have sampled them, photographed them, at several places in the North American Cordillera.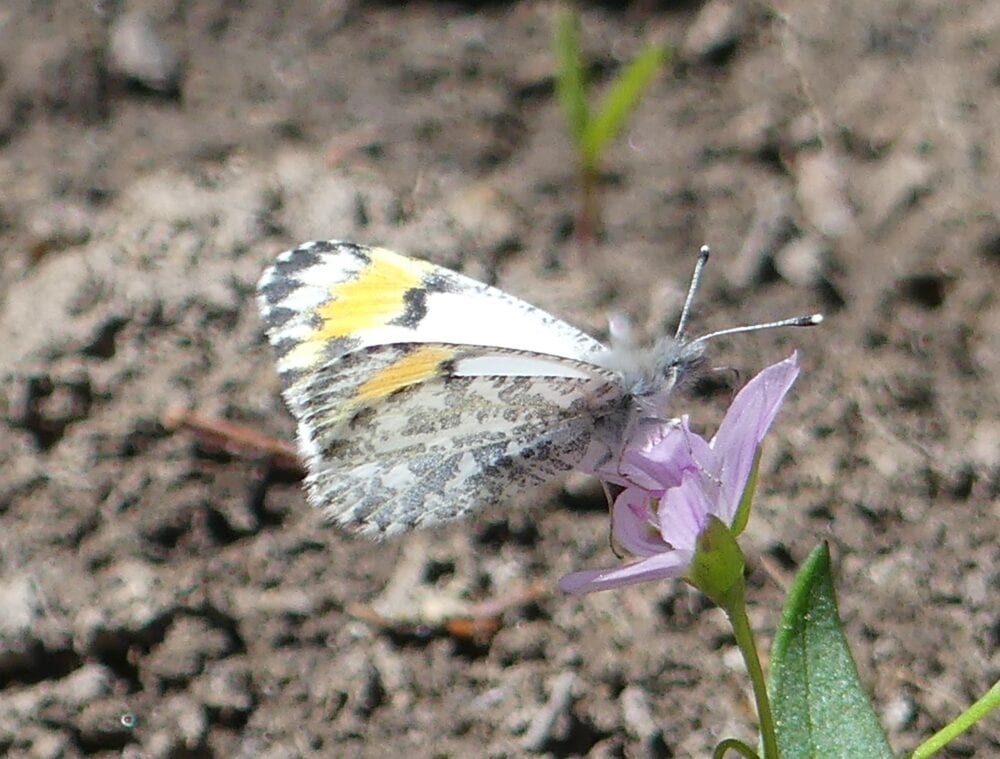 From Steamboat Lake, Barb and Garen veered east on their long drive toward Massachusetts while Marcy and I steered south through some of Colorado's most scenic terrain. We drove past the Climax molybdenum mine. Through Leadville, where in 1879 jeweler/naturalist Winslow Howard put his fragile health on the line at the monster silver boom in an attempt to save his disintegrating marriage.* We camped at Twin Lakes, just below Mt. Elbert (14,440 feet), Colorado's highest summit. The next day we continued south through Buena Vista and Salida, alongside the Collegiate Peaks including Mt. Princeton where we and others had scattered friend Stuart's ashes a number of years ago. Then we slid down the San Luis Valley, bought gas in Antonito, finally regained New Mexico and coasted home (figuratively, that is), completing a trip filled with wonderful new experiences.
---
* Accidental Argonaut: A Natural History of Winslow Howard. 2020. by Steven J. Cary. Metalmarker Press. Santa Fe, NM. 246 pp.