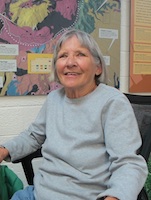 Margaret Blewett grew up in northern New Mexico, and developed a deep appreciation for this area. It is that love of northern NM and the Pajarito Plateau that drives her to volunteer at PEEC. She first started volunteering as a preschool teacher, leading a class for young ones at the nature center, and more recently Margaret volunteers as a docent. 81 years young, with 6 children and 14 grandchildren, Margaret has a lot of energy to share with our community! PEEC sat down with Margaret to learn more about her.
PEEC: Tell us a little about yourself and your connection with northern New Mexico.
M.B.: I grew up in Albuquerque, and I spent my summers at a Girl Scout camp in the Jemez mountains. It was during those summers that I fell in love with this area. I went to the camp for many years, first as a camper and then as a counselor. I went away to college and spent a year teaching in Australia. When I moved back to the U.S., I taught in Albuquerque, then my husband and I moved to Los Alamos. We raised our 6 kids in Los Alamos, and naturally they grew up to be NM lovers. My husband and I have lived in Los Alamos for 51 years! I especially love northern NM and southeastern Utah, where I have spent a lot of time camping and hiking.
PEEC: Do your children still leave nearby?
M.B.: None of them live in Los Alamos anymore, but 5 of the 6 live in Albuquerque and the 6th lives in southwestern Colorado, so they are all pretty close. Between them, I have 14 grandchildren!
PEEC: How did you get involved with PEEC?
M.B.: When PEEC was first getting started, I was teaching at Little Forest Playschool. Eventually I retired, and Becky [Skankland] knew I had worked with children, so she asked me if I would be interested in working with a group of preschool kids at PEEC. My co-teacher Jennifer Moss and I ran a PEEC preschool program for about two years. That probably evolved into Nature Playtimes, but we didn't have a name for it at that time. I also helped set up the current nature center, and I paid special attention to the children's areas since that is my area of interest.
PEEC: How long have you been a PEEC volunteer?
M.B.: Well, I volunteered for a few years, but then I got away from PEEC for a while because I was busy spending time with my children and grandchildren. Then a while ago, I was talking with Linda [Boncella], and I asked if she needed any help at PEEC. She suggested I become a docent, so that's what I've been doing every Thursday afternoon.
PEEC: What do you enjoy about volunteering at PEEC?
M.B.: I like being involved with PEEC because I think it's a very important resource for the community, and I like that it's concerned with our local area. The main emphasis is on a sense of place – where we are. I think that it's really important for kids to grow up knowing where they are and what's around them, as far as the environment goes. We always tried to do that in our preschool classes, with field trips to Tsankawi and the reservoir. We wanted to give them a sense of place.
PEEC: Are you excited for the new Los Alamos County Nature Center, opening in Spring, 2015? [to be run by PEEC]
M.B.: Yes. My husband and I went to an event recently at the site of the new Nature Center, and we were really impressed with the location, the view and the plans. My husband is also very interested in what PEEC is doing.
PEEC: What do you like to do in your free time?
M.B.: I walk every day, and I like to hike. I still go to southeastern Utah and hike with my family and friends. I just love the area around Canyonlands, and Cedar Mesa. There are a lot of really good sites and places to explore. I have also done a lot of rafting in Utah and on the Colorado River with family and friends.
PEEC: What's your favorite place on the Pajarito Plateau?
M.B.: Tsankawi. I like it beause it's smaller than Bandelier, there are wonderful views, and it's a fun trail. I like the petroglyphs and pottery shards – it has a little bit of everything. When I go there, I like to think of all the people who lived on this plateau hundreds of years ago. It's fun to imagine them, what they did, and how they spent their time.