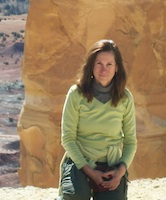 If you've been in to PEEC on a Tuesday afternoon lately, you've likely been greeted by Olga Coello, one of PEEC's newest volunteers. Olga, originally from Ecuador, has spent the last 20 years living all over the U.S., but mostly in big cities. Having recently moved to Los Alamos, Olga is happy to be in the mountains and surrounded again by wildlife, which reminds her of home. After moving to Los Alamos and having an interest in Earth Day, Olga learned of PEEC and sought out opportunities to become involved with the organization. Olga began volunteering every Tuesday afternoon as a docent, however just recently Olga accepted a full-time job in Santa Fe, so she will instead volunteer at PEEC on weekends as her schedule allows. PEEC sat down with this newcomer to learn more about her.
PEEC: You're fairly new to Los Alamos and PEEC, aren't you?
O.C.: Yes. After I moved to Los Alamos, I sought out opportunities to become involved with the local Earth Day celebration. I belonged to a group when I lived in Tampa, and we used to plan a get together for Earth Day every year. Since Earth Day is still a ways away, Linda (Boncella, PEEC's Volunteer Coordinator) suggested in the meantime that I help us out at the center. I was looking for volunteering jobs here anyway, and this fit in with my interests and wanting to help the earth, so I said sure! That was back in September. Since then, I've been helping every Tuesday. I'm usually at the docent desk near the entrance. I answer phone calls and show visitors around the center. With having accepted a full-time position in Santa Fe just recently though, I will need to adjust my volunteering schedule at PEEC.
PEEC: What do you like most about volunteering at PEEC?
O.C.: Oh definitely meeting new people. I also like learning from the programs PEEC offers. Recently, I went with David (Yeamans) on the birding trip to Las Vegas, NM. I'm new to birding, so I'm still just learning, but I really enjoyed it.
PEEC: How do you like living in New Mexico?
O.C.: I like it because it reminds me of home. We have a lot of the same elements – adobe homes, mountains, nature and wildlife. We have more variety of birds in Ecuador, though. I've mostly been living in bigger cities around the U.S. the last 20 years, so it's nice to be surrounded by wildlife and the mountains again.
PEEC: What would you tell someone who is considering volunteering at PEEC?
O.C.: I would suggest they check out the website to see all the programs, and get a sense for the people that are involved with PEEC. I would definitely recommend that they consider becoming a member or volunteering!
PEEC: Tell us a little about your background.
O.C.: I'm from the city of Guayaquil, on the coast of Ecuador, but I've been living in the U.S. for the last 20 years. My degree is in accounting, but my background is in banking. I'd like to get back into accounting at some point.
PEEC: What are your hobbies?
O.C.: I enjoy yoga, meditation and tennis, but it's harder to play tennis up here because of the altitude! A new hobby of mine is birding, and last fall I took a trip back to Ecuador to go birding. I find it exciting, because it becomes like a hunt to spot the birds. I pay attention to my surroundings much more because I don't want to miss anything. I find that I also pay attention to the sounds around me more when I'm birding.