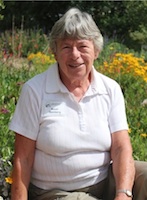 Natali Steinberg has been giving her time to PEEC for nearly ten years, and she's seen many changes along the way. From the early days in the current building, to planning for the move to the new Los Alamos County Nature Center next spring, Natali has served as a docent, Board member, gardener and more. While Natali seems perfectly at home in northern New Mexico, PEEC learned that Natali has spent most of her life in Colorado, raising her family and enjoying the outdoors. PEEC sat down with Natali to learn more about her love of nature, her life on a farm, and how she came to call New Mexico home.
PEEC: We understand you're not a New Mexico native. Where do you originally call home, and how did you end up in the Rockies?
N.S.: I was born and raised in a suburb of Chicago called Winnetka, which runs north along the lake. I say that mentally I moved from there when I was 15, because that's when I came to Colorado to go to a ranch camp for two months in the summer. Once I got there, I knew it was the place for me. I returned to Colorado every summer after that to work at the camp. As soon as I finished high school, I moved to Colorado to go to the University of Colorado in Boulder.
PEEC: Did you remain in Colorado until you moved to New Mexico?
N.S.: Not exactly. I studied in Boulder for two years but in those days as a woman, you were either going to be a teacher or a social worker, and I knew I didn't want to do either of those. I felt like I was wasting my father's money, so I moved back to Chicago, where I ended up meeting my future husband. He had ambitions of setting up a law practice in Portland or Seattle, but we got as far as Denver and never left. He set up his practice there, and eventually he became a judge. Colorado became home to us. We had two farms there: a big farm where we grew sugar beets, corn and alfalfa, and a small farm were we lived and raised our kids. Each of the kids had a horse. They also each had a 4-H project, which helped to provide our family with meat and dairy products. We enjoyed the farming lifestyle. It felt like a great place to raise kids and to teach them responsibility. They spent a lot of time outdoors as kids.
PEEC: Do you still feel like your heart is in Colorado?
N.S.: My husband and I came to New Mexico because he had dementia, and I needed to be closer to one of my children. After 60 years in Colorado, it was very difficult at first to leave. After I got to New Mexico though, I fell in love with this area. Colorado had gotten to be too populated for me – too many people, too much traffic. I like living here because I'm close to one of my daughters. My other daughter lives in a suburb of Houston, and my son lives in Marin county California.
PEEC: How did you get involved with PEEC?
N.S.: I first learned about PEEC in 2005, when PEEC had just moved into its current building. I heard about it from Chick Keller. I was training to be a docent at Leonora Curtin Wetlands Preserve in Santa Fe, and Chick was one of the experts that trained us on native plants. When I told him I was going to be moving up to Los Alamos, he told me about PEEC and suggested that I become involved. At that time, I didn't realize that my family was already so involved with PEEC! My daughter Sarah was one of the founders, and her two daughters were very involved, too. Elena would have been in high school and Janali was about 10; they mainly participated in the summer programs. So as you can see, it was a natural fit when I moved up here in 2005 to become involved with PEEC.
PEEC: What do you do at PEEC?
N.S.: Back when I first got started in 2005, we had one halftime paid employee who ran the office. We volunteers weren't called docents then, we were called staff. I helped with office work and the kids' summer program Nature Odyssey. I volunteered to be on the Board almost immediately, and I was on the Board for about six or seven years. These days I work as a docent, staffing the front desk and showing visitors around the center.
PEEC: Do you volunteer elsewhere?
N.S.: Yes, I also volunteer at the Randall Davey Audubon Society once a week and I continue to volunteer at the Wetlands Preserve, where my schedule varies. I used to go to the preserve 5-6 times a month to help with the educational programs, but now I go about 2-3 times a month. I also manage the gardens at PEEC and the landscaping at Oppenheimer Place, where I live. Living in a condo, I miss gardening terribly. This way, I have the opportunity to continue doing what I love.
PEEC: What are your hobbies, besides gardening?
N.S.: I love to travel. We couldn't do a lot of travelling when we owned the farm, so when my husband and I sold our farm, we bought a small camper. We traveled all around Canada and the U.S., camping all the way. Since then I've traveled to places like Africa, Thailand, the Galapagos, the South Pacific – specifically places where I could enjoy nature.
PEEC: What inspires you?
N.S.: Nature. All the places I volunteer have to do with nature. I love gardening and growing things. On our farm, we had an enormous vegetable garden, and we sometimes sold our produce at farmer's market. We always did a lot of camping. As I mentioned, I maintain the flower garden at PEEC. Now I'm in the process of planting the gardens at the new building. We've been working on it since January. We have a very active landscape committee!
PEEC: Is there a particular way you enjoy nature?
N.S.: When I was young, it was on horseback. It's been many years now since I've been able to ride a horse, so I would say mostly hiking. I'm not species specific in my enjoyment of nature – I like birding, but I'm not an avid birder. Mostly I like plants, native trees and shrubs. Since becoming involved with PEEC, I've learned a lot about native plants from Terry [Foxx], Dorothy Hoard, Chick [Keller] and others.
PEEC: Is there anything that might surprise us about you?
N.S.: Maybe that there are three generations of my family involved in PEEC, and I don't think there's another family like that! Both of my granddaughters taught here. Elena started the environmental club at the high school, and she spent summers home from college training the Nature Odyssey counselors. Janali was a counselor for many summers for the Nature Odyssey program. I'm pleased that both of them love nature as much as I do!