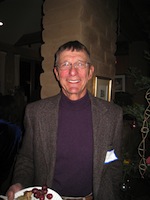 Paul Arendt is no stranger to PEEC, and in fact volunteering for PEEC has become a family affair for the Arendts. Paul's wife Nancy currently serves on the Board as the Treasurer. Paul's involvement with PEEC grew out of a curiosity about the plants on his property. As he learned more and became familiar with the organization and the people, he considered volunteering at PEEC. Several years ago, Paul assumed the position of Treasurer, and served on the Board for two years. Though not a Board member currently, Paul can be seen often at the center, as he is still heavily involved with the planning of the new Los Alamos County Nature Center, slated to open in Spring, 2015. PEEC sat down with Paul to learn more.
PEEC: When and how did you get involved with PEEC?
P.A.: I first became involved with PEEC after we moved onto a 3-acre property in Pajarito Acres. It was mostly undeveloped land and as I walked the property with my dogs, looking at all the native plants around me, it drove me nuts that I didn't know what I was looking at. So I started going on some of the plant excursions that PEEC offered, and I talked with many of the people involved in PEEC including Chick, Dorothy, Terry and Becky. Through these interactions, I started to learn more and more. After a while, I decided to become a member of PEEC and in the fall of 2010, they asked me to serve on the Board. I had just stepped down as Treasurer of another organization, so the timing was right for me to take over as the Treasurer of PEEC.
PEEC: How are you involved with PEEC now?
P.A.: Though I no longer serve on the Board, I am still pretty active as a liaison with County, as we work together on the building plans for the new Nature Center. I'm also happy to help out around PEEC with any maintenance, yardwork, etc. You know, just a pair of hands!
PEEC:What do you get out of volunteering for PEEC?
P.A.: It's my belief that you have to give something back to the community. I was involved for about 18 years as a soccer coach for local youth, junior high school and competitive teams. After my kids stopped playing soccer, I became more involved in hiking, climbing and cross-country skiing. As I mentioned earlier, I became tired of being ignorant about the native plants, and the birds, too. As a volunteer for PEEC, I enjoy helping other people to be less ignorant about our natural surrounding so that they can learn to connect with nature, as I have. Not to mention, there are so many people at PEEC with incredible amounts of information from which I can learn. If you go on one hike with Dorothy (Hoard), you'll learn more than reading a whole book. I've learned to take copious notes! She has taught me so much about our local history, hikes, trails, early settlers and plants. People like that make this organization so interesting!
PEEC: What would you say to someone considering becoming a PEEC member or volunteer?
P.A.: You have to ask yourself what are you going to get out of the organization? Everyone's time is limited, and how you can get involved depends on your own interest. Whether it be birds, history or geology, there are so many aspects to the outdoors. Petroglyphs! I love going down into White Rock canyon and finding petroglyphs with Dorothy. If you get involved with PEEC, you get to see very interesting places most people don't see. As a volunteer, now that I'm retired and have time, it's fun to keep busy with things that interest me. Volunteering keeps me mentally and physically sharp.
PEEC:So PEEC is a family affair for you?
P.A.: Yes. My wife Nancy currently serves as Treasurer on the PEEC Board, which is a natural fit for her because she used to work in bank. Also, I love to bring my grandkids in to the center when they are visiting. They mostly love seeing the animals.
PEEC:Can you leave us with an interesting tidbit about yourself?
P.A.: Hmmm…I like to get out of country every few years; usually I go with my mountaineering pals. We've gone sea kayaking in Alaska and Baja Mexico, hiking in the Alps and the Andes, and next year we plan to hike from Germany through Austria and Switzerland, into northern Italy. I'm also planning a trip back to the Andes, to go hiking and climbing with my son-in-law.