June 27, 2020
By Steve Cary
Before I leave the topic of subtropical stray butterflies, I want to place the Buckeye situation in a larger context. The great state of New Mexico is adjacent to the great American subtropics, that is, Mexico. Species that breed in Mexico but not in New Mexico can occasionally be found here, even if only as unusual vagrants or strays. Some even breed seasonally, like Monarchs and Painted Ladies. Usually by March, warm weather allows wandering species to enter the US, find nectar, maybe even mates, and possibly complete a generation or two during the warm season.
Those of you along our southern border are in the best position to see some of these oddballs in your gardens or on your local outings. The more routine examples include Sleepy Orange, Texas Crescent, Queen, Mexican Yellow, Cloudless Sulphur, Southern Dogface, and American Snout. As I write this blog post, for example, I learned that James Lofton recently photographed a Gulf Fritillary near Portales, NM. All these explorers may be frozen out come winter, but while here they contribute to our ecosystems via pollination or by becoming prey to insectivorous birds, insects, spiders, or lizards. Vagrants, strays, and seasonal breeders make up a substantial portion of New Mexico's 320 butterfly species and they are important components of the butterfly fauna for all border states from Texas to California.
Among the butterflies, hairstreaks (Lycaenidae: Theclinae) strike me as perhaps least likely to wander very far from their 'home' turf, where they did their munching as larvae. They are small, seem fragile, and most have lifestyles that keep them near their host-plant, on nearby hilltops or in local nectar patches. How many wingflaps would it take for a tiny, dime-sized hairstreak to cover as much distance as her royal highness the Queen could manage in one? Strangely enough, however, 2020 is becoming a standout year for subtropical hairstreaks in New Mexico. Below are three examples.
The Leda Ministreak (Ministrymon leda) includes southern New Mexico in its breeding range, where it places eggs on various mesquites (Prosopis spp.; Fabaceae). This year, it already has been seen a few times well north of its normal breeding range. It is known to wander north from time to time, so it's not a total shock, but it always seems implausible up here considering its miniature size. This year, Rebecca Gracey and Joe Schelling photographed it near Quemado on the high plateau of northern Catron County on May 24, then repeated the feat on June 12 in the Sandia Mountains northeast of Albuquerque, where it was a new species for Sandoval County! I photographed one on May 27 that was at 9,500 feet elevation in the Sangre de Cristo Mountains below the Santa Fe ski resort — the second report ever for Santa Fe County and possibly the highest altitude ever for that species. The photo below shows it is a little worn, but it still has all its delicate tails, two long and two short, so we know it has not flown in from, say, Lordsburg. Could it be breeding locally? My Arizona butterfly compadres say Leda is all over that state, too. Will Colorado be next?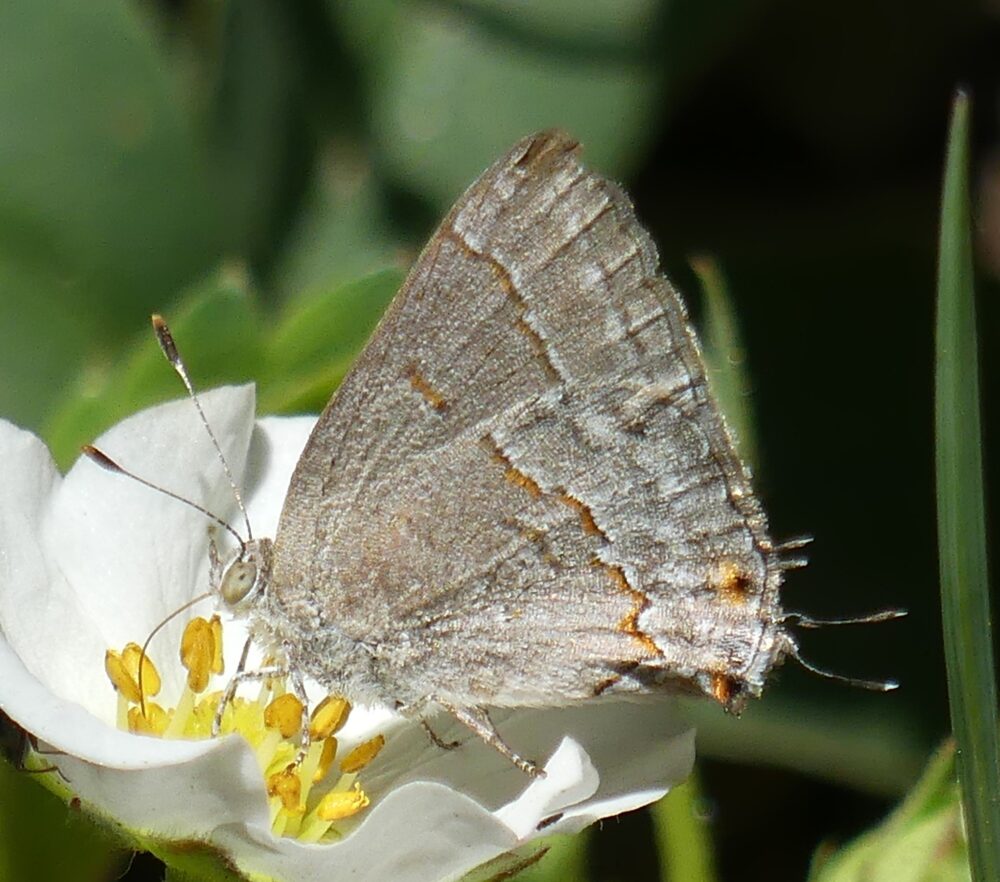 One of the most unexpected subtropical strays already this young season has been Silver-banded Hairstreak (Chlorostrymon simaethis). In Las Cruces, Rob Wu found two individuals nectaring at his Woolly Butterflybush (Buddleia marrubifolia), a desert native down there, back on May 22. One was in pretty good condition, suggesting it had not flown too terribly far (see photo below). That was only the second confirmed report ever from New Mexico, the other being a sighting by NABA legend Jeff Glassberg from Otero County in 1998. To extend the amazement, yet another Silver-banded Hairstreak was seen and photographed in Silver City a few weeks later. That observer graciously posted her photo to BAMONA for all to see. So Silver-bandeds have not been a mere 'one-time wonder' this year. Again, my Arizona butterfly colleagues confirmed that multiple Silver-banded Hairstreaks were being seen in southern Arizona this year, too. That is another hairstreak species to keep an eye on through the year. I wonder . . . will it be able to reproduce in southern New Mexico?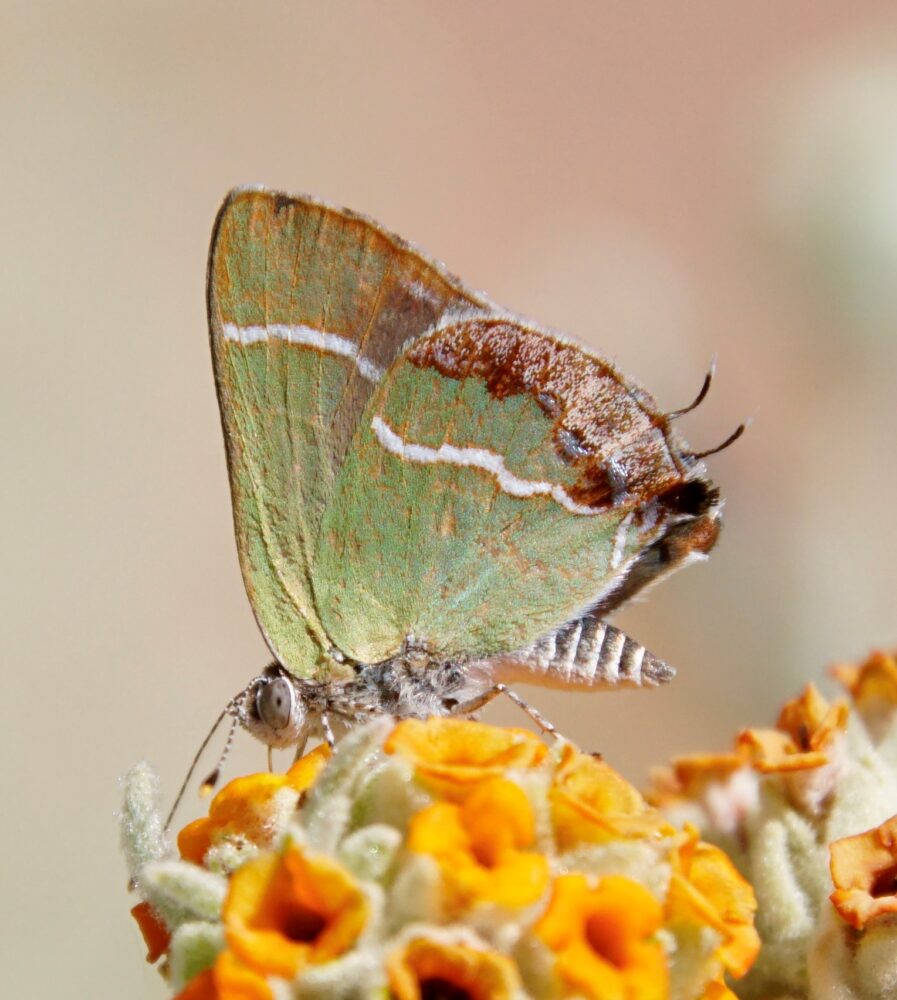 I never expected a sighting that would top Silver-banded Hairstreak, but perhaps most surprising so far (it's only June!) was a report on June 18 of Tailless Scrub-hairstreak (Strymon cestri) from Socorro County. Matt Brown, a bird and butterfly guide out of Patagonia, Arizona, and his girlfriend, Abbie, were exploring the San Mateo Mountains when eagle-eyed Abbie spotted an odd hairstreak on a yellow flower and took a photo. Matt shared it with Arizona butterfly expert Rich Bailowitz, who confirmed the identification: Strymon cestri. At about 8,500 feet elevation well up in the San Mateos, this is an unusual spot for a vagrant or stray. Normally they like watercourses where terrain is more amenable to long distance movement. Field Guides place this Mexican species only as far north as the Lower Rio Grande Valley of Texas, straying occasionally to southeast Arizona. Matt was justifiably excited by this find: it was only the second documented occurrence in New Mexico.
I had seen that same species back in May 2016, perhaps 50 miles to the southwest in Sierra County in the eastern foothills of the Black Range. My photo (below) shows a rather worn male defending a juniper on a hilltop at about 6,100 feet elevation. It was a wake-up call for me to see it, but the moment passed and I had not thought too much about it since then. Now, however, Matt and Abbie's more recent sighting in Socorro County certainly makes me wonder . . . is Strymon cestri already a breeding resident in southern New Mexico? Has it set up camp in New Mexico's part of the Rio Grande Valley? We need more eyes on the ground looking for it in southern New Mexico, especially in the desert mountain ranges bordering the Rio Grande.
In the old days before global warming, such subtropical oddities were nice enhancements to the butterflying experience in New Mexico. One never expected to see any particular subtropical wanderer, so whatever turned up was always a surprise — a lagniappe, as they might say in New Orleans, a little something extra for making the effort to go butterflying in the first place. There have been some amazing finds over the years: Zebra Longwing in Eddy County, Polydamas Swallowtail south of Deming, Broad-banded Swallowtail in Harding County (thanks Christopher!), to name a few.
Now, however, I feel a strong and growing temptation to conclude that the subtropical butterfly waves are getting stronger, more frequent, more diverse and more routine. Perhaps I imagine it, but this year . . . it may not be my imagination. Winters here seem warmer, or perhaps 'not as cold' is a more accurate description. Years ago, when I was asked to forecast effects of climate warming on New Mexico butterflies, one of my two principal working hypotheses was that subtropical species would gain a greater presence. My Arizona colleagues might agree that it was frigid overnight winter low temperatures that kept the door closed to subtropical butterflies. Is that door now opening?
What was my second hypothesis regarding effects of global warming on New Mexico butterflies? I'll weigh in on that in another post in the near future, as soon as I remember it.
Thanks for tuning in, stay safe, and happy butterflying!
Steve Cary, Santa Fe