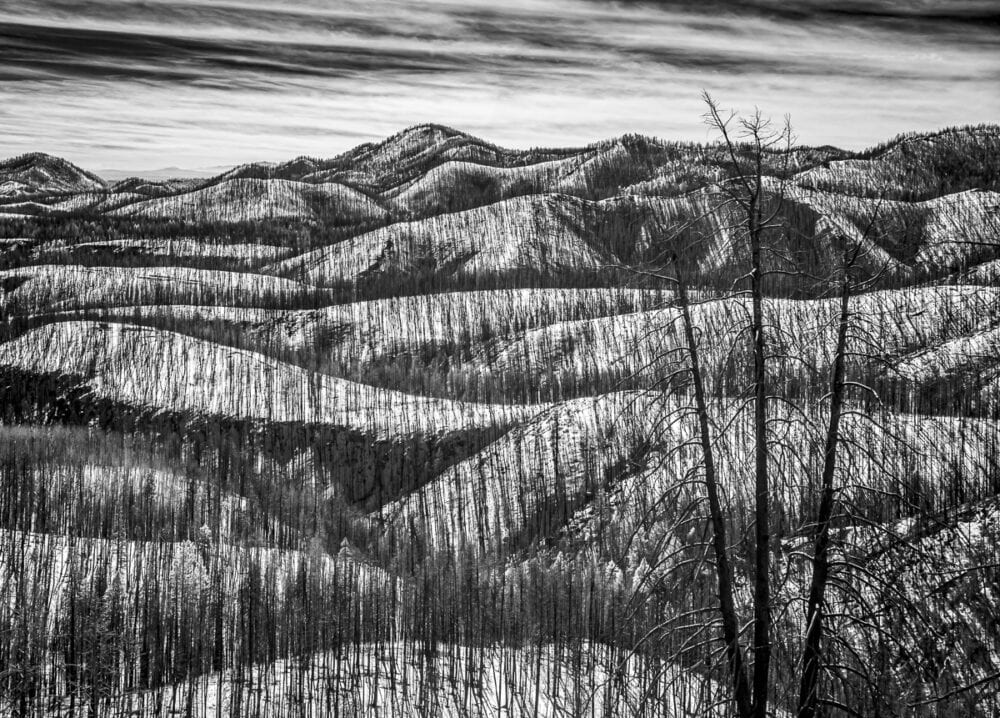 By Patricia Galagan
"Why are you photographing dead trees?" someone asked, when my husband, Philip Metcalf, and I first began to show our photos of the aftermath of the 2011 Las Conchas Fire. Why, indeed?
When the Las Conchas Fire began to burn on June 26, 2011, and wasn't contained for more than 30 days, it was impossible to ignore. From our house in Santa Fe, we watched smoke clouds climbing thousands of feet skyward every day, and at night we saw hotspots lighting up the dark mountains.
As landscape photographers, we'd hiked and photographed in the Jemez Mountains, and we were impatient to see how the huge fire — more than 150,000 acres burned — had changed the forest visually. As soon as Route 4 reopened, we went to the Upper Frijoles Canyon Viewpoint via the Blue Trail, a short walk through pine and aspen woods to the rim of Upper Frijoles Canyon, with a view over Cochiti Mesa and beyond. Nothing prepared us for what we saw that day.
The first part of the trail, through a ponderosa grove, had been burned so fiercely that big pines had burned up completely, including their roots, leaving negative spaces in the ashy soil that flared around our boots as we walked. Other trees were still standing but completely blackened, their tops burned away. Further on, we saw aspen trees charred and toppled, their bark curled away from their trunks by heat. The air smelled of burned wood. There were no birds and no animals — not even so much as a lizard. Our mental construct of a forest on a summer day — green, pine-scented, cool — had been erased. The only colors in sight were black and shades of gray.
We pressed on to the canyon rim, where the visual shock was even more profound. Wave after wave of mesas and the canyon walls and floor were studded with thousands of black, burned trees, presumably dead. We told each other it felt like gawking at a terrible accident.
It was visual curiosity that drew us to the fire, but it was the forest's extreme physical transformation and the way it began to change over time that kept us coming back. We traded our sedan for a second-hand car with high clearance and big tires so we could use forest roads and dirt tracks to reach remote parts of the burn scar. For the next seven years, in all weathers and seasons, we haunted the forest in search of scenes which conveyed the essence of what we felt.
By year two, we had nearly 1,000 digital images each, about a dozen of which were satisfactory to us from an art perspective. With each season we saw more growth, but the forest that was emerging no longer resembled the one that had burned. We wanted to know more about the science of what we were seeing. As research ecologist Craig Allen told us, the future of the forest was "shrubbier." The transformed forest, he said, was a bellwether for others in times of increasing heat and drought due to climate change. His tutorials, and the writings of environmentalist William de Buys, gave context to our photographs of the fire's aftermath.
By year six, it was clear that our two portfolios illustrated a universal story about climate change. Larger and hotter fires were erupting in New Mexico. Parts of the Amazon, the Arctic, and Australia were burning. We decided to create a book.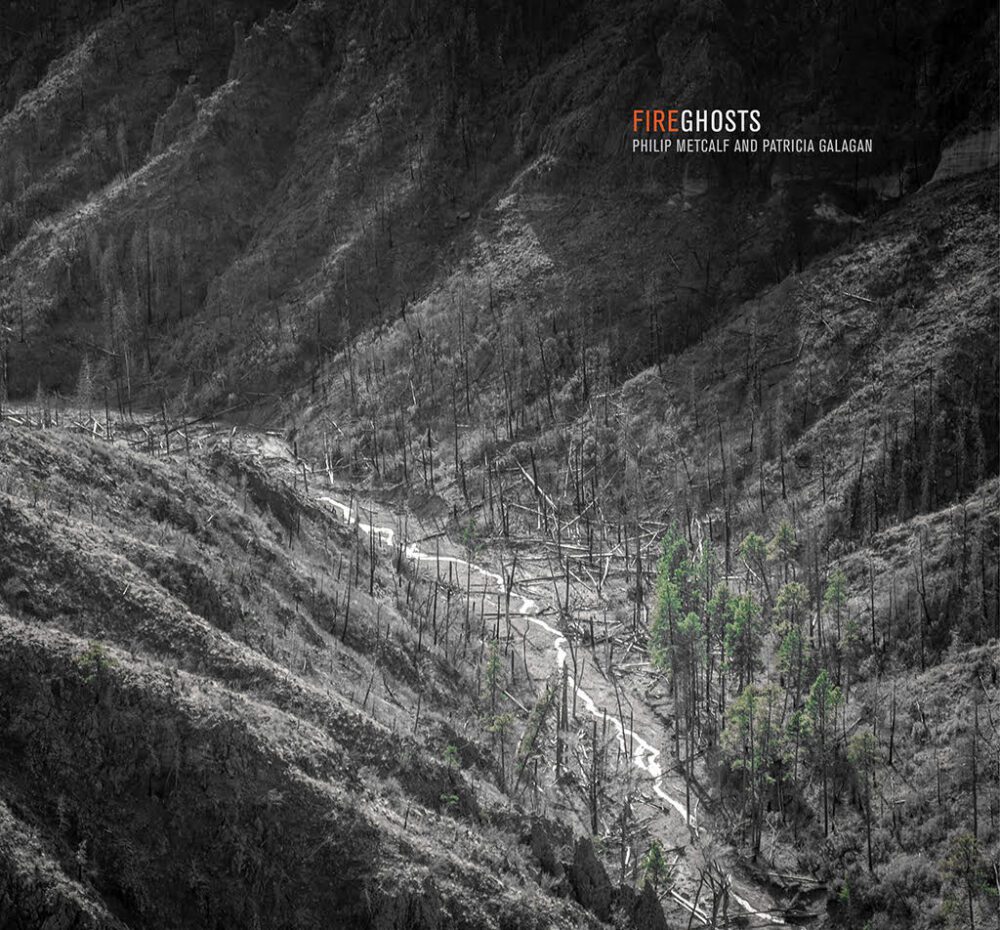 Allen and deBuys contributed essays, as did the New Mexico Museum's photo curator Katherine Ware, who was the person who first asked why we were taking photos of dead trees. In discussions about the photographs, she provided an answer — because such photos need to be seen when the world is on fire. Their beauty can be a path to awareness.
We hired book developer Joanna Hurley and book designer David Skolkin to help us. Fire Ghosts, containing Philip's and my portfolios, the three essays, and a map of the burn scar by artist Carolyn Tourney Florek, was published in October 2019 by George F. Thompson Publishing. Learn more about this project on the Fire Ghosts website.
Patricia Galagan is a fine art photographer, drawn to the landscape of New Mexico. Her husband, Philip Metcalf, also a fine art landscape photographer, died in November 2019. Fire Ghosts is available at Photo-Eye Bookstore and Collected Works in Santa Fe. You can also purchase a copy for curbside pickup through PEEC 's online shop.