Joaquin Gallegos is the October New Mexico Naturalist in the monthly New Mexico Naturalist series from the Pajarito Environmental Education Center. We hope you'll enjoy learning about him, his philosophies, and his work in this interview.
Name: Joaquin Gallegos
Location: Española, NM
Occupation: Associate Professor of Environmental Science at Northern New Mexico College
Favorite Place in New Mexico: The Hidden Lake following the road up from El Valle
Favorite New Mexico Critter: Black Bear
Joaquin Gallegos was born and raised in the Española Valley. After graduating from Pojoaque High School, he moved to Las Cruces to obtain his bachelor's degree and a master's in Range Science from New Mexico State University. Since then, his career has taken him across the state and has included working for the New Mexico State Extension Office, as a private contractor for the Forest Service, and even a stint as a "professional cowboy."
Now, Joaquin is in his sixth year of working as an Associate Professor in Northern New Mexico College's Environmental Science Department. Though he's now working in education, he enjoys getting back to his time working with the Forest Service and connecting with nature by doing small-scale management projects on his own property.
How would you define a "naturalist"?
I would define a naturalist as an individual who recognizes that they are a part of the natural ecosystem and the land that surrounds them — it impacts us, we impact it. A naturalist is someone who attempts to understand that relationship.
When did you first start to love nature?
Probably more toward my early teen years. I was really good friends with a set of brothers, whose family owned a fairly decent sized farm. Like any farming family, whenever I'd go and hang out, they basically saw me as free labor. I'd go over there to play and the dad would very quickly put us to work. I'd help clean ditches, haul bales, irrigate, and more. That's when I started to see the benefit and beauty in hard work and that connection to the land.
In conjunction with that, when we were able to get away, we would mountain bike in some of the hills behind the farm. Going up to the top of these little ridges and watching the sunsets, it was amazing. To me, that's what New Mexico is.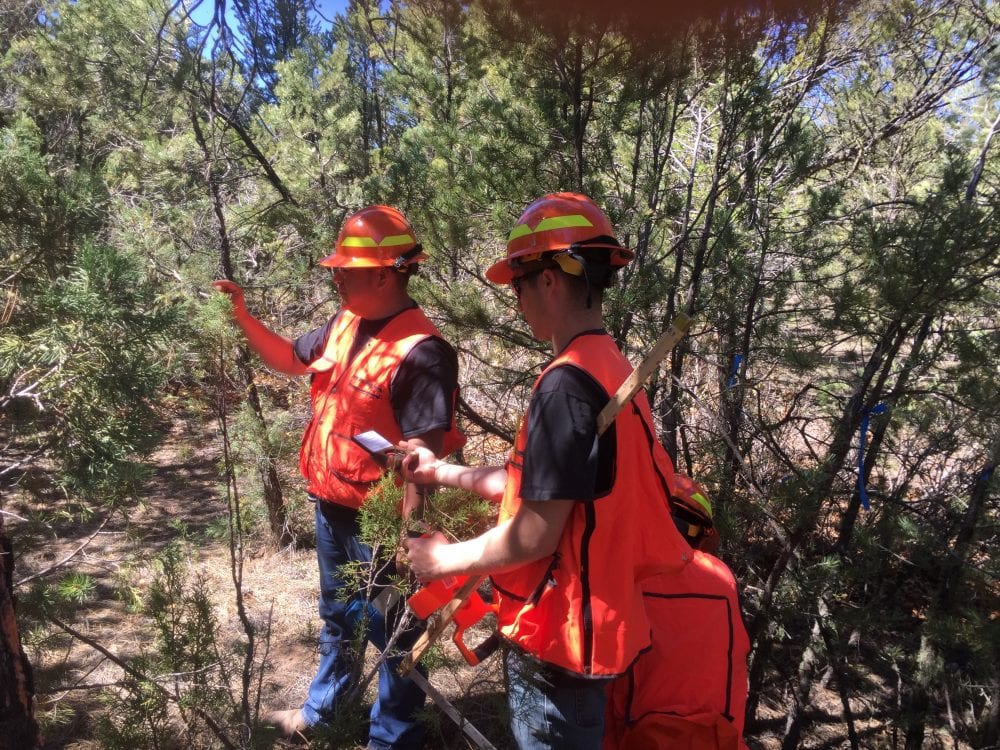 What word makes you feel most at home when you think about nature?
Probably "the land." To me, it is more encompassing because, coming from the Range Science background that I have, I draw very strong distinctions between cultivated land and uncultivated land. "The land" incorporates all of it. We are not outside of the ecosystem, we're a part of that system. To me, "the land" definitely represents more of an encompassing way of looking at things. "Nature" makes me think of an environment that has less human impact.
What are your hopes or concerns for the future for nature in New Mexico?
Respect for what nature gives us here in New Mexico. What I find very beautiful, and I think why I love New Mexico, is that I consider New Mexico to be a very marginal landscape. We are very drought-prone. You can see through our historic establishment of communities — the majority of them are along a waterway of one form or another. Of course, the most limiting resource that we have here in New Mexico is going to be our water. As a result, I think we need to instill a very strong respect for that water, understand the limitations of New Mexico, and really try to live within those limitations.
Sometimes, growing up, people will tell you, "Be all you can be! You can do anything you want." We have to understand that that's just for us. We cannot project that out into the world. We cannot make a semi-arid or arid environment into a lush garden. We have to live oftentimes within the limitations of that ecosystem or environment.
What are your hopes for the next generation of New Mexico children?
You have the groups of individuals who were maybe born and raised here in New Mexico who are used to traditional uses and accesses of nature. Especially in this part of the world, a lot of homes' main heat source is firewood. Going for firewood is an annual tradition among some families. So they see nature and access to nature as their annual trip up into the woods where they spend maybe a whole month every weekend hauling firewood. That is sometimes opposed by individuals who see the beauty of New Mexico, maybe move here for the beauty of the state, and see the access to nature as more recreational.
There sometimes has a tendency to be a little bit of a conflict there. My hope for the future of New Mexico, in terms of children, is for them to understand, respect, and love nature, but love it for both of what it is. It is a beautiful recreational area, but at the same time it is a source of livelihood for individuals. That water that you may enjoy rafting down ends up in someone's irrigation ditch that helps feed their fields. The rancher who encounters a recreationalist, can recognize that the recreationalist may donate money to a given organization that helps habitat restoration and improvements for that rancher and range. We need that balance between the two. In my opinion, we need those two communities to understand each other and communicate very strongly.
If you'd like to learn more about Northern New Mexico College's Environmental Science department, visit their website here.
---
New Mexico Naturalists is a monthly series produced by the Pajarito Environmental Education Center (PEEC) to highlight the work and experiences of people throughout the state that are making meaningful connections with nature and wildlife. Read our previous New Mexico Naturalist profiles here.
Have a suggestion for a naturalist that we should feature in the future? Email publicity@peecnature.org to let us know! PEEC is the non-profit organization that operates the Los Alamos Nature Center.