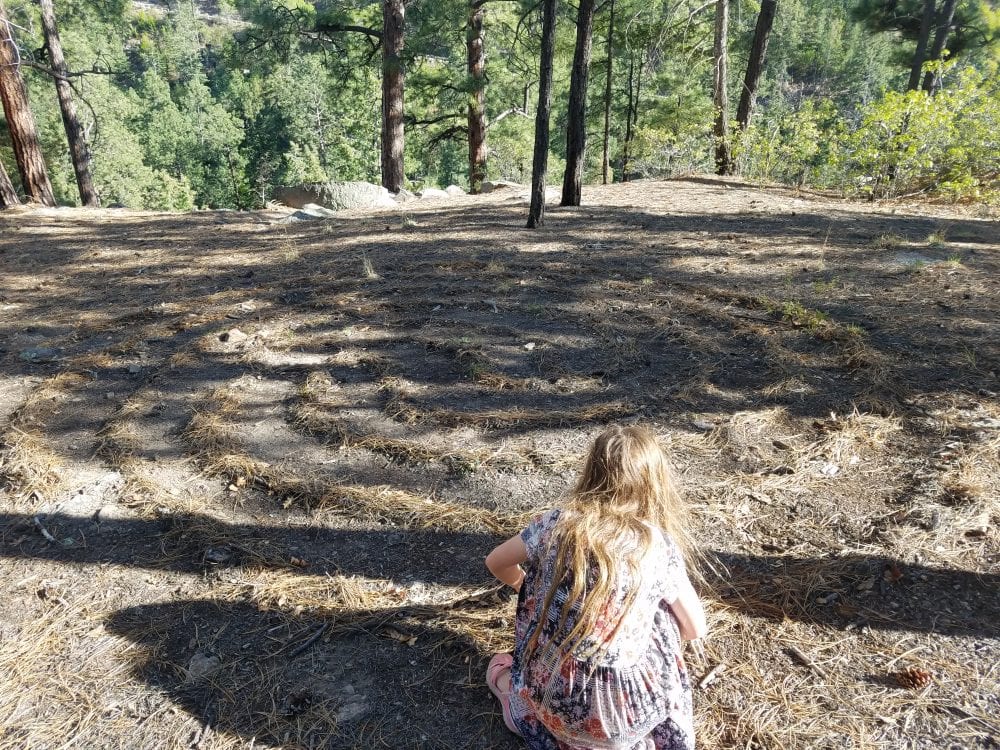 This week on Take It Outside, learn how local artists have been inspired by the natural world around them, and spend some time making nature art yourself.
This week, we're also celebrating Los Alamos ScienceFest virtually! See what PEEC has in store for this virtual festival.
Summer Nature Challenge:
Participate in our Summer Nature Challenge! Every week, participants who complete the challenge can earn a sticker. If you finish all nine weeks, you'll earn a bonus sticker! Find our archive containing all of our past Take It Outside activities here.
Download the challenge sheet here to print out and complete at home. At the end of the challenge, you can either bring it to the nature center or mail it to us at 2600 Canyon Rd, Los Alamos, NM 87544.
If you don't have a printer or prefer to work online, you can tell us about your experiences in the Google Form below or email your stories and pictures to takeitoutside@peecnature.org.
Blog Post:
Patricia Galagan reflects on photographing our forests with her husband Philip Metcalf in the aftermath of the Las Conchas fire. Their book, Fire Ghosts, was published in late 2019 and features their photography portfolios from this project. Learn more about what they learned from this process in this week's blog post.
Outdoor Challenges:
We're posting three outdoor challenges today that you can enjoy throughout the week!
Tell us about your experiences with one, two, or all three of them! You can do this in the Google Form below, by writing or drawing about them on our summer challenge sheet, or by sending an email to takeitoutside@peecnature.org.
Challenge #1 – Land Art:
Go outside and spend some time getting a feel for the area, then gather natural materials that speak to you. Use them to create land art, ideally using the materials in the area where you found them. If you like, take a picture of your artwork, and share it with us! Leave the art for others to discover, and to break down naturally over time.
See some additional tips here.
Challenge #2 – Wildlife Photography: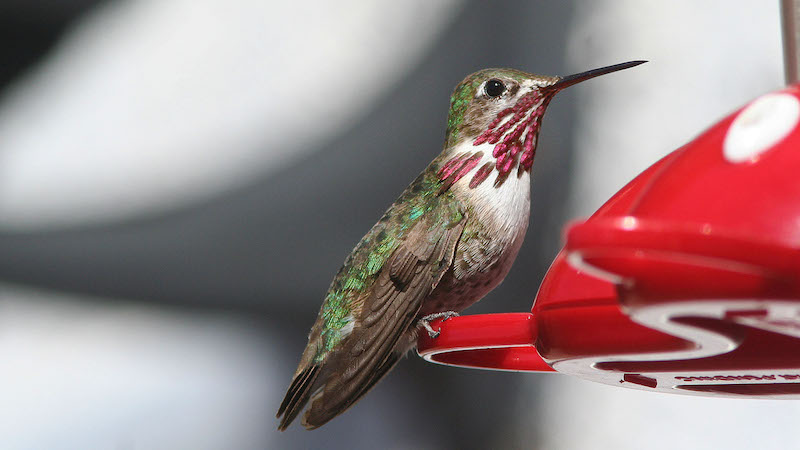 This challenge is from Aditya Viswanathan, a rising sixth-grader from Los Alamos and wildlife photographer.
July is a great time to learn wildlife photography as the hummingbirds are coming to Los Alamos in large quantities. Here are a few activities that you can try to get started or fine-tune your skills. If you have a hummingbird feeder, you can wait for a while and see which hummingbirds come and try to photograph them. Hummingbirds like to visit feeders and you're more likely to see them at one rather than on a flower. If you don't have a feeder, try making a simple one from recycled materials! Make sure to get the camera crosshairs on the hummingbird, or else the photo will be blurry. Phones work okay, but cameras (especially ones with zoom lenses) are better if you have one. It will take a bit of practice and patience, but if you stick with it, you should have some very good photos.
If you are ready for a bigger challenge, research which flowers different hummingbirds like. Hint: hummingbirds like red, tubular flowers. If you don't have any of them, other flowers work too. Wait at a flower of your choice for about half an hour and see if any hummingbirds come. Photographing them at a flower will create a more natural-looking picture. Butterflies and bees may come too, which are also good photo targets.
Another advanced challenge that you can do is try to freeze a hummingbird's wing while in flight. To do this, adjust the shutter speed in the menus. I recommend 1/1000 seconds for the shutter speed. Please note that some cameras don't have this feature. I hope you find these activities fun and helpful. Send a picture you snap to takeitoutside@peecnature.org or post it on social media and tag @peecnature!
Challenge #3 – Nature Sketching: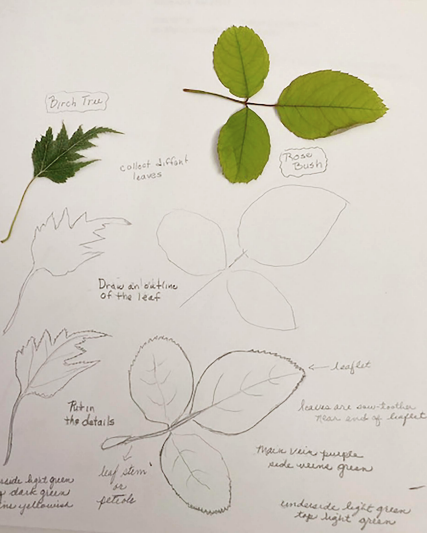 This challenge comes from Teralene Foxx, co-author and illustrator of Plants of the Jemez Mountains, which can be ordered from PEEC's online shop.
Sketching is a good way of learning and remembering the different shapes and sizes you observe in nature. Wander around your backyard or go on a hike and collect five leaves from five different plants (make sure to stay away from shiny, 3-leaved poison ivy!). Note what plant the leaf comes from: a flower, a shrub, or a tree. Are the leaves positioned opposite each other or do they alternate along the stem? Write down what you see. Look at the top of the leaf and the underside and see any differences.
With a paper and pencil, lay the leaf on the paper and trace around the outside of the leaf. Now you have the outside dimensions of the leaf. Observe the leaf carefully and draw anything you see about the leaf and put the detail into your drawing (e.g. the edge of the leaf, the veins, the color, hairs, texture). Ask yourself: Is the top of the leaf the same color as the bottom of the leaf? Record this information. If you have colored pencils or crayons, you might want to color the leaf. If you have a ruler, you might want to measure the different sizes of leaves and make a note.
After you practice shapes and sizes of leaves, try drawing a leaf without tracing the outside of the leaf. You will be amazed at the different shapes and sizes of leaves!
Want to Learn More?
Share Your Experience:
Tell us about your outdoor experiences! We'd love to see your photos, too. Please send them to takeitoutside@peecnature.org or share them on Facebook or Instagram with the hashtag #peectakeitoutside. If you'd like this to count for the Summer Nature Challenge, be sure to include your name and email address.