September 29, 2021
By Steven J. Cary
A highlight of the year for me was my recent tour of south-central New Mexico in search of the massive outbreaks of sulphurs and other species which had been giddily reported to me in August. I'll get to that in a bit, but first some other highlights over the past month.
Late summer is a prelude to autumn and then winter, during which our northern latitudes and higher altitudes become butterfly-free zones because everything is dormant, in diapause. During that late summer prelude, most species work through their life cycles so they can hunker down for winter as eggs, larvae, or chrysalids. Some, however, pass winter as adults, and this handful of commas, cloaks, and tortoiseshells is now deferring reproduction and instead basking, promenading about their habitats, and filling their tanks at late-season flowers. Marc Bailey captured this brief, but excellent, video clip of Hoary Comma:
Said Marc: "Hi Steve! Sure you can use the clip. Specs for my S20 FE phone say super slow motion records at 960 fps resulting in a 'slow down' factor of 32x. I cut the clip down to 8 seconds to include only the part that had the butterfly in the frame, so the clip is ~0.25 seconds of real-time video! I shot it hand-held at ~18 inches from the butterfly because there is no zoom in super slow motion mode. When I was set, I pushed the shutter and waved my other hand at the same time to get the butterfly to take off. Another one of those times you hope no one is watching you as you are crouched down waving at the flowers! It took a few tries, and it definitely helped to have a cooperative subject, but I finally got a decent clip." Yes, you did, Marc, and thanks for sharing it! PEEC's Rachel Landman helped me trim out extraneous portions of the frame so we could maximize its impact.
---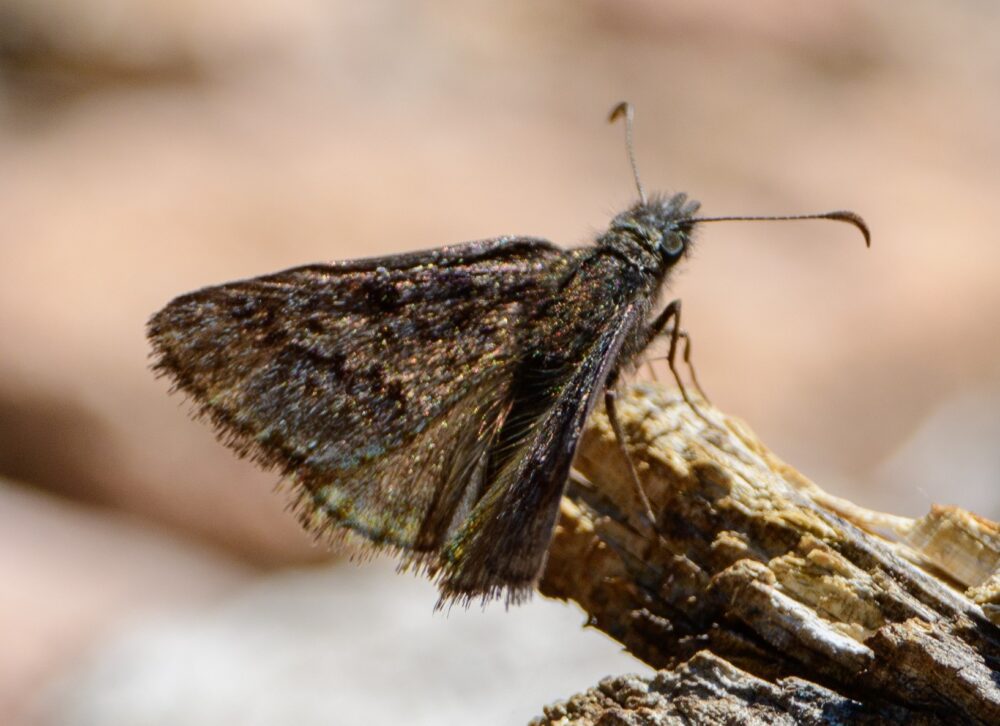 Next, I want to bring our attention back to the topic of aberrations. I gave a couple of examples from this New Mexico summer in a previous post. Fasten your seatbelts because here come some more:
T. Jay Adams took this photo and submitted it to BAMONA for identification. I puzzled over it for a few minutes: it is a skipper, a duskywing, and the lack of white or translucent white spots on the forewing meant it was either Sleepy (Erynnis brizo) or Dreamy (Erynnis icelus). The elevation and the June 13 date pointed toward Dreamy, but Sleepy was not out of the question. As many of you know, distinguishing these two similar species is a challenge even with all diagnostic marks in place. This individual does not have the normal marks of either species, plus there are silver/gray scales smeared over a good part of the forewing. Then I remembered the palps and this photo clearly shows the long palps of Dreamy rather than the stubby palps that typify Sleepy.
Many of you have seen the teeming hoards of Clouded Sulphurs that materialize in and around late summer alfalfa fields in central and southern New Mexico. It can be quite a scene, sometimes requiring the deployment of windshield wipers by passing vehicles (sad, I know). Those hoards were observed by Amanda Ruffin, along the Rio Grande in Socorro County, and also by Hira Walker in Valencia County. Hira and her family were on an outing near Belen and stood amazed at the "literally thousands" of Clouded Sulphurs stirring and roiling about the ripening alfalfa fields. We know this butterfly's ventral side because that's usually all we get to see when they stop flying. I would have stopped noticing them early on, but Hira did not, and somehow she found this oddball (below) among the population explosion. The upper side of the wings normally has a prominent black border that is out of view when they sit. The darkly smudged individual below reveals that the upper side is awash with black scales — a melanic aberration. One in a million, or at least thousands.
A third crazy butterfly was brought to my attention by Rob Wu, of Las Cruces. He said Pipevine Swallowtails have been seen in normal numbers this summer, but the one below is unique. Nectaring at Cevallia sinuata, as identified by Dave Anderson, this female has a large white patch covering the discal region of the ventral hindwing, with the black veins overlaid on the white. I have never seen anything like it.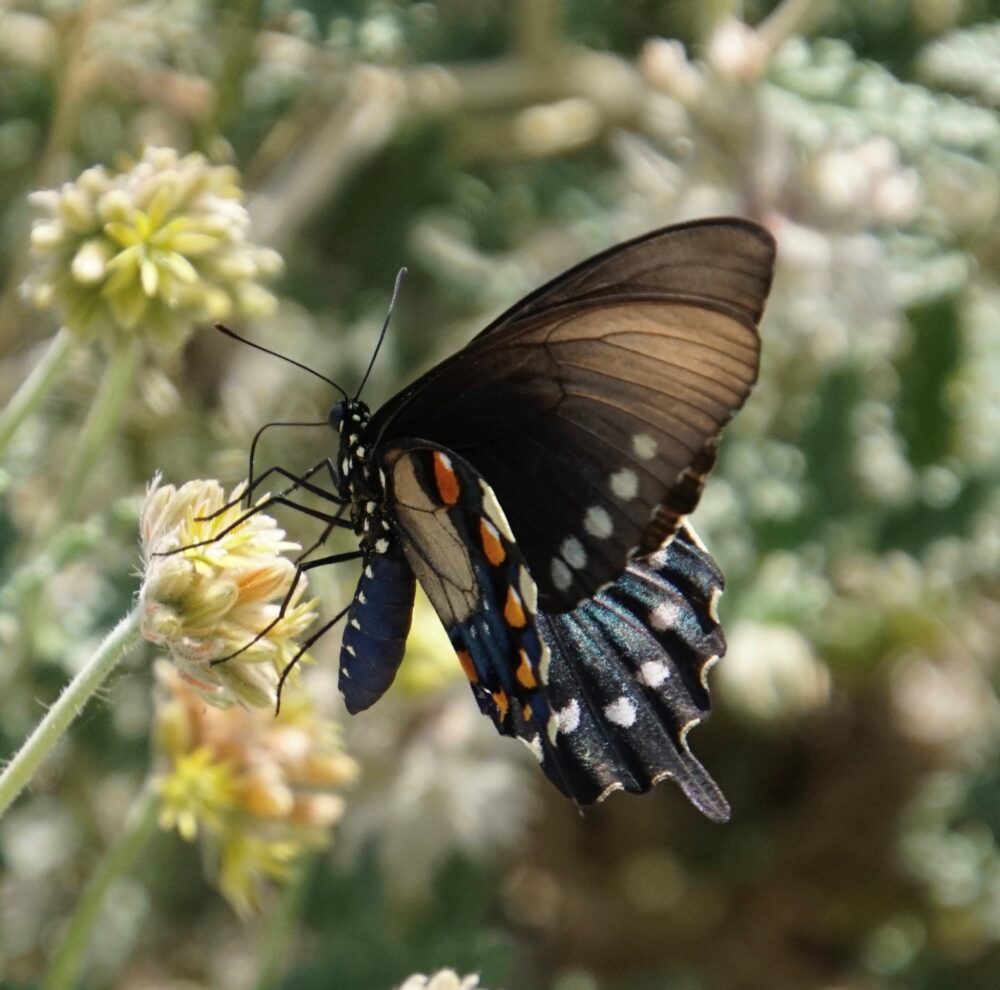 Why so many aberrations this year? Or is it a normal amount and we are only now noticing . . . ?
---
Our Chihuahuan Desert Jungle
The butterfly highlight of 2021 for me so far was a recent tour of south-central New Mexico in search of the massive outbreaks of sulphurs and other species which had been so enthusiastically reported to me by other New Mexico butterflyers in July and August. After the driest of years in 2020 and the pitifully dry start to the 2021 butterfly season, I did not want to miss the excitement in southern New Mexico. I had plenty of clues as to what was unfolding there . . .
Quoting and excerpting from Silver City-based Elaine Halbedel's informative early September post entitled "Tragedy of the Common": "Our peculiar summer in southern and SW NM lurches onward. The monsoons appear to be finally moderating, and the floral displays are purely spectacular. Butterfly numbers have skyrocketed. My complaint? Species diversity is still poor. The well-watered canyons should be knee-deep in Bordered Patches and I have seen none. . . . Furthermore, there are virtually no skippers. Apache Skippers should have appeared by now; I have seen none. . . . Here in Grant Co., Arizona, Sisters are showing perfectly in a new generation after a brief mid-summer hiatus. Number-wise, there are too many individuals to count, but the frequency distribution by species for the top 5 is as follows, from most numerous to less. 1) Dainty Sulphur; 2) Orange Sulphur; 3) Sleepy Orange; 4) Cloudless Sulphur; 5) Monarch. Monarchs are more numerous this year than I have ever seen them here over the 25+ years that I have been coming to SW NM. The most interesting species lately have been an Agathymus sp. (neumoegeni?) seen a few days ago in arid Knights Canyon in the (appropriately named) Brock Hills . . . Nokomis Fritillaries are very abundant in the Pinos Altos Mts. . . They were joined by the FOS [first of season] Red-bordered Satyrs in some numbers (13 during the same hike) and vast puddle parties of Echo Azures. What was a knee-deep narrow stream in that canyon several weeks ago is now a very wide stream with high flow. I was soaked to the thigh by the end of that hike and required 4WD to even get close (mud!)."
Magdalena's John Wilson thought that the annual Sevilleta National Wildlife Refuge butterfly count had been the best one ever. "The segment adjacent to the river saw over 1,100 Western Pygmy-blues! They were almost all on Kochia. The rest of the species were about the same but bigger numbers. Socorro County has been less in the drought and this summer brought a lot of rain."
In Las Cruces, C.J. Goin found and photographed a Great Southern White on September 6, only the second report ever from New Mexico. A week later CJ reached out again via email to me: "I went to Dripping Springs this morning and there were more butterflies in Ice Canyon than I've ever seen at one time before. There were thousands of them. I saw Sonoran Metalmarks, which I've never seen before, 3 Monarchs, a Mournful Duskywing, and thousands of more common butterflies."
In mid-August, Judy Yellon reported "an obvious increase in the abundance of butterflies in the Las Cruces area in the past couple of weeks shortly following the huge rainstorm that initially seemed to wipe out the presence of these beauties. My husband Fred and I try to go on hikes/outings once or twice weekly, and I usually also go out weekly with CJ. It is fascinating seeing the changes in which species show up, also the changes in numbers per species, and differences in which species can only be seen in certain areas."
I was deluged with a steady stream of intriguing images from Las Cruces butterfly photographers Gordon Berman, Jim VonLoh, CJ Goin, Rob Wu, Judy Yellon, Tom Johnson, and Marta Reece. With all that going on and a free weekend ahead, what choice did I have? On September 15, I drove south to Socorro on I-25 then east on US 380 to Roswell. I noted a Monarch flying across the road a couple of miles east of Lincoln. I overnighted in Artesia where, in the middle of bustling oil and gas country, hotels were full of oil workers.
The next morning I drove south around Carlsbad, I arrived at the Whites City entrance to Carlsbad Caverns National Park (CCNP) at 8:30 AM. My first stop was in Walnut Canyon, near the Park entrance. Early on sunny, mild mornings is a good time to seek and photograph butterflies. Many are just brewing their coffee and warming up for the day's activities, so they find a sunny spot and bask patiently for minutes at a time. Capitalizing on this situation, I was able to photograph some classic southeast New Mexico species including Graphic Crescent and Nysa Roadside-Skipper.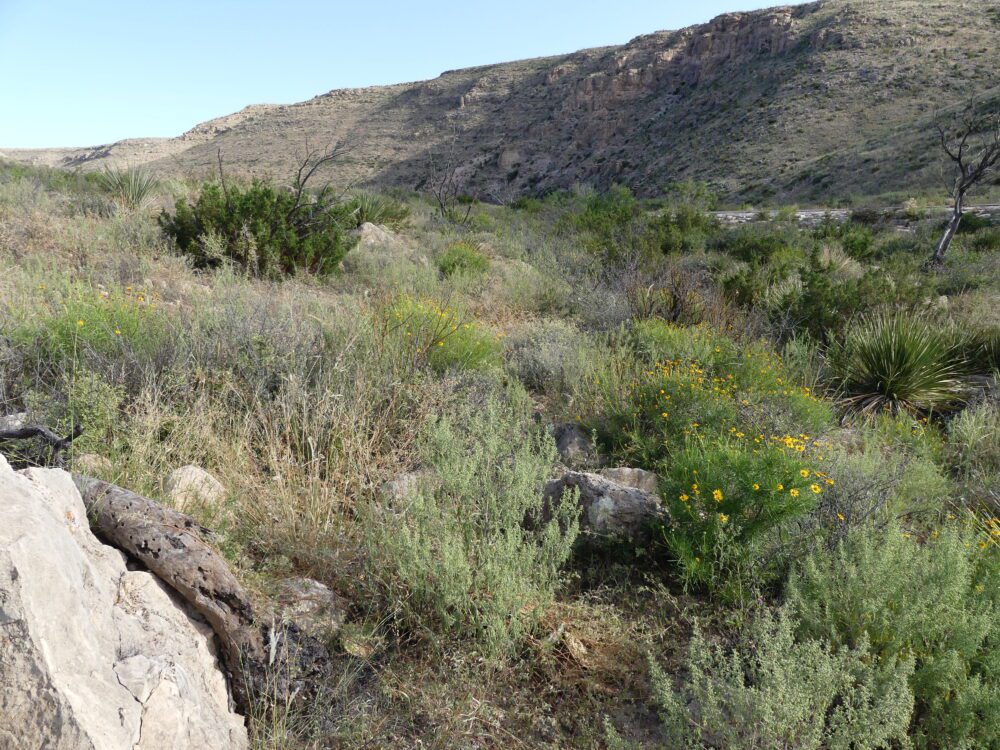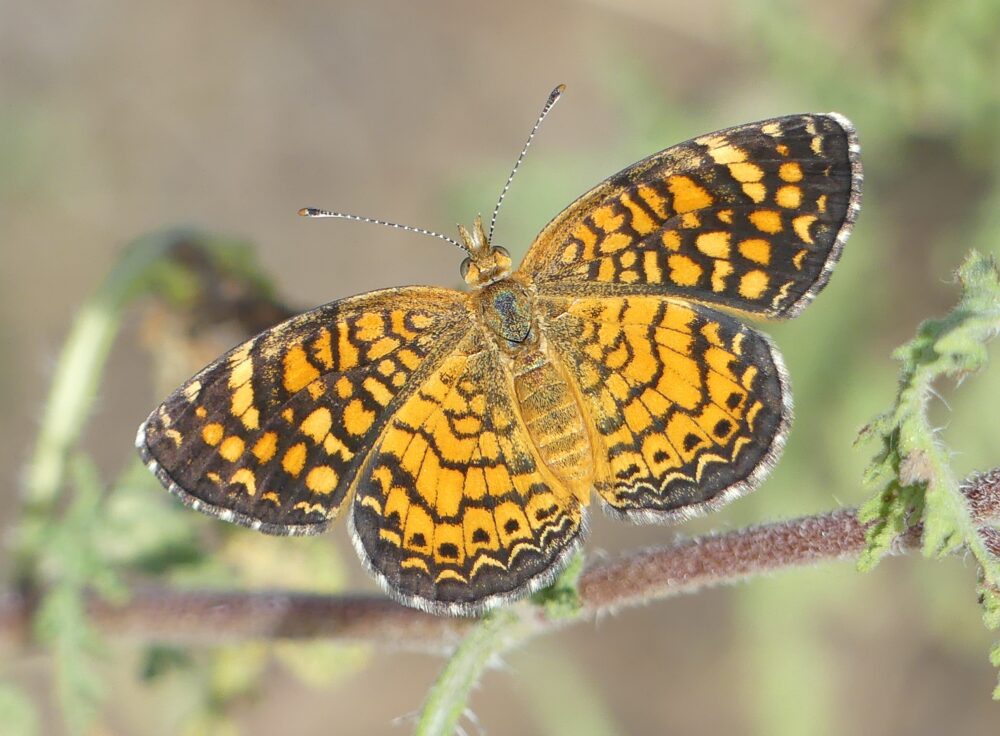 Resisting the temptation to linger long in Walnut Canyon, I proceeded to a prime objective for my trip. The chief reason I came this way, in lieu of following in Elaine's muddy footsteps around the Silver City area, was to butterfly in and around the Rattlesnake Springs Picnic Area, an outlying part of CCNP. Its spring-fed marshes and wetlands are special habitats. The site has a lot of mature cottonwoods, Goodding willows, and hackberry trees, which make it a popular site for birds (Vermillion Flycatchers nest there in summer) and thus birders. It also has a lot of thorn scrub — a habitat combo that produces a rich butterfly fauna — breeding and vagrant. Back in the 1980s, I visited the site with three other butterflyers and we recorded more than 50 species in one day, still my best one-day tally in New Mexico ever. So, yeah, I like this place. Three different crescents fly here (Graphic, Pearl, and Phaon) and sure enough, I saw all three this day. Phaon seemed to be thriving in a big way because its host, Common Lippia (Phyla nodiflora), grows all over the place. Heck, I would not be surprised to find Painted Crescent flying here someday, too.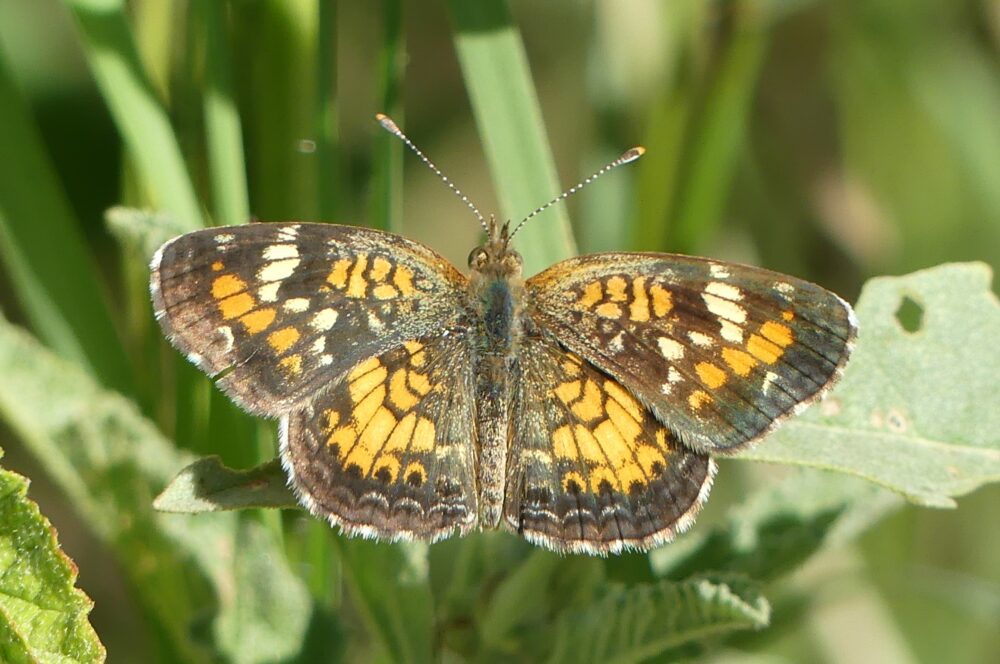 Thorn scrub habitats west of the main spring and wetland offer habitat for a variety of native scrub species, all small! I saw a few Tiny and Elada checkerspots: Dymasia dymas and Texola elada. These are Chihuahuan Desert species that I see rarely because I rarely visit their habitat. I found Dotted and Nysa Roadside-skippers, as well as Small Checkered-skipper (Pyrgus scriptura), but only one of each. As I reported last month from the Sacramentos and as Elaine noted this month from southwestern New Mexico, skippers have been scarce since the mega-drought. Apparently, this continues . . .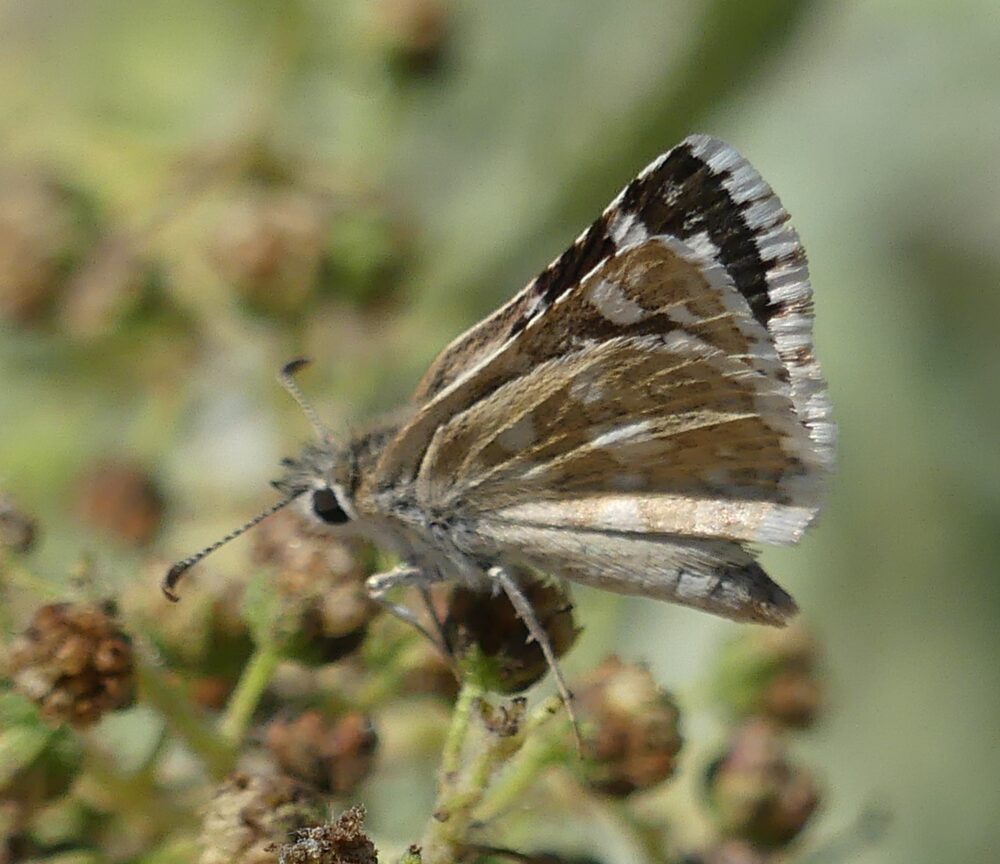 Rattlesnake Springs supports a large population of Horsetail Milkweed and, as a result, it has breeding populations of Queens and Monarchs from late March into October. On this day I saw perhaps 15 adult Monarchs that ranged from young and fresh to old and tired. I posted the photo below to JourneyNorth.org. It's probably a few weeks early for southbound migrants, but I'd expect to see migrant Monarchs roosting in the trees here by early October.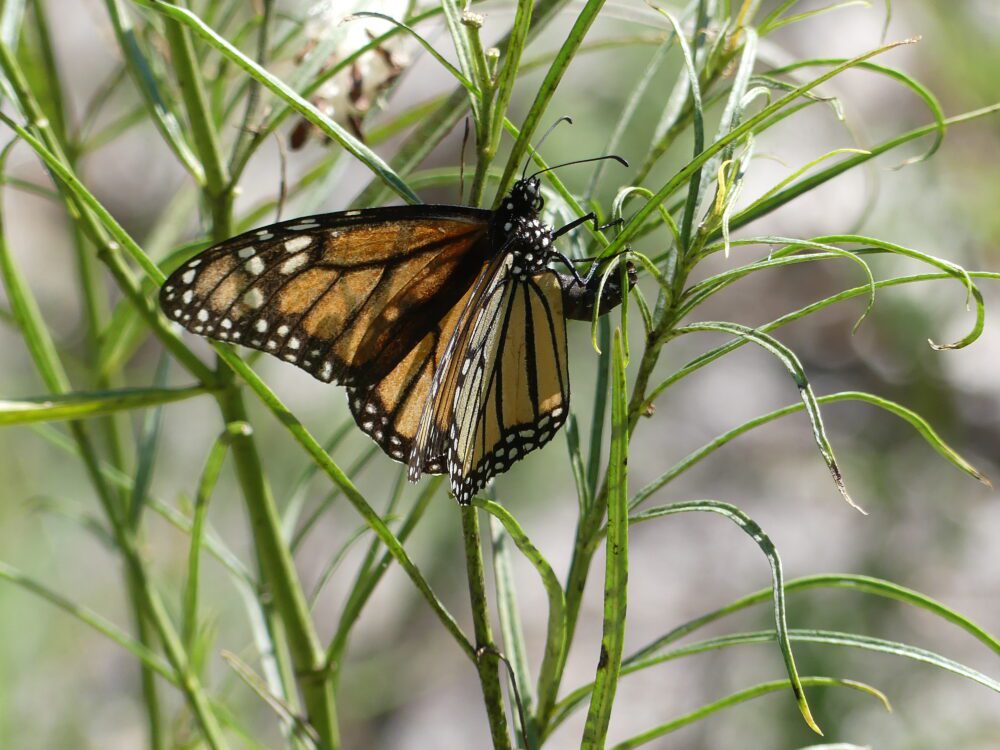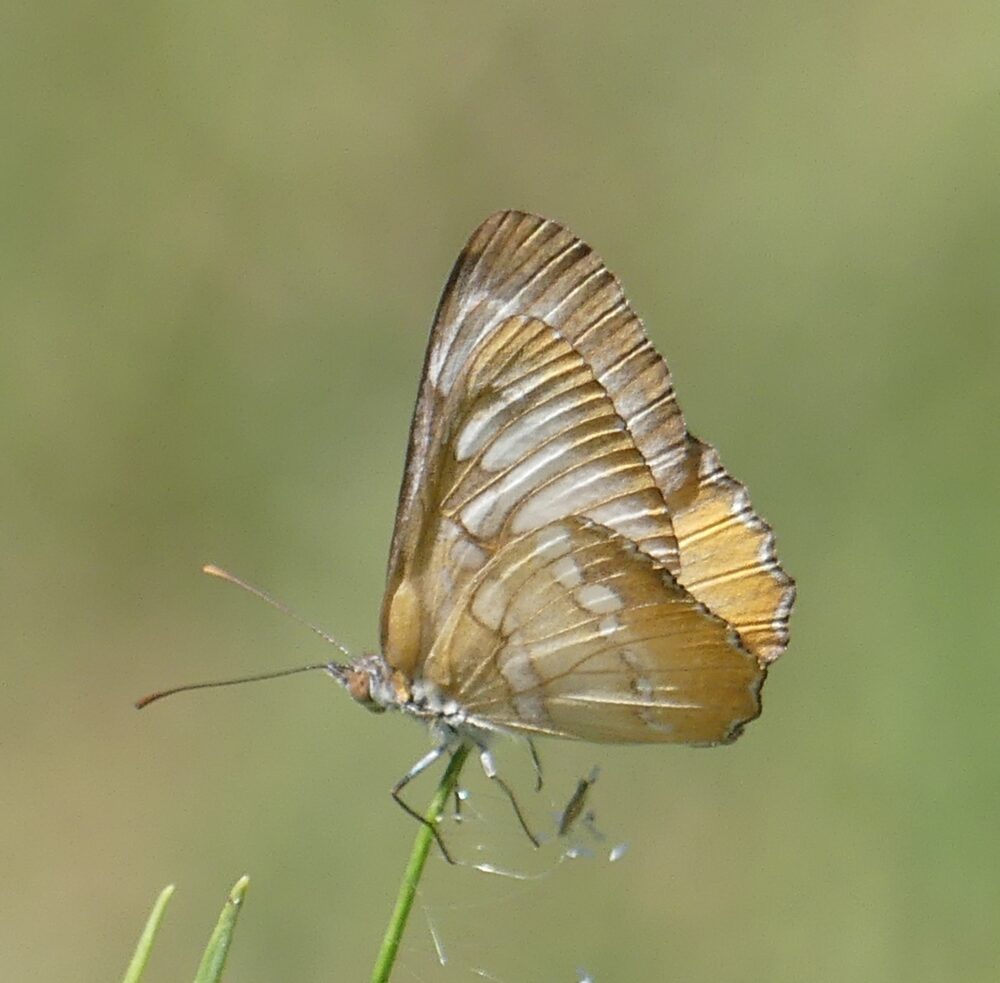 Rattlesnake Springs also is known for harboring vagrant birds and subtropical butterflies that wander into the area and find this place too good to leave. Over the years, quite a few of the unusual strays to southeast New Mexico were spotted and documented here. There was not a lot on this day, but I did find a Common Mestra patrolling one field and posing for photos.
After lunch, I drove to Slaughter Canyon, a large but ephemeral drainage that emerges from the Guadalupe Mountain front a few miles southwest of Rattlesnake Springs. Summer monsoons had been good to this area, which was very green. Rampantly lush forb/shrub vegetation clogged the canyon bottom along the north-facing, south wall of the canyon. A level, walkable trail led upstream, but perhaps you've heard, butterflies don't follow trails! Going off-trail was to risk getting tripped by a tangle of vines and swallowed by masses of photosynthetic protoplasm. Between the shrubby junipers, netleaf hackberries and sumacs, it was a jungle. Chest-high stands of cowpen daisy, head-high sunflowers, and dense, thigh-high forbs I did not even try to identify, but I suspect Croton texensis, host for Leafwings, was in the mix. It was hard to walk through without a machete, always listening for rattlesnakes, a sulphur or two rising from the undergrowth at every step. I had worried that early afternoon on a hot day might not be ideal, but that was laughably wrong.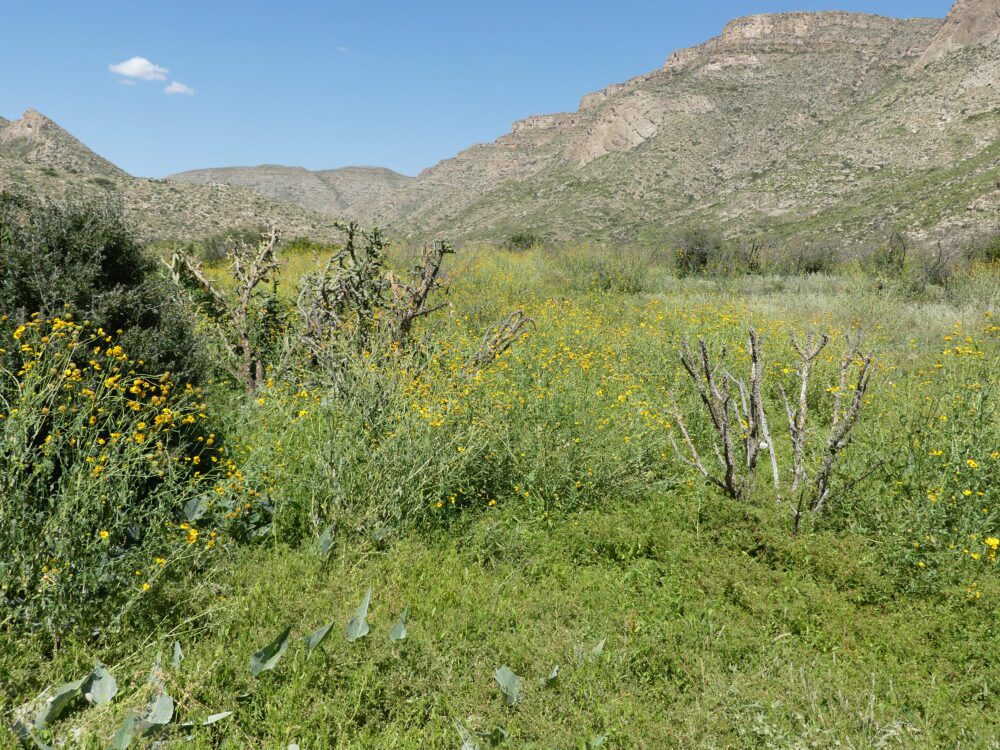 Sulphurs of various kinds were abundant; the usual suspects (Sleepy, Mexican, Dainty) were too numerous to count. There were three swallowtails: Pipevine, Black, and Western Giant. Most shocking to me was the foursome of mid-size Nymphalids, all patterned with orange and dark/black, that darted about, nectared, or postured at will on that hot afternoon. American Snouts by the hundreds. Hackberry Emperors by the score. Question Marks by the dozens, including warm and cold season forms. King of that foursome this day was Goatweed Leafwing, of which I saw perhaps 100. In each of my past experiences with leafwings, there was one, maybe two individuals. They were a bit skittish, usually retreating to a high tree perch to watch me from a safe distance. Things were quite different this day. It was like a butterfly lounge, or maybe a pre-game tailgate party. As the photo below shows, the Leafwings were rather worn, not in prime condition by any means. Below, a male (right) is prodding a female (left) who seems not the least bit interested. I was so overwhelmed and distracted by the scene that my photographic takeaways were modest, truly dwarfed by the memory of being in the middle of the epic experience.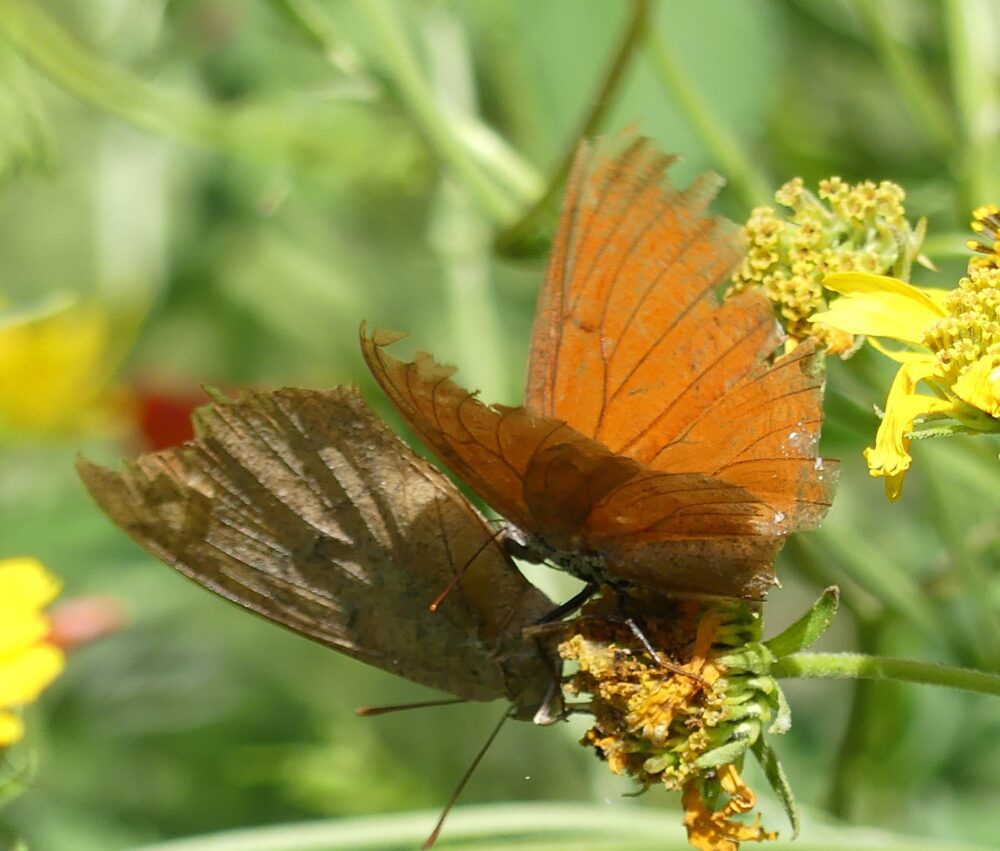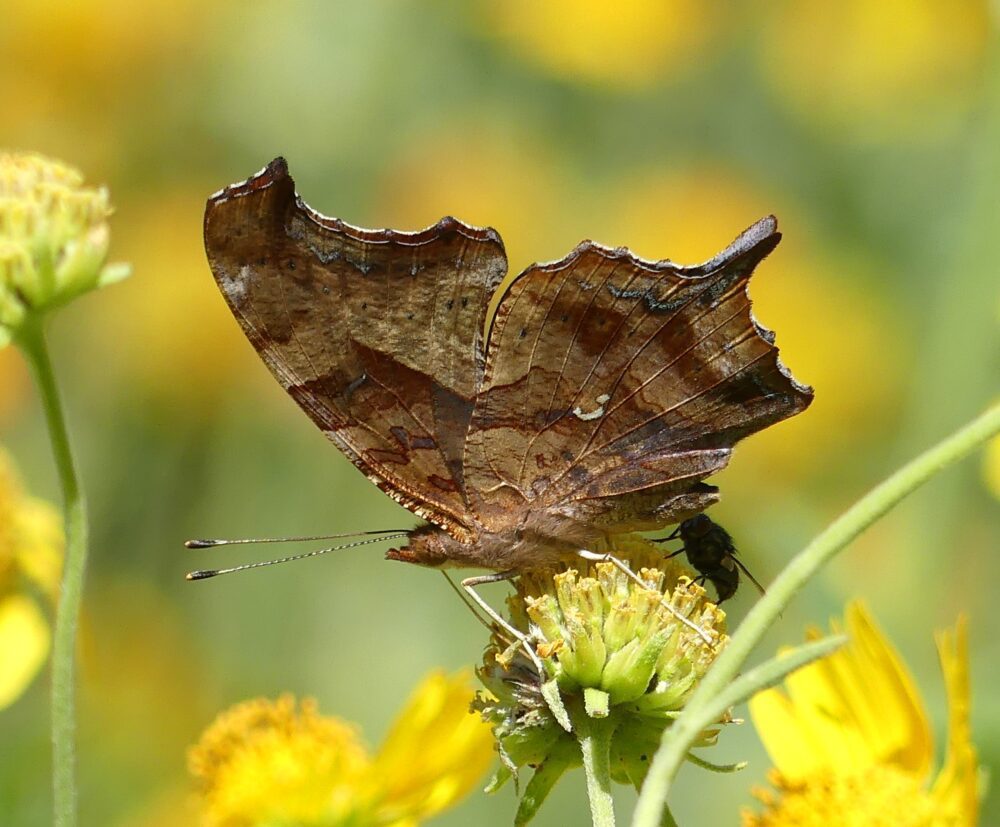 By day's end, my pants were covered with sticky leaves of velcro plant (Cevallia sp.), but I had recorded 41 butterfly species on that exhausting day — by far my best single day in several years. Exhausted and elated, I drove south around Guadalupe Mountains National Park then west to El Paso and it was lush and green almost the entire way. In Las Cruces, lodging and a shower were very welcome.
---
Now at the second major destination of my trip, I joined excellent local naturalists Rob Wu and Marta Reece for a Friday of butterflying in the Organ Mountains, which were producing so much excitement from local butterflyers. Our morning centered around Soledad and Bar canyons, where it was much the same jungle as I had seen yesterday in the Guadalupe Mountains and for which my colleagues had given me a fair warning: Chihuahuan desert and grassland plants on steroids. Walking through the thigh-high dryland grasses, the butterflies were routine sulphurs and blues, though in good numbers. I might also mention the grasshoppers . . . or lubbers, as they call these wingless adults, for which only 3 or 4 would make a decent sandwich.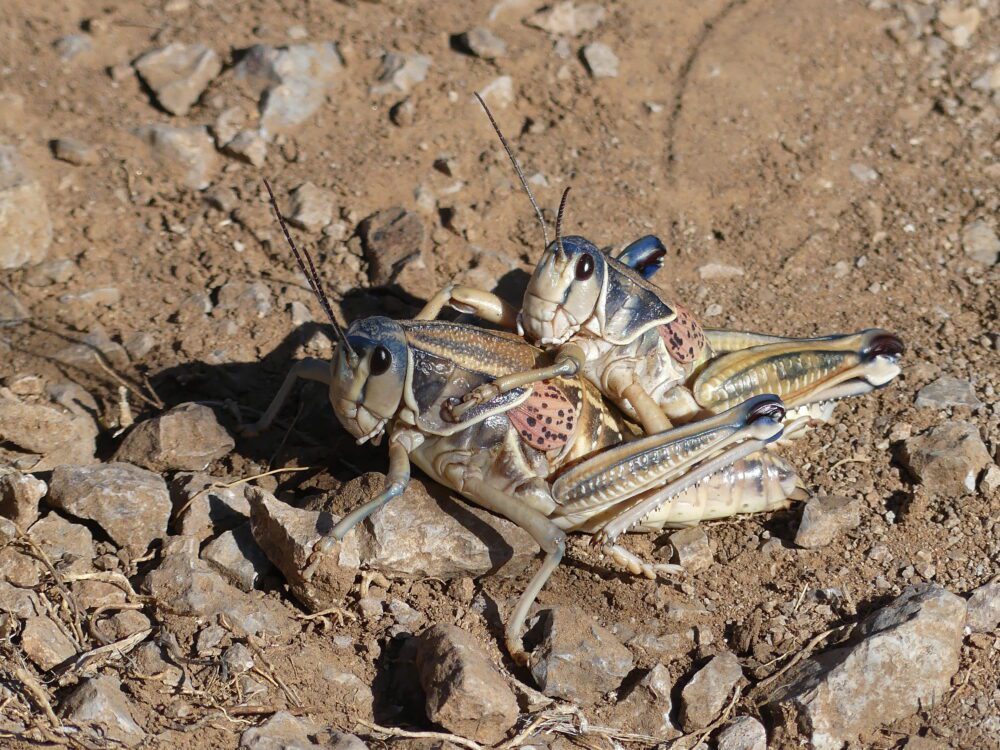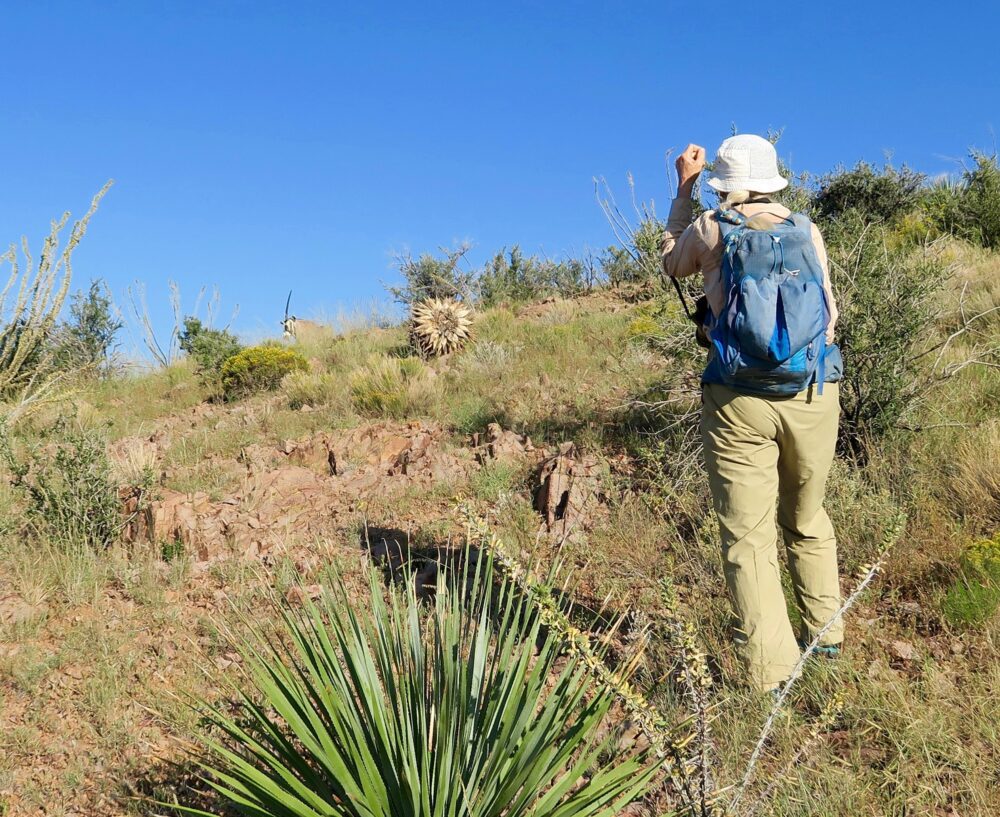 The real butterfly excitement came when we walked into drainages or canyons where plant diversity increased, along with damp soil and even flowing water. Vines of various red and blue/purple morning glories sprawled across the shrub tops. Most butterflies will not go to red flowers, which are chiefly designed for hummingbird partnerships. Sulphurs and Swallowtails are exceptions, however, and the blizzard of sulphurs found plenty to imbibe . . .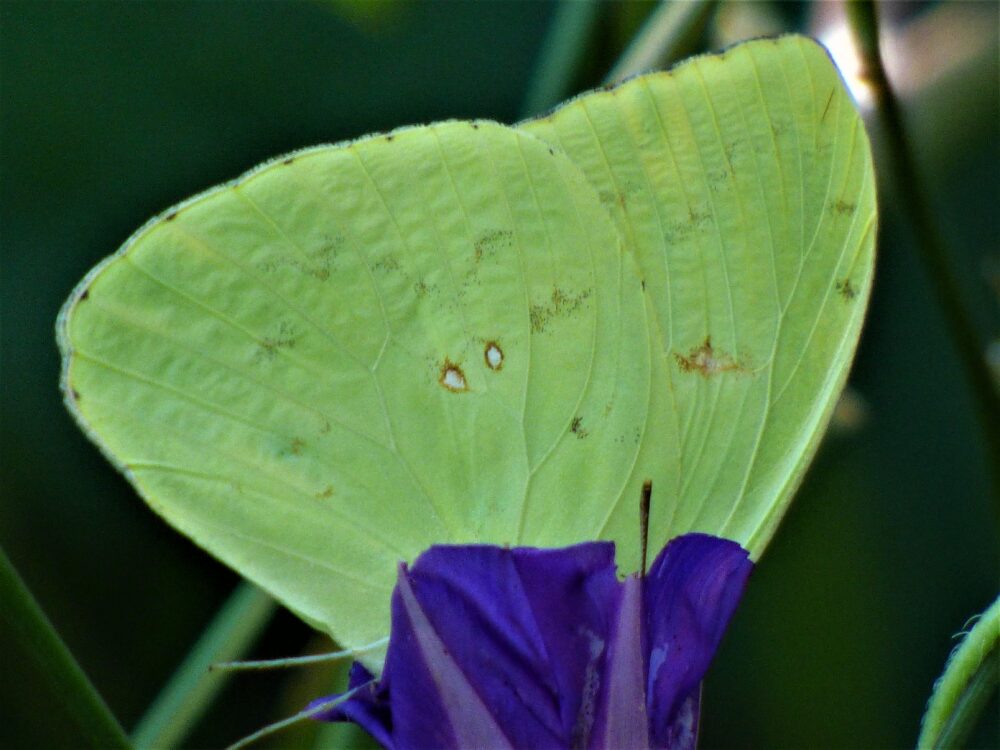 Water is life, sure, but for desert butterflies, it is more than that. Water is a solvent that contains lots of minerals, particularly electrolytes that are important for butterfly health and for males intending to offer to females a high-value spermatophore. On hot summer afternoons, damp soils along desert watercourses contain lots of electrolytes and attract local butterflies by the scores, hundreds even thousands.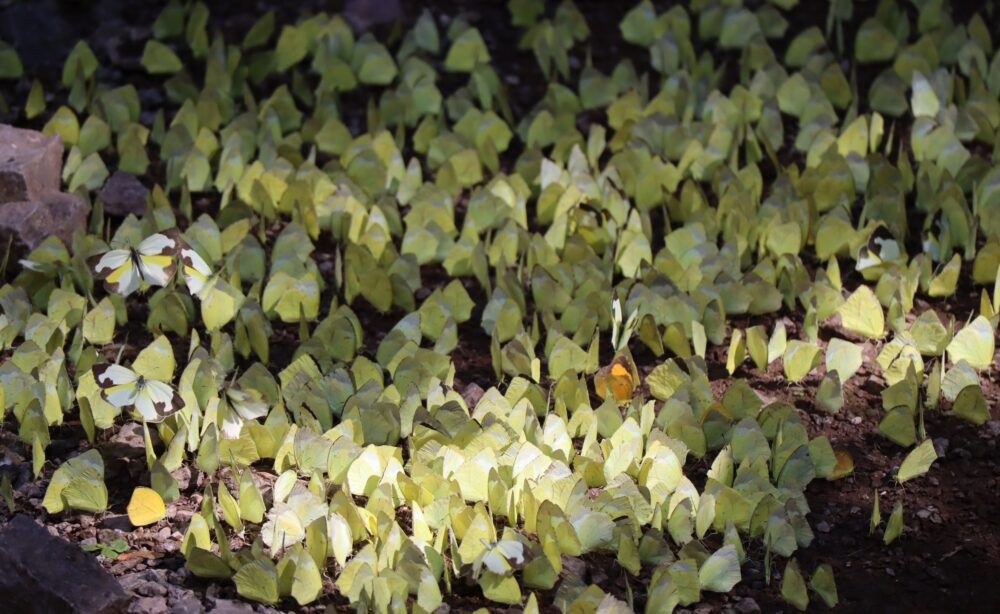 In the afternoon we moved over to Fillmore Canyon below the LaCueva parking lot, where we found one of several puddle clubs assembled along the creek. The size and number of such aggregations speak to the tidal wave of desert and subtropical sulphurs that were making southern New Mexico their home this summer. A careful look below reveals Sleepy Oranges, Mexican Yellows, Tailed Oranges, Southern Dogfaces, and Cloudless Sulphurs. Meanwhile, two Large Orange Sulphurs (Phoebis agarithe) flew lazily in the tree canopy overhead, but never coming within camera range. Back in late August, Rob Wu photographed the rarely seen Boisduval's Yellow (Abaeis boisduvaliana) on the east side of the Organ Mountains.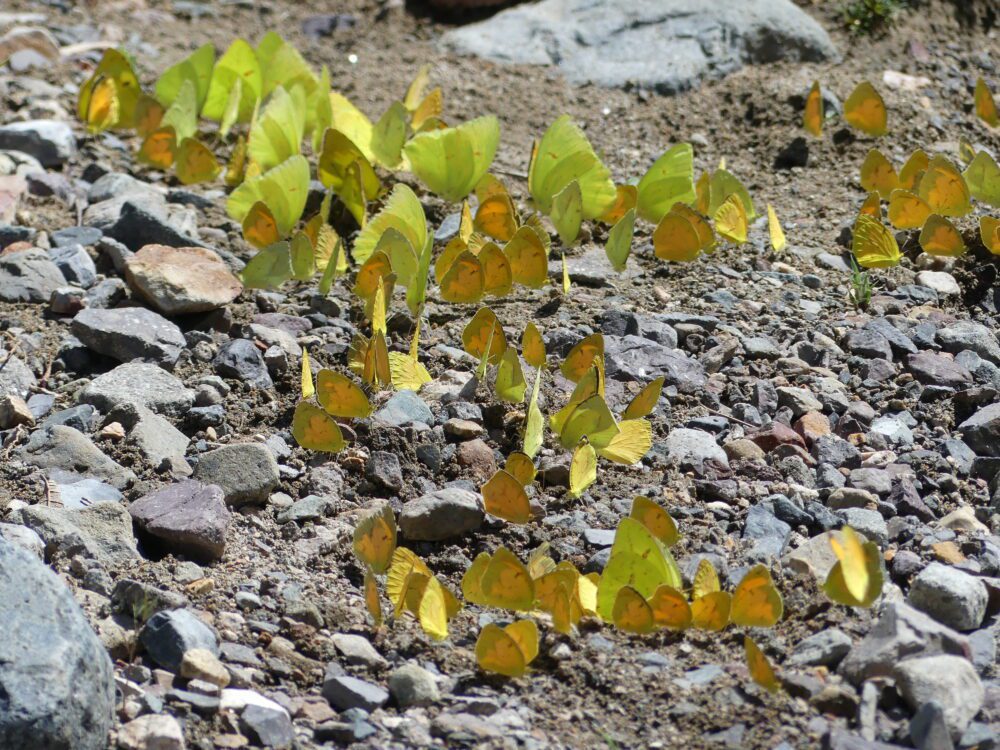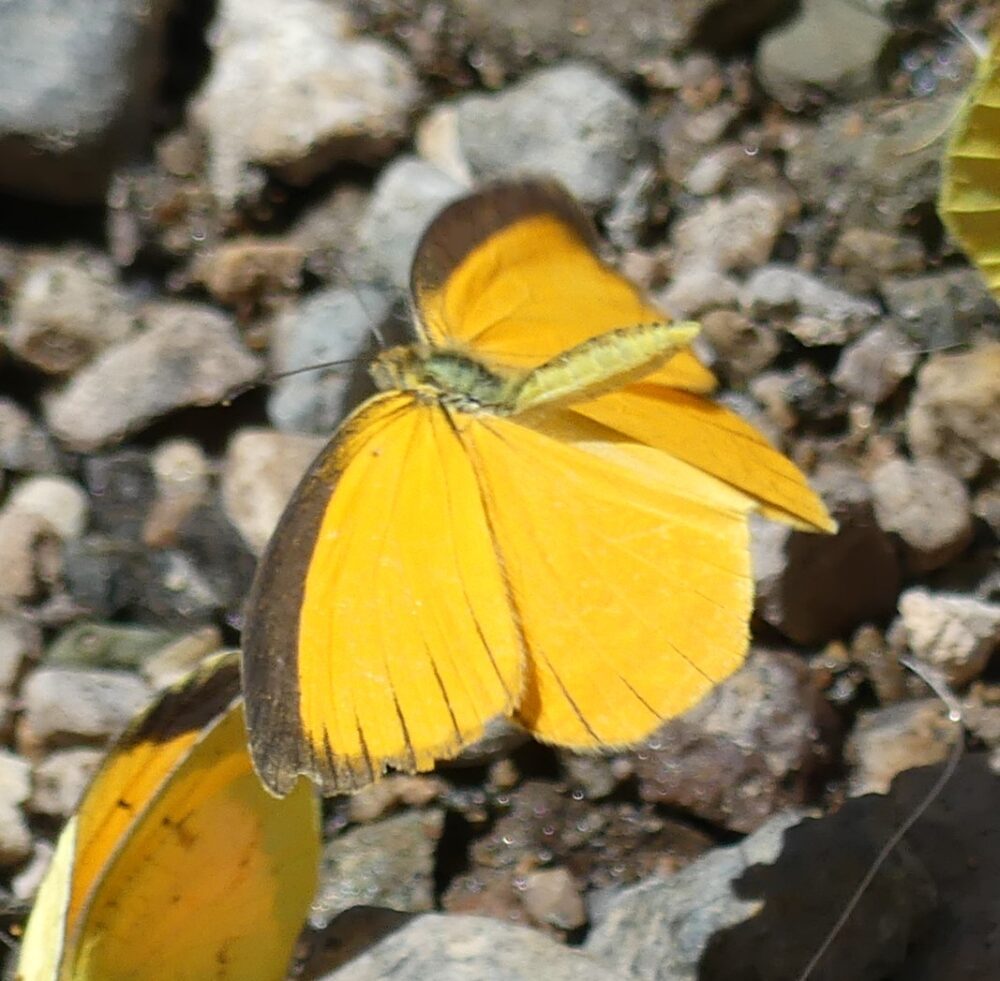 If your camera has autofocus, "burst mode" and a large enough memory card, that's a decent way to get some dorsal shots of sulphurs, which normally are too shy to reveal their uppers. Just aim the camera and burst away, while sulphurs come and go as they please. I burst at about 2 shots/second, so after a minute I have more than a hundred photos to sort through. Most get discarded, but a few capture that magic moment of a sulphur departing or landing, with wings captured in mid-flap. See my Tailed Orange (very cropped) to the right and the Mexican Yellows in mid-flap in Jim's photo above.
It was another 40-species day for me, with help from Rob and Marta, of course. Lodging in Las Cruces, I met with a half-dozen Butterflying Las Crucians (kind of like the Flying Wallendas?) for a happy hour beer on Friday night. What fun it was to see some old friends and meet some new friends, who I knew only from emails and their BAMONA submittals. What a great group!! Field conditions looked so good that day that I see every reason for their butterfly extravaganza to continue for a few more weeks.
---
The next day, Saturday, Marta, Rob, and I ventured west to my third target area of the trip: Luna County. If the desert/jungle conditions continued to the west, as I hoped, we would have another butterfly-filled day in some different habitats in an area that gets much less attention from butterflyers. However, after driving a few miles west on I-10, the desert reverted to form. What had been green and lush behind us was dry and crunchy ahead of us, all the way to the Florida Mountains. Clearly, some places in New Mexico remained dry and perhaps drought-ridden.
Our Luna County destination, south of Deming, was Spring Canyon, which drains the steep, north end of the Florida Mountains and is under State management as part of Rockhound State Park. I have butterflied there many times over the years and find it to be consistently good, though never great in terms of numbers and diversity of butterflies. For Luna County, which is primarily creosote bush desert, the pinon/juniper/oak of the Floridas is a different habitat with different butterflies. Plus, Spring Canyon has a seep/spring which has been a go-to place for butterflies and butterflyers. Neither Marta nor Rob had ever been there for butterfly purposes, so I hoped we would see some good species.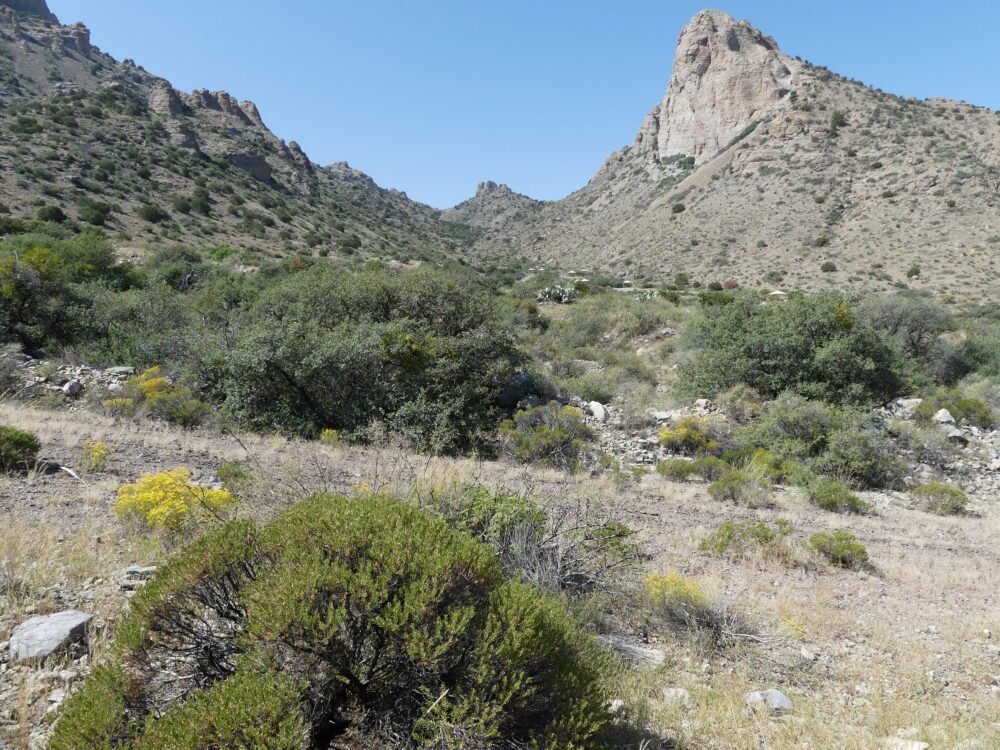 This day, however, the "wet" spot was almost completely dry. Moist soil could be found under one or two flat-lying rocks, but it was mostly out of reach, in the shade, though swarming with bees and wasps. We had to work harder here to see butterflies than we did in the Organs a day earlier, but we still had a productive morning. The full range of sulphurs showed up and we saw evidence that they were full participants in local food webs: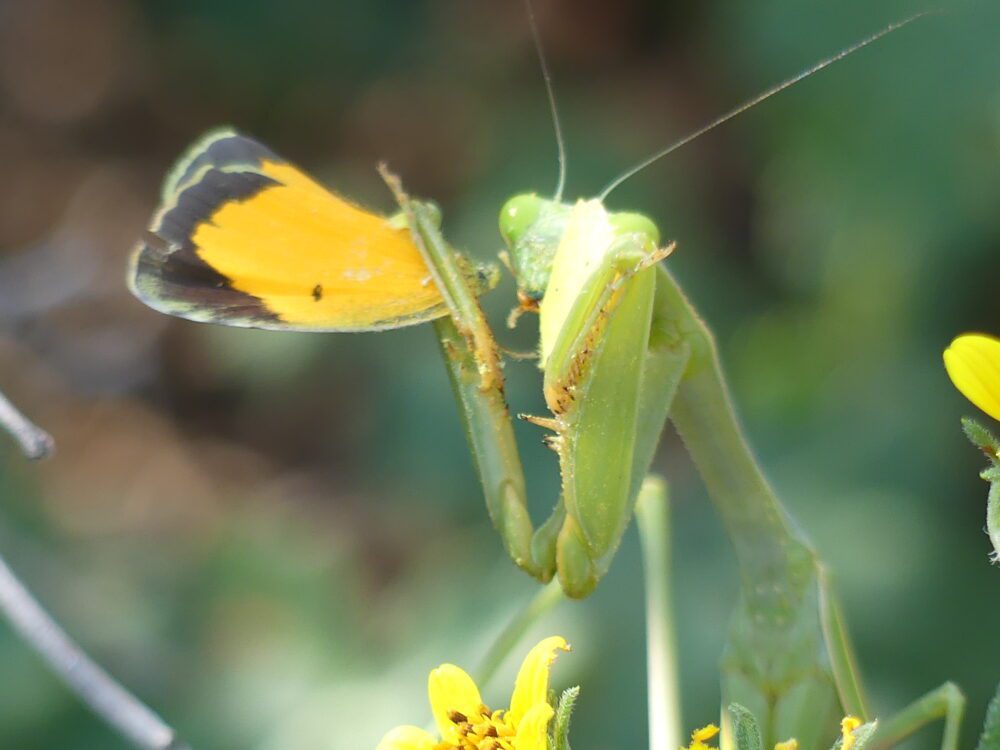 Arizona Sisters put on a decent show, but the best performance was by the duo of local hackberry-feeding butterflies. Hackberry Emperors (Asterocama celtis) and Empress Leilias (Asterocamp leilia) both were in flight, though in modest numbers. I could not recall ever seeing those two species together; they use different hackberry species as hosts and Leilia in the past had always been about 1,000 feet lower on the mountain's hotter, dryer colluvial fans where its host, Desert Hackberry (Celtis pallida) grows.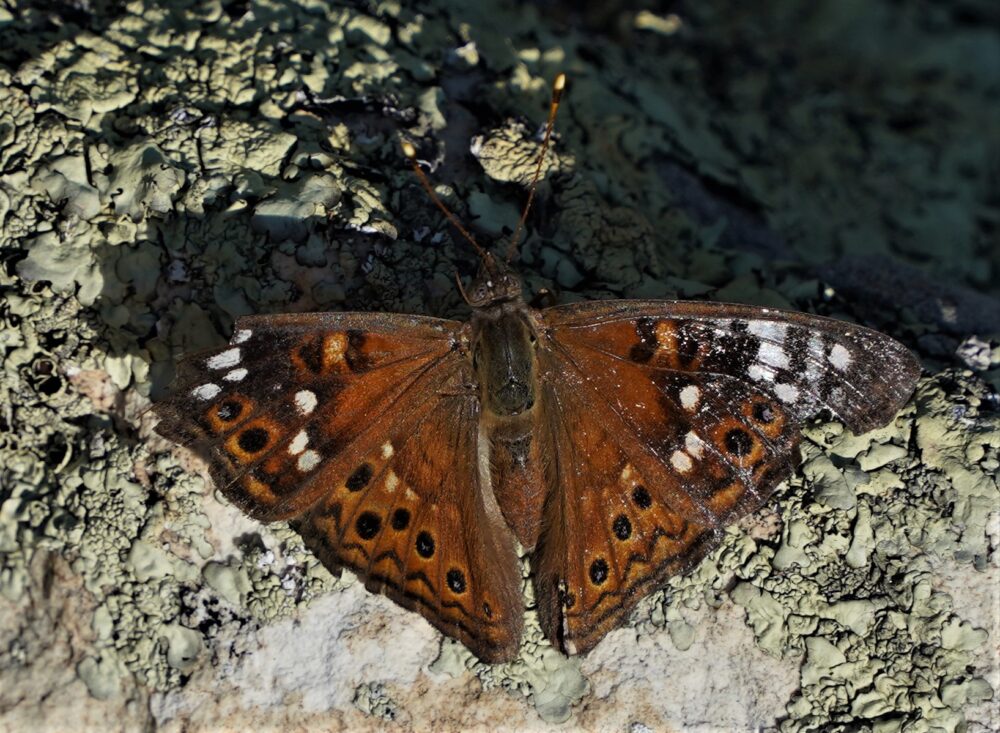 Great Purple Hairstreaks were out in good numbers, which is a good thing for butterflyers. However, given that its host is a mistletoe, which parasitizes junipers and hardwoods, the hairstreak's abundance may be a bad omen for the health of the trees themselves. We also saw at least one each of Tiny and Perse (or Elada?) Checkerspot. Both species are tiny and increasingly difficult for my aging eyes to see, but they don't fly very fast and if I spot something that small, orange and black, I just keep after it until it settles down. Then I take the photos if I can, and the photos can later be zoomed in on one's computer screen. All three of us got photos of the one Perse we saw, but unfortunately, all shots came out imperfectly focused. I was in a hurry to move on at that point and my lack of patience was costly.
At 11:30 AM, we loaded up and drove to River Ranch, which was recently (~2014) acquired by the New Mexico Department of Game and Fish and is managed as a wildlife refuge. It is open to members of the public who purchase a GAIN permit, probably also to those with hunting or fishing licenses. The magnet at River Ranch is the Mimbres River, which maintains a decent perennial flow there en route from the west slope of the Black Range south to Deming and to the Chihuahuan Desert beyond. The Mimbres only flows to Deming after major storms and it was dry there on this day, but it is almost always flowing at River Ranch. We drove in, parked, and walked our packs and lunches down to a river flowing under a bosque canopy that included cottonwoods, Goodding willows, and velvet ashes. It was a very different habitat from anything Rob had ever seen, and from anything I had seen on this trip.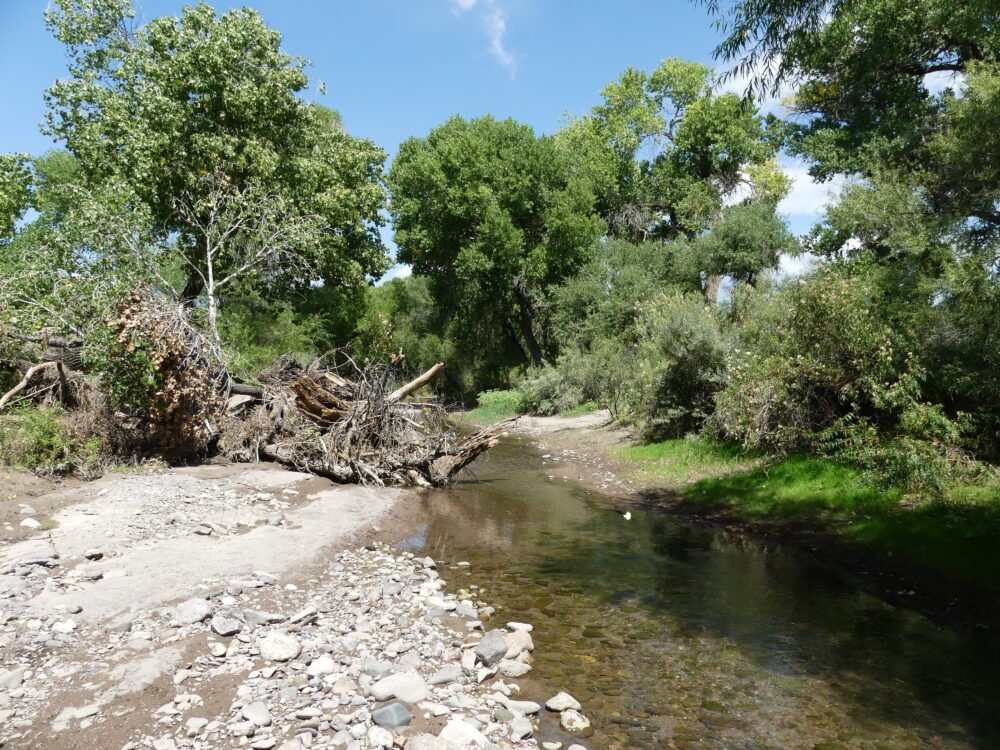 It was very hot and the usual sulphur suspects were puddled up at streamside muds, though not as numerous as in the Organs. Walking away from the river into the Giant Sacaton grassland was not very remunerative in terms of butterflies, so we stuck to the river banks where seepwillow (Baccharis sp.) was in good bloom and attracting a decent variety of things, most of which were seeking shade along the interior stems: Hackberry Emperor, Queen, an occasional Monarch, Orange Skipperling, Gray Hairstreak.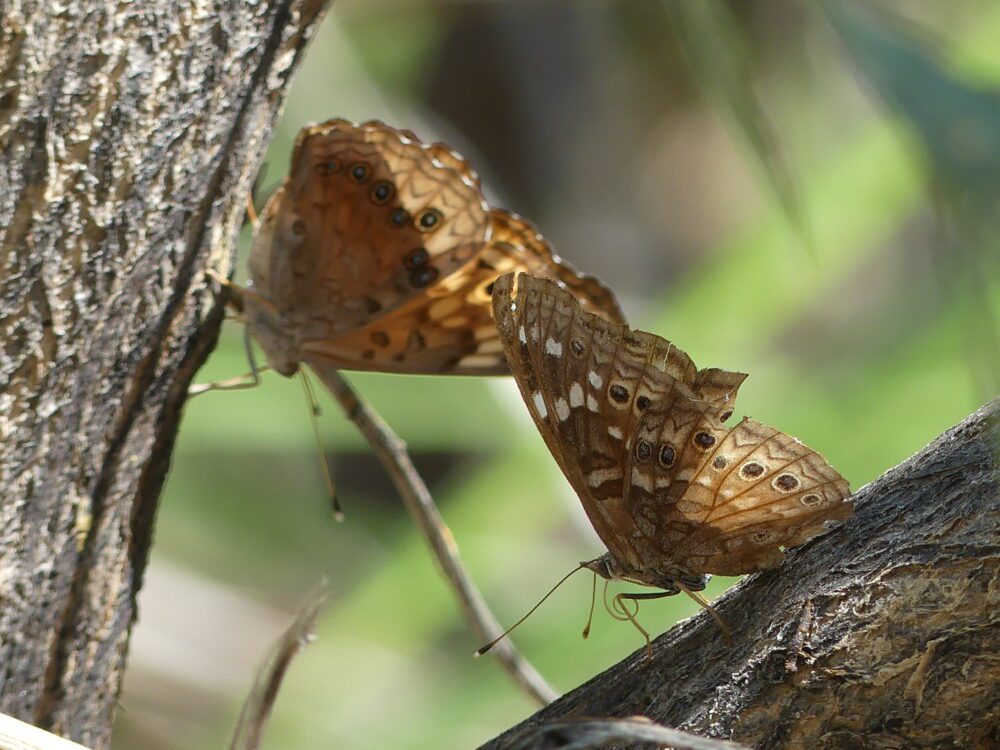 I hoped to see the Desert Viceroy, a willow-dependent mimic of the Queen, just as normal Viceroys mimic Monarchs. There were only a few, most idling in the shady canopy of trees, but low enough for photos (below). This full-scale riparian habitat is unique for Luna County and, as I had hoped, it produced two new records for the county: Tailed Orange and Desert Viceroy.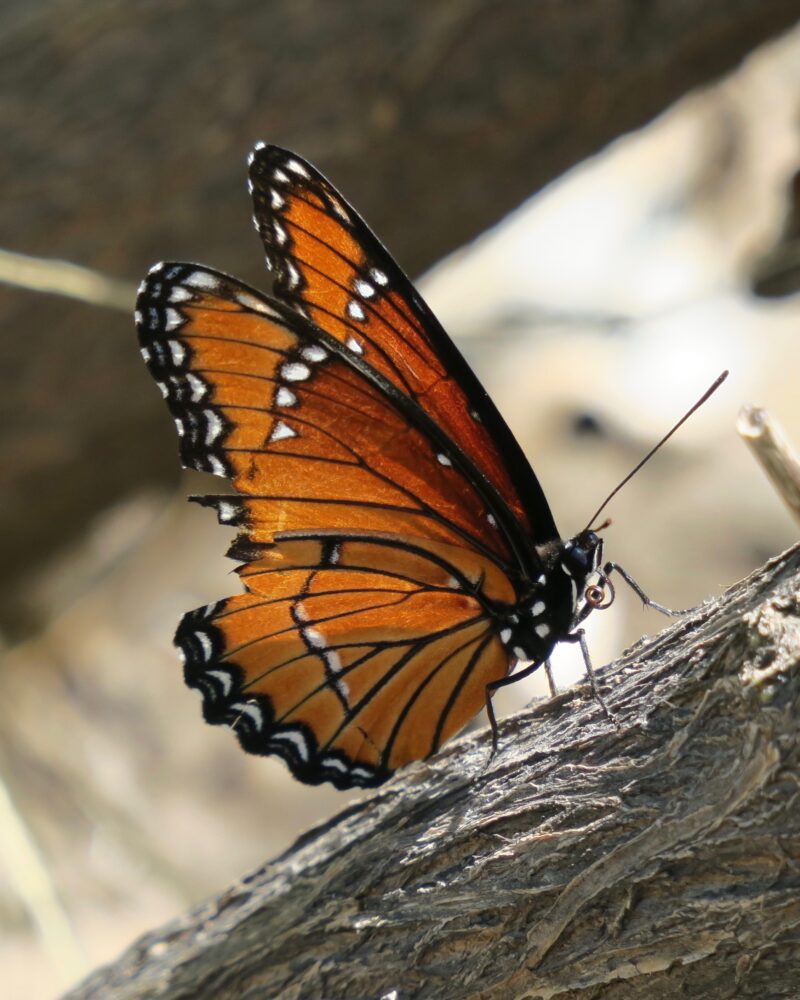 That day's list of 33 species could have been considered a disappointment compared to either of my two previous days, but that just goes to show what a difference a productive monsoon can make. My companions insisted there were interesting birds at River Ranch, too. When we were buzzed by a Zone-tailed Hawk (a lifer for me), I was convinced.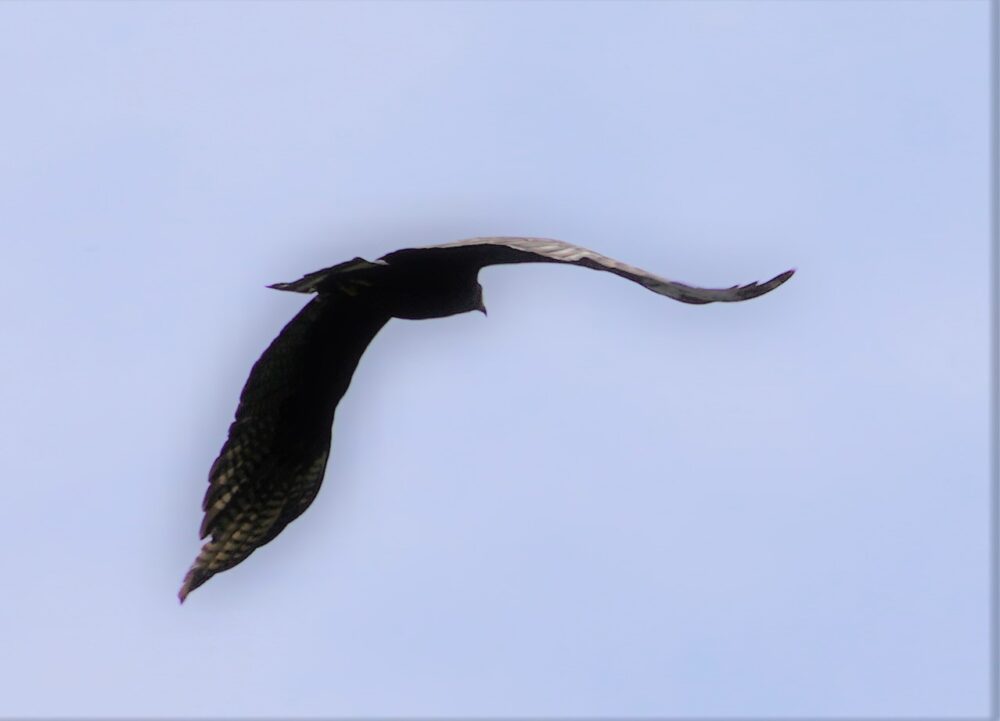 For the trip as a whole, I had three wonderful field days in three ecologically diverse and interesting counties in southern New Mexico. In all, I and my colleagues tallied 56 species, for which record-keeping and photo management will keep me occupied for weeks, if not months. Heck, thanks to photos from Gordon Berman and Jim VonLoh, I've already jazzed up "Butterflies of New Mexico" species accounts for every species in the Leafwing subfamily of the Brushfoots. I realize that's only two species, but they are leafwings, after all! I met some persistent and accomplished butterflyers and experienced Chihuahuan Desert ecosystems during their fullest vegetative expression, and did pretty good with the butterflies, too. All in all, it was a very eventful and rewarding trip! My thanks to those Butterflying Las Crucians who helped make my travels so memorable.
Don't look now, but here comes October . . . Happy Butterflying wherever you are!