NAME OF TRAIL: State Route 4 Trail
LANDOWNER: Los Alamos County
TRAIL CHARACTERISTICS AND ACCESSIBILITY: The general trail is very accessible, with the exception of the section from Sherwood Blvd to Canyon Road. Behind the White Rock library, there is a substantial slope of over 15% and there is questionable accessibility in this section. The repair of the cracks in the paved area improved the trail for ADA accessibility. The sidewalk and the paved area were very accessible to my Rollator Walker but I don't know about manually powered wheelchairs. It would appear to be accessible to various scooter-type wheelchairs.
LOCATION: The trail follows the State Hwy 4 in White Rock from Rover Boulevard to Monte Rey Drive South. The trail from Rover Boulevard to Sherwood Boulevard is a sidewalk surface. From Sherwood Boulevard to Monte Rey Drive South, it is a paved surface, which was recently repaired. Further south from that point it becomes an unpaved trail.
PARKING: There is parking at various places along the trail from Rover Blvd to Canyon Road. Try the parking lot at the White Rock Community Garden, the lot at the Baptist Church or the lot at the La Vista Church.
***
DATES OF ASSESSMENT: June 16, 2021, August 8, 2021, and August 11, 2021
TIME OF ASSESSMENT: 1:30-3:30 PM (August 8); 2:30-3:00 (August 11)
WEATHER CONDITIONS: Sunny.
EVALUATORS: Terry Foxx and Charles "Jim" Foxx
MOBILITY DEVICE USED (e.g. motorized or self-propelled wheelchair, rollator walker): Drive Medical RTL10266 Nitro Euro Style Rollator Walker, Standard Height, 10 inch wheels, 23 inches wide at the base.
OTHER EQUIPMENT: Tape Measure App (by Level Labs LLC), My Altitude App (by Dayana Networks, LTD), Steps-Activity Tracker (Pedometer and Steps, Year of Code LLC).
TRAIL SIGNAGE: None.
OVERALL TRAIL LENGTH: Approximately 2 miles.
HOW MUCH OF THE TRAIL WAS EVALUATED?: On August 8th, we walked from the corner of Canyon Road, at the stoplight, to Pajarito Road to Monte Rey Drive South. According to the Steps App this was .81 miles, just under a mile.
ELEVATION: The lowest elevation was 6,423 ft at Sherwood Blvd and the highest was 6531 at Canyon Road. (Measured by My Altitude APP)
ELEVATION CHANGE: 108 ft.
TRAIL WIDTH: 6 to 8 ft. The paved portion is wider than the sidewalk, but for both there is sufficient passing space.
TRAIL SURFACE: Paved sidewalk and asphalt.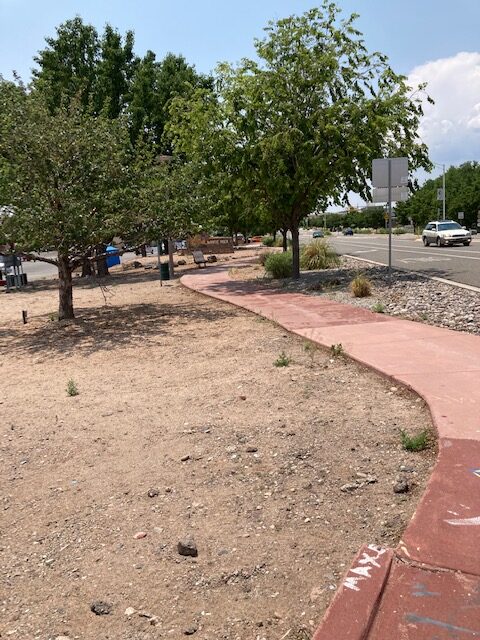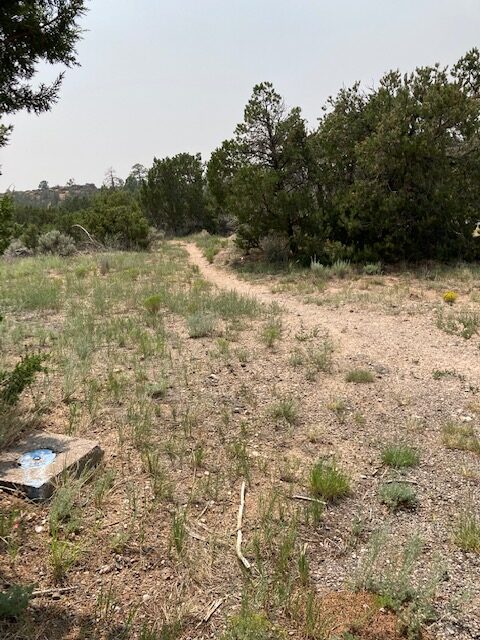 TRAIL SLOPE: The trail was slightly downhill to Monte Rey Drive, but slightly uphill returning to Canyon Road and the stoplight. At Monte Rey Drive North and South, the slope was flat, however, there was a slope at the street/trail interface of 7.7 degrees or about 13% at Karen Circle and Piedra Loop. In most cases, the trail slope was only about 1.5%, a gradual uphill or downhill depending on the direction traveled.
OBSTACLES/PROTRUDING OBJECTS: None.
ACCESSIBLE RESTROOMS: None.
GATE WIDTH: None.
STEPS: None. The interface between the trail and the street was even where paved and there was no curb to contend with.
BENCHES OR OTHER RESTING PLACES: One bench at the top of the hill behind the White Rock Library off Sherwood Blvd.
SHADE: It was very sunny and very little shade during the time we traveled the trail. A very few trees shaded the trail. The blackness of the pavement added to the heat of the day.
RAILINGS: None.
TRAFFIC LEVEL: Quiet. We saw one bicycle and one walker during one of our hikes on this trail, and no other hikers another time. However, at cooler times of the day, I have seen a number of people walking the trail.
CONNECTING TRAILS: If one continues beyond Monte Rey Drive South this trail connects with a Los Alamos National Laboratory trail off Gate 11, including the Boundary Trail and Portillo Canyon. There were two trails that took off between Monte Rey Drive North and South with a warning to use them at your own risk.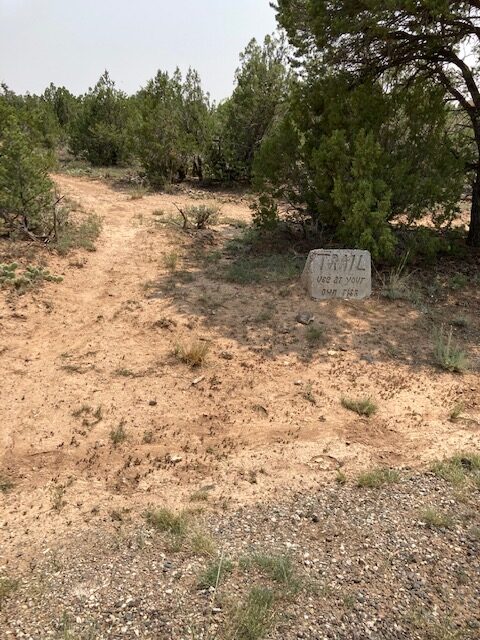 ECOSYSTEM: Pinon/Juniper woodland. Near the confluence of Pajarito Canyon and the trail, there were a few elm trees. Most of the trees encountered were either one-seed juniper (Juniperus) or Pinon pine (Pinus edulis.)
COMMENTS: The slopes going down to Piedra Loop and Karen Circle may discourage wheelchair users because the slopes are up to 13% toward the street. However, most of the trail is a gentle slope and at the interface with Monte Rey Drive North and South the trail is flat and easily accessible. We were delighted that the trail had been repaired by Los Alamos County and hope it will be placed on a regular repair schedule.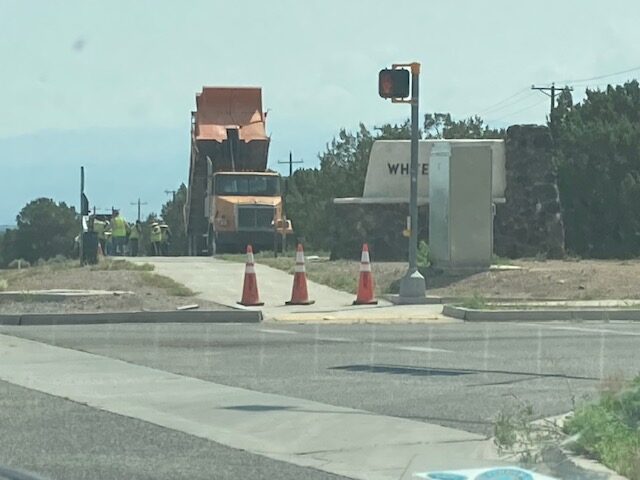 REFERENCES
The following references have been used in these observations:
Harrington, Cindy, 2017, "What Exactly is an Accessible Trail?", http://barrierfreetravels.com/2017/07/what-exactly-is-an-accessible-trail/. Accessed May 9, 2022.
"Access Considerations for Birding Locations, https://www.birdability.org/access-considerations. Accessed April 14, 2022.
Forest Service, U.S. Department of Agriculture, "Accessibility Resources", https://fs.usda.gov/managing-land/national-forests-grasslands/accessaability/resources. Accessed April 14, 2022.
Laws, John Muir, "John Muir Laws, Nature Stewardship Through Science, Education and Art", https://johnmuirlaws.com/deep-observation/. Accessed April 14, 2022.
Hoard, Dorothy, Los Alamos Outdoors, Los Alamos Historical Society, 1993.
Hoard, Dorothy, A Guide to Bandelier National Monument, Los Alamos Historical Society, 1989.
Rae, Coco, Hiking Trails in Valles Caldera National Preserve, University of New Mexico Press, 2020.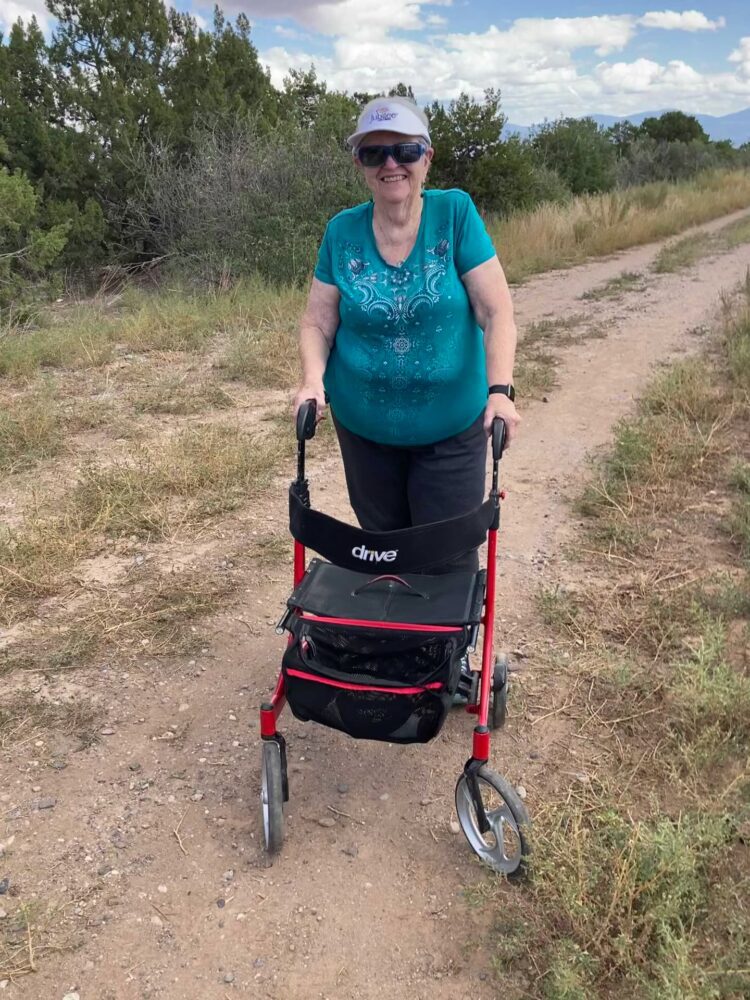 Disclaimer
The vision of the Los Alamos Nature Center is that being in nature is for everybody: adults, children, able bodied individuals or people with disabilities. This blog is presented here so an individual can make decisions for themselves as to the appropriateness of an individual trail. The items reviewed are at the suggestion of the Birdability.org.