© Steven J. Cary, May 25, 2022
Here in Santa Fe, the occasional smell of smoke and occasional eruption of smoke plumes from the east side of the Sangre de Cristos hint at the destruction that many New Mexicans are currently experiencing. This is the fire season and the smell of smoke is to be expected. But for people directly affected by wildfires, this is terrifying and devastating. That there have been no deaths among the citizens or the firefighters despite weeks of intense winds and multiple evacuations tells me that all parties, including the many non-profit organizations and volunteers, are handling the situation about as well as can be expected. Please keep them in your thoughts and find ways to contribute to their recovery.
Now some announcements:
The Sacramento Mountains checkerspot butterfly (Euphydryas anicia cloudcrofti) is a scarce species that lives only in meadows around Cloudcroft, New Mexico. On January 25, 2022, the U.S. Fish and Wildlife Service (USFWS) proposed the species as endangered. A crucial part of conserving this species is monitoring, which requires enough skilled observers to cover all habitat areas. In order to increase checkerspot survey efforts during the summer of 2022, the USFWS and Lincoln National Forest are recruiting volunteers. If you want to volunteer to survey checkerspot habitat this summer, please reach out to Steve Cary or Elizabeth Bainbridge (Elizabeth_bainbridge@fws.gov). Closure of the Lincoln National Forest is all but inevitable, but Checkerspot surveys will go on as long as you inform Elizabeth of your interest ASAP.
Sugarite Canyon State Park hosts its annual Bodacious Butterfly Festival during June 18-19, 2022. Put it on your calendar. I plan to be there Saturday, at least, and I hope to see you there!
I am pleased to introduce and welcome Sajan KC and Anisha Sapkota to the world of New Mexico butterflies. Sajan reaches out as follows: "My wife and I used to explore different places in our home country, Nepal, looking for unique species of butterflies. We wanted to photograph all species of butterflies documented from Nepal in their natural habitats. In short, we both are crazy about butterflies—a little too much. I began my journey after my graduation in bachelor of agriculture science back in 2018 while my wife was still an undergrad of the same. However, we did not have any funding and had to do everything out of our own pocket-money. We shortly realized that we needed proper qualification to get proper resources so we could pursue our passion for butterflies more thoroughly. In 2021, I got my admission at ENMU, Portales in biology department for master's degree in entomology. My wife came along with me toward the end of last year and got enrolled as well in the same department. We were not used to the winter here. It's too harsh for us. We get around 50 butterfly species even in winter back in Nepal and to find nothing here was very disappointing. Our first "lifer" was a Goatweed Leafwing (Anaea andria) that we found on a roadside in mid-January. Eventually, we found more species in April and May. While we had photographed more than 450 species of butterflies during our time in Nepal (documenting around 20 species new to Nepal), we have already photographed over 40 species here in New Mexico—almost all from Portales. Quite a few species are new records for Roosevelt County. That being said, we want to travel further and explore other counties of NM. However, the lack of a vehicle is a problem. We have bikes but they don't take us very far. We are looking for any kind of opportunity/collaboration that allows us to find as many butterflies as possible. Along with photographing butterflies, we are also actively working toward their conservation. We always attempt to bring insects to light and make people realize that they too are animals, they too are an important part of our ecosystem. I like to believe people realize this before it's too late." The journey from Nepal to Portales cannot have been easy, on many levels. I encourage you to reach out to these kindred spirits from the other side of the world: Sajan KC, Phone: 575-271-7671; Email: sajankc143@gmail.com; ResearchGate: https://www.researchgate.net/profile/Sajan-Kc-3
---
The Wind in the Willows. Jim Von Loh in Las Cruces shared the video (Image 1) below and the following commentary:
***
On a very windy day (W-to-E straight line and gusts in the 40-50mph range), viceroys used coyote willow along the Rio Grande as both a windbreak and habitat for various behaviors including perching, nutrient uptake, territory disputes, courtship and mating. The video shows some of the courtship behavior. Courtship was followed by mating, which took place about 3m high on a coyote willow stem, occurred over more than one hour (see Image 2). Midway in the behavior, a third viceroy visited the pair a few times. They continued to mate until 03:31pm, after which each perched nearby for several minutes more. The afternoon was warm, under full sun/partial shade from willow leaves, and on the lee-side of gusting wind.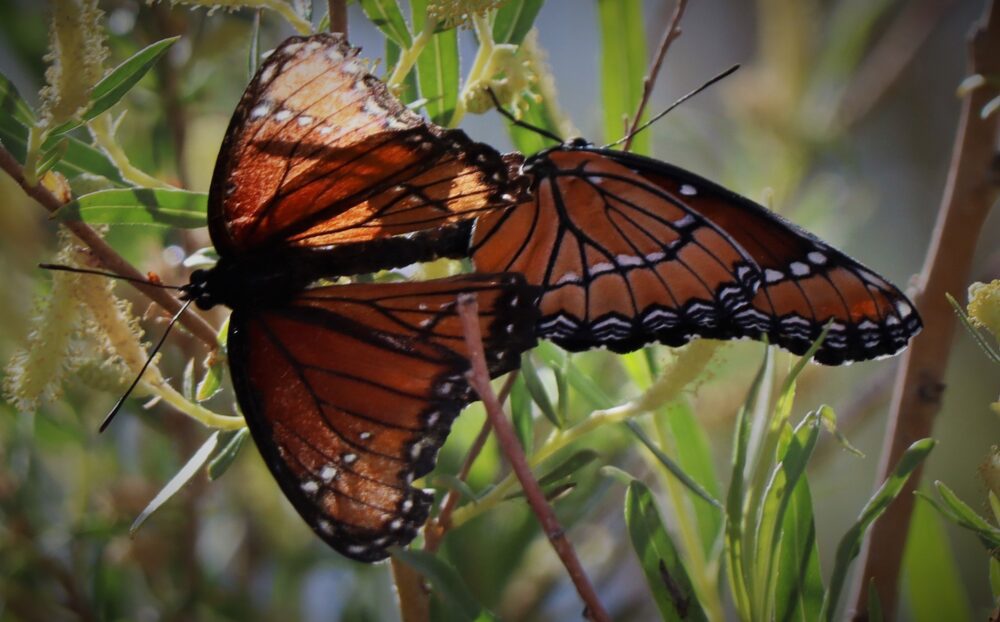 ***
As a reader, all I can do is admire the perseverance by the butterflies and by their documentarian in the face of harsh conditions. Thank you, Jim!
---
Let's be Gregarious! East of Santa Fe, the Mourning Cloak saga at Randall Davey Audubon Center continued. In my April 30th post, I noted that more than three weeks had passed since the April 5th discovery of the female Mourning Cloak placing many eggs on a twig of a small Netleaf Hackberry tree between the administration building and the store. I wondered what was taking so long for the hatch. So you can imagine my relief when I saw this on May 5th (Image 3).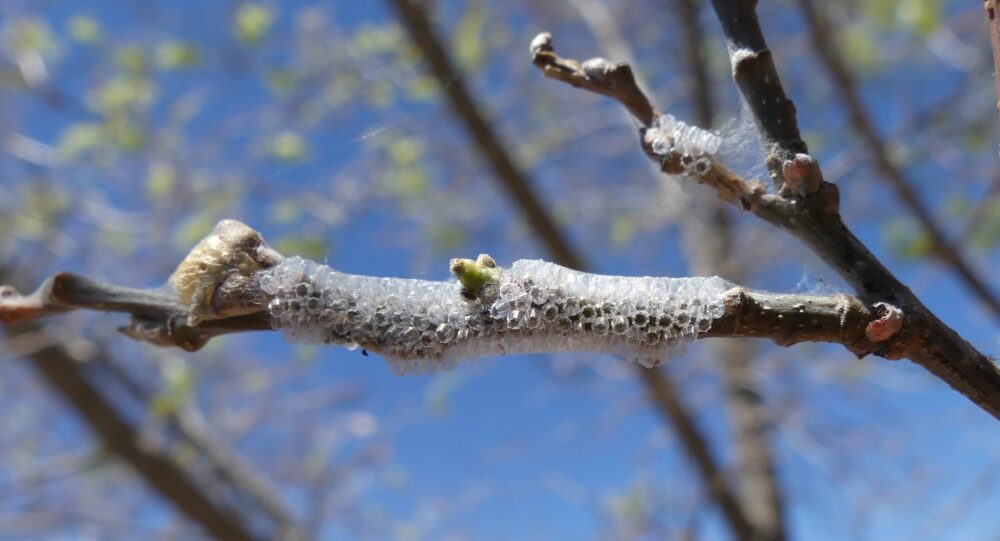 That they had finally hatched was not really a shock to me because I had been tipped off by fellow old-guy volunteer Russ Garland. In an on-site conversation with Center Manager Carl Beal, I knew the eggs had hatched on Sunday, May 1st, almost 4 weeks (!) after being placed on the hackberry twig by "Mom."
Where did they go after hatching? Russ saw them clustered under a leaf on Tuesday May 3rd and I was relieved that there are leaves for them to eat. But now that I was here on site, where was that cluster? I looked for them on the tree somewhere. Others, including Judy Beal (Carl's wife), helped me, and soon we settled on a dark mass about the size of a walnut about 8 feet up and to the east from the egg husks. I retrieved a modest folding ladder, climbed up its 3 steps and took this photo (Image 4).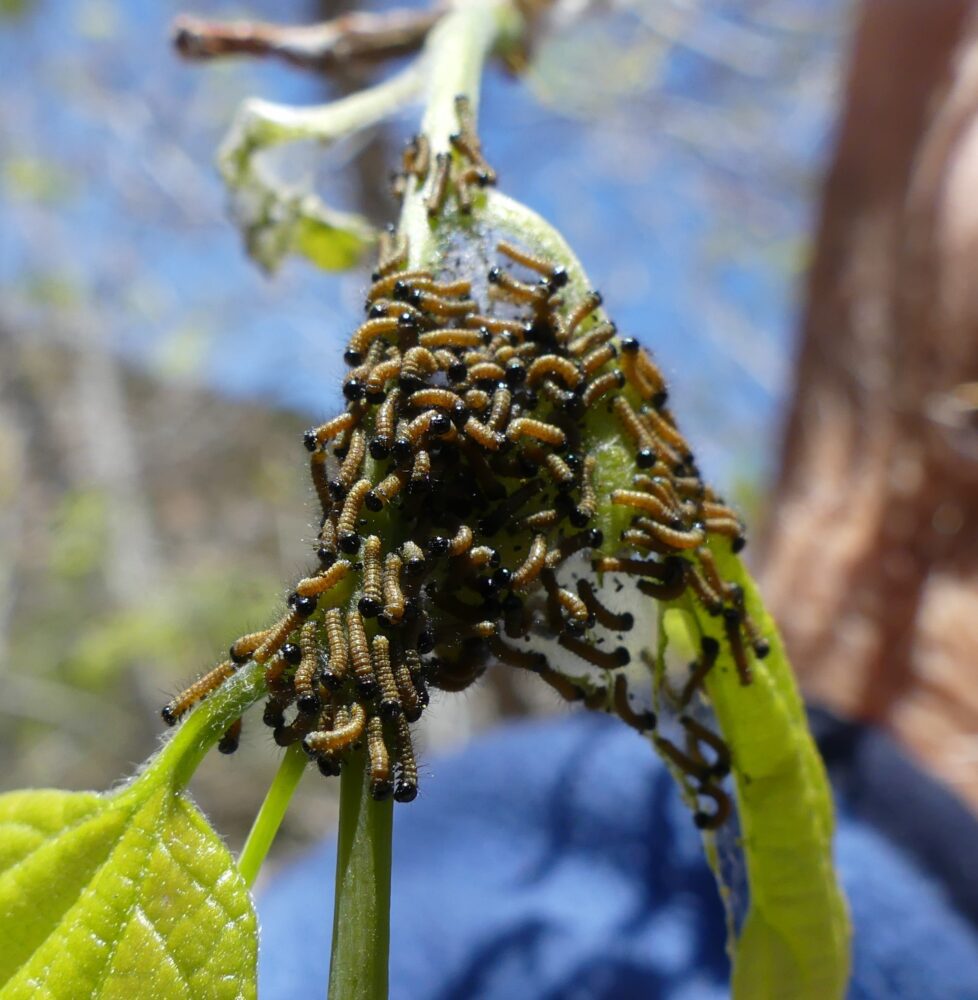 That's a lot of baby Mourning Cloaks. If you look closely you can see some silk and some frass (poop) which accumulated as they chewed on unfurling hackberry leaves. All that is well and as it should be. Mourning Cloaks (and some other True Brushfoots) have gregarious larvae. Eggs are placed in large groups. First instar caterpillars, upon hatching, tend to hang out together. There must be some advantage in numbers, but most butterfly species don't do it this way.
When I returned on May 10th, we found multiple clusters and slightly larger larvae. We also found a second egg mass, also hatched, suggesting that several hundred baby Mourning Cloaks, were on this particular hackberry tree. Image 5 shows a small cluster of feeding larvae who, momentarily distracted by a photographer, were up on their "haunches" alertly trying to ascertain what the heck was happening.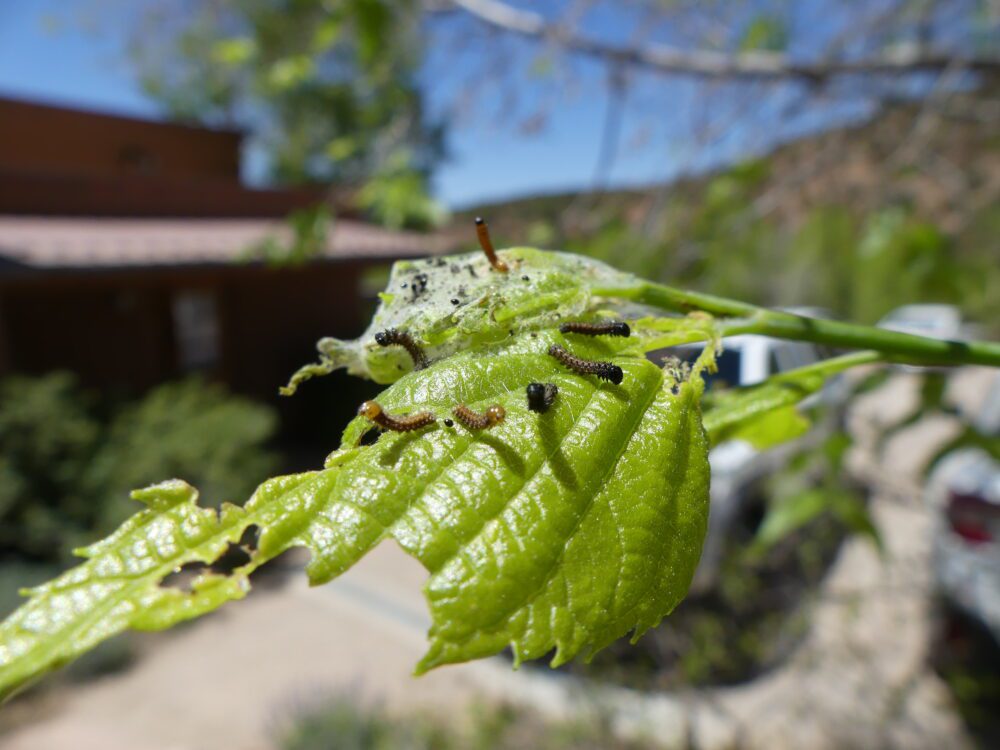 By May 17th, there were still many dozens/hundreds of larvae hanging about in multiple dark clumps around this particular tree. One branch/leaf area of about a cubic foot had once borne leaves but was now bare sticks. Cats were then in their 3rd instar, showing more black/red color and more sophisticated defensive structures (see Image 6).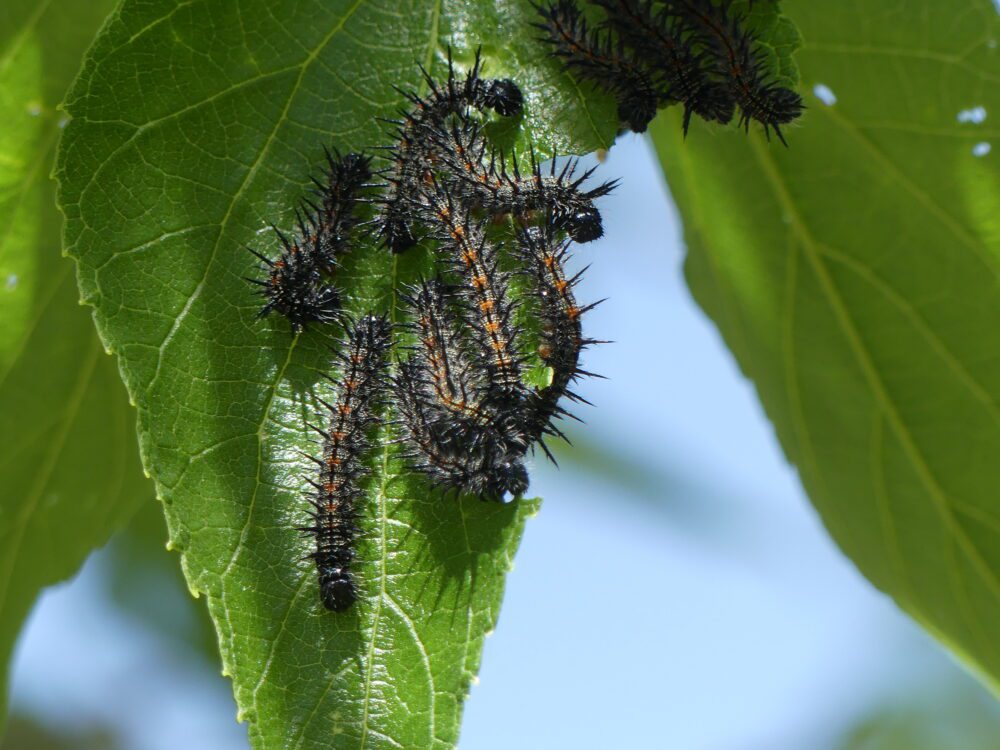 Increasing evidence of the caterpillar presence prompted all us human observers to wonder when hungry birds will notice all this Mourning Cloak protein "on the hoof." After all, Audubon is a BIRD conservation organization! Speaking of which, on May 10th, with help of Audubon staffers James and Stella, we confirmed and documented the presence that day of a pair of Lazuli Buntings – a lifer bird for me (see Image 7). Passerine birds are known to raise their young on a diet that is 90% Lepidoptera larvae. Has the abundance and variety of bird feeding stations around the Randall Davey property altered the birds' search images to the point that they are not looking in trees for caterpillars?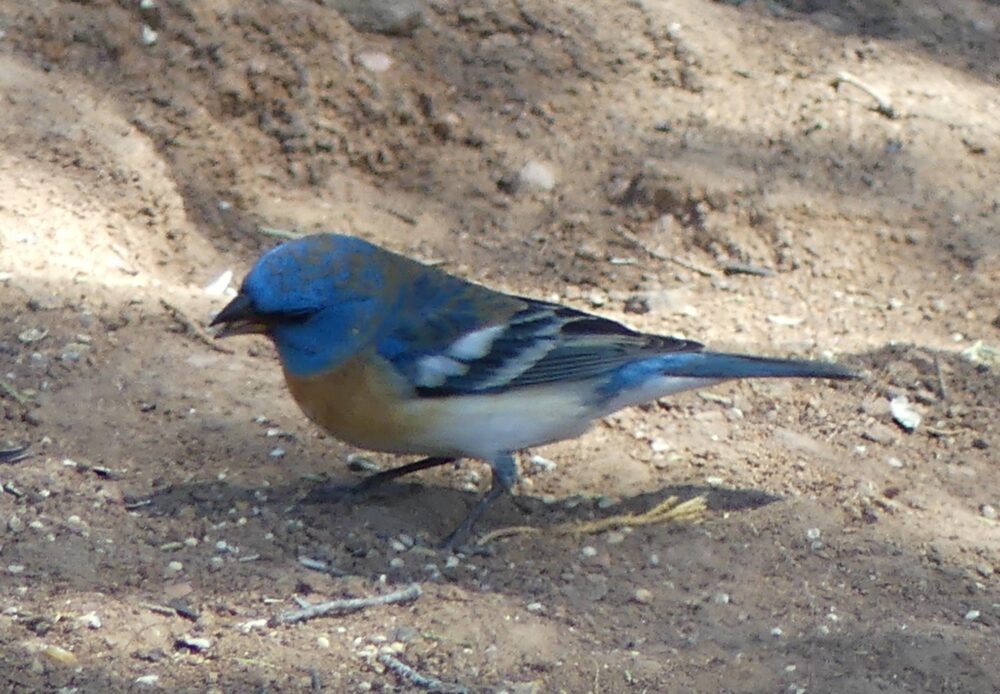 A week later, it seems some of the youngsters have worked their way back to where they hatched; can you see the egg mass remains on the twig in the background (see Image 8)? Many more cats were higher up in the tree, munching and moving around.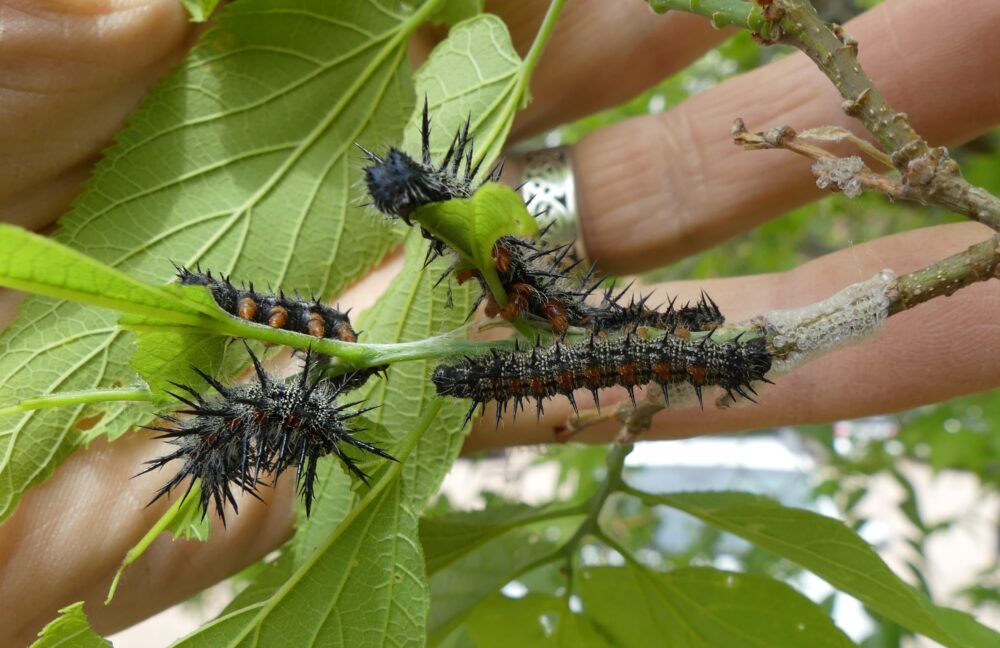 Jim Brock reminds me that he wrote an article on the Mourning Cloak's life history in American Butterflies Vol. No.1 in Spring 1998. We invite you to look that up and check it out. In addition, Selvi Viswanathan's images of a mature larva and chrysalis can be seen in "Butterflies of New Mexico" under the section True Brushfoots (Nymphalidae: Nymphalinae).
---
Butterflies in the Jicarilla Range District of the Carson National Forest. After investigating, for my first time, that westernmost unit of the Carson National Forest, west of the Jicarilla Apache Nation and east of Navajo Lake, I decided to go back a month later. Maybe I'd see more Orangetips, maybe not, but I felt certain I would see something. I still don't know if that general area has its own geographic name. That part of the Carson is managed out of the Farmington Jicarilla Ranger District whose office is in Aztec, NM. Maps and signs highlight local features such as Carracas Mesa, Carracas Rim, American Mesa, Mesteña Peak, and Bancos Arroyo, to name a few.
This area has not been seriously butterflied since I'm not sure when. I have never spent any time there. My April trip searching for Julia Orangetips made me realize that it had potential. Then, Mike Toliver showed me that Hedgerow Hairstreak (Satyrium saepium) has only a single phantom record in NM, but it was demonstrably reported from La Plata and Archuleta counties just across the border in Colorado. Roll it all together and I decided to spend more time there, which I did on May 11th.
It's a 3-hour drive from my house to the turnoff from US64 north onto FR310, then a 30-mile, ~1-hour drive to Carracas Mesa at the Colorado border. On May 11th, I was pleased to see a grader in operation smoothing off the ruts and ridges on FR 310 to re-establish a good, all-weather access road. The area does seem to be locally grazed, and oil/gas production, storage and transmission facilities were evident at perhaps 2-mile intervals throughout the area. Most were screened, to some degree, by trees and shrubs. Side roads went off in many directions, but I was on a tight schedule and did not explore those. Winter's residual ruts had been quite evident in early April, suggesting a heavy dose of shale in the local geology. An effort is probably made to keep the road passable for maintenance traffic related to the oil and gas facilities.
On May 11th, I drove the entire length of that road for the first time to get a sense of what the butterflying opportunities might be like. The moderate canyon/mesa terrain varies from ~6800 to ~7600 feet elevation, and the vegetation is what you would expect: lots of piñon, juniper, some meadows, and Gambel oaks and ponderosa pines in favored locations. All watercourses I saw were dry, which was not a surprise given the nasty drought. But on the way north I did notice one mud-bordered dirt tank near where FR 310 crossed Bancos Canyon. I was tempted to stop right then to check the mud, but I decided to wait for the return trip when it would be warmer and more of a magnet for butterflies.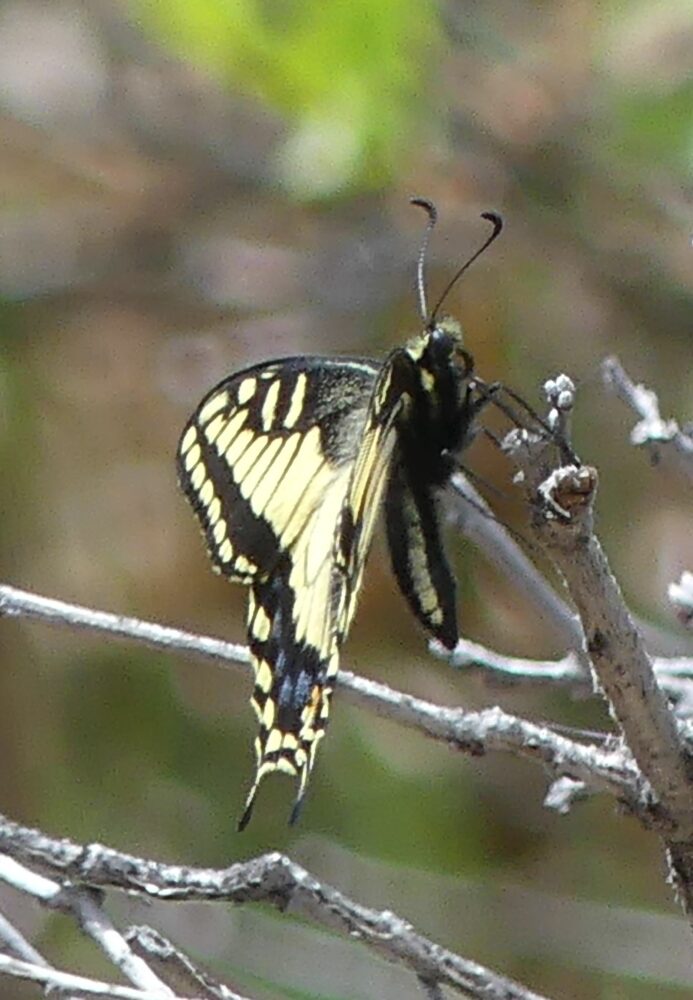 During this initial reconnaissance, I spent reasonably productive time at two places. The first was an almost ideal conical hilltop near the north end of the road. Hilltops that come to one, well-defined summit (as compared to a long ridge, for example) are the best ones to investigate, because all the butterflies want to be at or very near the summit. Therefore, once you are at the top, you have arrived. If it is sunny, they will be on the sunny side. If it is windy, they will be on the lee side. The ideal hilltop has plenty of bare ground, but you also want a few tallish shrubs or smallish trees, too, because some butterflies like to perch/bask near the ground while others like to be up off the ground. Nectar is helpful, but not required, because they are not there to feed. They are there to see and be seen by their potential mates and their potential competition.
On this 7600 foot elevation hilltop, Anise Swallowtails (Papilio zelicaon) were the "big dogs" that afternoon. There were three or four altogether. One was in rough shape (worn, faded, tattered) and was not able to compete for the prime summit spots. For the rest, there were enough prime perches so that they each had time to settle, usually on a Gambel oak twig about 6 feet off the ground. Weather was not ideal. Intermittent clouds caused activity to stop. The sun came back but then the wind drove things to cover. Finally, it was sunny and calm at the same time and that allowed hilltop behaviors to resume. As you might guess, however, butterflies keeping a sharp eye for movement that could be a female or a competing male also have no trouble at all seeing large, shadowy, oddly-shaped mammals (i.e., me) walking toward them. They notice right away and off they go. They always chose to perch in openings that were sufficiently large that I could not ambush them from a hiding spot, so I had to settle for shots at too great a distance to fill the frame. At least I was able to get one shot (Image 9) from the side that gave a clear view of the abdomen and confirmed it was Anise.
Eventually, one got comfortable behind me, facing into the wind, and I was able turn around, crouch down and shoot upward at it on its oak twig perch. Naturally, my autofocus fixed on the twig, but I still like the perspective (see Image 10).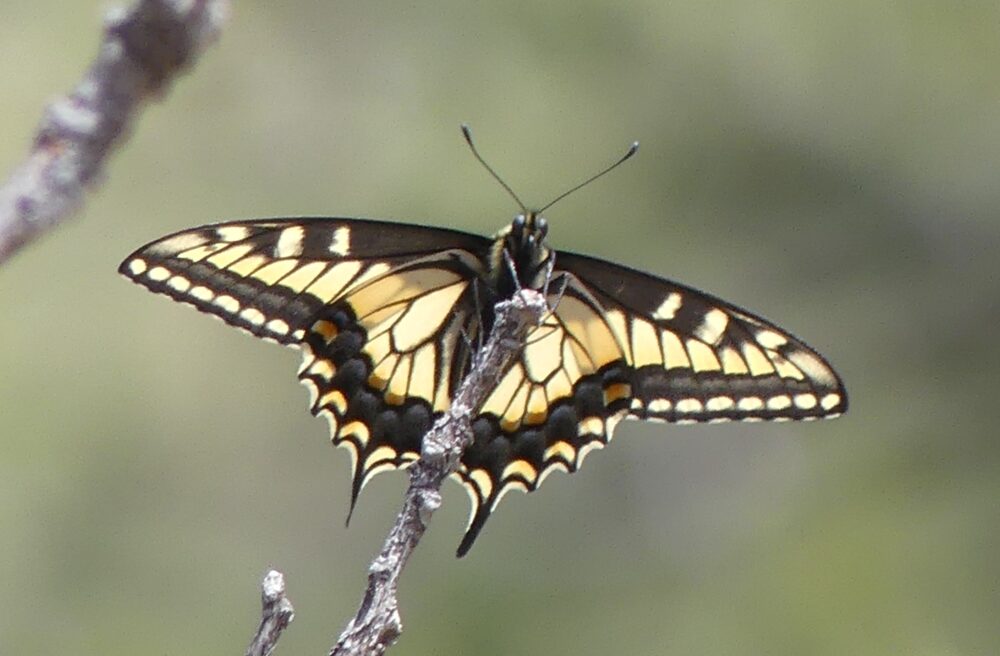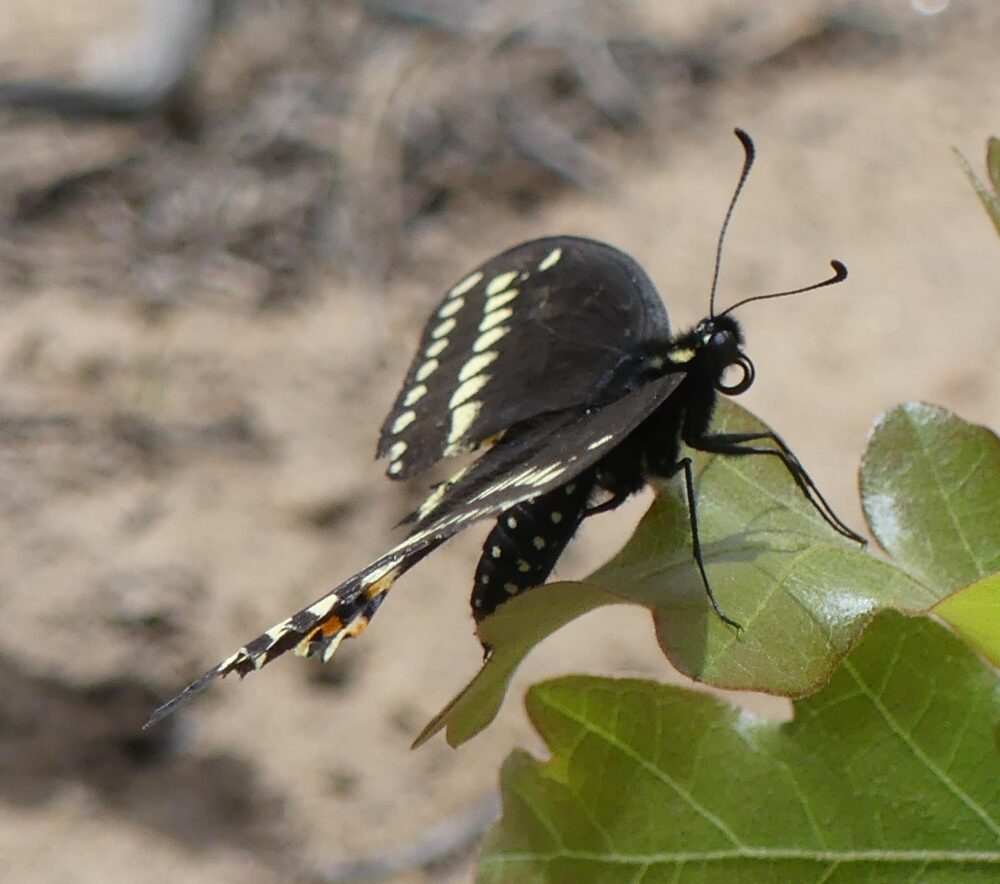 There also was one "black" swallowtail wrangling for hilltop perches. I wanted to improve my photo holdings of Old World Swallowtail (Papilio machaon), so I worked to get some good angles and approaches on this black Papilio. I cased the clearing where it seemed to be comfortable, circling and checking out head-high perches, but it spooked every time I moved toward it for a photo. I found a nearby tall tree and sidled up to it then stood still in its shadow, so as to become as invisible as possible. When the swallowtail settled again I moved toward it slowly, with camera ready. Then the wind gusted, causing my target to seek refuge in the lee of some partially leafed oaks. Again I got a decent side view (Image 11) that showed the diagnostic marks on the abdomen (three rows of yellow dots) and black tegulae (shoulders), which demonstrated that this fellow was a routine Black Swallowtail (Papilio polyenes).
With the swallowtails diagnosed and photographed, I directed my attention to all the activity around my ankles. Whites came and went across the hilltop in very small numbers; with no orange forewing apices among them, they were either Desert Marbles, Spring Whites or Checkered Whites. None of these showed any interest in stopping for portraits until finally one did stop and seemed to hang in mid-air. Then I saw it was attached to a very thin plant – a mustard of course, which always makes me think it could be an ovipositing female. This one was a tired, thirsty male, however, and I was able to squeeze off several photos from the side (Image 12).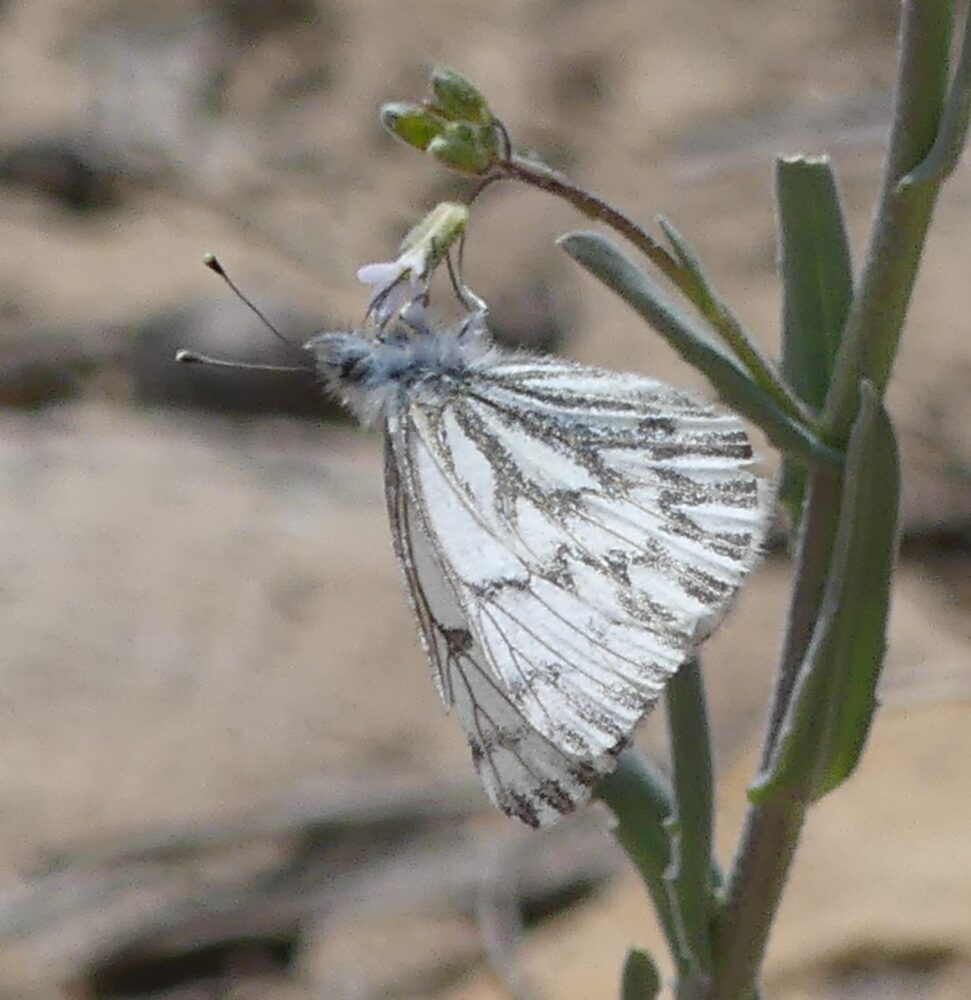 The remaining ankle-high activity was produced by a few dark spread-wing skippers. This being spring and there being plenty of oaks, you would anticipate plenty of Sleepy Duskywings, and you would be correct. The pleasant surprise, though, was Nevada Cloudywing (Thorybes nevada; or Thorybes mexicana nevada to some) (see Image 13). Nevada Cloudywings are identification challenges, because from the top they are very hard to distinguish from their more widespread Northern Cloudywing (Thorybes pylades) cousins. In my BAMONA identification work, a few of you readers may have experienced the frustration of submitting lovely upper-side photos of a cloudywing only to have me tell you it cannot be identified to species. If I cannot identify yours, how can I be so sure of this one below? I am confident this little guy is Nevada Cloudywing because it is on a hilltop exhibiting mate-location behavior on a spring day. Northern Cloudywings do not hilltop for mates. I encourage you to continue to photograph cloudywings and submit them to BAMONA for ID purposes. If you do, please include the details of where you were in the landscape and any identifiable behaviors.
When I walked off the hilltop it was 2:15 PM, leaving me time for one other substantial stop before the flight day would be over. I drove back south to where I had passed the muddy hole where FR 310 crossed the Bancos drainage. Arriving there, the sun still shone warmly and the site was much less exposed to the wind than the hilltop had been. In scouting the area, I found there were two mud-edged dirt tanks – twice the fun! Almost all butterfly species need to replenish electrolytes to maintain optimal health. Pond edges are places where water is evaporating and salts are concentrating. If a pond edge includes some porous soil, then butterflies (and many other insects) are able to siphon up the mineralized water and harvest salts for their own needs. A good mud hole can attract the drainage-patrolling butterflies who are in the bottom anyway, host-plant patrollers whose hosts are nearby, the general open-field butterflies that are everywhere, and even the occasional hilltopper in need of an electrolyte recharge. So it can be a fun array of butterflies.
Compared to hilltops, photographing butterflies at a butterfly magnet, such as a dirt tank, can be easy pickings. Butterflies keep coming back, settling down, and inserting their proboscides. All the photographer has to do is approach with care. That sounds simple, but there are challenges, such as managing your shadow (there is no place to hide), deciding whether to walk around clockwise or the other way (that's a tough one), and deciding how muddy you are willing to get. I'm a wimp in that department. I like to keep my boots clean.
On this afternoon, the mud attracted one hilltopper: the Sleepy Duskywing. Among the general open-field butterflies, I was able to photograph Marine Blue, Melissa Blue and Field Crescent. These species are all over the place in northern New Mexico this time of year, so it was no surprise that they were at the mud hole, too. The butterflies that generated the greatest interest for me included Juba Skippers (Hesperia juba), with which I had little prior experience. At the mud I was able to observe and photograph several of these, in different poses, watch them fly when spooked, and return when they were ready (see Image 14). I know them better now.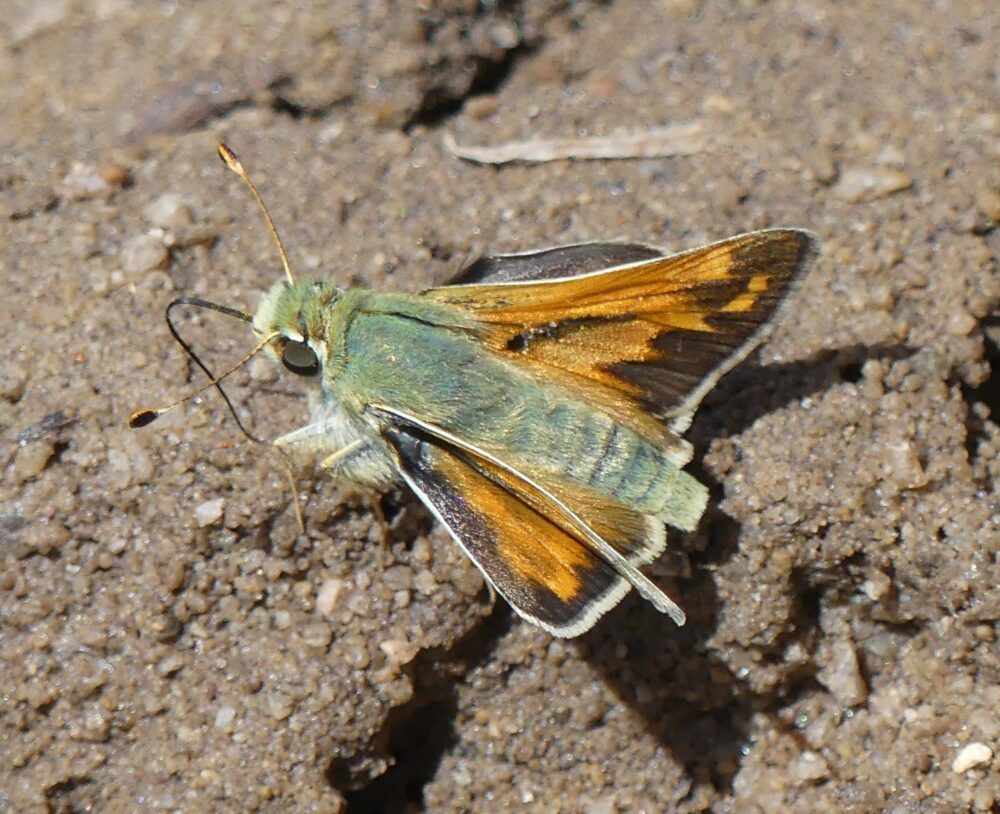 I was also happy to encounter an Afranius Duskywing (Erynnis afranius) (Image 15). Though not an unusual creature in this region, it is part of the confusing duskywing group, and it gave me the opportunity to refamiliarize myself with this particular duskywing species. Having white FW spots and a gray fringe, it is confusable with several other species. What struck me on this day, as it was patiently patrolling a side drainage, was how small it was – about half the size of a Rocky Mountain Duskywing. That piece of information, plus the drainage patrolling behavior, left little doubt in my mind that it was Afranius, rather than Persius, Horatius, Rocky Mountain, or some other non-descript duskywing.
Sagebrush Checkerspot (Chlosyne acastus) was another bright spot at the mud (see Image 16). Again, not a "spine-tingler", but if it is spring and you are west of the Rio Grande, then you want to see it. Its presence reassures a butterflyer that the year is unspooling more or less as it should, drought or no drought.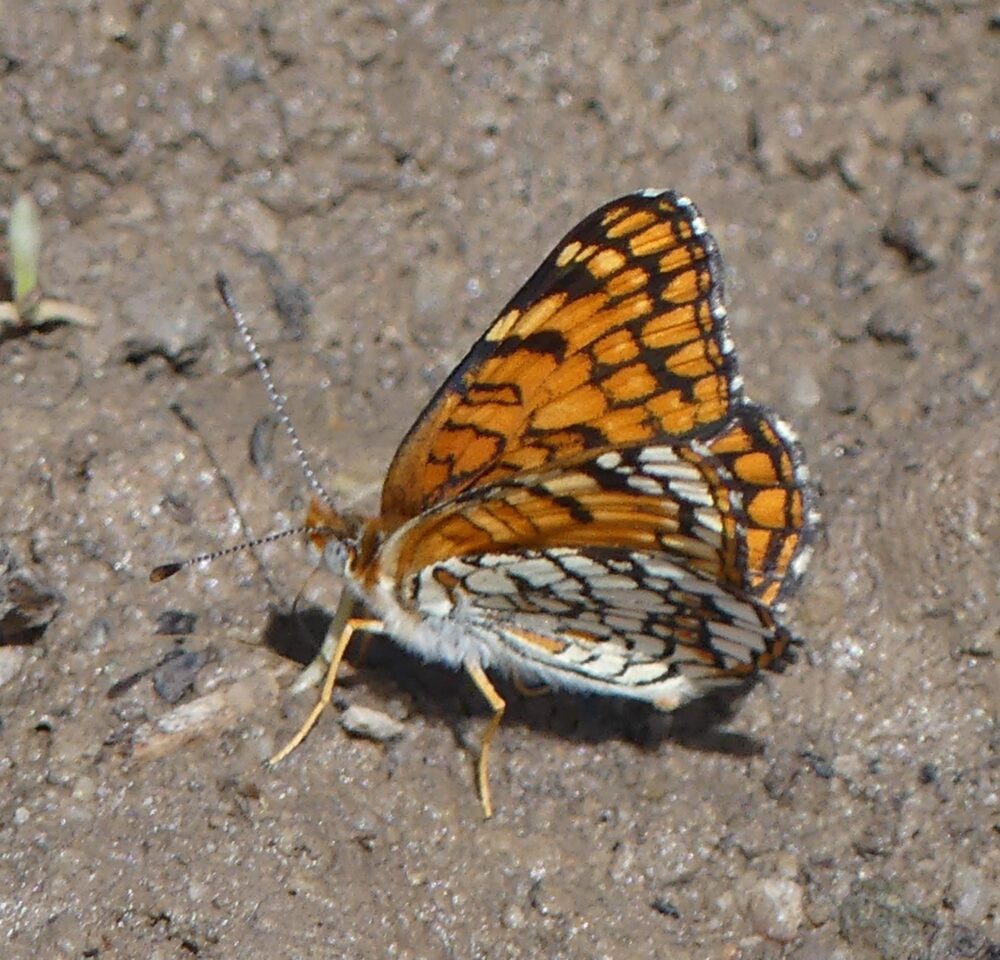 A final bit of excitement came when I saw this Variable Checkerspot (Euphydryas anicia) (Image 17). It reminded me of an occasion more than 20 years ago when Dr. Gordon Pratt joined me for a trip into another part of this region. The knowledgeable Dr. Pratt showed me a larval tent for this species, arranged on a paintbrush (Castilleja sp.). I presume this is the adult of that creature. I only saw this one and it was a tad camera-shy, but there it was! If anyone can suggest which subspecies this might be, I would love to hear your thoughts.
I saw about ten different species at the mud that day. It was not a record-breaking assortment by any means, but considering the early season and the record-breaking drought, I was pleased. Overall, this area merits continued exploration, and if I lived in the Farmington area I would not neglect it. I do not, however, so my goal is to make monthly return trips through the warm season, while maybe finding a new hilltop or a new mud hole each time. Who knows what other species could lurk there that might be of particular interest for us in New Mexico? Hedgerow Hairstreak? They fly in July and August, so I'll have to wait and see . . .
---
Elaine Halbedel reports from Silver City :
***
It's been an odd but quite productive spring for butterflies in this part of the state so far. I started doing the Butterfly Network surveys at the end of March, and I was already too late for the first fliers in the low elevation along the Gila River. This has been a banner year for Erynnis sp. of all varieties in all of my survey routes. I'm sick of them… especially since I won't identify them in the field, but photograph each one that stops and identify from pictures. Otherwise they get called 'unidentified Erynnis sp.' They are tapering down a bit now, though the number of Dreamy DWs is unprecedented from my records this year. Right now they seem to be dominant.
Also, more numerous than usual are the W. Tailed-Blues, which I now have from all elevations. Previously, I only ever saw them in two sites. To be utterly honest, they look far more like the E. Tailed-Blues in all the field guides, but I have allowed myself to be convinced by Anna and her lepidopterist that they are Westerns. Same with the Acmon Blues that have now turned into Lupine Blues. I consulted Jim Brock on that one, and he walked back his newly published book's summary that they were Acmons here and Lupines elsewhere. Oh well. CA Tortoiseshells showed up at all the mountain sites early on, as did Morrison's Skippers at many of the non-survey sites I visited. I had my first Sachem (a female) in this part of the state and my first unambiguous Silvery Blue for SW NM. Once again, I got a glance at a hairstreak that looked textbook for Ilavia, but I fumbled the picture, so no joy. Viereck's Skippers are more numerous. I've seen them in two different routes – 1 each, which is more than I have observed before in this location.
The most interesting and surprising observation I've noted is the extreme difference in the butterfly species in canyons that are in close proximity to each other. They are all essentially the same habitat type. For instance, the last week showed no Arizona Sisters in Meadow Creek or Railroad Canyon, but 31 (! – and some were worn) in Little Cherry Creek, which is only a few miles from Meadow Creek. It has also been instructive to see how Railroad Canyon has/hasn't recovered from being burned a few years ago. It's turning into brush instead of some brush plus many ponderosas. I have records going back at least 1.5 decades and suddenly the canyon has become the province of Mylitta and Field Crescents, of which there are bushels. At least Railroad Canyon remains a go-to place for Yucca Giant-Skippers. They, too, were really visible this year.
In fact, the character of the Black Range may be changing dramatically. The Black Fire (3 days old) has shot up from 1000 to 18000 to nearly 60000 acres in three days, and has burned over the crest with no signs of slowing down, especially since we are expecting stronger winds in the next few days. That means that the Range will begin to resemble the massively burned areas on Signal Peak in the Pinos Altos Mts., which changed from ponderosa and spruce to tangles of locust trees and other brush. The butterflies there are now totally different, as one would expect. There used to be some good stuff there, but I haven't seen anything beyond the common there in a few years, not even at the famous spring.
Jim Brock has me doing some work for him this year: trying to find out the host grass for Apache Skippers, which he says were extirpated from southeast Arizona some 20 years ago and which I found very abundant last fall. The same thing for Deva and Python Skippers, though I haven't seen either of those for a while.
Alas, no real rarity pictures so far, but for grins I do append a puddle party photo (Image 18) of Swallowtails that reminds me strongly of Central and South America. They are doing well at least!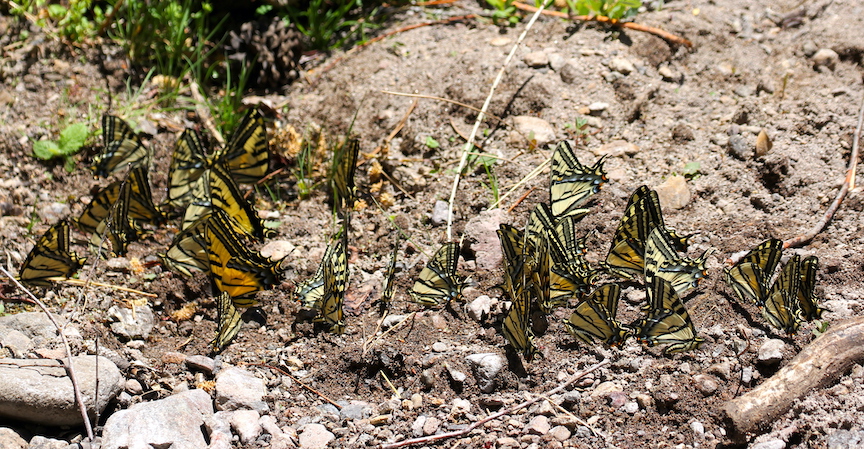 Waiting, wishing, and hoping for an early monsoon, Elaine.
***
Thanks Elaine, us, too!
---
Last, but not least, Marta Reece made a terrific Poling's Hairstreak sighting and submitted the photo (Image 19) to BAMONA. Knowing that she is an organized, motivated person, I sent her an email inquiring whether she had specifically gone looking for this unique and rarely seen Chihuahuan Desert butterfly. Before you read her reply below, you need to know that she is a recent convert to butterflies. No, she is not an evolved birder, but a reformed rock-climber – the only one I know, by the way, who has gone hook, line and sinker into butterfly photography. So keep that in mind . . .
***
No, Steve, I was not specifically looking for Poling's Hairstreak when I came across it. I was coming down from some summits I checked out behind La Cueva [Organ Mountains]. Found a pair of Marine Blues was all. It was like that the whole day. Nothing flying. The numbers and diversity of local butterflies have fallen off a cliff. I didn't want to take the trail back to where I had come from, so I dropped down on some rock to avoid the steep loose stuff. That's where the oak favored by the butterflies was growing. I noticed an odd hairstreak and looked at it with binoculars. There were some spots along the edge of the hind wing, so I thought maybe a Thicket Hairstreak. That would be interesting, none so far for me in the Organs, so I started taking pictures.
It was, well, not easy. I could not move much, being on a rock that required hands for scrambling to get around on. The butterflies were not staying put for more than a few seconds. There were few of them. Most of the time I had nothing to look at. When they did show up, they would be out where I couldn't get a shot. I struggled with it for about half an hour. I finally decided to look through the binoculars again. This time what I saw was clearly a Gray Hairstreak. I didn't see much of it but was sure I had just wasted half an hour taking photos of the second most common thing out there.
I still hoped that some of the early shots were of something more interesting, but with the creatures coming and going, somewhere a Gray Hairstreak got substituted and I kept shooting. It turned out not to be the case. I just saw how light the wings were and, for the second time, jumped to the wrong conclusion. I wish I had not, wish I had continued shooting, but I can always go back. I did recognize the oak as being different, but it looked more like something recovering from an illness of some kind than a different species. At least at first. It was a comedy of errors.
I guess if you look everywhere, you eventually look in the one place where there is something to see. I have been through the nectar sources, the water sources, the host plants. It's a desert out there. Do not come to Las Cruces until we have some good rains, plural.
Marta
***
Thank you, Marta!
---
Dear Readers, I think you will glean from the above tales that our positive butterfly results from early spring are now largely behind us. My May 17th visit to the Cruces Basin Wilderness east of Chama showed decent butterflies at 10,000 feet, but essentially nothing below 9,000 feet elevation. Effects of winter precipitation, whatever it was locally, have mostly evaporated. The crunchy-dry desiccation front continues to expand upslope in northern New Mexico, but higher ground might still be good for a while. At lower elevations, seek out the wet spots. Let's all be grateful for what we do see and we'll be hoping for rain . . . Happy Butterflying!