Mid-winter seems like a good time of year to invite someone else to tell a story, so . . . In recent months I've had the great pleasure of making the acquaintance of noted nature photographer Bryan Reynolds. He has strong New Mexico connections and is very generous with his experience and with his spectacular photos. Enjoy his two-part story, the first of which is below.
---
A Butterfly Photography Expedition to New Mexico, April 2017: Part 1
By Bryan Reynolds
Day 1 — April 10, 2017:
I'm recently back from a week-long photography trip to the Sandia Mountains which sit right next to Albuquerque, New Mexico. These were my old stopping grounds when I was stationed at Kirtland Air Force Base from 1987-1999. I started seriously photographing for publication for the editorial markets starting in the mid-90s, but at that time, butterflies weren't my focus. That's now changed and I try to make regular forays to New Mexico while enjoying visits with some of my long-time friends. I'm pretty familiar with the area, get to eat a lot of green chili, as well as get to enjoy the hospitality of my friends.
My trip started on Sunday, April 9, 2017 with a long, 9 hour drive from my home in central Oklahoma. I rested up on Sunday night and Monday, April 10, I headed out with gusto, batteries charged and four, 32-GB cards for my camera. The forecast was for a beautiful day with mostly sunny skies and temps heading up to around 70 degrees F. For this trip, I stayed with a friend who lives east of Tramway Boulevard, very near to the foothills of the Sandias. There are several access points nearby and one of my favorites is the Embudito Canyon trailhead.
After a short walk from the parking lot, you arrive to a spring that draws in a lot of leps (and other critters). Along this walk is great habitat that includes a lot of beargrass (Nolina texana), which is the larval food plant of the Sandia Hairstreak (Callophrys mcfarlandi). I've already gotten a lot of photos of this species, but I can't resist looking for more. Most everyone knows this is an early species, and I was afraid I might be too late. But, after a few minutes, I saw my first one sitting on a beargrass leaf. It was worn, so I didn't spend a lot of time on it. However, after a couple hours, I was able to photograph a fresh one by the spring. But, before I got to the water, I poked around quite a bit looking for nectar and any other species. As soon as I arrived, I noticed a very large number of Painted Ladies (Vanessa cardui). These became a nuisance after a while, because I would scrutinize anything that moved and after doing this dozens of times for Painted Lady after Painted Lady, my eyes were getting tired. They also would inevitably flush other species that I was much more interested in. This also happens a lot with grasshoppers, flies, etc. Anyway, there were a few plants blooming and a few common species such as Marine Blues (Leptotes marina), Common Checkered-Skippers (Pyrgus communis), and a couple Rocky Mountain Duskywings (Erynnis telemachus).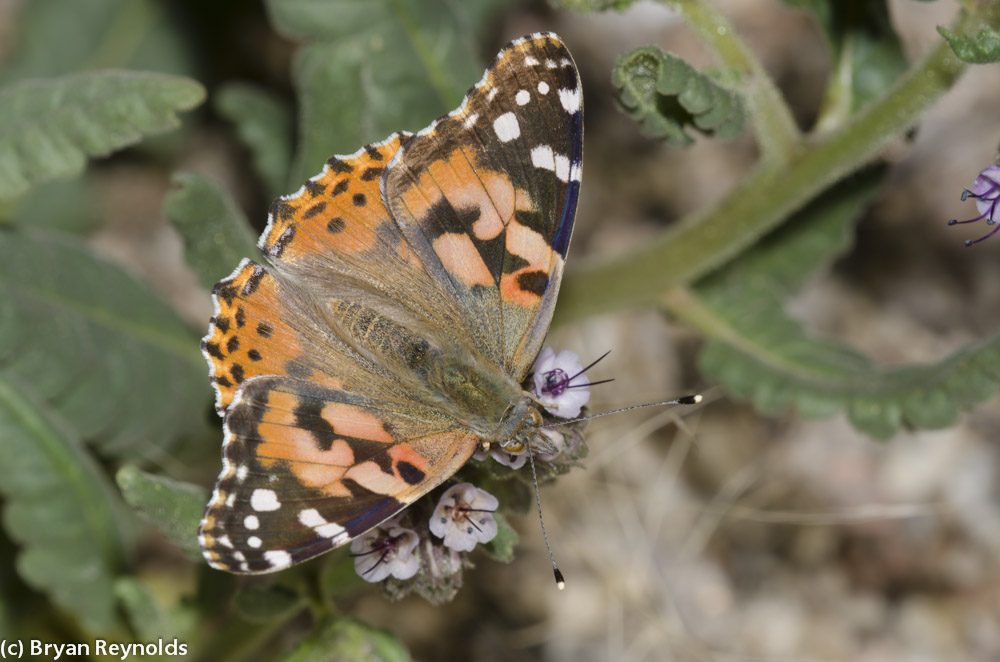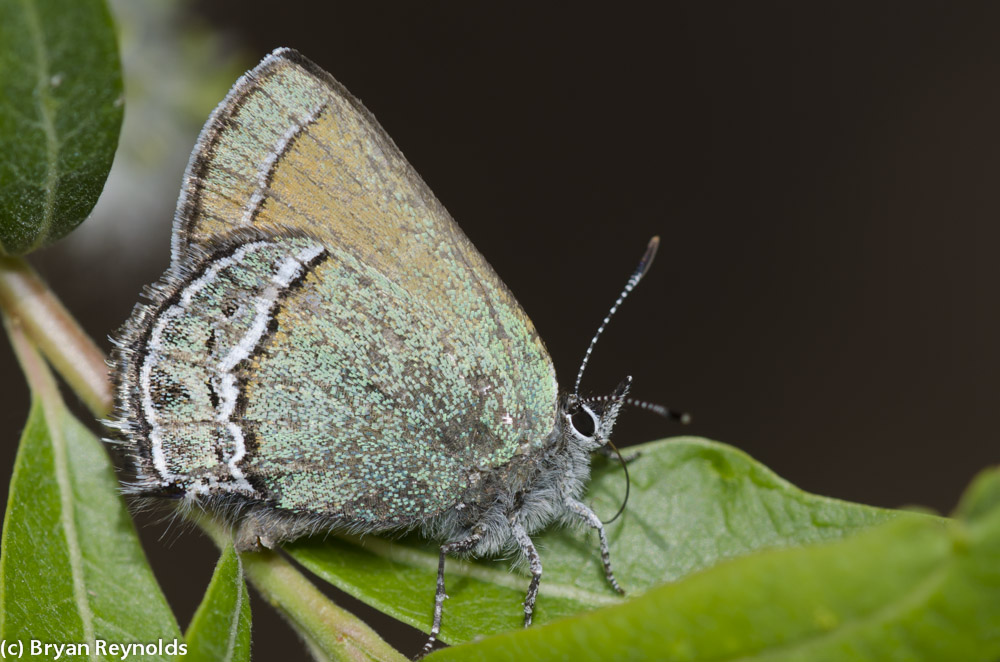 I slowly hunted my way up to the spring and was slightly disappointed at the lack of water. There was just a trickle and a small wet spot at the base, but any water is better than none and butterflies were present. The first thing I noticed, I was there at the peak of the E. telemachus flight with fresh individuals everywhere. I worked along the spring and nearby area stalking and photographing as many as I could. The days' take included a very fresh Short-tailed Skipper (Zestusa dorus) which eventually allowed for many dorsal and ventral shots. There were Mylitta Crescents (Phyciodes mylitta) — including a mating pair, a Reakirt's Blue (Echinargus Isola), a Marine Blue (Leptotes marina), and the afore-mentioned Sandia Hairstreak (Callophrys mcfarlandi).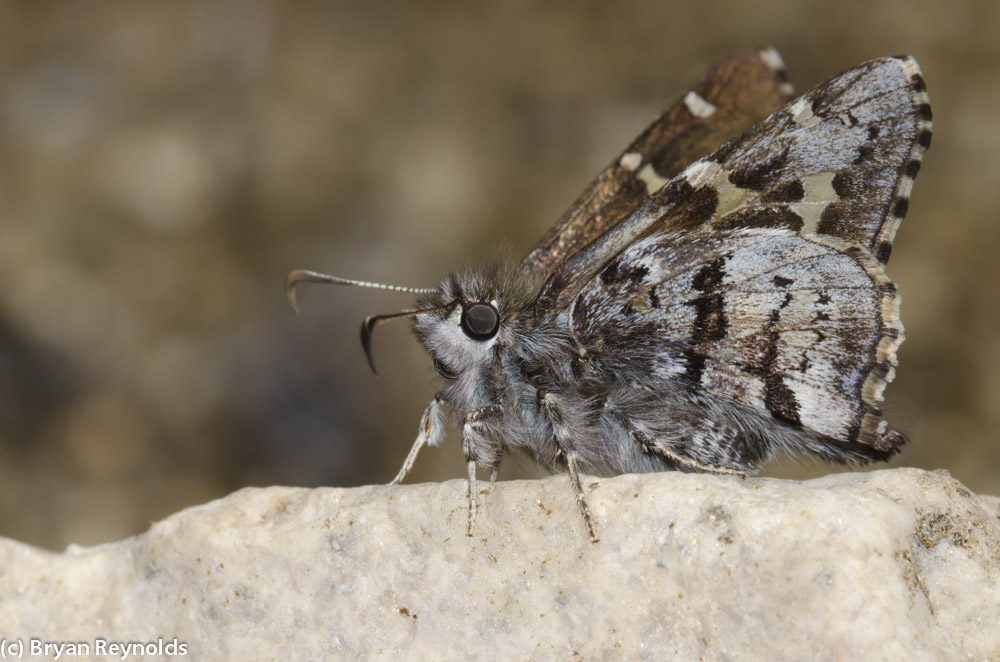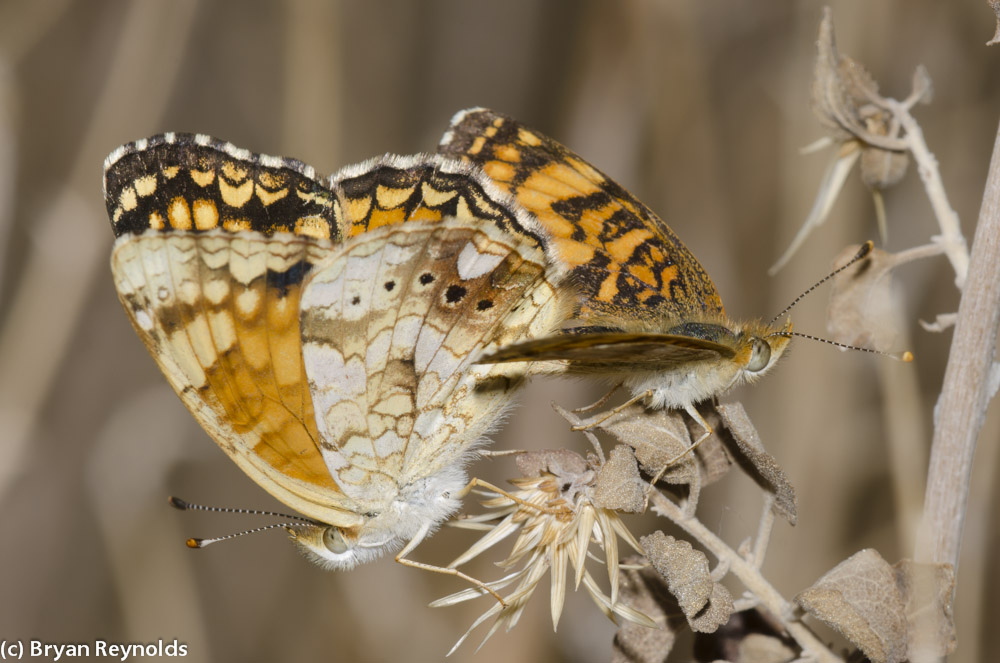 Day 2 — April 11, 2017:
Tuesday, April 11 started as another beautiful, sunny day with temps starting in the upper 50s and getting up to the low 70s. On this day, I decided to hike up to "Travertine Falls," on the South Crest Trail in the Sandias. I was interested in finding any water source to draw in butterflies. From the parking area, it is a short 0.5 mile or so hike to the falls. When I first started coming here in the late 80s, there was a pretty impressive amount of water that would cascade over the rock face and form a creek that would go on for quite a while. But now there's barely a trickle. Even so, the bottom of the falls was mudded up enough that I knew there would be butterflies.
I had gotten there early, and it took a while for things to warm up. The first thing I noticed were the ever-present Painted Ladies (Vanessa cardui) along with a single Red Admiral (V. atalanta) and an overwintered Mourning Cloak (Nymphalis antiopa). Fresh butterflies included many male Rocky Mountain Duskywings (Erynnis telemachus) where I tried to get multiple individuals in one frame and also work any ventral shots. Ventral shots are harder to get with spreadwing skippers, at least for me. For multiples in one frame, I was only able to get two at once with both being sharp. A few days later, I would get three in one frame. Another species that I would photograph and also see fairly frequently was the Thicket Hairstreak (Callophrys spinetorum). I would photograph several individuals at every stop of my week-long trip. A quick glance around and I could see a lot of dwarf mistletoe, so no wonder this species was common.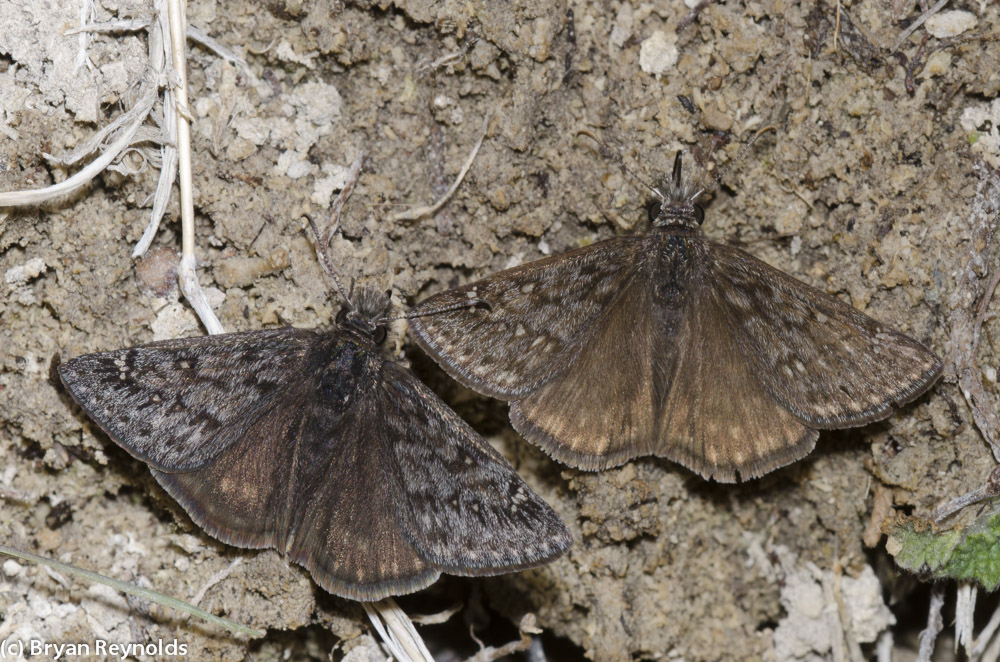 At one point, a Spring White (Pontia sisymbrii) popped down for a drink and I grabbed a shot before it left. Speaking of Pierids, the Southwestern Orange-tips (Anthocharis thoosa) were still having a decent flight, but as usual, they would rarely land. They would fly very close, almost bouncing off me. If I had a net, I'm sure I could have caught a bunch of them, but photos are another thing. Last year, I got an okay shot of a dorsal male, but frustratingly, I couldn't nail any this year. I do have one nice exception later in the trip where I finally got some really nice shots of a female, but that will be in a later report. I also saw several Two-tailed Swallowtails (Papilio multicaudata) on every outing and even in Albuquerque, but I only had one beat-up male land for some photos.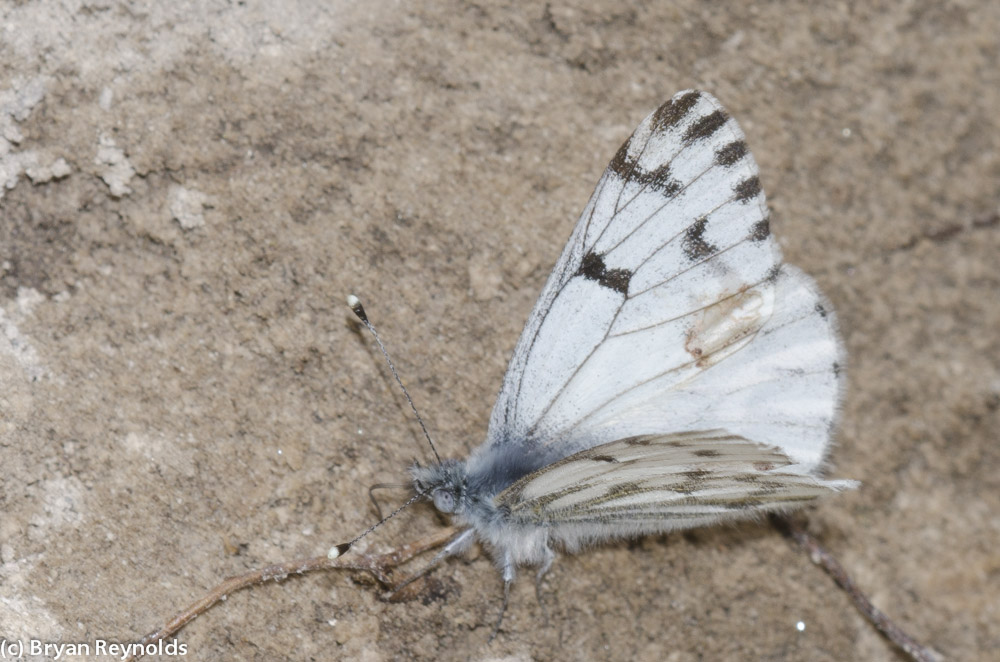 These falls come from a spring that literally comes right out of the ground a very short distance from the drop-off. So, I climbed up to the top of the falls to see if there were any mud-puddlers for which there were a few regulars. However, one thing that caught my eye was activity on a bush/tree that had small greenish flowers. These were drawing in some nice butterflies and some of the first ones I worked were a couple overwintered Hoary Commas (Polygonia gracilis). One had only half its wings, but the other didn't look too bad. So I worked it for both dorsal and ventral photos. Also, while up at the top, I photographed a mud-puddling male Sleepy Duskywing (Erynnis brizo) that was a little faded.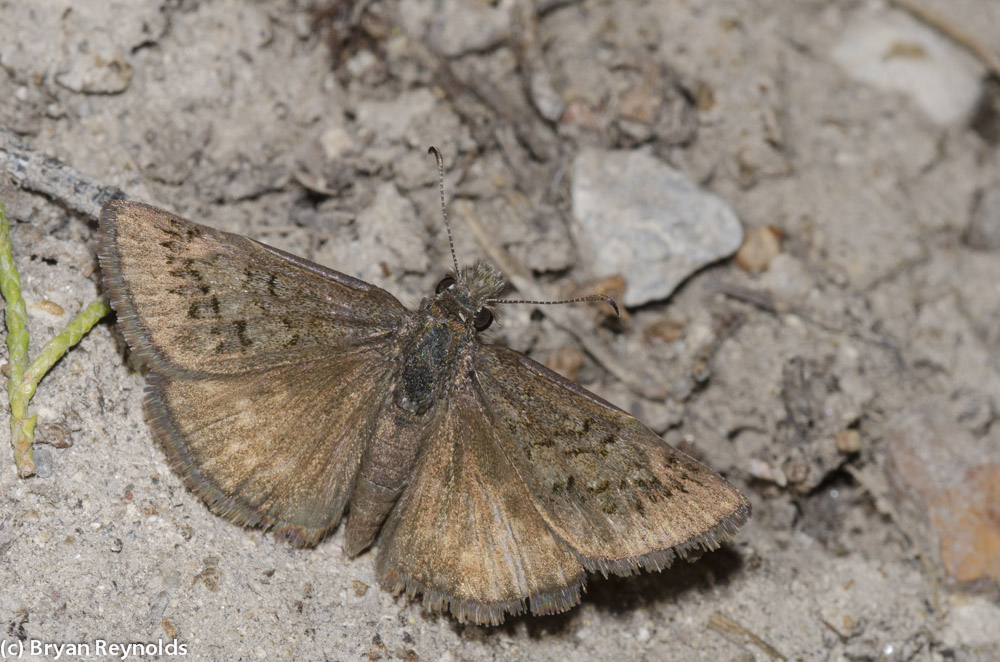 I worked this area hard and as is my style, I also photographed many other critters to build up my stock. After several hours, I was craving a green chili cheeseburger, so I hiked back out, and went to the Owl Café in Albuquerque, for a burger and beer. At around 5 PM, it was still wonderful out, so I grabbed my camera and headed back to Embudito Canyon and hiked to the spring with the hopes of seeing anything new, but no butterflies were to be seen. So, I photographed other critters and then slowly hunted on my way back to the parking area. Along the trail, I noticed a couple tiger moth larvae hauling butt, so I got a few shots of them.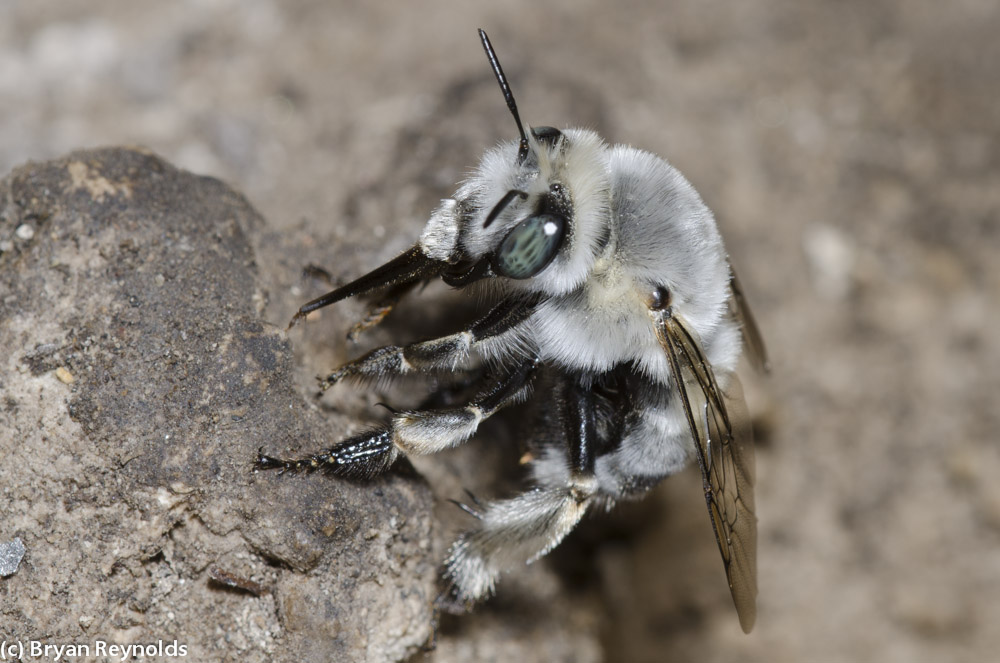 Day 3 — April 12, 2017:
Wednesday, April 12 was a repeat weather-wise, from the last two days. Very comfortable with a lot of sun. I also wanted to repeat my photography experience, so I headed right back to Travertine Falls, a short distance on the start of the South Crest Trail in the Sandia Mountains, Cibola National Forest, near Albuquerque. I had already put in two long hard days and was feeling a bit tired. Photographing butterflies can be exhausting, but it is a labor of love and helps me to keep in better shape than if I didn't do it.
As before, the falls didn't disappoint. This time, I alternated from working below the falls, in the mud, and then hiking up to the top to check out the flowering tree and more mud. The very first butterfly I encountered was a Great Purple Hairstreak (Atlides halesus) female obtaining moisture. It was fresh, beautiful and very cooperative, allowing a very close approach and lot of photos. A foot away was a very fresh Juniper Hairstreak (Callophrys gryneus subspecies siva) also oblivious to my intrusion. The Juniper Hairstreaks were just coming out and I saw many of them and worked as many as I could. The flowering tree had several, along with more Thicket Hairstreaks (Callophrys spinetorum) walking around the branches and probing the greenish flowers. I could stand back and count about a dozen total between the two species. Along with those, were the same two Hoary Commas (Polygonia gracilis) I had photographed the day before. There was also the large contingent of Rocky Mountain Duskywings (Erynnis telemachus) that I was now getting used to seeing everywhere. This time, unless there was something unusual about them, I passed them up (only after verifying they were indeed E. telemachus males). For this species, I was now only interested in photographing ventral sides and any females I could find (although I couldn't pass up a few more male dorsals over the next few days!). And as it so happened, today was the first day I found and photographed an immaculately fresh female. She was perched in the ground in a bright sunspot, and wouldn't fully spread. I got a few shots and she didn't like the flash and took off. Nearby, a female Common Checkered-Skipper (Pyrgus communis) landed basically right in front of my lens. So, I of course, photographed her.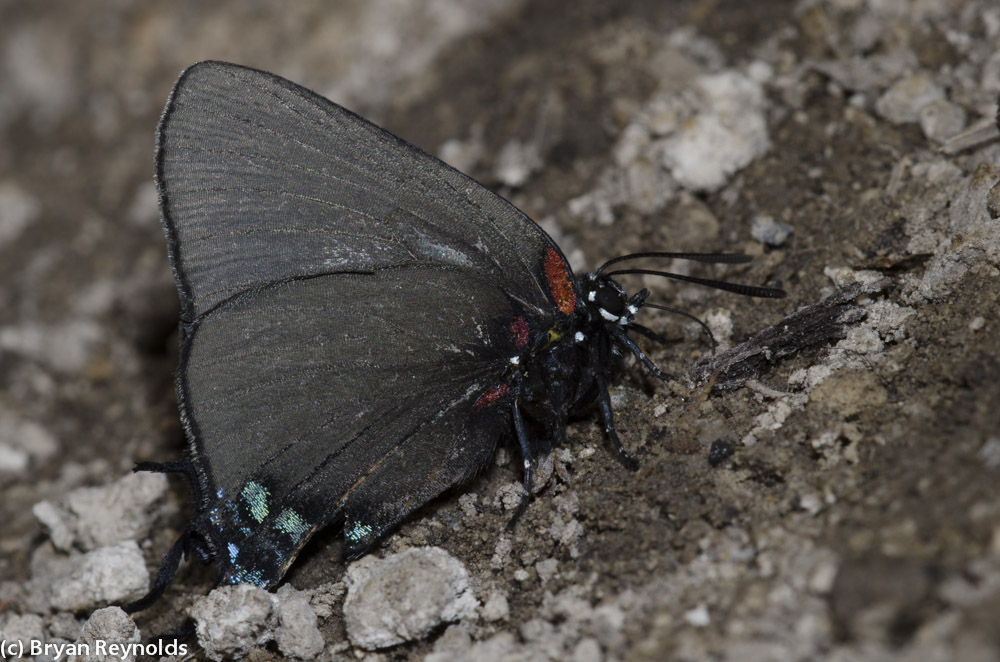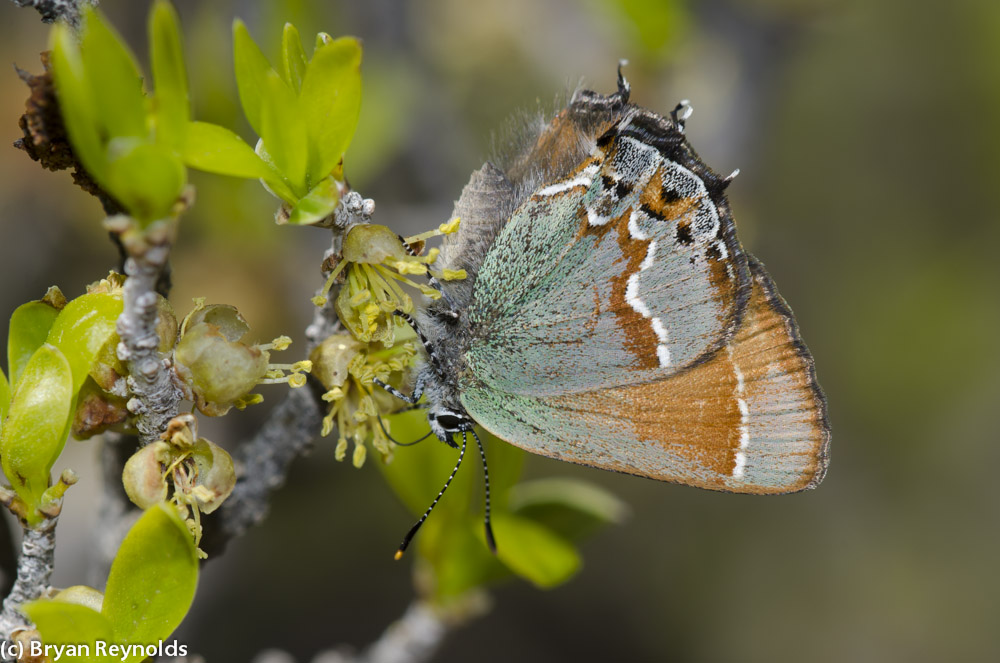 After about four hours of hiking up and down the falls, scrutinizing and photographing anything that moved (including other critters), I called this day quits and headed back to Albuquerque for another green chili cheeseburger and a beer. I slept like a baby this night.
To be continued . . .
---
After seeing Bryan's exquisite photos, especially of small butterflies and other insects, I had to ask about his equipment. You may be curious, too. He replied as follows:
"My current camera body is a Nikon D7000 (16.2 megapixels). They've had several generations (now up to the D7500) since I purchased it. Coupled with that, I use an older (non VR) Nikkor 200mm macro. I got this lens in 2003 when I was shooting film and it's still the best butterfly lens out there, in my opinion. It goes to life size by itself and with the 0.5 crop-factor of the camera body, everything is increased by that 0.5 crop-factor. So in effect, it goes to 1.5 life size and it is like a 300 mm instead of a 200mm. The working distance is also great and the longer lens provides much more background control. I almost always use flash, either total or fill, and for that I use a Nikon SB-700 on a Kirk flash bracket. The only disadvantage with this whole system is the weight and bulk. I always have the extra battery grip attached, which adds even more weight, so by the time I'm done hiking all day long, my arms and hands are tired."
Thanks, Bryan. We look forward to reading Part 2 soon.
— Steve Cary