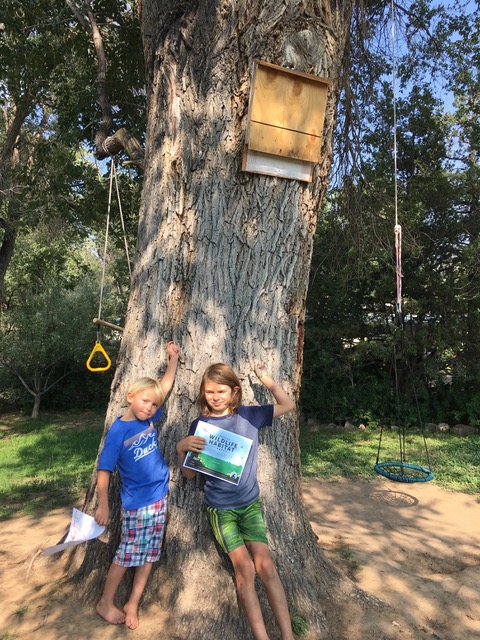 By Ezra Kozimor and Branden Willman-Kozimor
You and your family can have fun outside by certifying your yard as a Wildlife Habitat. Our family did it in the summer of 2018! The National Wildlife Federation (NWF) has all of the information you need on their website, which makes certification fun and easy. We learned from the NWF that there are thousands of Certified Wildlife Habitat gardens all over the United States, and 196 of them are right here in Los Alamos! Because we have so many certified yards and public places in Los Alamos, our whole County has been considered a Community Wildlife Habitat since 2016!
To create a Certified Wildlife Habitat you need to make sure your yard has sources of food, water, cover, and places for animals to raise young. You also need to be sure you use some sustainable practices to take care of your yard. This can include capturing rain water, planting native plants, composting, eliminating chemical pesticides or fertilizers, and more.
To certify our yard we walked around and noted ways we already provide animals with food, water, and shelter. For food, our yard has long grass; native plants like yarrow, penstemon, and netleaf hackberry bushes; fruit trees; and ponderosa pines. We also fill our bird feeders with seed and hummingbird nectar. For water we keep a small bird bath filled, and for shelter we have several trees for squirrels and birds to nest and lots of rocks for insects to find cover. We decided our yard could use more places for animals to raise their young, so we built a bat house and hung it on a big elm tree.
Download or print out this checklist from the National Wildlife Federation and take it around your yard to see what you already provide for wildlife. Are there easy things you can change or add to check off the requirements in each category?
Some things we would still like to do to make our yard an even better wildlife habitat include building a pond, making a butterfly feeder, and planting more fruit trees and native plants.
If you're ready to certify your yard, head to the National Wildlife Federation's website. It takes about 15 minutes to fill out an application and there is a $20 application fee.
We hope to reach 200 certified yards in Los Alamos County by Earth Day this year. Join us for this exciting project and contribute to continuing Los Alamos County's status as a Community Wildlife Habitat!
This article has been updated, but was originally published in the Fall 2018 edition of Nature Notes. Our co-author, Ezra, was 8 years old when he helped write this article!