March 2021
By Steve Cary
Announcements First:
1. Please welcome Common Mellana (Quasimellana eulogius) to the New Mexico butterfly fauna! I've uploaded a brief account to Butterflies of New Mexico so you can check it out. We don't get new state records very often! Now we need photos: male, female, dorsal, ventral. Have any to share?
2. Species accounts for Carus Skipper and Tropical Least Skipper have been spruced up considerably thanks to the addition of fabulous photos by Jim VonLoh, who we add to our phalanx of photographers.
3. Recent conversations with Paul Opler and Andy Warren eliminated any doubts I had about the identity of the spring-flying dotted blue from near Aztec in San Juan County. Until someone dissects them and proves otherwise, I'm calling it Stanfords' Blue (Euphilotes stanfordorum). Even better, excellent images of this species from Colorado were provided by Ralph Moore. See the updated species account in Butterflies of New Mexico.
4. In welcoming Ralph to our gallery of photographers, please also see his newly added images of Minor's Indra Swallowtail (from Colorado, yet . . . ), which we sorely needed. A Papilio paparazzi?
Spring Flower Munchers
On our recent late February, early March trip to southwest New Mexico, Marcy and I spent a fun day hiking with the Portal Rodeo Thursday Hiking Club. That particular Thursday, Feb. 25, 2021, their destination was Skull Canyon in the Peloncillo Mountains. This fun and eclectic group has been hiking in, around, and between the Chiricahuas (AZ) and Peloncillos (NM/AZ) for many years. This week they had arranged for access to private land, so we caravanned out to the road's end and spent the next few hours gabbing, walking, chatting, and clambering. As usual, I was focused on butterflies and thus not very good company. My mood was not improved by conditions; it was early in the season, cool-ish, and very dry; butterflies were few and far between. Nevertheless, I was fortunate to see and photograph a Brown Elfin, which now kicks off this post.
Brown Elfin is of a group of Hairstreaks (Callophrys spp.) that we see in spring; many are Elfins. Each butterfly species in this informal group is hosted by one (or two) spring-blooming shrubs. As with the spring-flying whites featured in the previous post, eggs must be placed on flower buds to give the caterpillars enough time to feed and complete development before flowers and seeds are matured, gone, inedible. To meet this early-season larval necessity, adults emerge in early spring so mating and egg-placement can occur in a timely fashion.
That Brown Elfin in the Peloncillos was an early New Mexico record for this species, by about a week. It was about as fresh-from-the-chrysalis as a butterfly can be, so I appreciated the sparse veil of lavender scaling on the wings, which after a day or two of activity tends to evanesce. Brown Elfin is hosted by Point-leaf Manzanita (Arctostaphylos pungens) in southwest New Mexico. On this day, buds of the manzanita's pink and white bell-shaped flowers were just barely starting to show themselves, and pretty few in number, perhaps because of the drought. The Brown Elfin looks like a damaged or diseased leaf on the green-leafed shrub.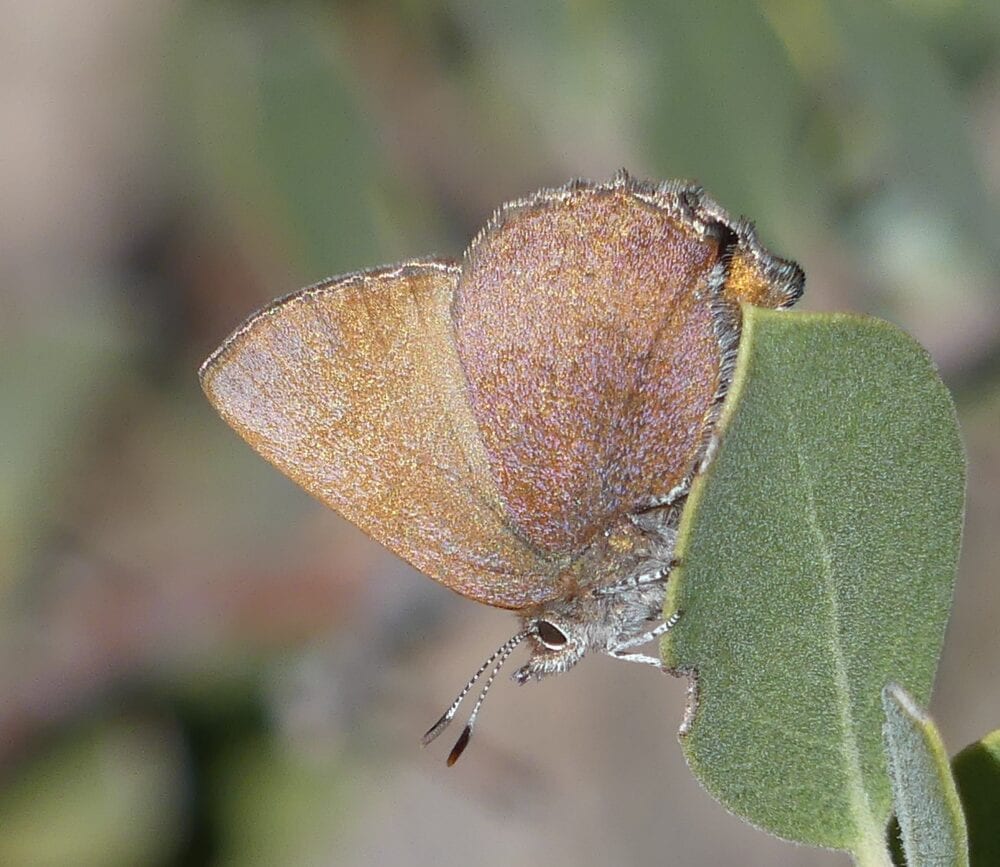 This manzanita fades out toward the north, but another member of this genus, Kinnickinnick (Arctostaphylos uva-ursi), begins to appear. Ponderosa pine savannas across north-central New Mexico all have Kinnickinnick as a ground cover sprawling across sunny openings and yes, Brown Elfin can make its living on Kinnickinnick. This means you can find this butterfly flying in May in the Jemez and Sangre de Cristo Mountains. Jonathan Batkin showed me a nearby population a few years ago (see photo below). Seek it in dense stands of Kinnickinnick. Rob Wu recently found it Dona Ana County, but I have no idea what hosts it there!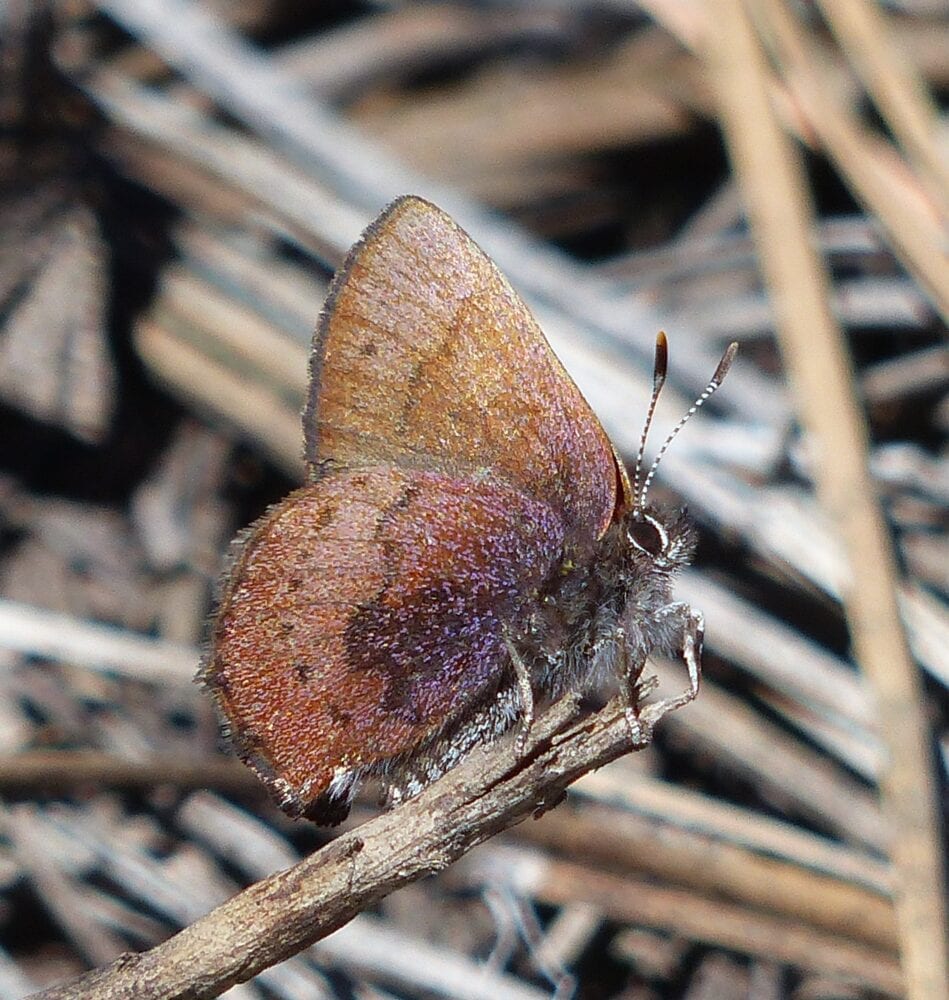 If you look into the butterfly literature, take time to dig around for life history information. One valuable resource of that genre is Caterpillars in the Field and Garden by Allen, Brock, and Glassberg (2005). If you, like me, nose around in that volume and in premier field guides for details concerning Brown Elfin, Henry's Elfin, Desert Elfin, Hoary Elfin, and Sandia Hairstreak, you learn that larvae for all these species are preferentially found "you learn that larvae for all these species are preferentially found "on," meaning they eat the flowers and then the seeds of their host plants, usually not the leaves. In all these cases, larvae feed, then pupate and remain in pupal diapause through summer, autumn, and winter. These species complete one generation per year and adult emergence is linked, apparently, to warming spring temperatures and (it's more than a coincidence) concurrent opening of their spring, all-you-can-eat flower buffets.
If you are walking about in a patch of Kinnickinnick looking for Brown Elfins, say north of Fenton Lake in the Jemez Mountains, also be prepared to see Hoary Elfins, for they also colonize Kinnickinnick and sometimes fly alongside Brown Elfins.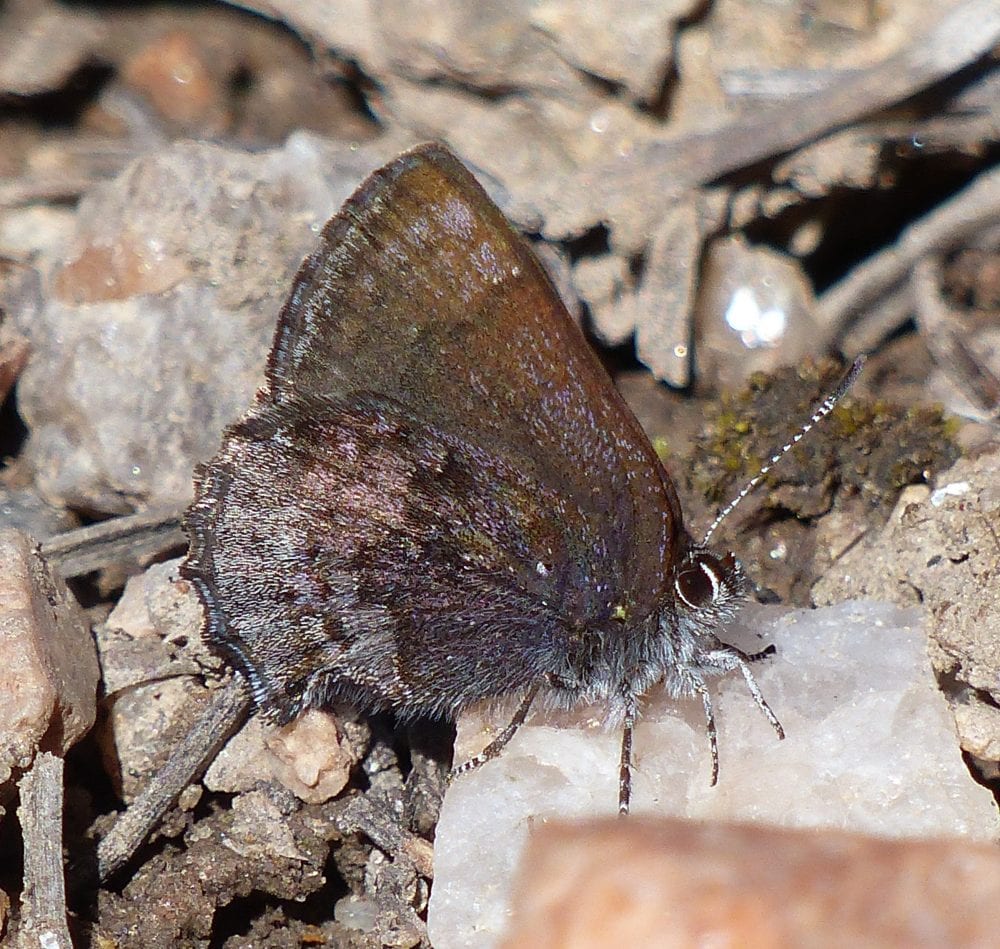 Do they fit the model I put forth here? Are they, too, single-brooded with flower-eating caterpillars? For Hoary Elfin I struggled to get a confirmation for what I knew instinctively to be true, that indeed their larvae were flower eaters. Their early spring flight, with males patrolling in the "canopy" of a calf-high spring-blooming shrub, spoke volumes. I only needed someone else to confirm my suspicion and I finally found it in Pyle and LaBar's (2018) Butterflies of the Pacific Northwest; on page 220 it says that larvae eat flowers. [Robert Michael Pyle, by the way, is one of the world's best nature writers and an unsurpassed butterfly authority. Although he lives in the Pacific Northwest, I own and treasure many of his books. Check him out.]
Some taxonomists consider this group of hairstreaks to constitute the subgenus Incisalia (the elfins) within the genus Callophrys. They are single-brooded, share a common phenology and common larval feeding preferences (flowers and developing seeds), then adults patrol and feed on or near the larval host. The adults look a fair bit alike, including small stubs or lobes for tails. This distinctive combination of traits is relatively unusual among North American hairstreaks.
Desert Elfin (Callophys fotis) is the next of our featured species. Allen et al (2005) state that its larvae are found "mainly on buds and flowers" of Cliffrose (Purshia stansburiana, formerly Cowania mexicana v. stansburiana; Rosaceae). Cliffrose is a routine shrub of New Mexico's northwest quadrant. You can find this lovely little elfin if, while Cliffrose is in early blooming stages (late April, early May), you look for large stands of the plant in the Zuni Mountains. I am partial to Pole Canyon because it is easy for me to reach from Santa Fe. I also have a place I want to check this year in northern Catron County, which would be new for this critter.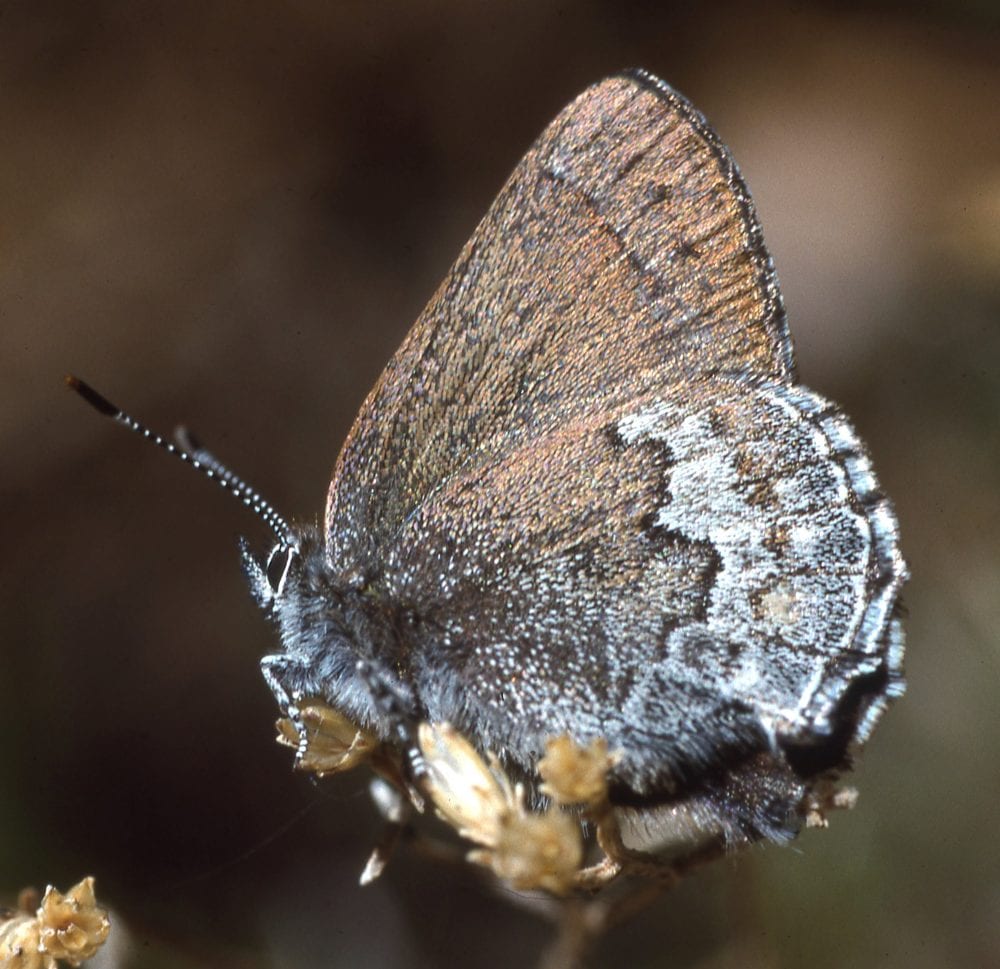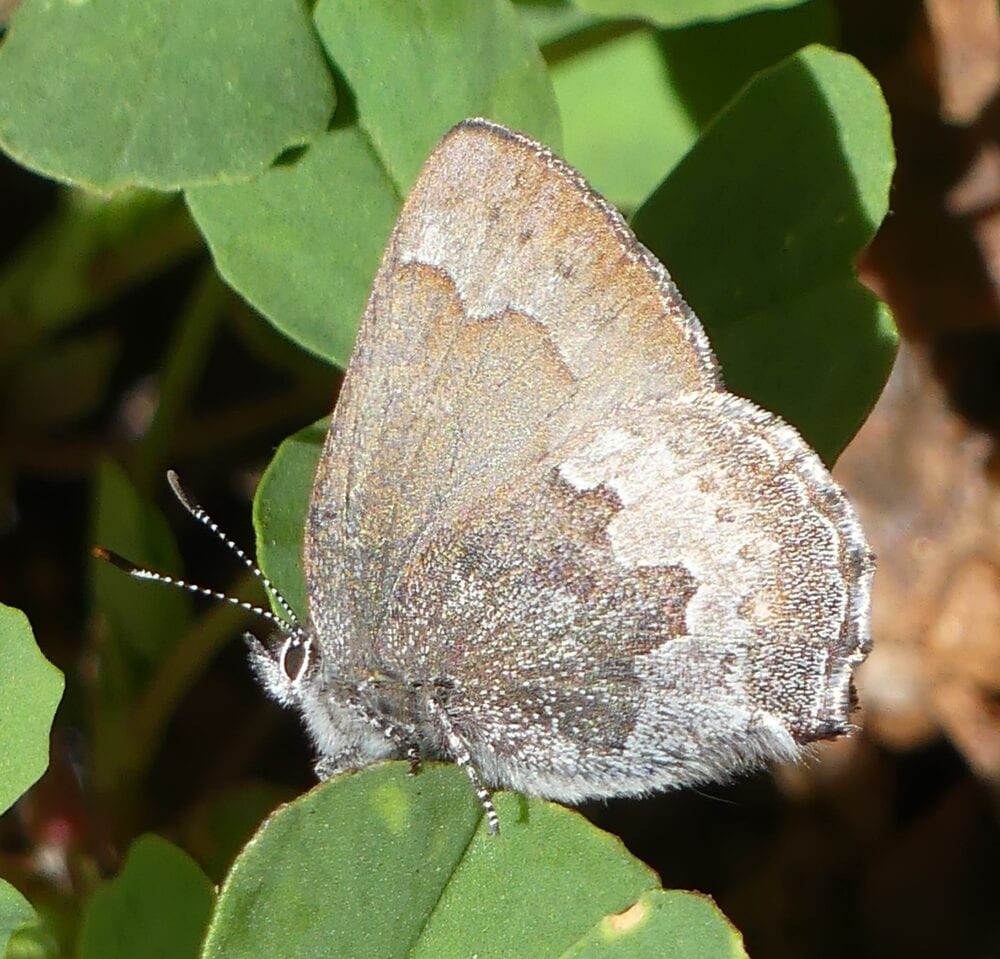 On March 9, 2018, Las Cruces's Marcia Corl showed me a great spot in the Organ Mountains where she had found Henry's Elfin (Callophrys henrici ssp. solatus). The various guidebooks portray Henry's as largely a species of eastern North America, where it is associated with a variety of spring-blooming shrubs. A little-known, southwestern arm of that distribution reaches westward across Trans-Pecos Texas into southeastern New Mexico.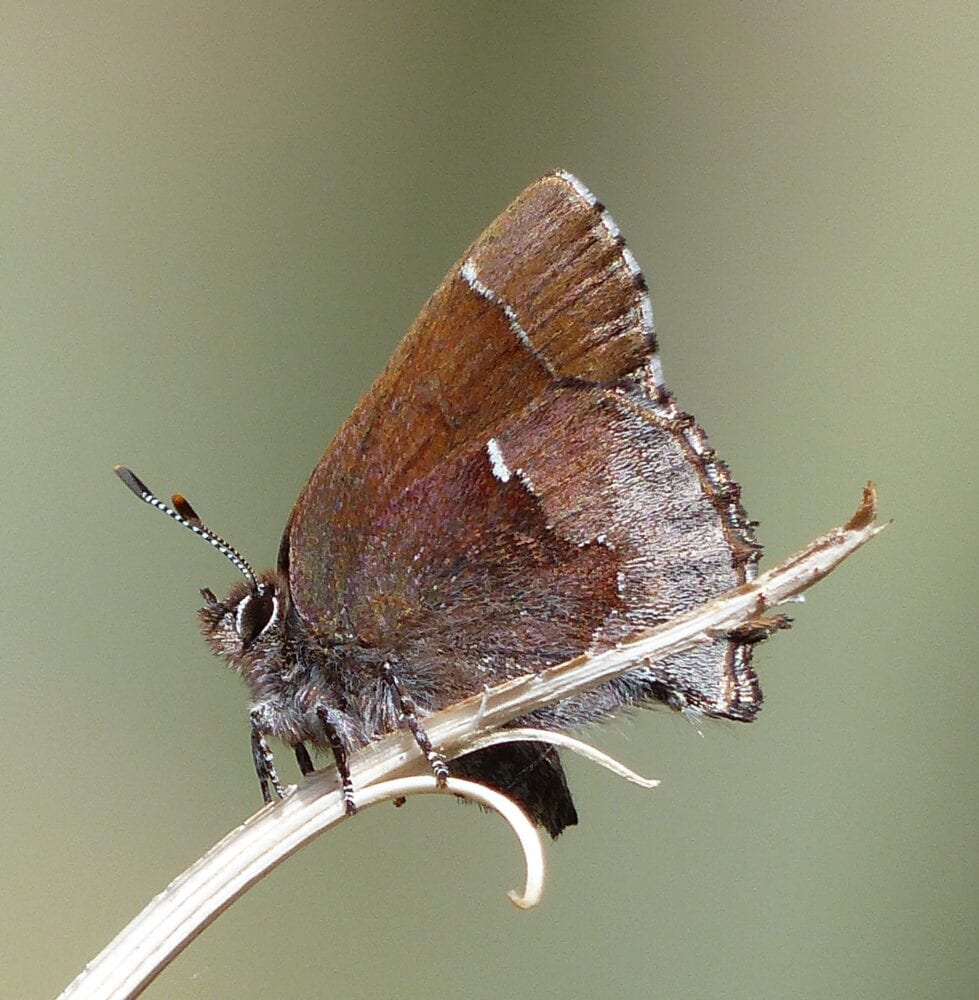 In the Trans-Pecos, dietary needs of Henry's larvae are fulfilled by a beautiful, spring-blooming native southwestern shrub: Mexican Buckeye (Ungnadia speciosa; Sapindaceae). It's lovely pink flowers are in bud by mid-March, well before its leaves begin to appear. Henry's Elfins patrol Buckeye-filled canyon bottoms looking for mates. As Bill Beck reported from March 15 at Aguirre Springs in Dona Ana County, male elfins were "posted along the narrow wash, within visual of host plant." After mating, eggs are placed on flower buds (see below), then larvae and flowers expand concurrently. This life cycle can be watched as it plays out in canyons of the Guadalupe Mountains (Eddy County) and Organ Mountains (Dona Ana County).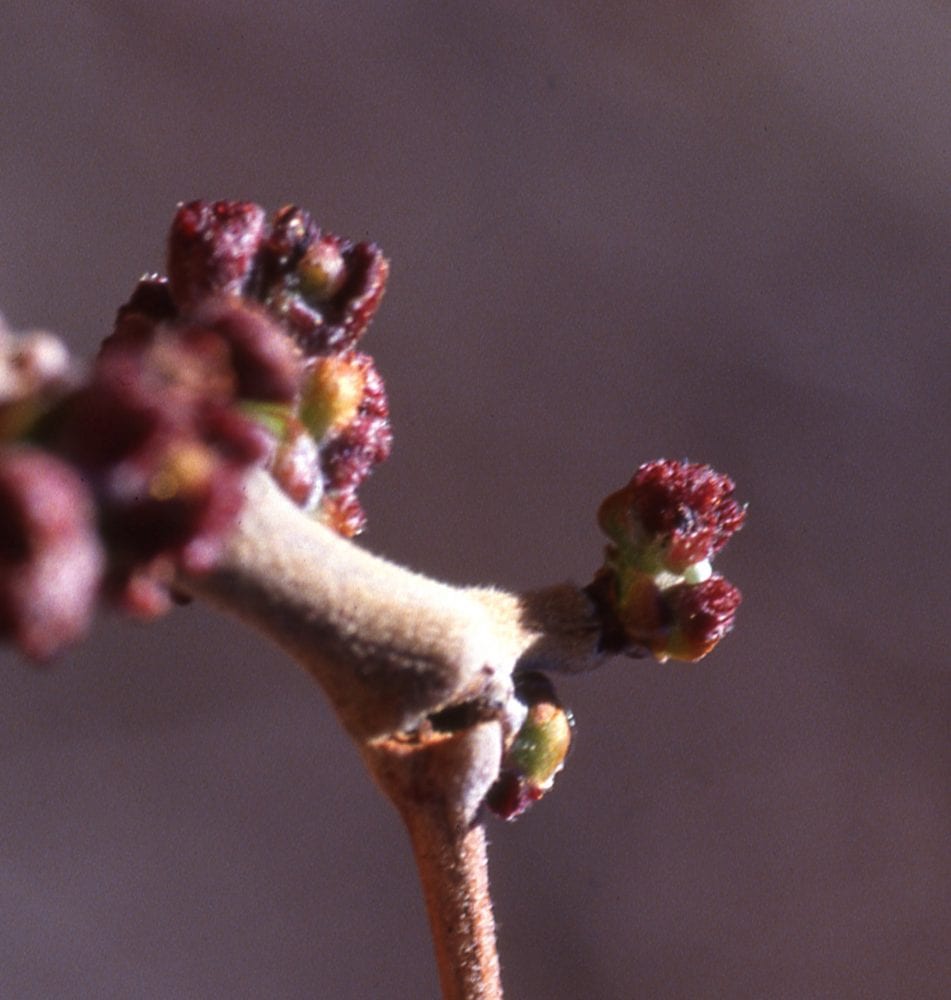 After mostly eating Buckeye flower buds and developing flowers, maturing larvae often complete their feeding by chewing into nutrient-rich seed capsules. Their green color camouflages them there until the capsules ripen and turn brown, but what about while on the branch eating pink flowers growing into red? It turns out they thought of that. Conveniently, larvae come in two colors; some are red and white to blend among pink flowers.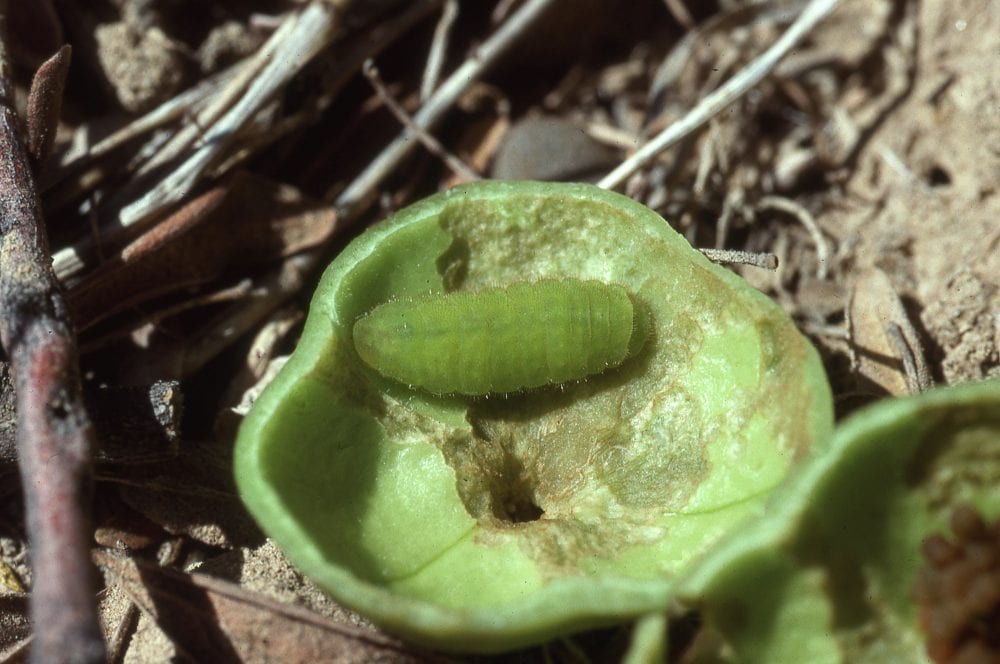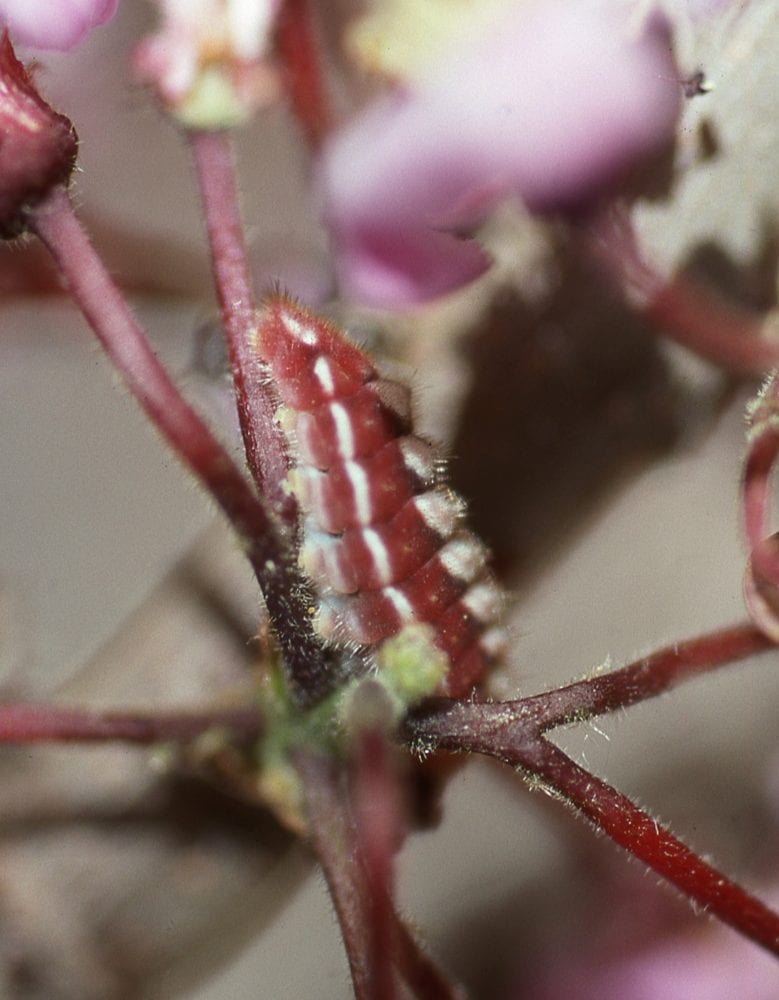 The elephant in this room of flower-munching butterfly caterpillars is, of course, New Mexico Hairstreak, also called Sandia Hairstreak (Callophrys mcfarlandi). It is New Mexico's official state butterfly! It was discovered 60 years ago near Albuquerque, but it is actually fairly widespread in New Mexico, mostly southeast of a line from Raton to Deming. Many butterflyers travel to New Mexico to see it; they usually search in the Albuquerque area, near the type locality, but that is because of its convenient location to interstate transportation. You can see it in many other places, too.
Not all taxonomists group New Mexico Hairstreak with the elfins, but its ecological functionality is very similar. It is single-brooded (mostly) with adults on the wing in spring. It has tailless adults. It is associated with one particular plant: Texas Beargrass or Texas Sacahuista, aka Nolina texana (Liliaceae). Adults fly early in spring, then mated females place eggs on developing flower stalks of beargrass. Caterpillars then eat the flowers before they senesce and become like tree bark.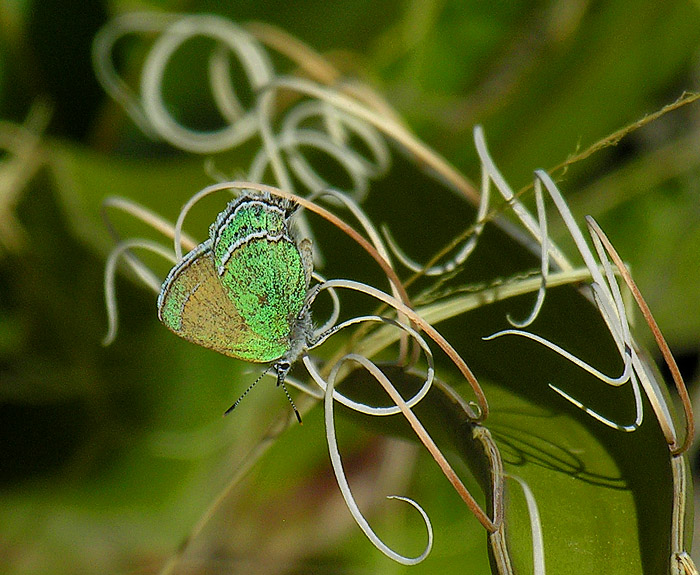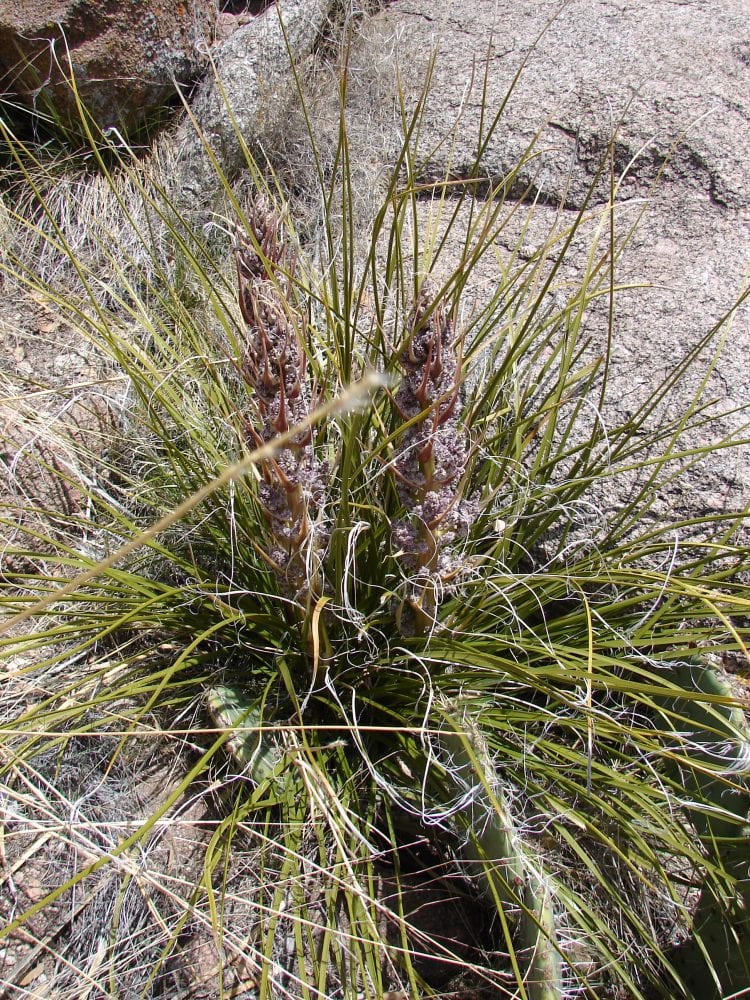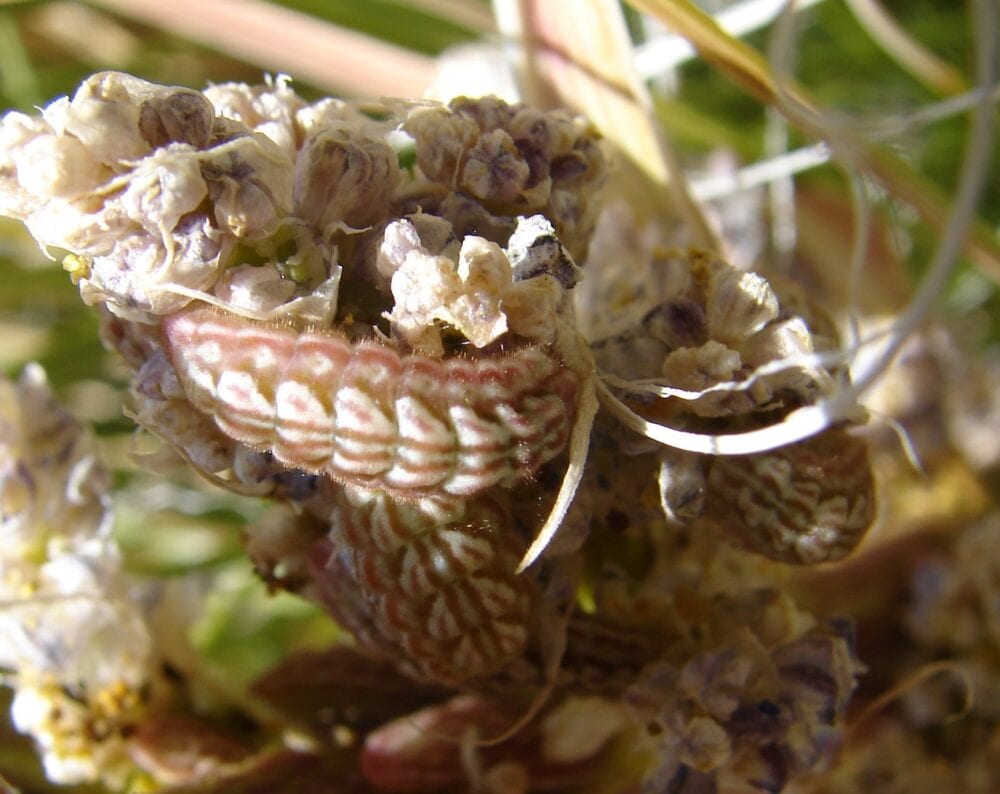 Wherever you live or visit in New Mexico, one or more of these dime-sized jewels will be on the wing this spring, from March into May in some cases. iNaturalist already has a posted photo from mid-March near Carrizozo. The pervasive drought may diminish numbers and length of flight for some, but that just means you get to try again in 2022. These butterflies exemplify the intimate, obligate relationships between plants and their herbivores and provide a vivid glimpse into local ecosystems.
Allen, Thomas J., Jim P. Brock and Jeffrey Glassberg. 2005. Caterpillars in the Field and Garden. Oxford University Press. New York, NY. 232 pp.
Pyle, Robert Michael, and Caitlin C. LaBar. 2018. Butterflies of the Pacific Northwest. Timber Press Field Guide. Timber Press, Inc. Portland, OR. 462 pp.