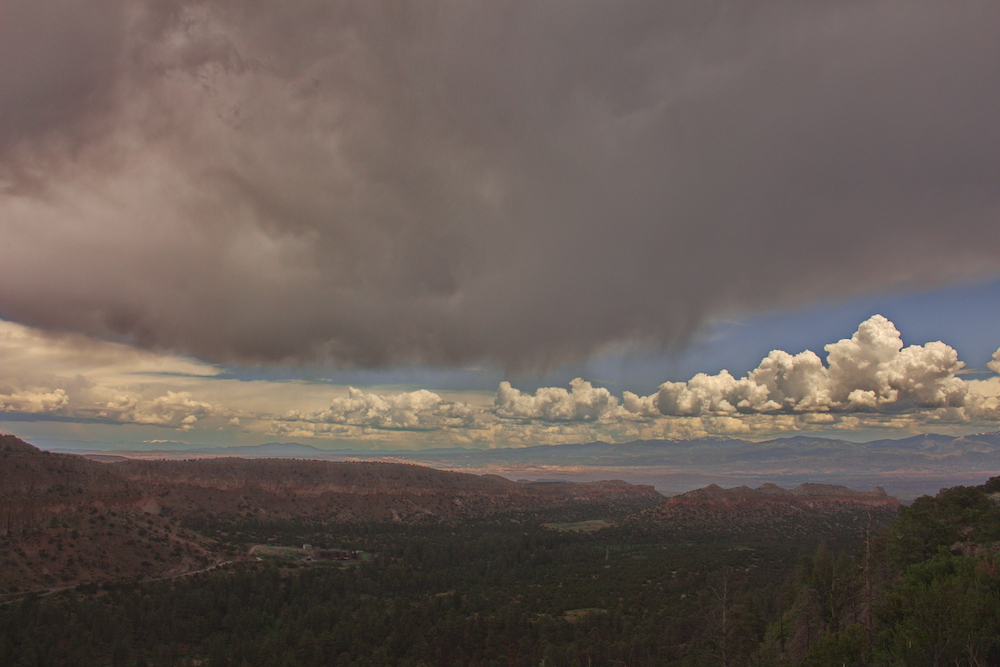 By Jean Dewart
During the fall, winter, and spring, precipitation is brought to New Mexico by midlatitude westerly winds. As the jet stream moves north in the late spring and early summer, Northern New Mexico typically comes under the influence of the North American Monsoon weather pattern. The word monsoon comes from the Arabic word mausim, which means weather. Owing to the yearly appearance of torrential rain in the Middle East, indicating a marked shift in weather, the concept of monsoon gradually came out of mausim.
During the summer months, the Bermuda high pressure moves west into the Gulf of Mexico and the central high plains of the United States and a low pressure area is created by the high temperatures of the Phoenix, Arizona – Las Vegas, Nevada areas. These circulations combine to bring moisture into Mexico, and produce southerly winds that bring this moisture into Arizona and New Mexico (see figure below).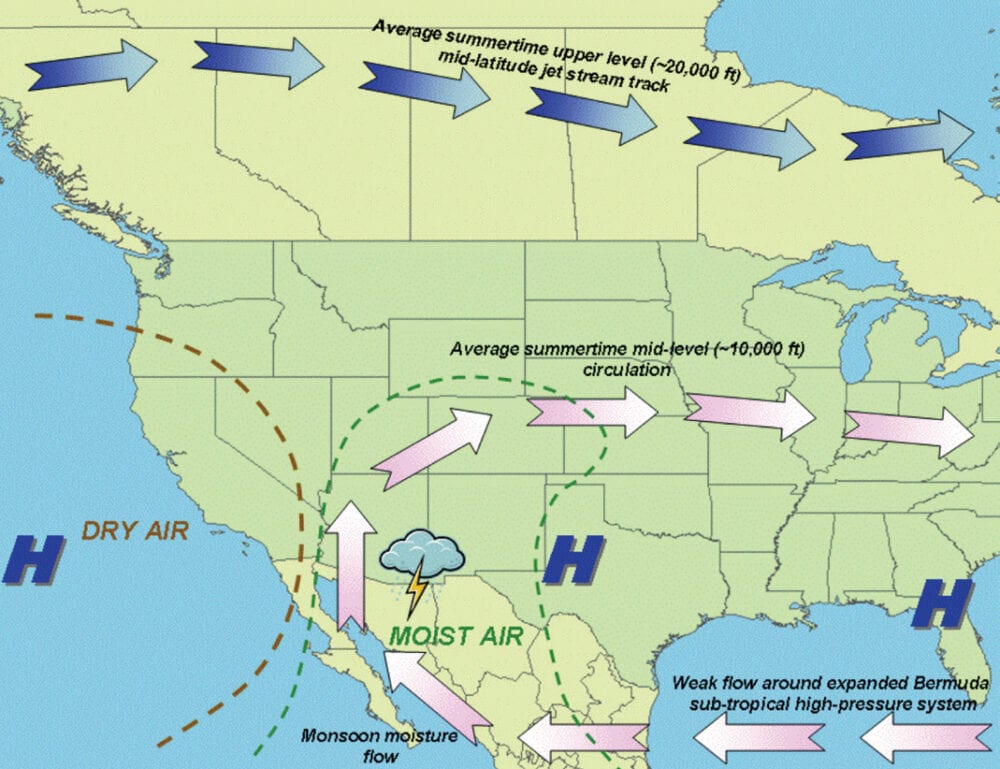 In 2008, the National Weather Service defined the North American Monsoon season as June 15 to September 30. Significant rainfalls that have a moisture source in Mexico typically begin during the first week in July in Los Alamos. The 1981– 2010 average monsoon precipitation in Los Alamos is 9.28 inches and has ranged from as low as 3.15 inches in 1956 to as high as 17.58 inches in 1952. The 1981 – 2010 average monsoon precipitation in White Rock is 6.46 inches and has ranged from as low as 1.66 inches in 1980 and as high as 13.33 inches in 2013.
What can we expect for our 2020 monsoon season? It has certainly gotten off to a slow start, with 0.46 inches of rainfall in Los Alamos and 0.23 inches of rainfall in White Rock, from June 15 – July 12. National Weather Service meteorologist Andy Church of the Albuquerque NWS office, has done an evaluation of this year's monsoon season — it can be found here.
The author has looked at the impacts of equatorial Pacific sea surface temperatures, planetary scale atmospheric circulations, and various model predictions from many countries. He concludes that New Mexico will have an average to slightly below average monsoon season. Let's keep our fingers crossed for an average season!