NAME OF TRAIL: Alcove House trail
LANDOWNER: Bandelier National Monument
TRAIL CHARACTERISTICS AND ACCESSIBILITY: The trail to the evaluation point was accessible without obstacles, having benches, nearly flat, and over 36 inches wide. If one were to make it to Alcove House, it would be inaccessible because of ladders.
LOCATION: The Alcove House is west of all the ruins of Tyuonyi, Long House, and the cavates. It is a little over a mile up canyon.
PARKING: Parking is at the visitor center, or one can take the shuttle from the visitor center in White Rock.
ACCESSIBLE RESTROOMS: Restrooms are at the visitor center.
OTHER ASSESSMENT: Backpacking, camping, hiking, wildlife, historic spring.
PLEASE NOTE: This assessment of accessibility encompasses the trail leading to the Alcove House, not the Alcove House itself, which is accessed via ladders. The Alcove House (and/or its trail) is sometimes closed, or has restricted access. Consult the Bandelier website prior visiting.
***
DATE OF ASSESSMENT: April 27, 2021
TIME OF ASSESSMENT: 9:30 AM
WEATHER CONDITIONS: Sunny and warm.
EVALUATORS: Keegan Tranquillo and Terry Foxx
MOBILITY DEVICE USED (e.g. motorized or self-propelled wheelchair, rollator walker): Drive Medical RTL10266 Nitro Euro Style Rollator Walker, Standard Height, 10 inch wheels, 23 inches wide at the base.
OTHER EQUIPMENT: Tape Measure App (by Level Labs LLC), My Altitude App (by Dayana Networks, LTD), Steps-Activity Tracker (Pedometer and Steps, Year of Code LLC).
TRAIL SIGNAGE: Directional signs.
OVERALL TRAIL LENGTH: The total length of the trail is 2.6 miles round trip.
HOW MUCH OF THE TRAIL WAS EVALUATED?: Approximately 1/2 mile was evaluated.
ELEVATION CHANGE: Without going up to Alcove House there is little elevation change.
TRAIL WIDTH: The trail was greater than 36 inches wide over the area evaluated.
TRAIL SURFACE: Packed soil with a sandy surface at times.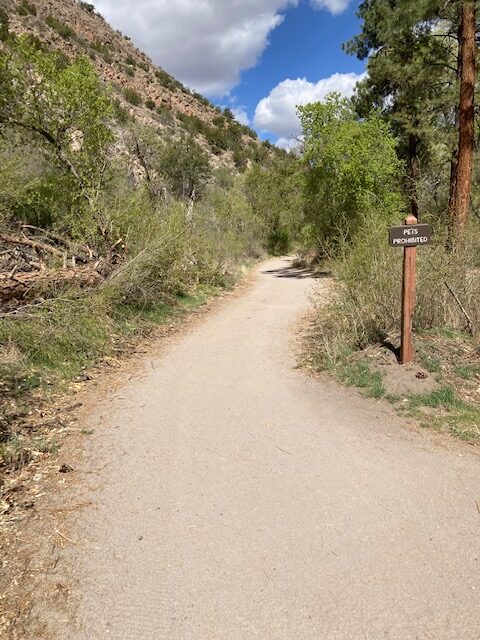 TRAIL SLOPE: The trail over the evaluated area was flat and far less than the 5%.
OBSTACLES/PROTRUDING OBJECTS: No obstacles were encountered.
GATE WIDTH: None.
STEPS: None.
BENCHES OR OTHER RESTING PLACES: Benches were encountered. The benches were constructed of logs and are a little low for those with mobility issues.
SHADE: Trees shade the portion of the area accessed. The trail travels along the stream, which has a variety of trees.
RAILINGS: None.
TRAFFIC LEVEL: This trail is heavily traveled by visitors.
CONNECTING TRAILS: Main Bandelier trail to the ruins.
ECOSYSTEM: Riparian vegetation. Narrowleaf cottonwood, Boxelder Maples, Ponderosa pine.
COMMENTS: It should be noted that the stream area is prolific with wildlife because of the water. This includes Abert's squirrel and over 50 species of birds.
MAP: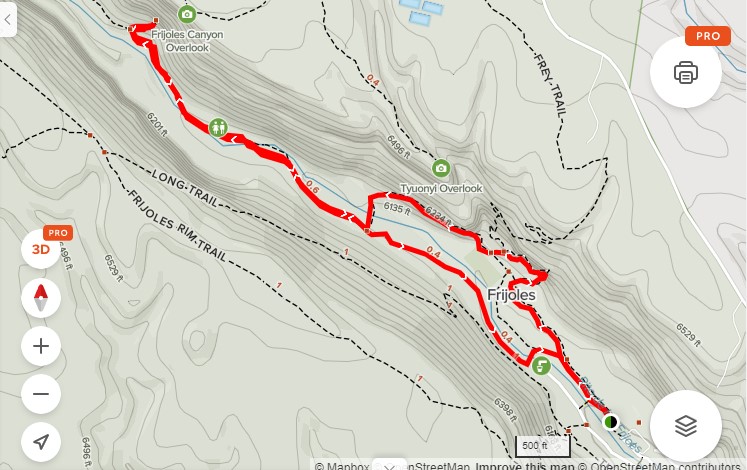 REFERENCES
The following references have been used in these observations:
Harrington, Cindy, 2017, "What Exactly is an Accessible Trail?", http://barrierfreetravels.com/2017/07/what-exactly-is-an-accessible-trail/. Accessed May 9, 2022.
"Access Considerations for Birding Locations, https://www.birdability.org/access-considerations. Accessed April 14, 2022.
Forest Service, U.S. Department of Agriculture, "Accessibility Resources", https://fs.usda.gov/managing-land/national-forests-grasslands/accessaability/resources. Accessed April 14, 2022.
Laws, John Muir, "John Muir Laws, Nature Stewardship Through Science, Education and Art", https://johnmuirlaws.com/deep-observation/. Accessed April 14, 2022.
Hoard, Dorothy, Los Alamos Outdoors, Los Alamos Historical Society, 1993.
Hoard, Dorothy, A Guide to Bandelier National Monument, Los Alamos Historical Society, 1989.
Rae, Coco, Hiking Trails in Valles Caldera National Preserve, University of New Mexico Press, 2020.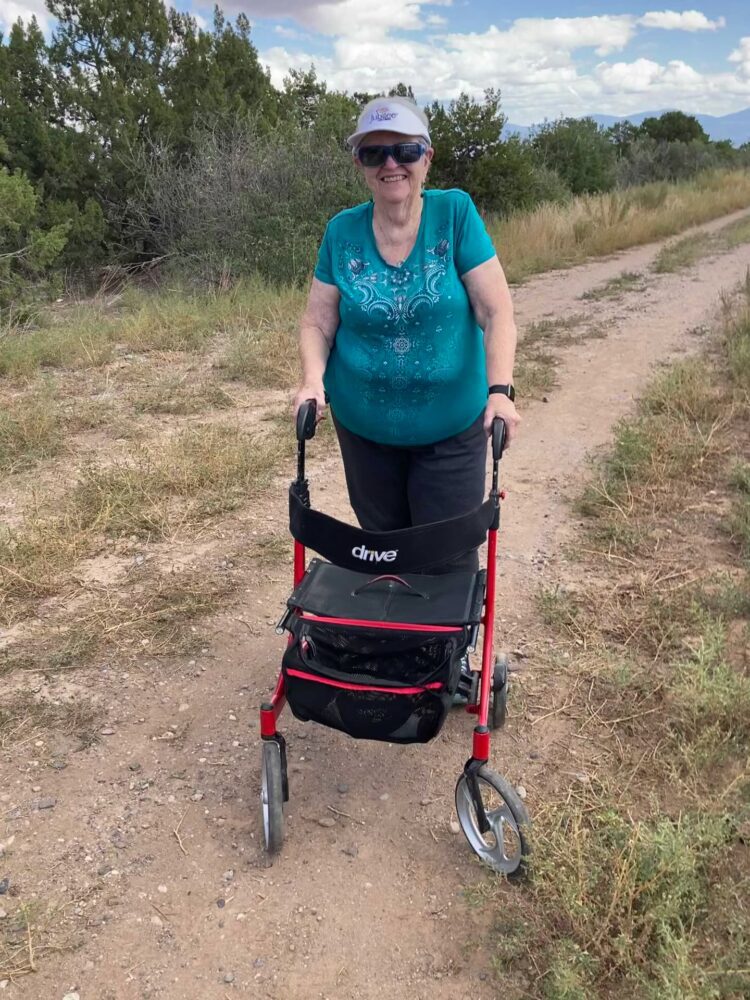 Disclaimer
The vision of the Los Alamos Nature Center is that being in nature is for everybody: adults, children, able bodied individuals or people with disabilities. This blog is presented here so an individual can make decisions for themselves as to the appropriateness of an individual trail. The items reviewed are at the suggestion of the Birdability.org.