NAME OF TRAIL: Powerline Trail, Gate 4.
LANDOWNER: Los Alamos National Laboratory
TRAIL CHARACTERISTICS AND ACCESSIBILITY: The views of the mountains and surrounding area are spectacular, as are portions of Water Canyon. The trail is wide and easy to walk with a large wheeled Rollator Walker, because rocks have been flattened. Due to the sand, though, I have my doubts that a small-wheeled Rollator Walker would be easy to use. At the first power-line pole there is a "Y" in the road. The fire break continues to the right and the old Powerline Trail goes to the left and eventually meets back up. We walked back on the old Powerline Trail and it is very rocky and; in areas the Rollator had to be lifted over rocks. My recommendation is that people stay to the right on the fire-break portion of the trail. The trail continues another mile before the White Rock Canyon Rim Trail. The broadness of the trail is somewhat deceptive, as you are so far away from the trees. It sometimes feels like you are not in a woodland, and the trail is out in the sun without shade.
LOCATION:  South of White Rock along State Route 4, soon after Water Canyon.
ACCESSIBLE RESTROOMS: None.
OTHER ASSESSMENTS: Dogs on lease, kid friendly, hikers, running, wildlife.
***
DATE OF ASSESSMENT: May 22, 2021
TIME OF ASSESSMENT: 10-12 AM
WEATHER CONDITIONS: Sunny
EVALUATORS: Terry Foxx and Charles (Jim) Foxx
MOBILITY DEVICE USED (e.g. motorized or self-propelled wheelchair, rollator walker): Drive Medical RTL10266 Nitro Euro Style Rollator Walker, Standard Height, 10 inch wheels, 23 inches wide at the base.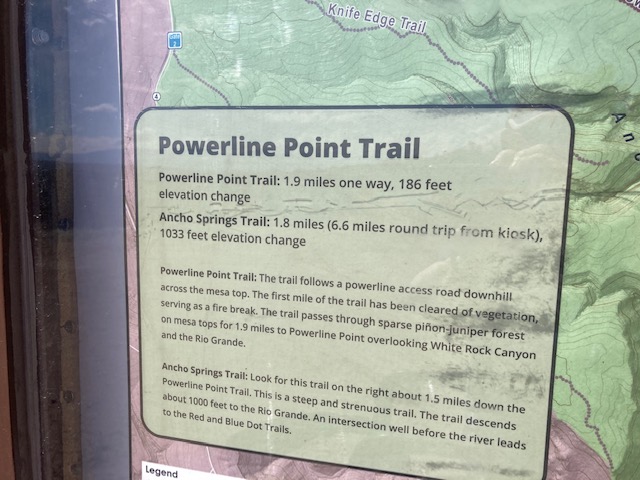 OTHER EQUIPMENT: Tape Measure App (by Level Labs LLC), My Altitude App (by Dayana Networks, LTD), Steps-Activity Tracker (Pedometer and Steps, Year of Code LLC).
TRAIL SIGNAGE: There is an informational trail sign at the beginning of the trail.
OVERALL TRAIL LENGTH: 1.9 miles according to the entry sign. According to All Trails it is a 4.4 mile loop.
HOW MUCH OF THE TRAIL WAS EVALUATED?: 2.4 miles out and back was evaluated.
ELEVATION: Beginning of the trail is 6525 ft.
ELEVATION CHANGE:  186 ft
TRAIL WIDTH: The first mile was a firebreak about 28 ft wide. The trail then narrows after the evaluation area and is a two-wheeled track
TRAIL SURFACE: Packed soil and flattened rocks.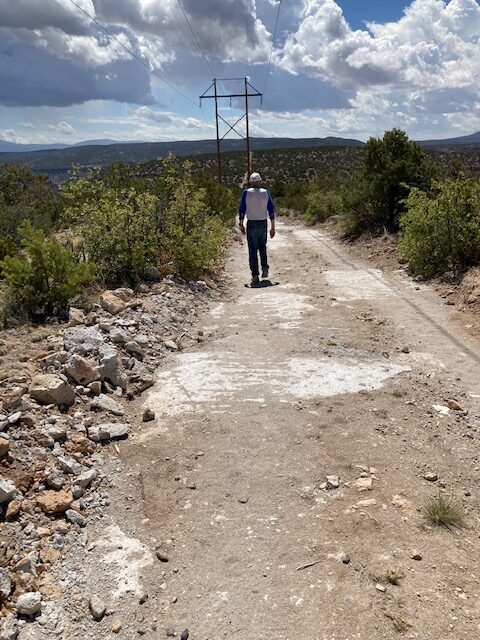 TRAIL SLOPE: The first mile is a fire break about 28 ft wide. The rocks have been flattened. The fire break is relatively flat until about 1.2 miles and it begins to slope 6-7% or 3.2 to 4.2 degrees. The maximum was 7.2 degrees or about 12%. The downhill slopes have momentum for the Rollator Walkers, however, uphill required pushing the Rollator Walker.
OBSTACLES/PROTRUDING OBJECTS: The trail is primarily packed soil and flattened rocks to make the fire break. However the trail is somewhat sandy in areas. This provided resistance to the Rollator wheels and some exertion in moving the Rollator forward.
GATE WIDTH:  30 inches
STEPS: None.
BENCHES OR OTHER RESTING PLACES: None.
RAILINGS: None.
SHADE: None. The whole trail is in the sun. We were relieved when the clouds came over and the wind began to blow.
TRAFFIC LEVEL: As we left, one person came who was walking two dogs.
CONNECTING TRAILS: Ancho Canyon Trail into White Rock Canyon.
ECOSYSTEM: Pinon-juniper woodland.
MAP: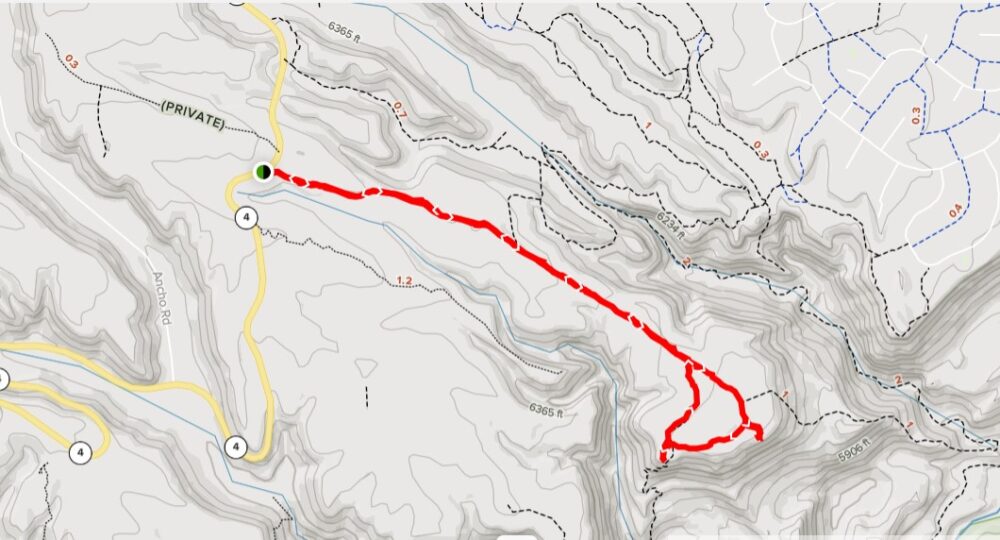 REFERENCES
The following references have been used in these observations:
Harrington, Cindy, 2017, "What Exactly is an Accessible Trail?", http://barrierfreetravels.com/2017/07/what-exactly-is-an-accessible-trail/. Accessed May 9, 2022.
"Access Considerations for Birding Locations, https://www.birdability.org/access-considerations. Accessed April 14, 2022.
Forest Service, U.S. Department of Agriculture, "Accessibility Resources", https://fs.usda.gov/managing-land/national-forests-grasslands/accessaability/resources. Accessed April 14, 2022.
Laws, John Muir, "John Muir Laws, Nature Stewardship Through Science, Education and Art", https://johnmuirlaws.com/deep-observation/. Accessed April 14, 2022.
Hoard, Dorothy, Los Alamos Outdoors, Los Alamos Historical Society, 1993.
Hoard, Dorothy, A Guide to Bandelier National Monument, Los Alamos Historical Society, 1989.
Rae, Coco, Hiking Trails in Valles Caldera National Preserve, University of New Mexico Press, 2020.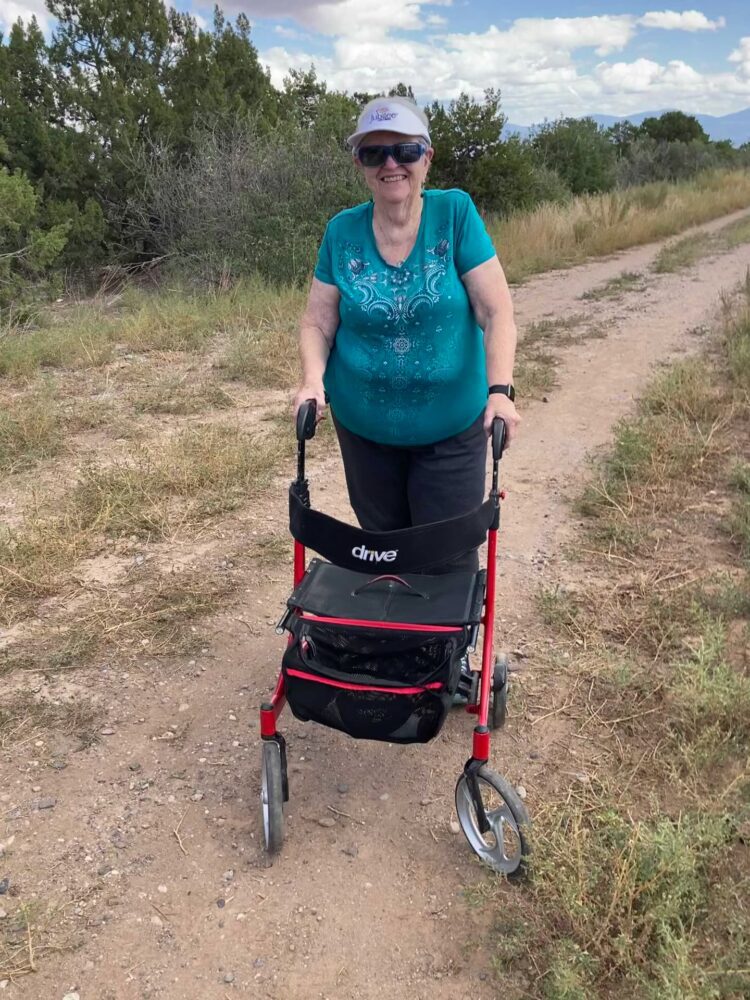 Disclaimer
The vision of the Los Alamos Nature Center is that being in nature is for everybody: adults, children, able bodied individuals or people with disabilities. This blog is presented here so an individual can make decisions for themselves as to the appropriateness of an individual trail. The items reviewed are at the suggestion of the Birdability.org.